July 22-31 (FULL) and September 16-25 (FULL)
Get on the waitlist below to be notified if any spots open up, and to receive special offers on next year's class sessions.
You'll also receive our newsletters and other special offers.
Are you bummed the class is full? Check out our Online Tiny House Building Class, opening this fall
The Online Tiny House Building Class covers everything we teach in the in-person class via on-demand video lessons. This includes a ton of how-to's, along with an extremely comprehensive library of tutorials, lectures, and demos. The best part is that you can refer to whatever you need help with, again and again, throughout all your building projects!
PLEASE NOTE: Because our classroom is outdoors and we require masks at close distance, we feel confident that all classes will run in 2021. If conditions change and we need to adjust, we will notify students immediately. For more info on classes during covid, see our refund policy and our protocols and procedures. 
Do you dream of living in a beautiful, practical, ecologically responsible home that you build with your own hands? Do you yearn for the autonomy of owning a home, but don't have the budget to buy? It's time to get tiny, naturally!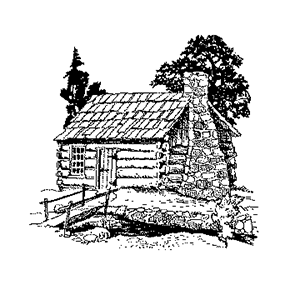 Our Natural Building and Tiny House Workshop near Asheville, NC, will help transform those dreams into reality in just 10 days. It's a crash-course covering the basics (and beyond) of tiny house design and construction, plus an opportunity to learn about natural building. We'll give you practical, hands-on instruction for every step of the process of building your own tiny house, as well as take time to explore natural building modalities and ecological considerations.
---
Learn to build your very own tiny house from start to finish!
This workshop covers everything from tiny house floor plans, to choosing whether to build on wheels, to budgeting your build, to integrating natural building and green design. In fact, students will get their hands on all of these aspects of building a tiny house, and more. Whatever your learning style, we've got you covered.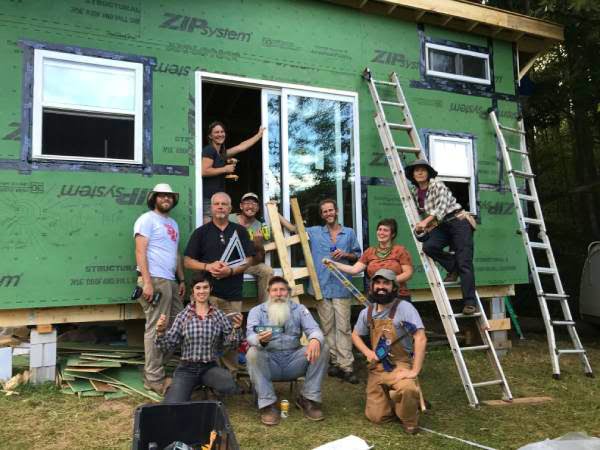 The Best of Both Worlds: 10 Days of Hands-On Building, Plus 20+ Hours of Online Instruction
We believe this is the most comprehensive tiny house class you're going to find. That's because we cover so much breadth and depth. To do this effectively, we've taken the lecture portion of the class and put it online, leaving the entirety of our in-person time to focus exclusively on skills that are best taught in-person. It's a hybrid structure that maximizes our time together, and provides you with ample take-home resources to consult as you work on your own projects. 
This means you get 10 full days of experiential learning about tiny houses and natural building, including tours and plenty of real building practice. Plus, you get over 20 hours of online lecture content that you can keep referring back to — month after month or year after year — as you build your own tiny house… or houses!
As soon as you register for the workshop, you'll get access to the online lecture series, and you'll have it indefinitely. We love offering this online content because when you show up, you'll be ready to get hands-on; we get to use the entire class time for experiential learning!
This class is appropriate whether you are an experienced builder or are an enthusiastic novice.
During most of our class time, we split the students into two groups, each with a lead instructor. This means that the class flows extremely smoothly and is able to accommodate students with varying knowledge and skill bases. Newbies can learn safe and effective hand and power tool use in a small group setting, while more advanced students go deeper with the subtleties of tiny houses and geek out on natural building techniques. Everyone will get a chance to learn everything, in a way that's tailored to meet them where they're at.
Together, we'll build two tiny houses from the ground up.
They're for members of the community. Scroll down to learn about this year's tiny home recipients.
During building sessions, the class will be broken up into two groups, each focusing on one tiny house. This way, we can maintain a great teacher-student ratio, keep groups relatively small, everyone can learn about two different styles of tiny houses, and we can make significant progress!
Applying the ideas and concepts you learned in the online lecture series will bring them to life and anchor your learning. For example, we'll learn about wall and roof systems conceptually, then get out and build some. As a result, you'll leave the class feeling prepared to build your own tiny houses or natural buildings. In fact, many past participants have gone on to build tiny homes in Asheville and beyond!
---
What to Expect from this Tiny House Workshop and Natural Building Course: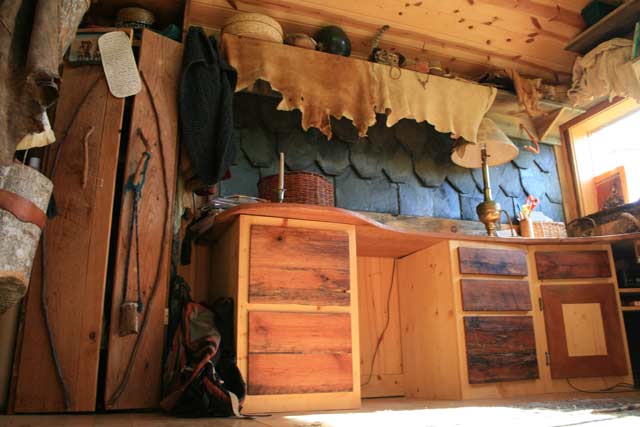 You can expect to learn about every aspect of building a tiny house in this comprehensive workshop, including the basics of plumbing and electrical, plus how tiny homes can fit into community living. This is not an overview or intro class. On the contrary, it's an all-encompassing practicum that will not only get you ready to build your own tiny house, but also prepare you to create your own design, source the best materials, and understand more deeply how tiny homes can fit into your life. 
During our 10 full days together, we'll cover the following:
Hands-On Tiny House Building

Foundations 

Floor Systems

Framing Out Wall Systems

Erecting Wall Systems

Framing Out Windows and Doors

Roof Rafter Pitch Determination, Cutting and Installation

Wall and Roof Sheathing

Window and Door Installation

And more! (Depending on the build, we may get into electrical and insulation.)

Building Site Assessment

How to Build a Tiny House on a Foundation

How to Build a Tiny House on Wheels

Tiny and Not-So-Tiny House Tours

Natural Building Tours

Hands-On Natural Building Techniques

Ecological Awareness in Building

Practical Choices for Tiny Houses and Natural Buildings

You'll even experience a real-life tiny house community!
And here's what you'll learn in the online lecture series:
Overview of Different Foundation Building Techniques

Floor System Whys and How-Tos

Tiny House Framing

All About Floors, Walls, and Roofs

Tiny House Design and Plans

How to Build a Tiny House on Wheels, on a Trailer, or on Skids

Plumbing and Electricity for Tiny Houses

Solar Electric for Tiny Houses

Passive Solar Design

Natural Building Modalities

Regulations and Legalities of Tiny Houses

Budgeting and Costs

Tours of Various Tiny Houses
---
Foundations, Floors, Walls, and Roofs
We'll get started by learning about how buildings stand up. This includes the basics of foundations, loads, and bracing. Whatever the size, a building must have a solid foundation for safety and function. Along with that, we'll cover floor systems, walls, and roof systems in depth. All of this information is crucial for building a solid, sturdy tiny house, or any kind of structure. In fact, one of the great things about the tiny house class is that you learn all the basics of building a house, but in a much shorter timeframe than it would take to build a traditional house.  
---
Tiny House Plans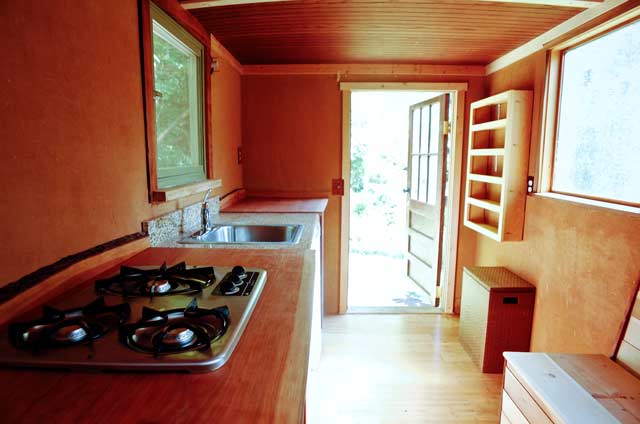 Planning your ideal tiny house takes some skill! We'll take a look at several existing tiny home plans and discuss the pros and cons of various elements. Since the workshop also includes tours of many tiny houses, you'll get to see some designs on paper and in the flesh. This will help you understand the process of design and become a better designer when it comes to your own tiny house (which you'll have the chance to work on and share with fellow students).
---
How to Build a Tiny House on Wheels, on a Trailer, or on Skids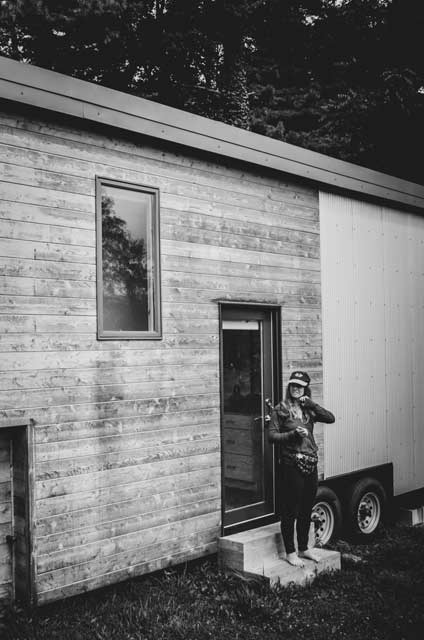 There are lots of options when it comes to tiny house "bases." We'll cover three of the most common and practical choices for mobile tiny houses: building on wheels, on a trailer, or on skids. Each of these approaches has benefits and challenges, and they're best suited to different situations and budgets. Through discussion and hands-on exploration, you'll learn how to build a tiny house on wheels, a trailer, or skids, and get the knowledge to decide if one of these options is right for you. We'll also cover special considerations for moveable structures, like additional bracing and ideal dimensions.
---
How to Build a Tiny House on a Foundation
There are definitely some big advantages to building your home on a permanent foundation, if you have access to land and know where you want the house to sit. For example, there are many sites, especially here in the mountains, where you could never get a tiny house on wheels, but where you could build one on a foundation. Additionally, you can create more permanent systems for water and electricity if you're in a fixed location. For these reasons,  this workshop will explore both permanent and mobile tiny houses.
---
Plumbing and Electricity, Specifically for Tiny Houses
Most modern houses have built-in water and power systems, and tiny houses don't need to be an exception to that. We'll introduce plumbing and electrical designs specifically for tiny houses,  plus we'll demo installation of the basic framework for these systems in the tiny houses we build. As a result, you'll feel more empowered to design these elements into your own tiny house. We do advise working with a professional electrician for the installation and hookup of your tiny house electrical system, as there can be dangerous consequences with non-professional electrical installations.
---
Not-So-Tiny Houses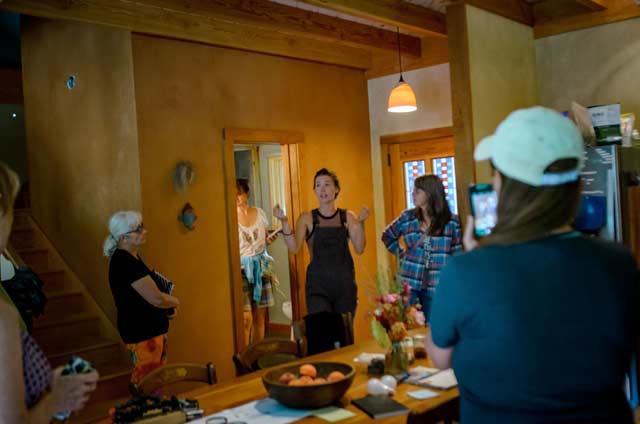 In addition to true tiny houses, this workshop covers not-so-tiny houses (500-800 square feet). We applaud your enthusiasm for downsizing, and want it to really work! For some folks, especially when there will be multiple adults and/or kids living in the house, a not-so-tiny house can be way more appropriate than a truly tiny house. Along with exploring several not-so-tiny houses, we'll engage in an honest discussion of the pros and cons of downsizing. Central to this is the importance of good design when you're living and/or working in a small space. Plus, we'll talk about and check out large covered porches, outbuildings, outdoor kitchens, shared infrastructure, and other strategies that can make tiny house living feel more spacious and doable. Both the hands-on aspects of the class and the lecture subjects will be applicable whether you are building tiny or not-so-tiny!
---
Natural Building Techniques and Ecological Awareness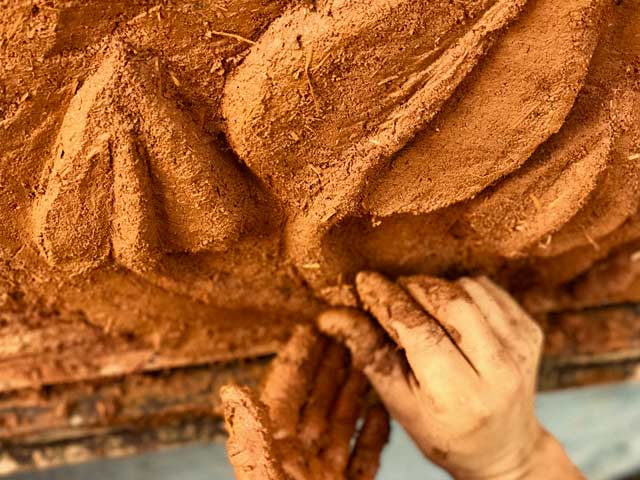 We'll get our hands on a variety of natural building techniques, including working with clay plaster, lime plaster, and earthen paint. You'll also get to explore spaces and learn about the techniques for cob, adobe, bamboo construction, thatch, strawbale, hempcrete, slip straw, bas relief, wattle and daub, and more. With some of these, we'll see how they work in larger structures and discuss how applicable they are to tiny houses. For others, we'll see them utilized in tiny houses, or utilize them ourselves. Additionally, we'll discuss regenerative timber harvesting, the ecological impact of various building materials, and creative sourcing for upcycled and lower footprint options. For our projects, we'll be using materials sourced from a variety of places, including an onsite forest, the local lumber yard, and the local big box building store.
We encourage students to mix and match natural and conventional building styles based on their interests, skill set, resources, and desired outcomes. Just because you take a natural building course doesn't mean you have to build 100% natural in order to apply what you learn. You can find your own sweet spot according to your available time, your budget, and whether you're going with a mobile unit, or a tiny (or not-so-tiny) house on a foundation.
---
Passive Solar Design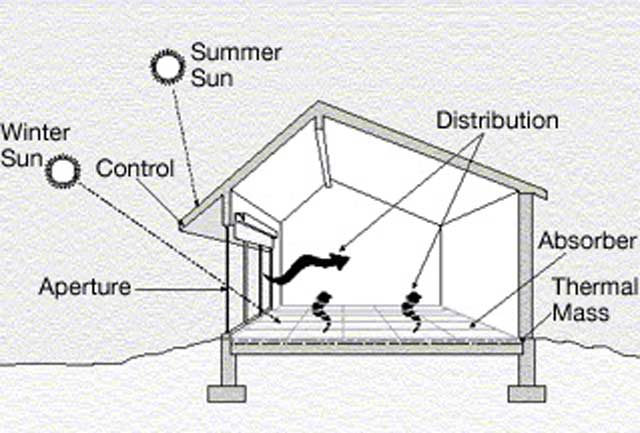 This is a super neat and low-carbon-footprint method for keeping homes warm in the winter and cool in the summer. Passive solar design involves positioning your house and windows in a specific way, and catching heat with thermal mass (i.e. dark colored tile, stone countertops, or rocks). The result is that you can stay very warm and cozy in your tiny house on most winter days without any other heat source, if it's done properly. Furthermore, passive solar design includes using overhangs to completely block direct sun from entering your house in the summertime, which keeps it cool! In this tiny house workshop, you'll learn how to take advantage of passive solar design, just as many people have done since ancient times. Some aspects of this approach are especially suited to permanent tiny houses, but there are others that can work well even with a mobile unit.
---
Practical Choices for Tiny Houses and Natural Buildings
There is a lot of hype out there about building tiny houses and natural buildings, and many people who claim that they will solve all of your problems, in a short amount of time, on an extremely low budget. We're here to offer an encouraging and supportive voice of reason. Our team has decades of experience, and we've tried all the tricks and shortcuts out there. In other words, everything you learn in this class will not only be cool and inspiring, but also practical and time-tested. 
We'll discuss the real implications of various choices and techniques, including their pros, cons, appropriate applications, and tradeoffs. For example: salvaging some materials can save you money, but in some cases you'll end up paying in time, labor, or exposure to environmental toxins. We'll offer guidance on when it makes sense to salvage, and when it's more practical to buy new, and discuss the practicalities and appropriate use of various natural building approaches and ecological materials. We want you to succeed in your building aspirations, so we'll discuss, in detail, how to decide on your very own recipe for what to salvage, what to buy new, and what to source from the land.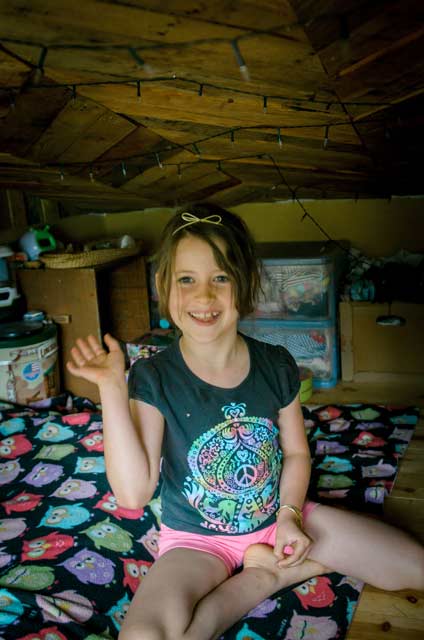 ---
Experience a Real-Life Tiny House Community!
Within a mile of the Wild Abundance campus, there are many tiny homes you'll get to check out. In our neighborhood, you'll see tiny houses of all different shapes and sizes that utilize an assortment of construction techniques, from conventional to adobe. Luckily, here in Buncombe County, it's legal to build as small as you want, which is part of why this tiny house community is possible. The area surrounding and including Wild Abundance is a great example of how tiny houses can allow people to live together and share resources, while still preserving the autonomy and personal space that many of us cherish.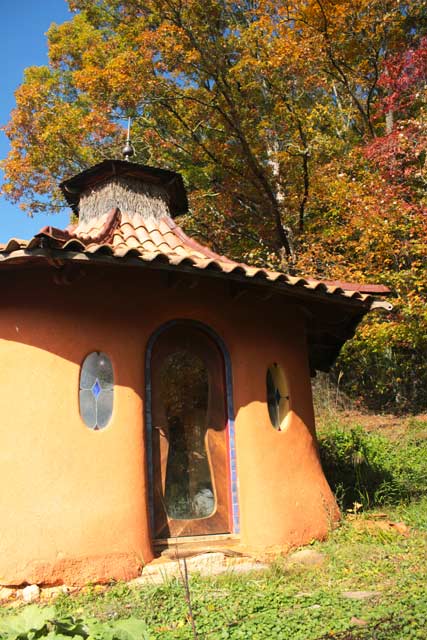 ---
Field trips Exploring Asheville's Own Tiny House Nation
We'll also take a tour of tiny houses and natural buildings in and around Asheville, NC. Some of these will be in person, and some will be online. You'll get to see a variety of tiny home designs, a straw bale house, cob construction, conventional buildings with natural elements, and a passive solar design… It's Asheville's eco-conscious, DIY spin on Tiny House Nation! You'll see, touch, and learn about various building styles, including timber framing, log cabin construction, stone masonry, adobe, cob, strawbale, hempcrete, thatch with invasive grasses, wattle and daub, earthen floors, and bamboo construction. Additionally, you'll see how tiny houses can work in a community setting and can provide a viable option in an area with a housing crisis.
**Please note, due to the coronavirus pandemic, tours in 2021 may not include interior visits, and may not include the hempcrete and straw bale houses. 
---
Hands-On Tiny House Building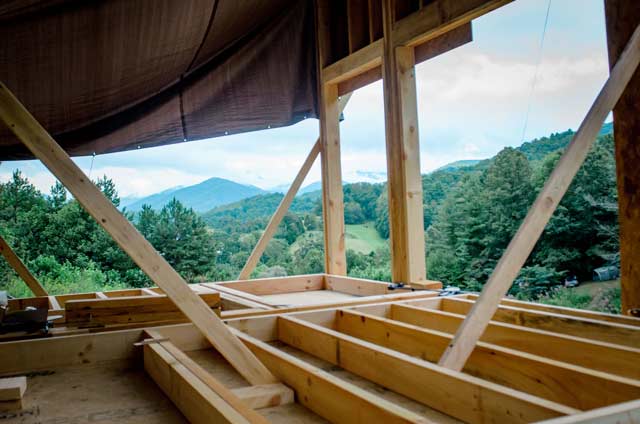 Once the theoretical groundwork is laid, we'll dive into building two tiny houses from the ground up, with natural building techniques applied. During six of the 10 days in this workshop, you'll work with your build crew for most of the day. Our instructors provide lots of guidance, answer questions, and share what they know throughout the process. In fact, the mentorship, camaraderie, and "team spirit" of building together is often our students' favorite part of the workshop.
---
Your Very Own Tiny House

Learn how to design a cozy space in this tiny home workshop!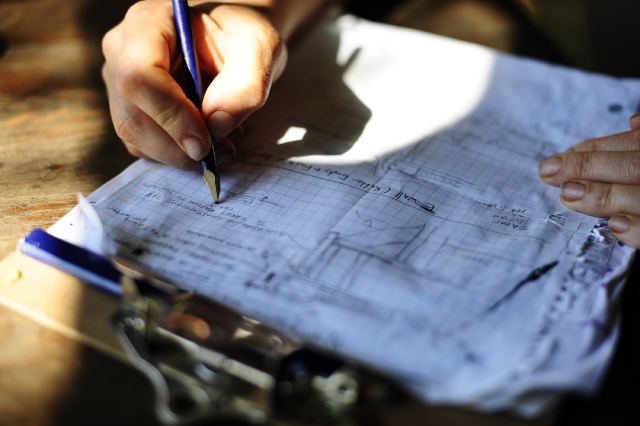 In the end, you'll experiment with designing your own tiny house floor plans and elevations based on everything you learned in class. Students will have the optional opportunity to receive feedback directly from instructors and fellow students. If you do opt for feedback, it will not feel like an exam, but more like individualized support and guidance from experts and emerging practitioners alike. When you leave this tiny house workshop, we want you to feel ready to get started on your own tiny home!
In the past, we have built houses for Kelly, Anne, Forest, Lewis, and Emily, Here is a little about Kelly. Stay tuned to meet our 2021 tiny house recipient.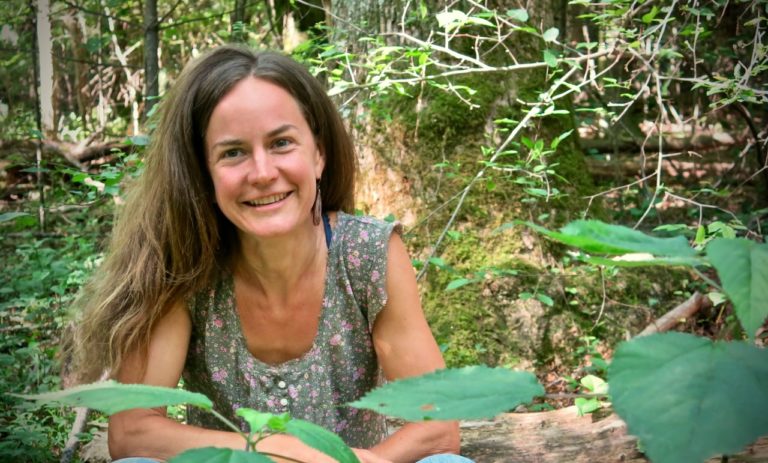 Kelly is a local craftswoman, naturalist, and outdoor educator. She has lived in Asheville for 10 years, moving between various rentals. She's super excited about her brand new tiny home. Last April, she took our women's basic carpentry class, to begin building the skills she needed for her tiny house. After working with Natalie on her design and gathering materials, Kelly and the 2019 Natural Building and Tiny House Workshop students built her a home of her own. Many students have found it extra motivating to work alongside someone for whom the class will literally transform a dream into reality.
---
Check out the following video featuring one of our instructors, Barron Brown, teaching timber framing. (Please keep in mind that the natural building and tiny house workshop will have a more balanced gender mix than the class in the video.)
---
Frequently Asked Questions
---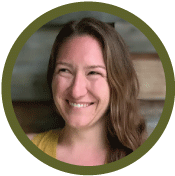 An Empowering Build at Wild Abundance
"If I had to choose a word to describe how I felt after spending a week and a half at Wild Abundance taking the Tiny House Building class I would say empowered. I had very little building knowledge and even less hands-on experience going into the class. Despite this, I felt confident during each part of the build because of the amazing instruction and guidance available. Baron was the main instructor for the build of the mobile tiny house and he's as patient as he is experienced. He's open to answering any and all questions and prioritizes safety and knowledge above all else. It was so incredible seeing something, as fundamental and necessary as a home coming together as a result of the teams' efforts. I haven't had many experiences using my hands to create something so useful and it was a powerful experience. Not to mention, the energy of the build site is so fun to be around- it's serious, hard work but light hearted at the same time. I made some really wonderful friends throughout my time on Wild Abundance! I highly recommend this course to anyone who wishes to gain or strengthen their building knowledge or experience- you won't regret it!"
Jessie Scanlon, Hartford, CT
Accountant
Tiny House and Natural Building Student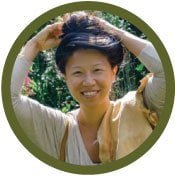 "I'm so satisfied with my decision in taking the Tiny House & Natural Building course at Wild Abundance this year. The culture of building is complex and rich, and even though my dad is a general contractor, it never felt accessible to me until I took the building classes at Wild Abundance. I'm grateful to have connected with such knowledgeable and patient teachers who are so willing to share their extensive experience and kindness (Barron Brown knows everything about building, come with your questions!). I'm pleasantly surprised with the confidence I've gained and am excited to build my own tiny home someday soon!"
Honey Ng, World Traveller
Massage Therapist
Tiny House and Natural Building Student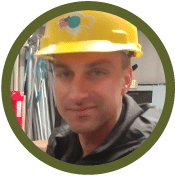 "Natalie is a phenomenal teacher, host, and land steward!!! I recommend taking any and all of her courses if you can! The team around her reflects her leadership and passion at every step, and her supporting network is a testament to the lasting relationship she clearly builds with her community. Thankful for a truly awesome experience in every way!"
– Nikita Lukichev
Tiny House and Natural Building Student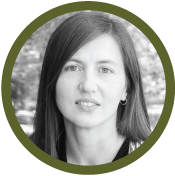 "I was really impressed by the depth of the course materials, and the instructor's ability to accommodate beginner builders, yet remain engaging to advanced students. The blend of instruction time in the open air classroom with hands-on training at a live construction site (not just a demo) provided a firm understanding of how to build my own tiny home from start to finish."
– Mel Shapcott
Founder & Editor of Wild Woman Rising Magazine
Tiny House and Natural Building Student
---
Instructors
---
Our Campus is Unconventional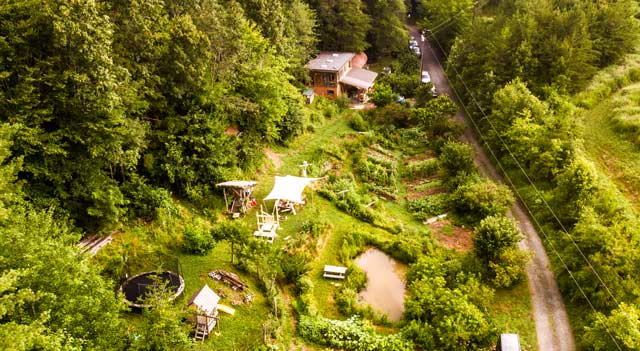 To read about our facilities, including accessibility for alter-abled people, read about our Campus here.
---
Local Accommodations
Wherever you're coming from, you're welcome to pitch a tent in one of our flat camping spots in the woods or field, or to tie a hammock in the forest on our seven-acre property. If you live locally, you may prefer to commute to Wild Abundance from Asheville (25 minute drive). If you choose to camp, please bring your own bedding and rainproof tent or tarp. In the early spring and late fall it can be cold at night, so please bring warm bedding if you'll be here before May or after September. We have a lovely outdoor kitchen equipped with a stove and running water, an outdoor shower, and an outhouse available to campers.  In extremely cold weather, the sink and shower may be out of operation due to water freezing.
If you prefer something with more creature comforts, we suggest you browse Airbnb for numerous options close to the campus. You can also check out local motels and B&Bs within a 10-15 minute drive to Wild Abundance. We'll send a list of links to several options (with varying amenities and prices) in a welcome letter upon registration.
---
Registration Info
We strive to make our classes accessible to those who wish to learn. Please pay on the sliding scale what you can afford, given your income.
All lectures will be online, hands-on content will be in-person and outdoors.
July 22-31 (FULL) and September 16-25 (FULL)
Get on the waitlist below to be notified if any spots open up, and to receive a special offer for next year's class sessions.
Early-Early Bird Price: January 1 – January 9, 2021: $1,400 – $2,000
Early Bird Price: January 10 – March 24, 2021: $1,500 – $2,100
Regular Price: March 25 – July 21, 2021: $1,600 – $2,200