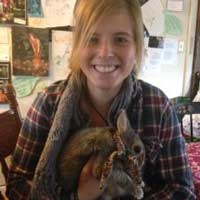 Administrator and Bookkeeper
Hannah grew up in the city of Boston, but eventually moved to a much smaller, rural town in Western Massachusetts.  There, she fell in love with sustainable farming and a do-it-yourself lifestyle.   She also found a sense of hope in the extensive and thriving social networks of grassroots farmers, artists, musicians, and activists in her community.  This inspired her to learn more about sustainability and DIY living.  She wanted to grow her capacity to make positive changes at a community level.
When Hannah moved to Asheville to learn more about permaculture, she stumbled upon Wild Abundance.  While she came for the permaculture, she found much more than that.  Wild Abundance's inspired and passionate mission that's deeply rooted in real community really spoke to Hannah.  Furthermore, she found the organization overrun with wise and experienced folks who live what they teach and are just great people on top of that.  To Hannah, Wild Abundance represents all the things that make her hopeful that positive, personal, and community-level change is possible and already happening.  What started out as a work-trade relationship to help her cover the cost of classes turned into a career move.