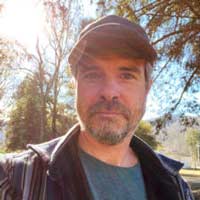 Instructor for Natural Building & Tiny House Workshop
Sean (he/him) has been involved with building for about 17 years now.  During his undergrad work at Prescott College he took a permaculture class which led him to discover the natural building movement.  He spent the next few years volunteering with the City Repair and Village Building Convergence in Portland Oregon engaging with other natural builders and volunteers eager to learn new skills.  Around the same time he was hired by a carpenter that specialized in historical renovations of old craftsmen homes.  This is where Sean was able to learn the fundamentals of wood framing and finish work which allowed him to eventually go off on his own and integrate natural building with conventional construction.
Sean and his family moved to Western North Carolina in 2012, purchased 20 acres of land and built a two story timber framed home for his family.  Since then, he has continued to develop infrastructure on his own property as well as help others build anything from tiny house Air BNB's to large scale homes.  Sean and his wife Jen started Taproot Builders and are currently building a 2 story workshop on their property.  Checkout their website Taprootbuilders.com for photos of their work.