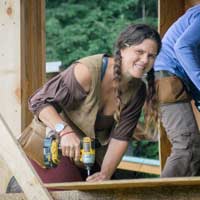 Natalie (she/her) is the visionary behind Wild Abundance, and has been a primary instructor for women's carpentry classes and the Natural Building and Tiny House Workshop, among other classes. She's passionate about teaching and sharing practical skills to help all kinds of people feel more confident, empowered, and capable.  
In particular, Natalie gets excited about: natural, green and tiny building design; vernacular architecture (buildings built for a specific time, place and culture, often by the people who will be using them, with local and natural materials); cooking ashcakes on coals next to an open fire with her daughter, Hazel; ethical business development; creative and sexy wooden trim; and cooperative models for mutual aid.
Natalie has been interested in building things since she was a child, when she and her dad messed around with tools, made birdhouses, and replaced a deck. As a young adult, her interest in permaculture and independent living led her to explore natural building. She loved working with her hands, and was always into crafts and primitive skills. Eventually, these craft projects got bigger and bigger, until they became buildings. Her first building was a traditional Catawba style bark longhouse in 2003. As she attended natural building classes, and learned many ways to manipulate clay, sand, and straw to build beautiful walls, she couldn't help but ask herself, "how were the floors and roofs made?" This questioning inspired her to learn more about "traditional" and even conventional building, like framing with dimensional lumber. 
In 2005 Natalie built her first "tiny house" (cabin) in rural North Carolina out of local lumber and light-slip-straw wall construction. That year she also began doing carpentry with her then partner, Alex Kilgore. He was Natalie's first carpentry mentor, and gave her a strong foundation to build from.
In 2011 Natalie purchased the land that would become Wild Abundance. When she bought it, there were no structures at all on the property; she had to start from scratch and do a lot of building! In the process, Natalie has enlisted the help of many friends and mentors, including and especially Barron Brown. Over the years buildings have popped up all over the place, including a log cabin, outdoor and indoor teaching areas, plus a bevy of other cabins and outbuildings that make up the Wild Abundance homestead campus. 
As the school has gotten the infrastructure that it needed (and then some), building projects for classes have started moving offsite. For example, during the Natural Building and Tiny House Workshop and the Advanced Women's Carpentry class, students work on projects that will benefit and be owned by members of the wider community, including play structures built for community organizations. At this point, Natalie has designed and managed the building of more than a dozen tiny houses. 
Along with building, Natalie balances her time between managing the logistics of the school, teaching, tending the garden, playing with her daughter and partner, visiting wild places, connecting with her community, and basking in the beauty of nature. Amidst all of this she's constantly scheming about how to inspire more and more people to make positive, ecologically minded changes in their lives and in the wider world. 
Natalie has also taught at the Chestnut School of Herbal Medicine, the MAPS Meet, Earthskills Rendezvous, the Organic Grower's School, Florida State University, Southern Adventist University, Tulane University, Ohio University, Vanderbilt University, Western Washington University, and others. Natalie was also featured in Morgan Spurlock's documentary Freedom in America and appeared in the National Geographic series: Live Free or Die, in an episode titled "Butchers and Builders." She and Wild Abundance have been featured in many publications and podcasts. 
Natalie is grateful for the many teachers she has had over the years who have deeply enriched her life and expanded her perspective. These include: Juliet Blankespoor, Margaret Mathewson, Steve Watts and Frank Cook.