Do you yearn to build a deeper relationship with herbal medicine and wild crafting? We're excited to offer this "next level" herbal medicine class to help you do just that. You'll learn how to identify and utilize new and exciting herbal allies in their natural habitats. Plus, we'll give you tools to follow your "herbal intuition" on the path toward healing and connection.
This wild crafting class goes beyond common herbs and simple remedies to help you develop a more profound connection with the world of wild plants.
---
What to expect in this herbal medicine class:
Over the course of 4 full days, we'll explore advanced botany and plant ID, cooking with wild foods, wild crafting during the different seasons, and more. Our instructors have been immersed in the plant world for decades. Consequently, their passion and wisdom is infectious. What's more, they're equipped to answer your more complex questions about botany, wild foods, foraging, medicine making and herbal preparations.
---
You'll learn to:
Turn acorns into delicious and nourishing food
Connect with the energetic medicine of plants
Trust your herbal intuition
Make flower essences
Figure out trickier plants that are hard to ID
Incorporate wild crafting and foraging into your life throughout the cycles of the seasons
Harvest and utilize medicinal mushrooms
Cook with wild foods and make them a significant part of your diet


---
Are you ready for this class?
This advanced wild foraging and herbal medicine class is for those who have some prior knowledge and training. Ideally, students will come with an understanding of basic botany and plant ID. In addition, familiarity with using wild plants for food and medicine will help students get the most out of this class.
One fantastic way to get up to speed and prepare for this advanced herbal training is to take our Wildcrafting and Medicine Making Intensive. In fact, pairing the two classes is a great choice for anyone wanting to dive deeply into herbal healing and wild crafting. Together they'll give you a comprehensive knowledge base, including all the skills you'll need to gather, grow, process and use many diverse wild foods and medicines.  We offer a discount when you register for both classes together, see below.

Empower yourself in this herbal medicine class to gather and prepare what you need to stay healthy and vibrant.
---
Why wild crafting?
Wild crafting could be the oldest human endeavor. After all, every animal on this planet has some kind of relationship with wild plants. Somewhere deep inside, each of us yearns for this connection to the undomesticated world. Learning to forage for food and medicine builds a bridge between our modern experience and the instinctual, natural parts of ourselves
In fact, our bodies respond particularly well to wildcrafted medicines and foods when they're harvested from pristine environments. This is because wild plants have to struggle to survive, and they concentrate medicinal compounds and nutrients to do so. In addition, plants that haven't been bred for commercial goals retain their undomesticated characteristics. Oftentimes, these "wild" properties are particularly healing and nutritious.
Furthermore, foraging and wild crafting gets us out into wild places. And, in contrast to simply "taking a hike," going into the woods, mountains and meadows with an eye for wild plants keeps us observant and attuned.
---
Wild crafting classes bring out the intuitive healer in everyone; when we get out into the wilderness, we remember a part of ourselves that knows how to be well.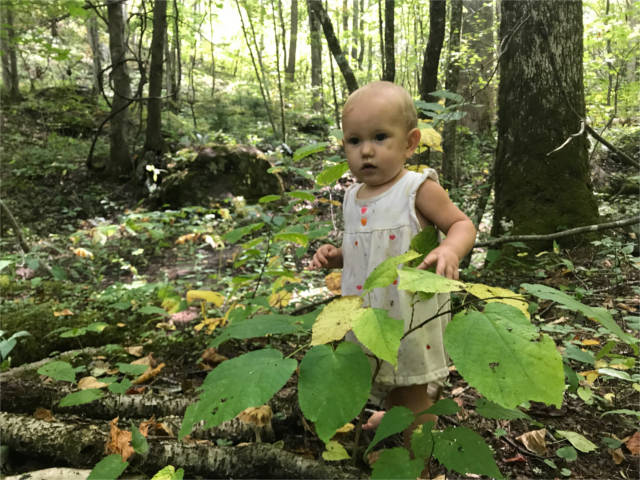 ---
Instructors
---
Local Accommodations
While some locals prefer to commute to Wild Abundance from Asheville, students from the area and out of town are welcome to pitch a tent in one of our flat camping spots in the woods or field, or to tie a hammock in the forest on our seven-acre property. We strongly suggest bringing a very warm sleeping bag and bedding. We do have a fully functioning outdoor kitchen and bathroom, though in extremely cold weather, sometimes one or both are out of operation due to the water freezing.
If you prefer something more conducive to creature comforts, we suggest browsing Airbnb or checking out some of the local motels and B&Bs within a 10-15 minute drive to Wild Abundance.
Below are a few local accommodations you might find to your liking:
Comfort Inn in Mars Hill, NC
---
Registration Info
We strive to make our classes accessible to those who wish to learn. There is a sliding scale available for this class shown by the below tuition range. Pay what you can afford according to your own financial situation.
The following are included in the price of the course: instruction, optional camping, and facility use (kitchen, bathroom).
ADVANCED WILD FORAGING AND HERBAL MEDICINE CLASS PRICING:
October 5-8, 2018
Early-Early Bird Price: Now – August 17, 2018: $400-$600
Early Bird Price: August 18 – September 14, 2018: $500 – $800
Late Bird Price: September 15 – October 4, 2018: $500 – $900
Herbal Medicine Class package:
Wildcrafting and Herbal Medicine Intensive PLUS Advanced Wild Foraging and Herbal Medicine Class
Early Bird Price: Now  – August 17, 2018: $925 – $1525
Late Bird Price: August 18 – September 26, 2018: $925 – $1525