Equip yourself with the tools you need for self-sufficiency and sustainable living
One 3-day weekend a month, April-November
Plus exercises and projects to work on at home
Earn your Permaculture Design Certificate
We also offer an intensive Permaculture Design Course that is 12 consecutive days.
---
This class might be the deepest permaculture design course out there.  That's because in addition to the 72 hours of content required for certification, we include more than 100 hours of additional classes and instruction.  In order to help you build a strong foundation, we integrate multiple modalities into the program.  Specifically, it covers skills that we believe are indispensable for sustainable living, such as:
Foraging for food and medicine, friction fire, natural building, community dynamics and communication, whole-systems thinking, preparing for catastrophe, human nutrition, water management, homestead economics, and much more.
The Earth Skills and Permaculture Immersion Course grew out of our "Essentials" course. We've added a whole day of instruction each month, plus some amazing new guest instructors (see below). Not to mention, the class now lets you earn your permaculture design certificate.
What to Expect in this Permaculture Design Certificate Course: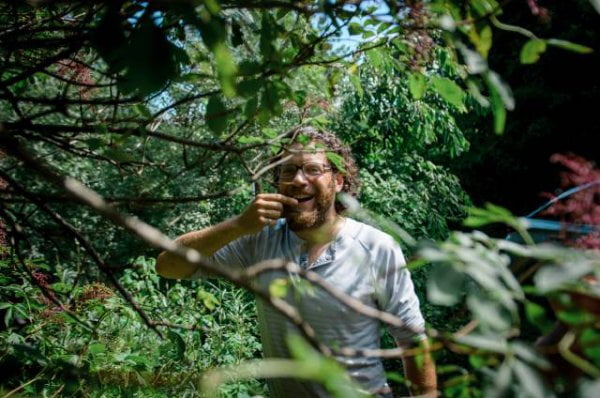 Students will delve deeply into the content, integrating what they learn into their lives. To do this, we meet for one three-day weekend intensive per month. Each weekend has a theme and covers a group of topics and skills. Throughout the course, students will work on a permaculture design project in small groups. This is one of the requirements of permaculture certification. In addition, it gives students a chance to integrate and engage with the nine months of learning, observing and reflecting. Class time is a dynamic mix of hands-on projects, site visits to observe principles in practice, group discussion, lecture and supported design time.
Schedule of this Unique and Intensive Permaculture Course
Special Note: If you are unable to attend one or two weekends, not to worry! There will be opportunities for you to make-up classes by attending other Wild Abundance classes, self-study or attending the classes you missed next year.
Hours are generally:
Friday: 9:30 am – 1:00 pm, 2:00 – 5:00 pm and 6:00 – 8:30pm
Saturday: 9:30 am – 1:00 pm, 2:00 – 5:00 pm and 6:00 – 8:30pm
Sunday: 9:30 am – 1:00 pm and 2:00 – 5:00 pm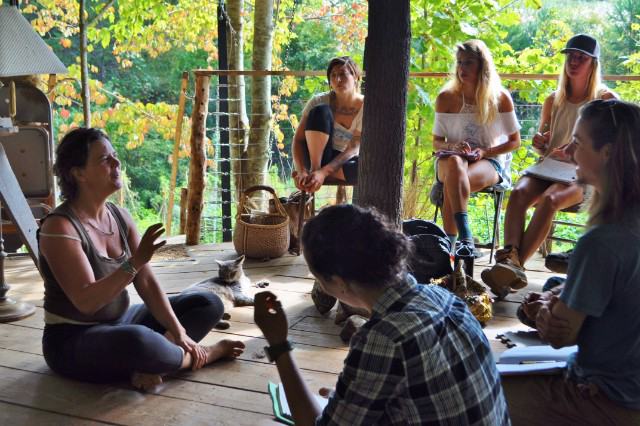 Learn from Seasoned Homesteaders in and around Asheville, NC
Plus a few Visiting All-Stars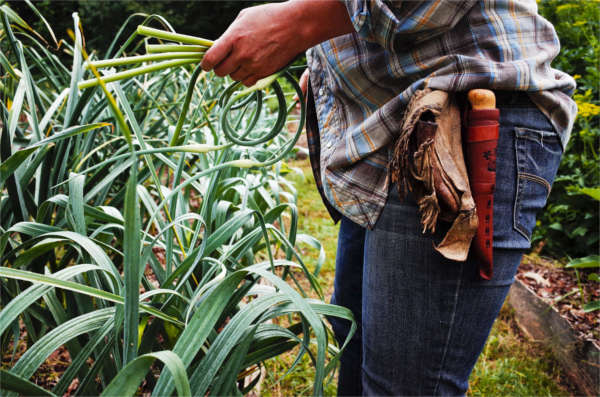 We're lucky to live in a hotbed of modern day back-to-the-landers and homesteaders. In fact, there are many folks around here living with ingenuity and creativity as they apply permaculture principles into their lives. Asheville is known as a hub for organic gardening, natural building, intentional community development, earthskills, and permaculture. Our instructors are some of the area's finest in their fields. They teach their specialties and passions, infusing this permaculture design course with a wealth of experience, inspiration and engaging teaching styles.  
Along with our local legends, this year we're excited to welcome a few extra-special instructors from further afield, including:
Eric Toensmeier, award-winning author, Yale lecturer, international trainer, and best of all, brilliant permaculturist. He's got two decades of practical and theoretical experience and is a perennial vegetable and carbon farming expert. Eric will help us learn to survive and thrive in the face of global climate change.
Ben Falk lives permaculture every day at his Vermont homestead. It's a testing-ground for ideas and projects that he shares with the wider world through teaching, consulting, and writing. He's the author of the award-winning book "The Resilient Farm and Homestead." This guy walks his talk!
See more about individual instructors at the bottom of this page.  
---
Dates and Details of the Immersive Permaculture Design Certificate Course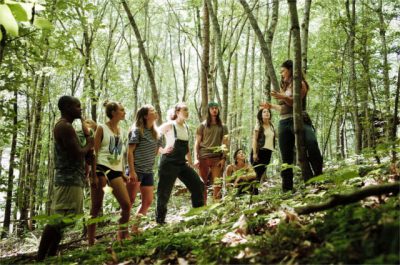 April 26-28, 2019: Nature as Teacher
We will cover identification and uses of wild edible plants, medicinal plants, botany, foraging edible weeds and wild foods cookery. The forest (and our team of naturalists and botanists) will introduce us to plant guilds, holistic forestry, climates, biogeography, microclimates and reading the landscape.
---
May 17-19, 2019: Sowing Seeds and Lighting Our Fire, the Journey Begins
Fire-by-friction and friction fire kits to take home, early spring gardening and garden planning, seed starting, permaculture principles, leather knife sheath making, and more. We'll review the process for getting your permaculture certification and get started on design projects.
---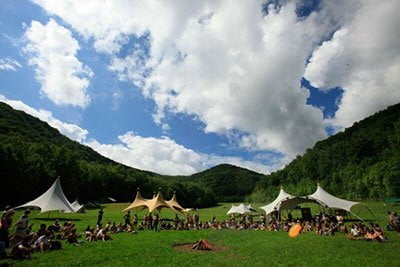 June 14-16, 2019: The Firefly Gathering, Earth Skills and Community
Earthskills and Permaculture Immersion students will get a free three day weekend pass to the Firefly Gathering. It's the largest primitive skills gathering in the US and hosts dozens of classes on permaculture, eco-homesteading, and primitive skills. Think of this as time to explore electives. In the past the Earthskills group has camped together and shared some of their meals, creating their own supportive community within the bigger container of the gathering.  
---
July 26-28, 2019: The Languages of Living Systems
An exploration of soil science, delving deeply into permaculture design tools and techniques, making permaculture maps, water systems, earthworks, compost, waste, budgets, fostering independent living, and more…
---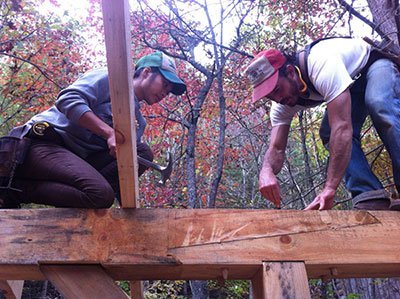 August 23-25, 2019: Structure and Function, Tiny Houses and Natural Building
During the Tiny House and Natural Building workshop, we'll take a tour of local homesteads, have an overview of natural building, and do some hands-on natural building and carpentry projects. Students can choose to attend just for the 3-day weekend, or can add the rest of the workshop for a reduced fee. We will kick off the weekend with preliminary design presentations.
---
September 13-15, 2019: Farms and Gardens of All Sizes, Integrating Animals and Preserving the Harvest
Designing professionally, urban farm tour, playing with pasture management and larger-scale gardening, holistic orcharding, permaculture plants for the south, fall gardening, working on hands-on permaculture designs, food preservation.
---

September 21, 2019: Designing for Community and Tools of the Homestead, plus Spoon Carving
[Optional but encouraged!]
Social Permaculture, tools of the homestead, facilitated design time, ecovillage and neighborhood design, and preparing for catastrophe.  You'll also learn how to carve spoons, and you'll get to make a beauty to take home.
---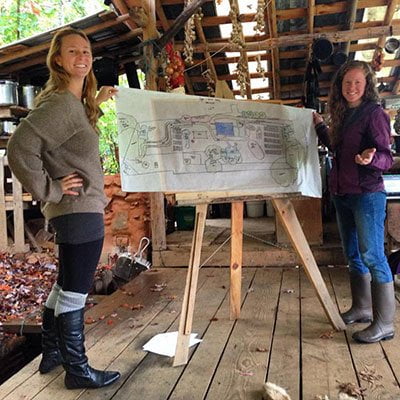 October 4-6, 2019: Going Deep: Permaculture Design Presentations, Hunting, Nutrition, Tools, and Basketry
Final permaculture design presentations, human nutrition, tools of the homestead, deep ecology, harvesting materials for baskets, starting baskets, introduction to using chainsaws, introduction to hunting, stalking, and flintknapping.  
---
November 1-3, 2019: Weaving It All Together: Getting to Know Ourselves, Communication Skills and Bringing Seeds to the Future
Focus on figuring out where to go from here.  We will look at gifts and abilities, and help each other find our paths and identify any obstacles standing in the way.  We'll also finish our beautiful baskets, and learn seed saving and fruit tree pruning.
---
"The Earthskills and Permaculture Course showed me a different way to think and to live. I got exposure to people and concepts I did not know existed and have so much respect for now that I am aware. Literally…this class changed my life (I only wish I had taken it 30 years ago)."
Sally Brown
---
Instructors
---
Our Campus is Unconventional
To read about our facilities, including accessibility for alter-abled people, read about our Campus here.
---
Local Accommodations
Wherever you're coming from, you're welcome to pitch a tent in one of our flat camping spots in the woods or field, or to tie a hammock in the forest on our seven-acre property. If you live locally, you may prefer to commute to Wild Abundance from Asheville (25 minute drive). If you choose to camp, we strongly suggest bringing a very warm sleeping bag and bedding. We do have a lovely outdoor kitchen equipped with stove and running water, an outdoor shower, and an outhouse available to campers.  In extremely cold weather, sometimes these are out of operation due to the water freezing.
If you prefer something more conducive to creature comforts, we suggest browsing Airbnb or checking out some of the local motels and B&Bs within a 10-15 minute drive to Wild Abundance.
Below are a few local accommodations you might find to your liking:
Comfort Inn in Mars Hill, NC
---
Registration Info
This class will change your life. The community formed in the context of sharing nine months of learning with other students makes this a very comfortable and welcoming class for anyone to take on their own.
April 26 – November 3, 2019
Early-Early Bird Price: January 1 – January 9, 2019: $3,500-$4,000
Early Bird Price:January 10 – March 5, 2019: $3,700 – $4,200
Late Bird Price: March 6 – April 25 , 2019: $3,900 – $4,300
*Please note that meals are not included in the class.
We also offer an intensive Permaculture Design Course that is 12 consecutive days, and has a lower registration cost.