Do you love plants? Our spring Gardening Apprenticeship is focused on growing, caring for, harvesting and utilizing a plethora of wild and cultivated plants. You will go into depth with garden planning, soil science, seed starting, companion planting, crop rotation, harvesting techniques, and more.  Springtime apprentices will gain a solid foundation in annual vegetable gardening, edible landscaping,  and perennial plant care as well as wild plant identification, foraging, and herbal medicinal and edible uses.
Our Gardening Apprenticeship is way more than just a Gardening Course – it's an Herbal Apprenticeship and a Wildcrafting Apprenticeship, too.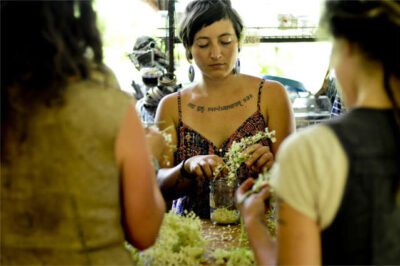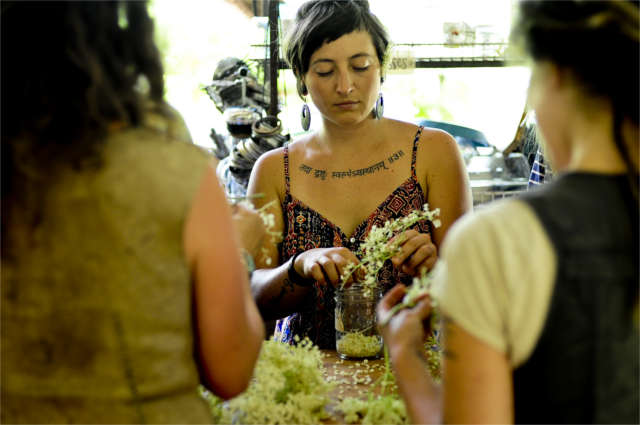 Spring Gardening & Wild Foraging Apprenticeship:
The Wild Abundance gardens boast many edible perennials, tree crops and medicinal herbs. We will also go past the bounds of the cultivated land, studying applied botany and ecology and learning about the bounty of wild edibles and medicinals in the rich forests of Appalachia.
Aside from immersing ourselves in the vegetal world, this program will dabble in building, primitive skills and permaculture.
---
Learn to gather food and medicine in stellar Foraging Classes
Students will make baskets out of poplar bark, learn to tan hides, make fire with friction, and build simple structures
Perhaps of equal importance are skills that we teach for community living and resilience, which help students be more effective and happy throughout their lives. The spring program ends with the Firefly Gathering, the largest Earthskills Gathering in North America, with more than 300 classes to choose from.
---
Because of the small group nature of the program, the apprenticeship is equipped to teach gardening for beginners as well as advanced techniques.
Cost and Outline of the Spring Apprenticeship
We ask for a financial contribution of $3,000 for this program.      
Our apprenticeship programs are on-site residential immersions (we are open to commuting participants if they have special situations) at Wild Abundance, located near Asheville, NC.  The apprenticeship program is our humble attempt to welcome a small group to our land every year to venture into the relational process that involves living on the land, building community, renewing culture, developing Earthskills, mentoring and personal growth!  Through this immersion, we share the depth and creativity of how we live and the richness of the real life challenges, opportunities and abundance that make up our family, community, home and lives.

---
What to Expect in this Gardening Apprenticeship:
Sample Spring Schedule On A Non-Class Week
| | | |
| --- | --- | --- |
| | 9:30am-1pm | 2:30pm-6pm |
| Monday | Free Time | Free Time |
| Tuesday | Free Time | Apprentice Garden Time |
| Wednesday | Naturalist Notebook | Independent Land Stewardship Project |
| Thursday | Free Time | Apprentice Garden Time |
| Friday | Foraging and Ecology Hike | Gardening with Natalie |
| Saturday | Naturalist Notebook | Free Time |
| Sunday | Free Time | Free Time |
Sample Spring Schedule On A Class Week
| | | |
| --- | --- | --- |
| | 9:30am-1pm | 2:30pm-6pm |
| Monday | Free Time | Free Time |
| Tuesday | Free Time | Apprentice Garden Time |
| Wednesday | Naturalist Notebook Time | Independent Land Stewardship Time |
| Thursday | Free Time | Free Time |
| Friday | Wild Foods & Medicine Backpacking Adventure | Wild Foods & Medicine Backpacking Adventure |
| Saturday | Wild Foods & Medicine Backpacking Adventure | Wild Foods & Medicine Backpacking Adventure |
| Sunday | Wild Foods  & Medicine Backpacking Adventure | Wild Foods & Medicine Backpacking Adventure |
---
Near Asheville, NC and the Blue Ridge Mountains
The area surrounding Wild Abundance is breathtaking!  We live in a country neighborhood of amazing and like-minded folks, 5 minutes from a decent swimming hole, 10 minutes from the Pisgah National Forest, 20 minutes from some of the most biodiverse forests in the temperate world, and 20 minutes from Asheville, a decent-sized town which one past apprentice deemed "the hippie hotspot of the East Coast."
---
As well as participating in regular apprenticeship days, Spring Gardening Apprentices will have the opportunity to participate in the following classes and programs: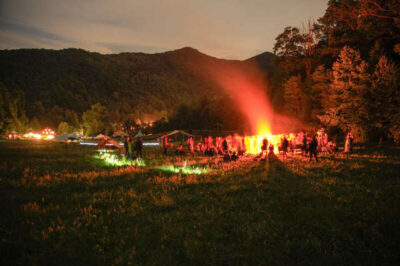 ---
Please note that the Spring Apprenticeship will not duplicate the content of the Fall Apprenticeship. The classes will be different and the activities will change with the seasons. We try really hard to keep the content fresh and unique throughout the entire year as we flow with the seasonal nature of living with the land.
---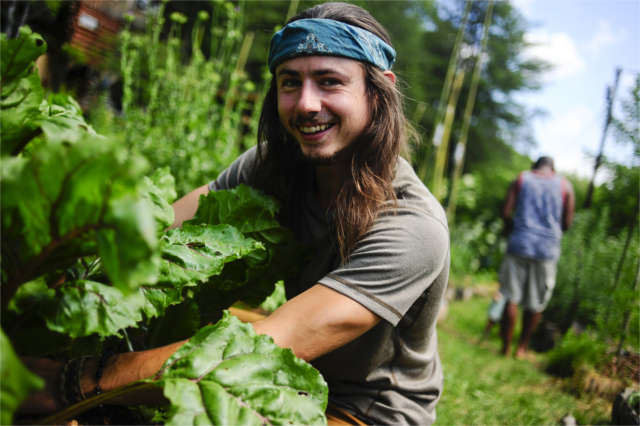 ---
Local Accommodations
Working and Learning Together
We will be working and learning through all sorts of tasks related to building and homesteading. These may include gardening, carpentry, building with clay and other local or natural materials, sawmill work, small-scale logging, firewood gathering and splitting, wild foods and medicine harvesting and processing, preparing for classes, and more.
Some of the jobs might not be very glamorous. Sometimes self-sufficient homesteading feels like lots of grunt work. There will be some weeks each year when Frank and Natalie will not be available to work with you because of the Firefly Gathering, teaching out of town and personal time off. During these times, we will either set you up with a colleague to work and learn with, or get you going on projects of your own.
---
Infrastructure
You will have use of an outdoor kitchen space with a great view, an official permitted privy, and a 3 seasons sleeping shelter. We suggest everyone bring a nice roomy tent as well as a tarp or fly that can protect the tent and supply some covered private space to store personal items. We also suggest bringing ample and comfortable bedding. You may prefer to simply sleep under a tarp, in a debris shelter or in a hammock. Go as primitive as you want! These are all fine options, but please consider your own needs and make sure that you are able to provide for them in such a way that you will be comfortable living for an extended period of time in a communal environment that might not necessarily offer you the creature comforts and personal space to which you might otherwise be accustomed.
We have some access to electricity, both on-grid and soon to be off-grid. This power can be sparingly used for charging phones (only US cellular, Republic Wireless and Verizon phones work here), etc. We tend to have a no laptop rule in the outdoor kitchen. We don't live in an Internet cafe; we live in the woods, but there will be a designated time for limited internet usage. If you want to use the Internet more frequently or want to get away, you are totally welcome to go to town.
Democrat, NC, has a gas station, a beer store and a diner, and good swimming hole, and is ¾ of a mile away. Barnardsville has a post office and a couple of thrift stores and is 2 miles away. Weaverville is 11 miles away, and has a library, laundromat, grocery store, fancy bakery, and more. Asheville is 18 miles away, takes 22 minutes to reach by car, and has dancing, health food galore, a movie theatre that sells pizza and beer, great music venues, craft stores, and many fun folks.
---
Registration Info
Application Process
The first step is to fill out the appropriate application form and to pay your application fee and deposit. We need to receive both an application form and a deposit in order to move forward. After we receive these items, we will contact you within 2 weeks and set up a phone interview during which any additional questions can be answered. After that, if practical geographically, we will schedule a working interview and make a decision soon thereafter.  If a working interview isn't geographically feasible, we will make a decision soon after the phone interview. Click here to complete an application form.
---
Application Fee and Deposit 

We ask for a $50 application fee for the apprenticeship, along with a $250 deposit (a total of $300 when applying), without which we will not consider your application. The application fee covers our administrative costs and the time it takes to process your application and is not refundable. The deposit goes toward your total financial contribution if you are accepted, and can only be refunded if we do not accept you into the program. Upon acceptance into the program, we ask for the first $1,000 of your contribution within two weeks. Your total financial contribution may be paid in installments but must be paid in full by one month before the apprenticeship starts.
The first two weeks of the apprenticeship will serve as a trial period. This is a chance for us to make sure that the apprenticeship is a good fit for you and for us. After the two-week trial period, we will have a meeting and if the apprenticeship is not working for either party, we will discuss issues and try to work through them, or make a clean break. Your deposit may be returned at this point.
We have very limited space in this program.  Please fill out an application and pay your deposit as soon as possible if you are interested.

If you have any questions, please email WildAbundanceNC@gmail.com.
More in-depth information about our apprenticeships can be found on our WildAbundance Permaculture Apprenticeships page.
Please also check out our Fall Natural Building Apprenticeship as well as the Spring-Summer-Fall Combination Apprenticeship, which will equip you with the skills you need to Live off the Land.
---