The online hide tanning course is a video-based program that guides aspiring hide tanners through every step of tanning a deer hide using the wet-scrape brain tan method.  Your guide on this journey, deer hide alchemist Natalie Bogwalker, has led hundreds of students through the otherwise confounding process of tanning hides.
C
heck out the video above to learn more about the class, what it covers, who we are, and how tanning hides will enrich your life. 
---
What Is Brain Tanning?
Brain tanning is the ancient art of transforming a rawhide (sometimes stinky, and definitely prone to rot if you don't intervene) into a soft, supple, useable buckskin. You actually use the deer's brains as a key ingredient in the tanning process (don't worry, if you don't have brains on hand, you can use egg yolks).  A lot of skillful technique and physical effort are required, and at the end, smoke is used to preserve the softened hide that results from the brains and your brawn.
Indigenous people on every inhabited continent practiced some form of brain tanning; many of them still do.  It's also totally natural and completely non-toxic, unlike many modern tanning techniques.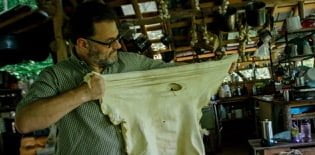 Why Learn to Brain Tan?
When you know how to brain tan, a discarded deer hide becomes a valuable, useful resource. The buckskin (leather) made through this process is uniquely strong, supple, durable, breathable and  deliciously smoky smelling. It's quite unlike anything that's available commercially.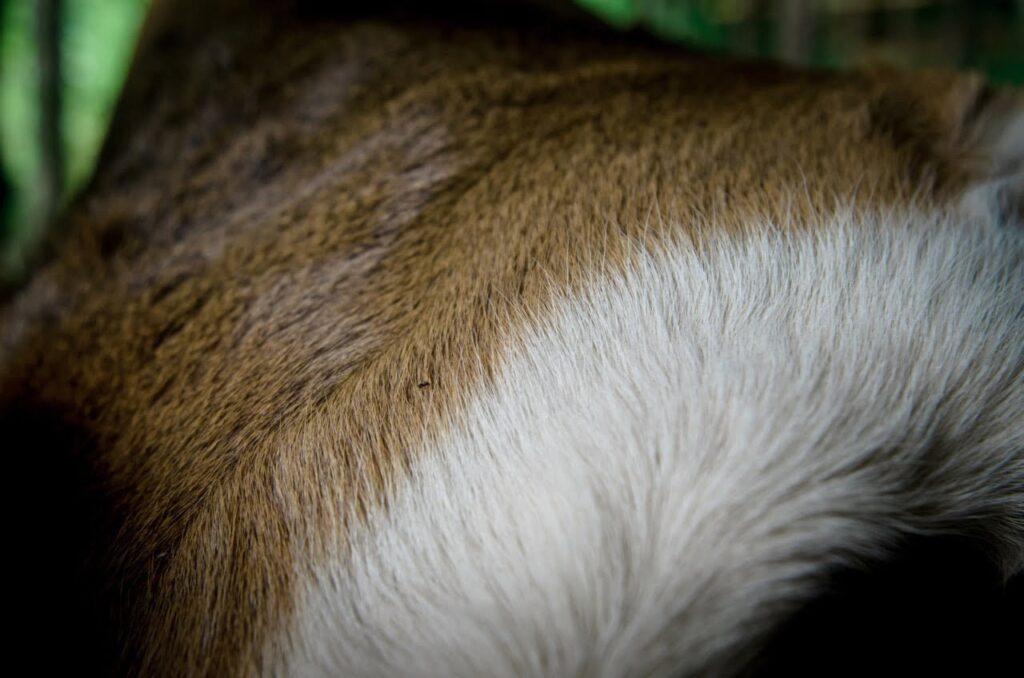 Not only is the product of brain tanning wonderfully cool, the process itself is also rewarding and magical.  It's an enriching thing to do on your own – or with friends and family – including children.   We've had families work on hides together, and our youngest official student was 12 years old at the time.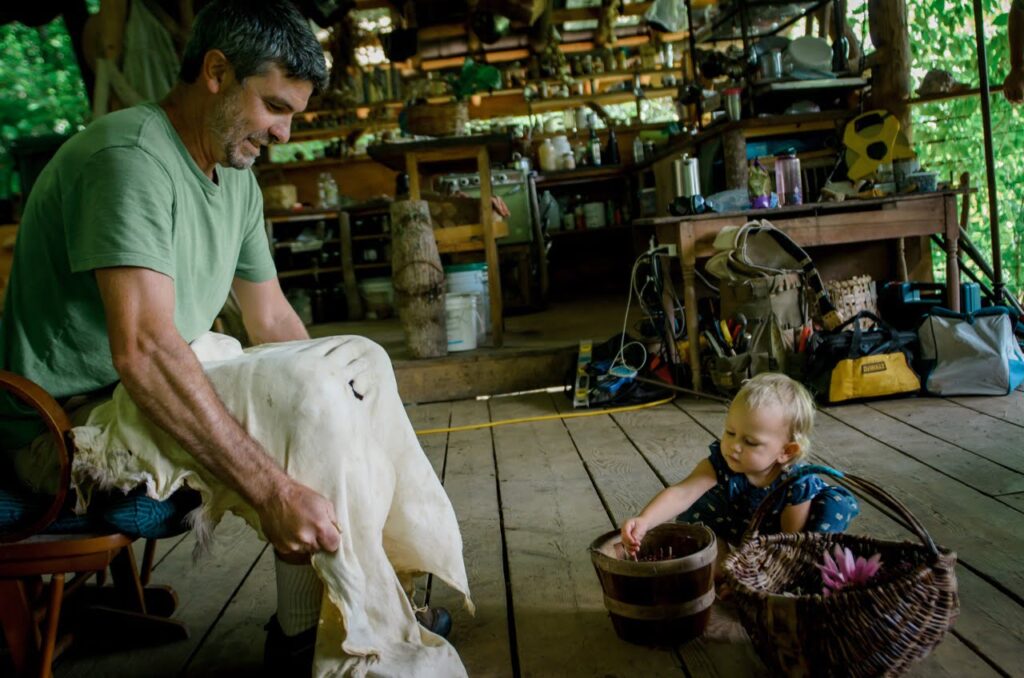 Tanning a hide deeply connects you to the natural world.  Many of our students have felt personally transformed by hide tanning, and we bet you will too!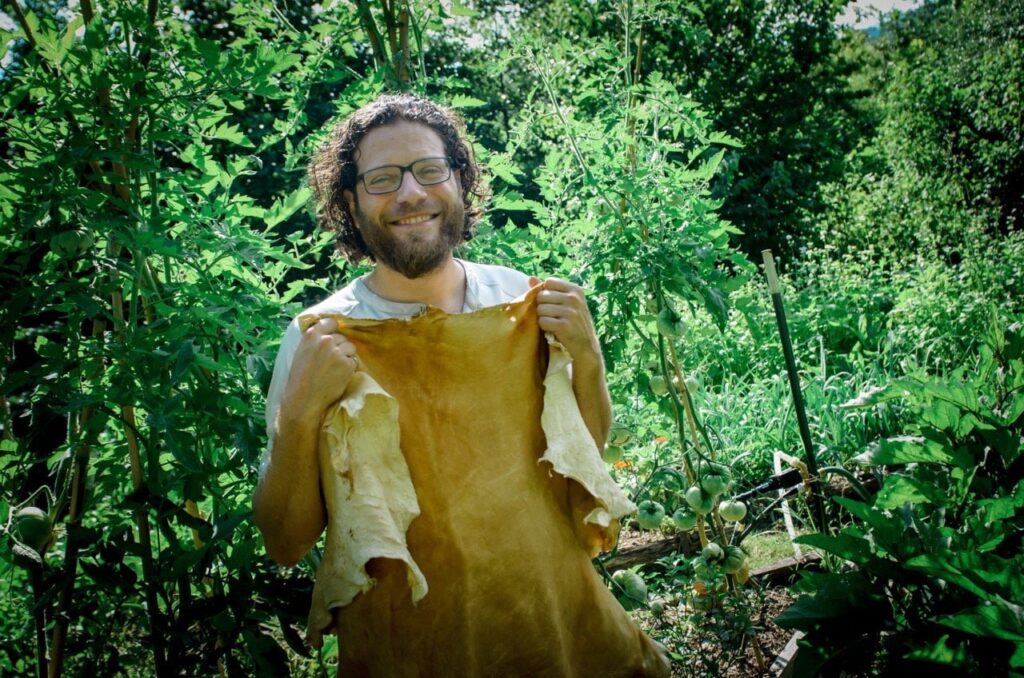 ---
How the Online Hide Tanning Course Works
In a series of detailed videos, broken up into 15 very doable sections, we walk you through the process of brain tanning a hide, step by step.  The comprehensive course manual works in tandem with the videos as a written reference that includes photos and diagrams. We suggest that you use your phone, tablet or laptop to watch the classes while you are actually tanning your hide.
We've talked with lots of folks who have attempted brain tanning with just a book as their guide.  It generally takes them weeks' worth of work before they get to anything resembling a finished buckskin.  Brain tanning a deer hide with the guidance of this online course can be done in 3-4 days, but you don't have to complete it start-to-finish all at once.  
In both our course manual and video collection, we highlight points in the process when you can put your hide on pause, which means hide tanning can fit in with the rest of your life.  It's a wonderfully unique benefit of the online course.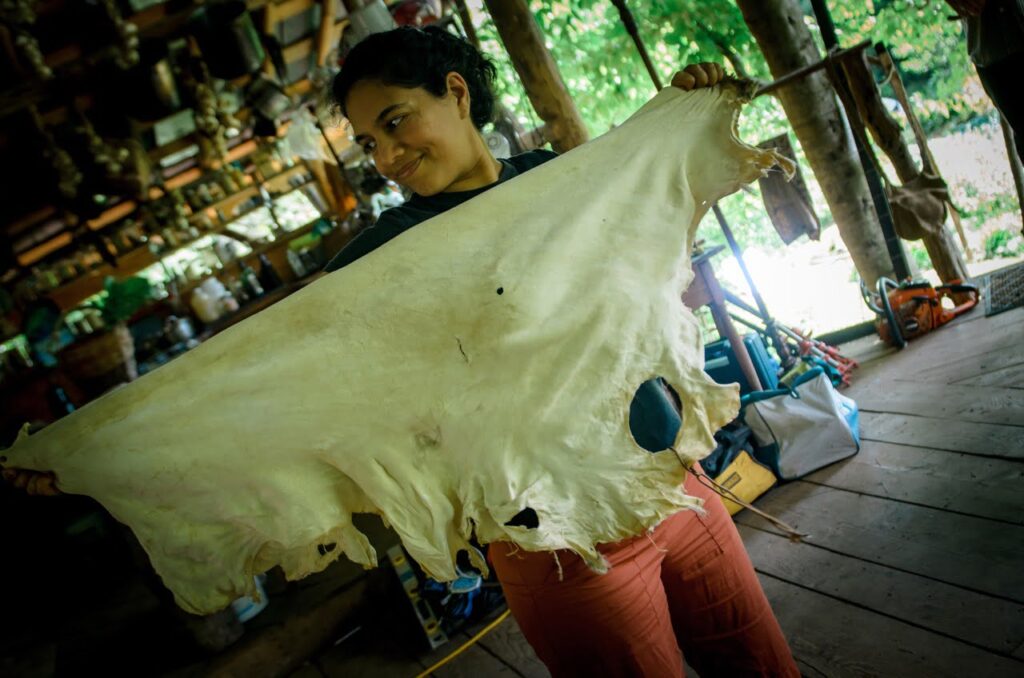 ---
What Makes This Online Hide Tanning Course Exceptional?
  Amazing Quality
The videography and attention to detail are stunning.  This makes the content easy to understand and follow. Free videos on the subject tend to be poor quality and often skip over many important steps of brain tanning. Our course was finely crafted from hundreds of hours of footage.  It's been distilled down to a much more manageable 12 hours of pertinent instruction.

  Comprehensive, Quality Content
With both the in-depth videos and comprehensive manual, this course covers the bases.  It's got all the guidance you need to be successful, starting with your first hide. Brain tanning is a tactile skill and the videos really bring each part of the process to life in a way that books and other written instruction cannot.  Because the course material is yours for life, it becomes a searchable reference for your whole hide tanning career.
  Extraordinary Support
We give students more than two months of responsive, personalized support after they sign up for the course.  This will get you well through annual fall hunting season. Our support includes bi-weekly live videos in which your questions are answered by an extremely experienced tanner.  We also have highly responsive technical support.
  Many, Many Years of Experience
We've been tanning hides for a long time.  Not only that, but we've been teaching hide tanning for quite a while, too.  This experience has given us much insight as to what tends to trip people up, what kinds of questions arise and how different people approach tanning.   We've used our knowledge, plus that of our teachers, to tailor your hide tanning experience to be crystal clear and free of mysteries.
  Community of Fellow Tanners
Our students tend to be extraordinary humans.  We are honored to host online discussions amongst those who are taking the course, including photo-swapping and tip-sharing.  We welcome you to get to know each other, we know you'll learn so much from one another's experience.
  We sell hides and gear (if you need them)
Not everyone has access to a deer hide and brains.  Don't worry. We have a limited number of fleshed and dried hides, ready to tan, that we offer exclusively to students of our online course (for $65, including shipping to the continental US).  We'll also sell, or can point you in the direction of, all the specialized tools that you'll need for tanning. It's likely you'll be able to scrounge up these items locally for free or cheap if you have a little time to hunt around.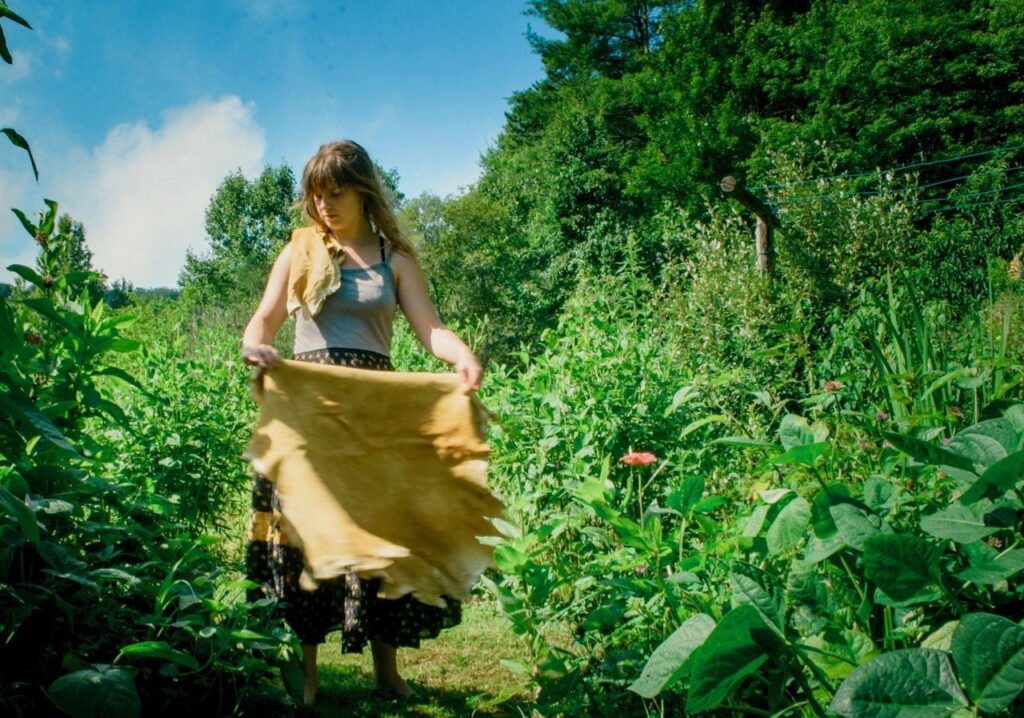 ---
What our Hide Tanning Students Have to Say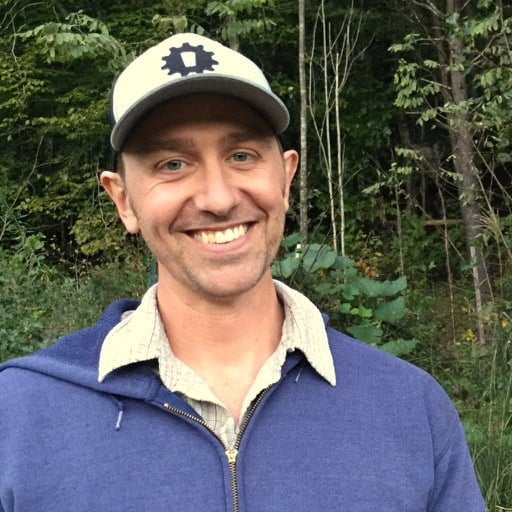 "As a hunter, the hide tanning class offered by Wild Abundance gave me the skills needed to fully utilize the animals I harvest.  I'm no longer troubled by the fact that I'm wasting a valuable part of the deer. I tan my own hides now, and, thanks to Wild Abundance, I have the confidence, ability and knowledge to do so in my own backyard."
(Austin Hall, firefighter and hunter, Canton, NC)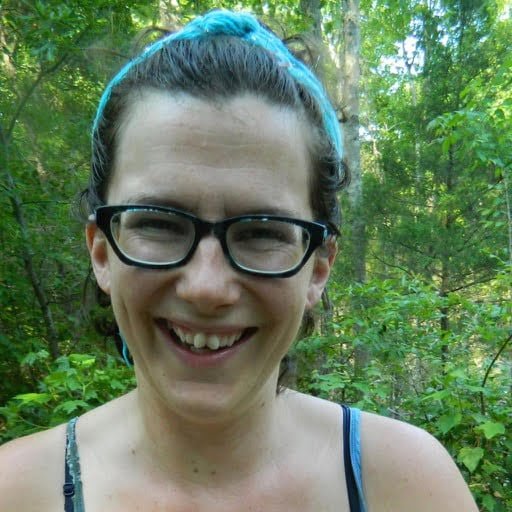 "Natalie gives very clear instructions and lots of support along the way, and by the end I was SO proud of my finished hide!"
(Rachel Watersong, psychologist and homesteader, Cedar Grove, NC)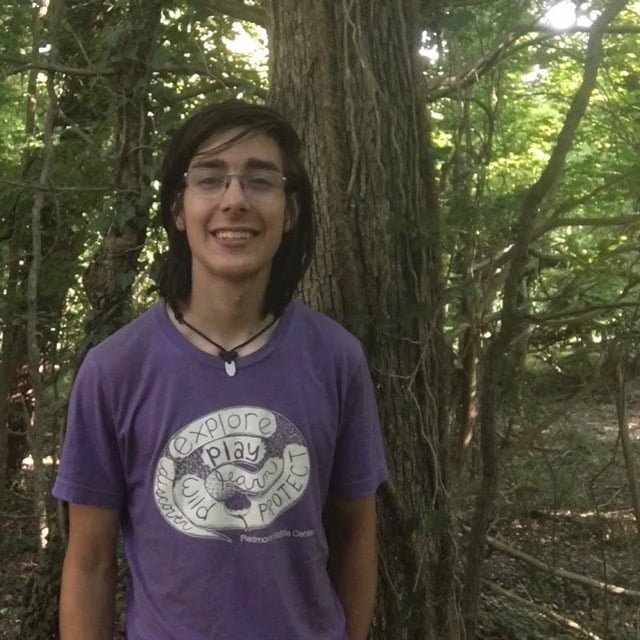 "This class – with all its subtle tips and tricks – made the process of brain tanning extremely clear and concise. Natalie's expertise is incredible, as her insights surely saved me many hours of work and much frustration. The class was an absolute pleasure, as there is nothing quite like learning to turn a rotting deer skin into a soft, supple, extremely tough piece of buckskin!"
(Owen Doll, student from Hillsborough, NC)
---
Instructors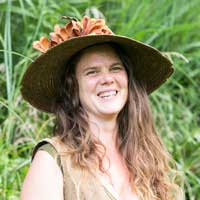 Natalie Bogwalker
Natalie is the visionary behind Wild Abundance, as well as a primary instructor for many classes. She's passionate about teaching and sharing skills to help all kinds of people live in an empowered and Earth-centered way. Natalie and her family live at the Wild Abundance homestead campus in the Southern Appalachians. She balances her time ...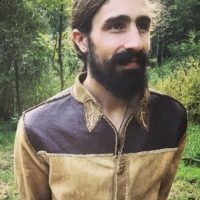 Tyler Lavenburg
Nose to the grindstone (sometimes literally), Tyler (he/him) lives for unraveling the mysteries of the Earth. He first fell in love with Southern Appalachian ecology as a student at Warren Wilson College, graduating with a degree in Environmental Education. Beginning as Natalie's first apprentice in 2009, he has since traveled around the Eastern US learning ...
---
Our Campus is Unconventional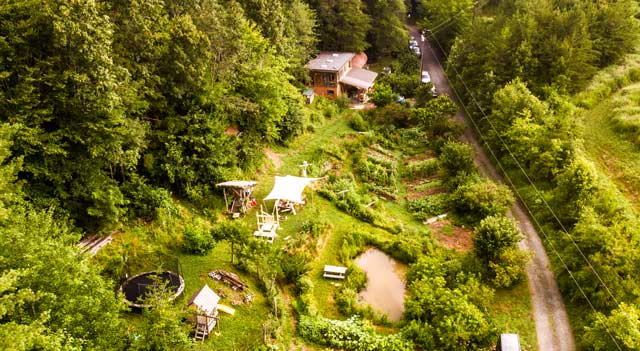 To learn more about our facilities, including accessibility for alter-abled people, read about our Campus.
---