Return to your own wild nature, and make something extremely beautiful and useful.  In this class, you'll learn how to turn a deerskin into buckskin using the ancient and natural brain tanning method.  Together with seasoned instructor, Natalie Bogwalker, you'll transform a rawhide into soft, supple, usable leather with your own two hands.
Connect with your ancestral skills and your wild self through brain tanning at home, at your own pace.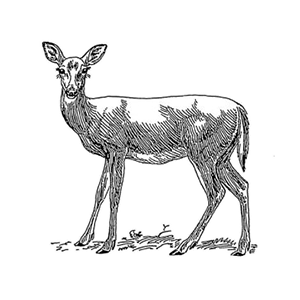 Click HERE to sign up for the class waitlist and receive info about early registration and specials
---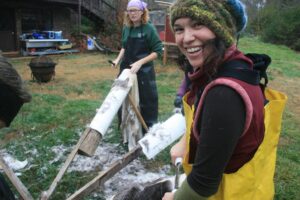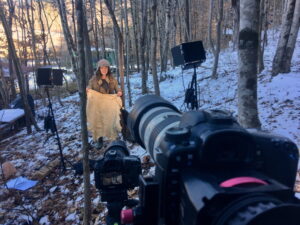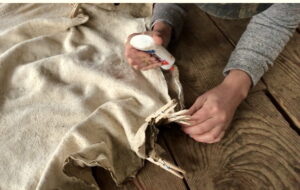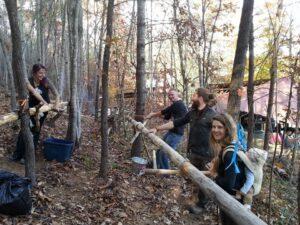 We've been working on this 10+ hour class for more than a year, and it's almost done!  Click the "Register Now" button to join our interest list. You'll receive notification when registration opens in the fall – plus get access to special bonus goodies when it does.
What Is Brain Tanning?
The brain tanning method of making leather involves using animal brains (or other fat and lecithin-rich substances like eggs) and smoke to turn a rawhide into leather.  Along with brains and smoke, brain tanning requires a lot of physical effort on the part of the tanner. It's one of many ways humans turn animal skins into usable material.  The final product can be used to make clothes, shoes, bags, lashing, and other durable, beautiful and useful things.
Brain tanning is an ancient practice.  In fact, indigenous people on every inhabited continent practiced some form of brain tanning; many of them still do.  Along with brains, some other fatty ingredients that have been used in the process include liver, milk, butter, and even pine nuts!
This means your ancestors made, wore and used buckskin.
Even if you have no idea where your people came from, what continents they lived on, what kinds of foods they ate or what spiritual practices they engaged in, you can be sure they made, wore and used buckskin.  
Brain tanning a deer hide is a way to tangibly connect with the part of yourself that is at home on planet Earth.  
---
"Thank you so much for offering the hide-tanning class. It was a wonderful and unforgettable experience. I came expecting just to learn new skills but I left with…a new passion and a new-found appreciation for hide-tanning. It was so fun and enriching working with people of all different ages and skill levels. There was plenty of time to get to know the group and share stories and laughter while working on our hides. The instructors made it really easy to understand and were available for plenty of one-on-one help. At the end of three days, they had helped us all turn our hides into beautiful works of art and left us with the knowledge to continue on our own! Hide tanning at Wild Abundance is an experience that anyone will enjoy and leave wholly enriched." – (Trudie Henninger, 2015)
---
Instructors
Natalie Bogwalker
Founder and Director of Wild Abundance; Instructor for Permaculture & Gardening, Homesteading, Foraging & Medicine Making, Carpentry & Natural Building, Rewilding, and Women's Empowerment Natalie is the founder and director of the Wild Abundance.  She's passionate about teaching and sharing tools and skills that are essential for living harmoniously within the natural systems of the ...
Tyler Lavenburg
Instructor for Rewilding and Homesteading Nose to the grindstone (sometimes literally), Tyler lives for unraveling the mysteries of the Earth. He first fell in love with Southern Appalachian ecology as a student at Warren Wilson College, graduating with a degree in Environmental Education. Beginning as Natalie's first apprentice in 2009, he has since traveled around ...
---
Registration Info
Registration for the Online Hide Tanning Class will open in November, 2018. If you're interested in this class, click "register now" to join an interest list. We'll email you with early registration details and bonus goodies.