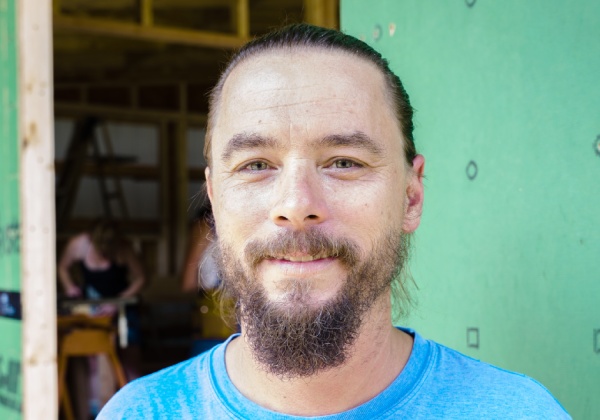 Jeramy Stauffer (he/him) moved to North Carolina in the winter of 2002. He had been building in Vermont prior to the move. Immediately he found a work family with
Nanostead'
s sister company South East Ecological Design. Jeramy soon became a project manager and strictly focused on green building and wanted to build with a small footprint. He built a 327 sq. ft. Home in the Shelton Laurel community of Madison County in 2004. During construction he purchased a 19' Yome, from
Red Sky Shelters
. During the winter months, they rented a 14'x14' apartment and realized living in small spaces can be very comfortable.
In 2013 after having built multiple homes for South East Ecological Design, Jeramy wanted to go off on his own and create turn-key, small scale homesteads and build homes with a small footprint. Jeramy brought Kevin Ward (Owner of South East Ecological Design) into the business as an equity partner and lead designer.  Once Nanostead was created in October of 2013 Nanostead's first job was at the Hot Springs Campground, building 2 vacation cabins. During that process Nanostead built the Villager Tiny Home for Natalie Pollard, the owner of Villagers Homestead Supply located in West Asheville, NC.   
With the national press that Nanostead's first THOW (Tiny House On Wheels) got because of Natalie's blog, "Hello Tiny Home," it didn't take long for the sparks to fly.  He and his partners, Kevin Ward and Charles Todd Rule, fell in love with designing and building Tiny Houses.  The Villager model has been on television shows such as Tiny House Hunters and CNN.  It has also been published in multiple magazines and web blogs.
Since Nanostead has started Jeramy has become an Educator for the Tiny House Movement.  His class, Tiny Homes and Small Scale Living at AB Tech Community College has become a hit with people interested in multiple aspects of the Tiny House movement. He has taught short classes and half day workshops at The Organic Growers School in Asheville, NC. Jeramy hopes to use Nanostead's commercial space to teach workshops and invite others to teach small scale homesteading classes as well.