Natalie Bogwalker
Founder and Director of Wild Abundance; Instructor for Hide Tanning, Permaculture & Gardening, Homesteading, Foraging & Medicine Making, Carpentry & Natural Building, Rewilding, and Women's Empowerment
Natalie is the founder and director of Wild Abundance.  She's passionate about teaching and sharing skills that are essential for living harmoniously within the natural systems of the Earth.
She and her family live at the Wild Abundance homestead campus in the Southern Appalachians. Natalie spends her time harvesting in the wild, building, gardening, planting, putting up food, growing, teaching, connecting with the community, and playing with her daughter.  Amidst all of this she's constantly scheming about how to introduce more people to Earth-based living, while worshiping the beauty around her.
She teaches at the Chestnut School of Herbal Medicine, the Maps meet and Earthskills Rendezvous, and has given talks at FSU, Southern Adventist University, Tulane University, Ohio University, Vanderbilt University, Western Washington University, and many other places. Natalie was also featured in Morgan Spurlock's documentary Freedom in America and appeared in the National Geographic series: Live Free or Die, in an episode titled "Butchers and Builders." Natalie holds a B.A. in ecological agriculture and, more importantly, has studied with teachers who have deeply enriched her perspective, including Juliet Blankespoor, Margaret Mathewson and Frank Cook.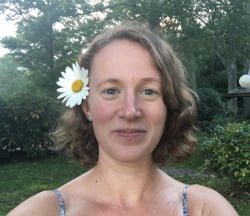 Amy DeCamp
Marketing and Project Manager
Amy is a former suburbanite who's found solace in the rolling hills of rural Appalachia. She joined the Wild Abundance team in January 2018 and is energized by working to spread the word about this special school and empower others with Earth-based knowledge. She's honored to support Wild Abundance in its mission to teach skills that are our birthright as human beings inhabiting planet Earth.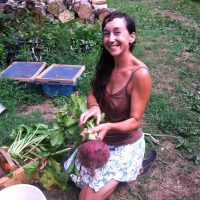 Chloe Lieberman
Blog and Newsletter Writer, Instructor for Nutrition, Gardening, and Wildcrafting
Chloe writes for Wild Abundance's blog, newsletter, and website.  In addition, she cooks for some classes, teaches a few others, and jumps in to help out with management and strategy. These roles give her a welcome outlet for the knowledge and excitement she perpetually cultivates around land-based living and a positive future for the planet.  Along with working at Wild Abundance, Chloe magically juggles co-managing a 23 acre homestead and small-scale dairy, parenting, lifelong learning, and maintaining meaningful relationships.  She majored in Agroecology and Sustainable Food Systems at UC Santa Cruz.  There, she deepened her inborn passion for real food and social justice. For 10 years before landing at her own homestead in Western North Carolina, she explored many manifestations of "sustainable community" all over the world.  In addition to growing and preparing food, she loves cultivating, foraging and utilizing medicinal plants and mushrooms.
Hannah Heiser
Administrator and Bookkeeper
Hannah grew up in the city of Boston, but eventually moved to a much smaller, rural town in Western Massachusetts.  There, she fell in love with sustainable farming and a do-it-yourself lifestyle.   She also found a sense of hope in the extensive and thriving social networks of grassroots farmers, artists, musicians, and activists in her community.  This inspired her to learn more about sustainability and DIY living.  She wanted to grow her capacity to make positive changes at a community level.
When Hannah moved to Asheville to learn more about permaculture, she stumbled upon Wild Abundance.  While she came for the permaculture, she found much more than that.  Wild Abundance's inspired and passionate mission that's deeply rooted in real community really spoke to Hannah.  Furthermore, she found the organization overrun with wise and experienced folks who live what they teach and are just great people on top of that.  To Hannah, Wild Abundance represents all the things that make her hopeful that positive, personal, and community-level change is possible and already happening.  What started out as a work-trade relationship to help her cover the cost of classes turned into a career move.