Learn about tiny house living from people actually doing it!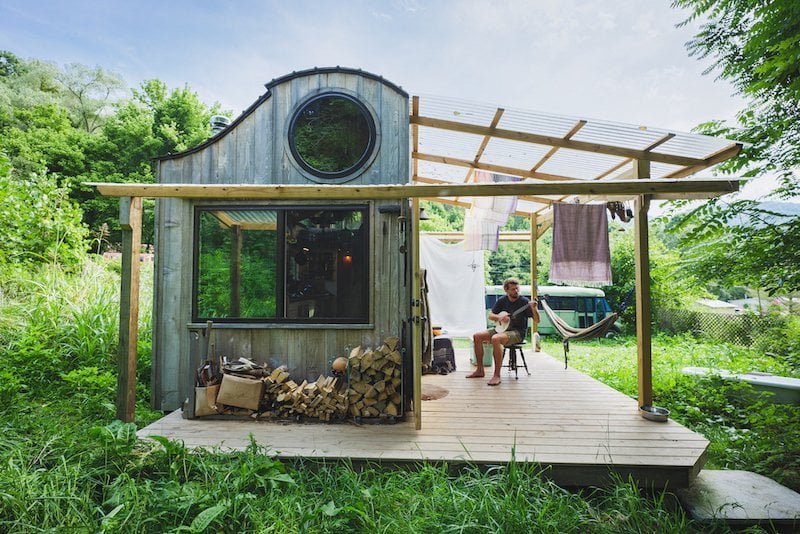 This class is currently closed. Get on the waitlist to be notified of the next enrollment period.
You'll also receive our regular newsletter, including new blog posts, seasonal guides, and special offers.
With this free online class, you'll meet several different people who live in tiny houses of various sizes and configurations, visit some of their houses, and hear about what it's really like living in a tiny house. 
This class includes: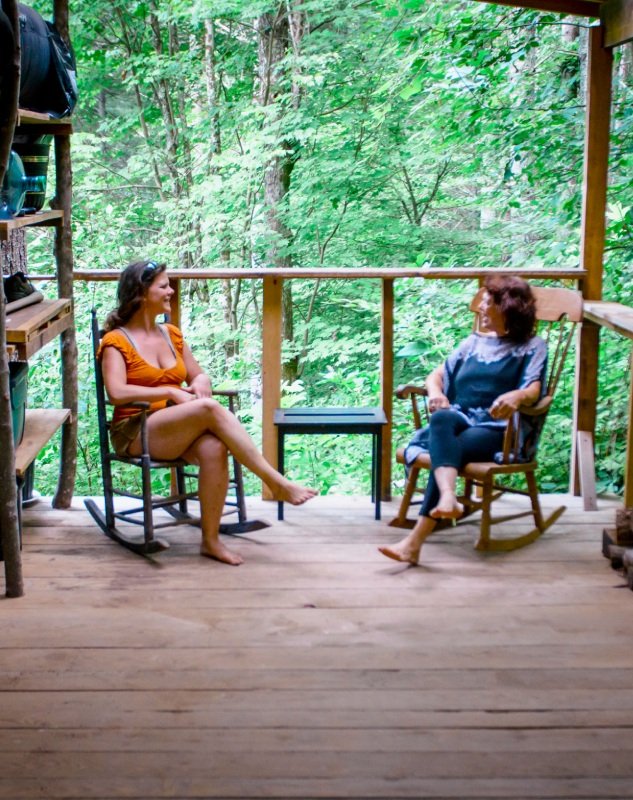 Three in-depth video tours of tiny houses with their designers/builders/dwellers

Access to a live panel discussion with folks who are living in tiny houses, many of whom built and designed their homes. You'll be able to ask questions and get the real-deal scoop on living in a tiny house. A recording of the panel will be uploaded into the online classroom. 

A video discourse with Rob Greenfield on simple and sustainable living in a tiny house

Over 2 hours of content
Lifetime access 
Hear from a wide range of experiences with tiny house living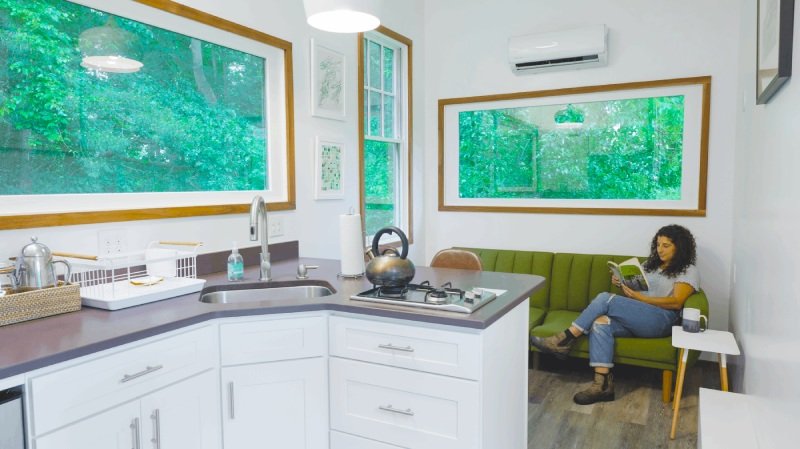 From a 60 square foot tiny-tiny house with a separate mobile outdoor kitchen, to standard 200-300 ft tiny houses, and a not-so-tiny log cabin that has grown, with additions and new family members, to over 600 square feet, we cover a wide range of tiny house experiences.
In this class you get to see and explore features of three distinct handmade tiny homes. This includes touring them with the people who built them and live in them, hearing about the building process, materials, what they would do differently, and what it's like to live tiny. The tours cover subjects like:
Smart design to make small spaces joyfully functional

Space saving techniques

Up-cycling materials

Utilizing outdoor spaces

Storage
Plus, our friend and colleague, activist and humanitarian Rob Greenfield shares ideas, reflections, and a realistic discussion about why downsizing can be beneficial for the planet and our personal wellbeing, and how it can be challenging.
The tours and discourse are excerpts from our extremely comprehensive online Tiny House Academy.
Insider info on living in a tiny house – Panel discussion
Wednesday, September 7th from 6 – 8 pm EST via Zoom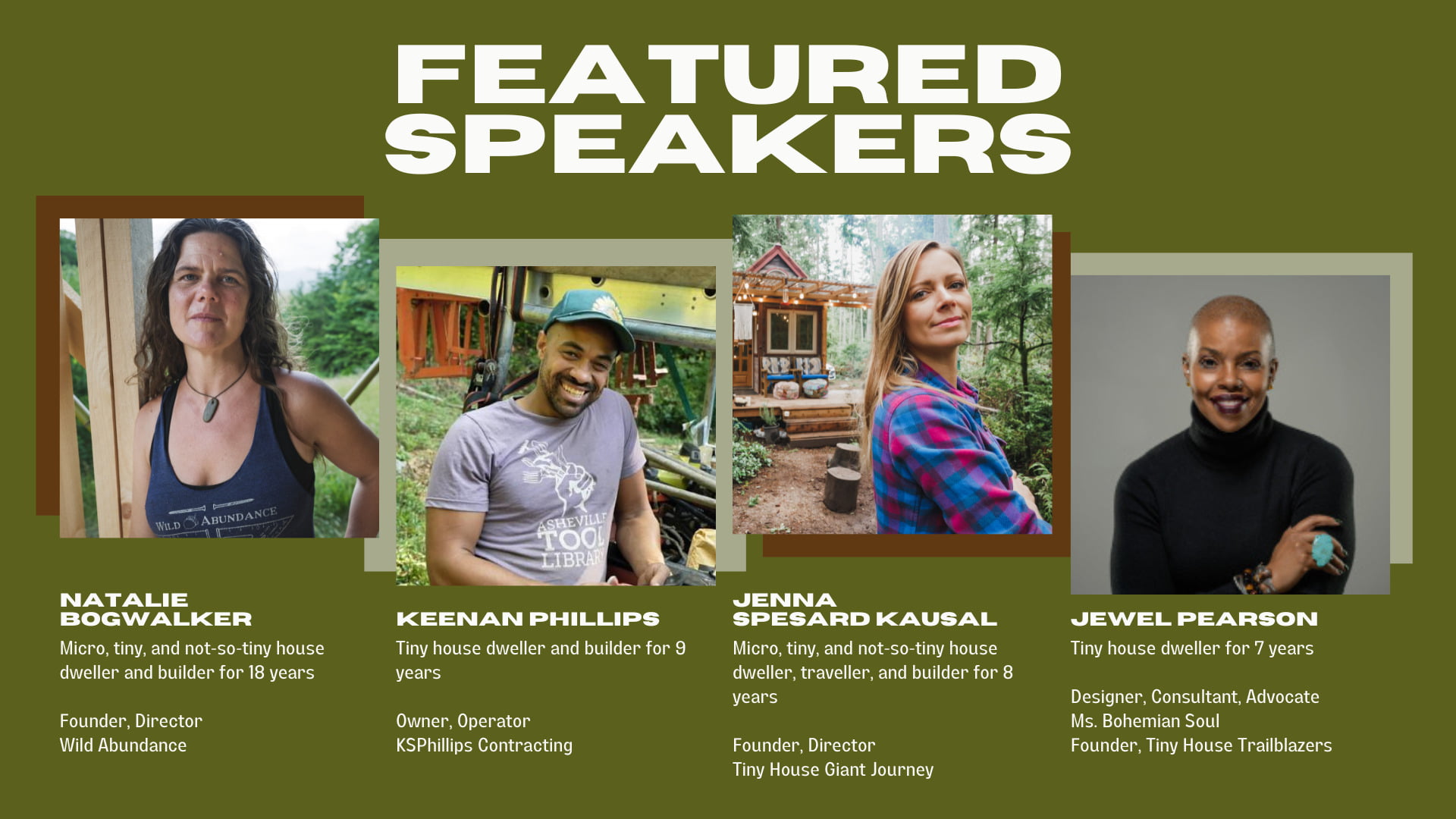 Get your questions answered about what it's really like living in and/or building a tiny house from folks who have really done it. We'll discuss the following questions, plus others from the audience:
How affordable is it, really, to build your own tiny house?

How do you take care of bathroom and toilet needs for your tiny house?

What was your timeline for design, build, and move in?

I need alone time, is it really possible to live with my partner/spouse in a tiny house?

Which is better for me, mobile, or non-mobile?

Are there daily annoyances or challenges of living tiny?
The reality of living in a tiny house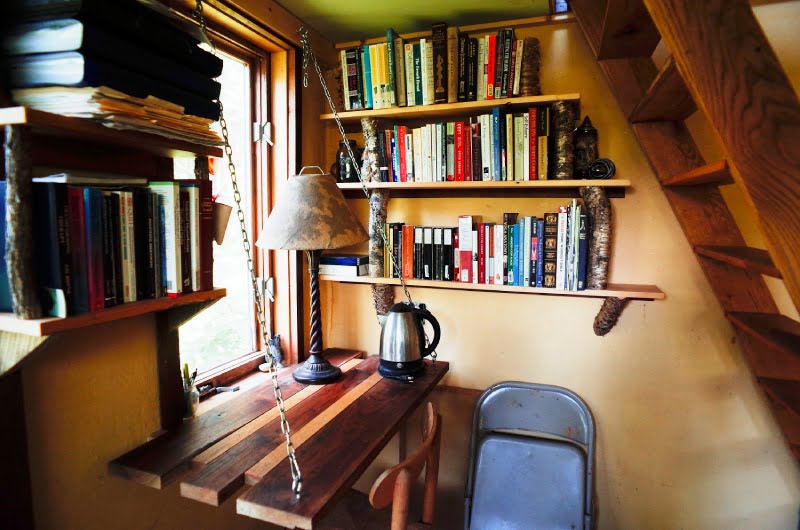 Tiny house living isn't always as glamorous as it looks in the image-enhanced world of Pinterest and Instagram. Throughout this class, during the panel and tours, we'll discuss some of the challenges that can arise, along with recommendations for overcoming them. We're not here to sell you a tiny house, but rather to support you on your journey toward sustainability, personal empowerment, and right-sized living that's in line with your values. 
What it's like to build your own tiny house
What's special and different about this class is that each person we feature doesn't just live in a tiny house, most of them have also built their homes with their own hands. As a result, each tour and discussion is infused with the broader experience of what it's like to build your own tiny home.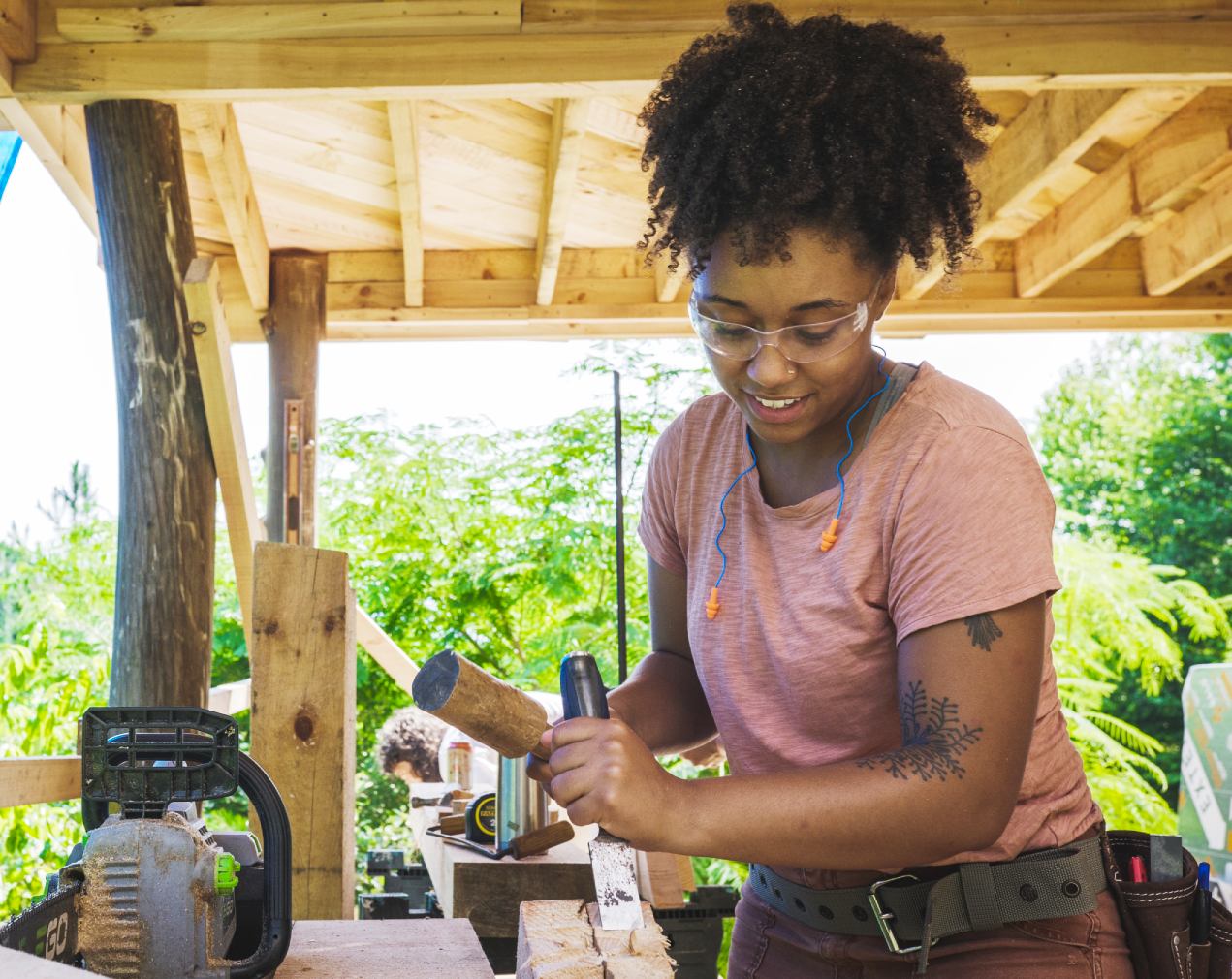 None of these folks are professional builders, but all of them felt motivated by the creativity and hands-on learning that building a tiny house would entail. The results are beautiful, unique, and inspiring. 
Tour these unique tiny homes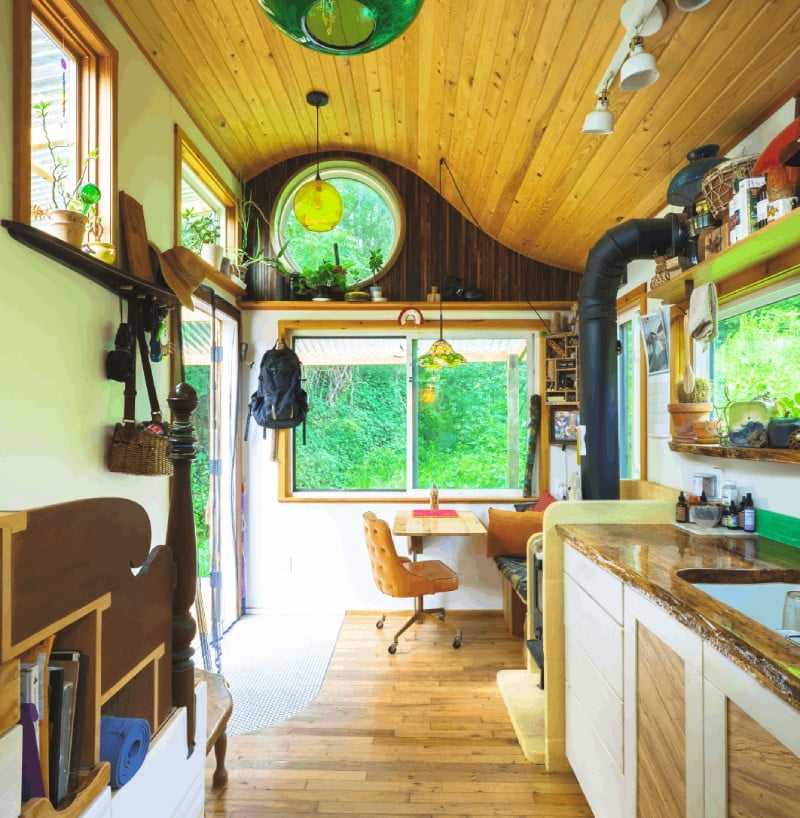 Whimsical and artsy tiny house on wheels
Built by a crafty artist with help from his contractor dad. Some fun features of this tour include:
Lots of reclaimed materials

Rooftop deck

Curved roof line

Artsy flair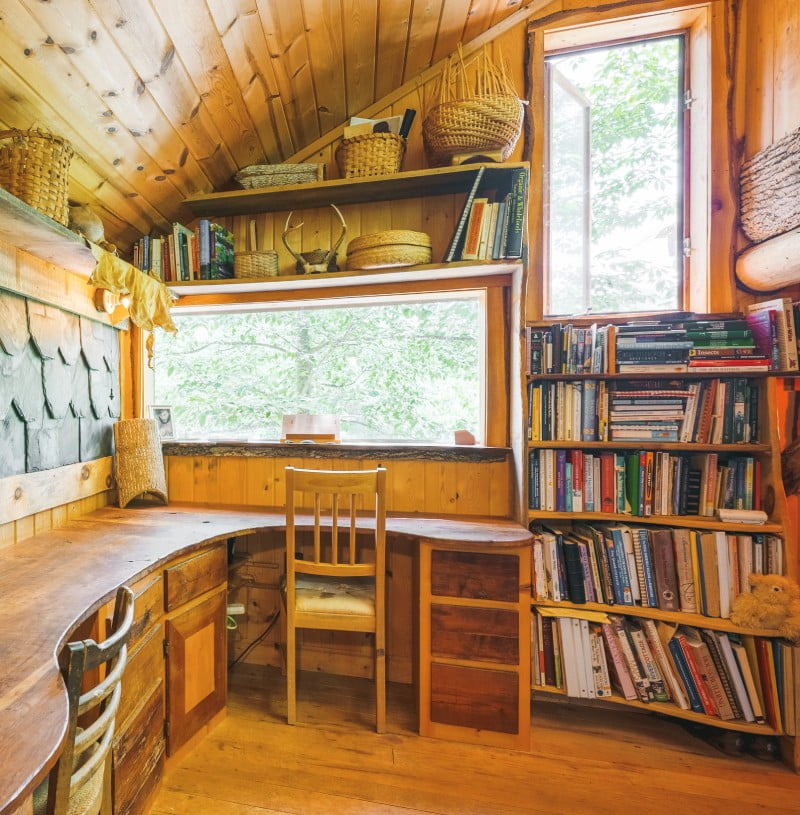 Not-so-tiny log cabin with additions
Built by Wild Abundance founder and director Natalie Bogwalker, with help from students and instructors, utilizing locally sourced materials. Some fun features of this tour include:
An assortment of natural building techniques on display

Passive solar design elements

Wood-fired hot water heater

Unconventional bathtub placement

Seasonal outdoor bedroom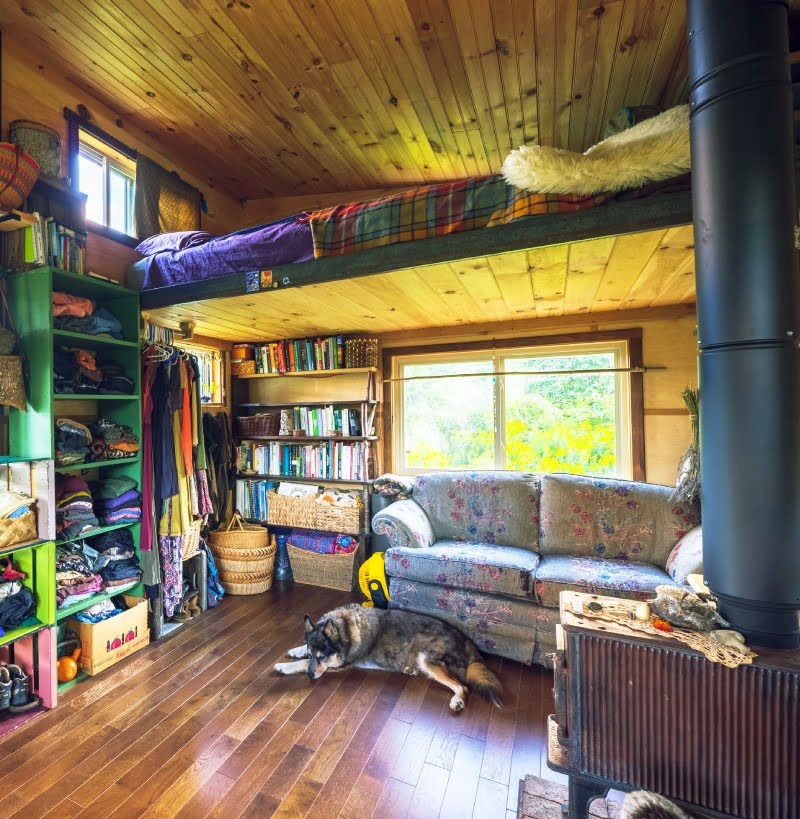 Simple and lovely tiny house built on skids (mobility without the expense of a trailer).
This was begun as part of a class here at Wild Abundance and finished (with help) to suit her own needs by the avid crafter who lives there. Some fun features of this tour include:
Get an extra 2 square feet of primo space with a garden window!

Covered porch add on

Small solar electric system

Lightweight and beautiful lauan (high-grade, thin plywood) interior paneling
Reflections and guidance on making the move toward tiny living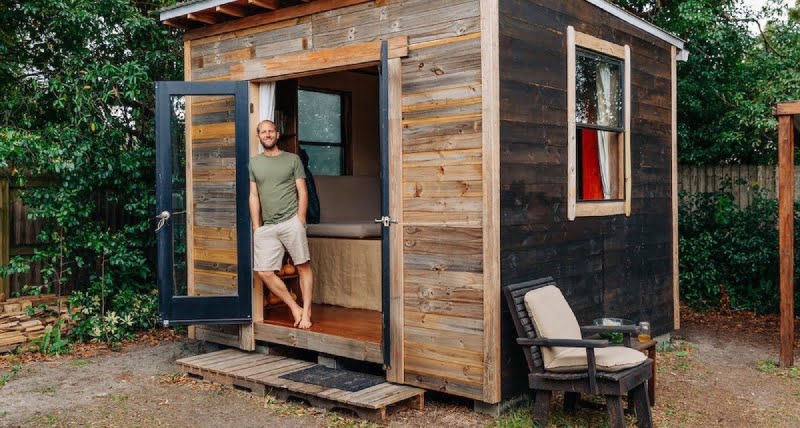 Downsizing can sound great, and also feel daunting. In his discourse on simple and sustainable living in a tiny house, Rob Greenfield shares personal stories of buying, building, and living in several tiny homes all around the world. Then, he offers guidance on creating a tiny house living situation that works for your unique needs and environment. Finally, he offers a realistic discussion of the sacrifices and challenges, along with the benefits and beauty of simple, smaller living. 
Living in a tiny or not-so-tiny house can be great with thoughtful, honest preparation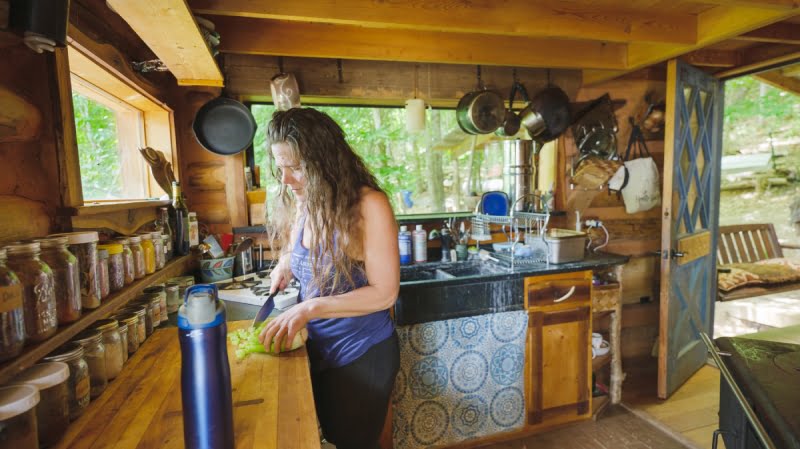 Our hope is that this class gives you a sense of the reality of living in a tiny house. It can be great when you plan well, get clear with your needs, and take time to do things beautifully. It's also a big step away from what most people are used to, and requires flexibility, adaptation, and creativity. Living in a tiny house isn't for everyone, and going for it without knowing what you're getting yourself into can can be a costly and disappointing move. 
May what we share here help you clarify your next steps toward building, living in, or simply checking out some real-life tiny homes and a thoughtful, sustainable lifestyle to match. 
---
Instructors
---
Registration Info
This class is currently closed. Get on the waitlist to be notified of the next enrollment period.
You'll also receive our regular newsletters, plus special offers on our classes