Join the WAITLIST to be notified when new sessions open for registration
You'll also receive our regular newsletters
---
Learn how to cut, assemble, and raise a timber-framed building. 
---
What is timber framing?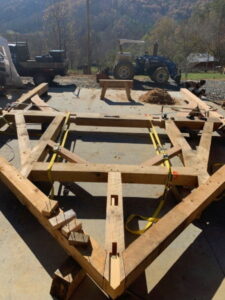 Timber framing has been used for centuries to build beautiful, stout structures that stand the test of time and don't require any screws or nails to hold them together. This versatile technique can be applied to houses, barns, and even the roof systems of elegant cathedrals. It's a unique, solid, handsome, and time-honored style of building. 
Timber framing utilizes heavy timbers instead of skinny framing wood (like 2x4s). These pieces of wood are connected by elegant and strong joinery, which interlocks the timbers and incorporates wooden pegs to secure them. Incredibly, this method of connection is way stronger and more durable than using metal fasteners, which, over long periods of time, can attract condensation and break down. The result of timber framing is a building with an open floor plan, flexible wall materials, gorgeous exposed beams, and great durability. 
Before the late 1800s, most buildings in the US and Europe were timber framed. That's because timber framing doesn't rely on metal fasteners and sawmilled lumber, both rare luxuries at that time. These days, timber framers practice the art for its beauty, durability, strength, and craft. Timber-framed structures are both desirable and valuable. 
Standing in a timber framed building is truly an experience; it's like being embraced within the marriage of trees — their strength and beauty — and human ingenuity. You can feel the craftsmanship and love that goes into the joinery, and the breathtaking aesthetics of artfully exposed beams.
---
Step-by-Step Guidance, from Layout to Raising
In this timber framing class, we'll work as a team to lay out, measure, cut, fit, assemble, and raise a 16' by 20' building. In the beginning, we'll have a pile of timbers, tools, and plans; by the end, we will have a beautifully crafted frame! Through demos, careful instruction, and hands-on practice, you'll learn how to do every step in the process, including how to use some of the unique tools of the trade, and how to cut snug-fitting mortise and tenon joinery. 
This class is completely hands-on; you'll walk away with experience in every step of the process of turning squared-off logs into an elegantly strong frame.
Part of the beauty of timber framing is that it has always been a group process. Ever heard of old-time barn-raisings? Those barns were timber-framed! Throughout this class, we'll communicate with and support each other so that we can collaboratively craft a beautiful building. Then, at the end, we'll assemble, fit, and raise the frame with our collective strength. 
---
Who this timber framing class is for: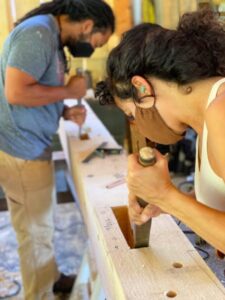 This class is appropriate whether you are considering timber framing as a profession or are an experienced carpenter, backyard deck builder, or excited beginner who just has a knack for craft. We'll split up the class according to skill level so that there will be accessible lessons for everyone, no matter what skills you start with.
---
What to expect: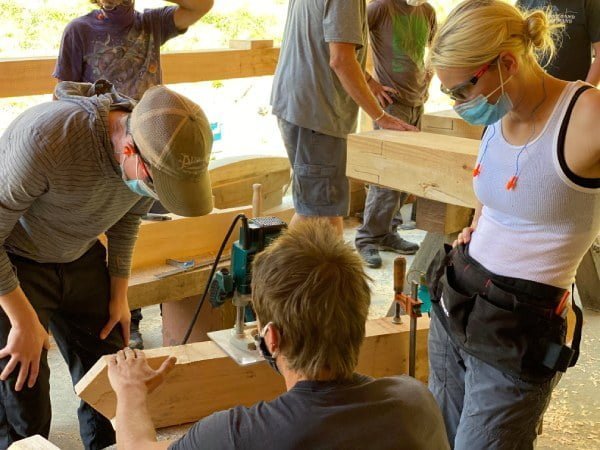 Learn the fundamental skills you need to be able to cut timber frames yourself and to lead in their erection. Be part of a team that creates a frame of great beauty and strength. Gain satisfaction and competence with tools and craft.
Day 1
Tour a breathtaking timber frame in the raw; join the team that you will be working with for the rest of the class; learn how to read timber frame plans, the art of laying out the cuts, and how the various pieces will fit together.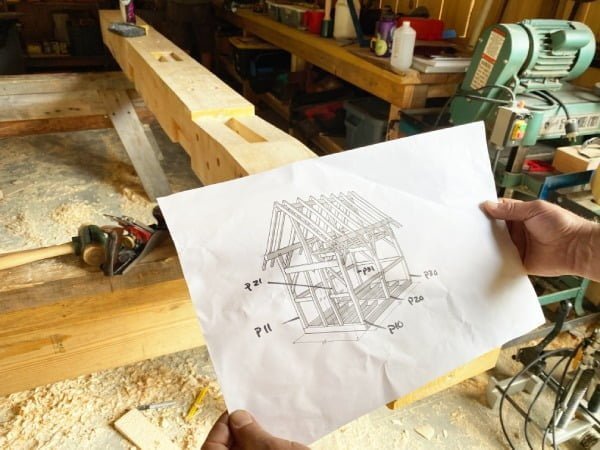 Day 2
Learn how to use the tools of the trade; use these tools to implement your first cuts; with your team, create your first piece.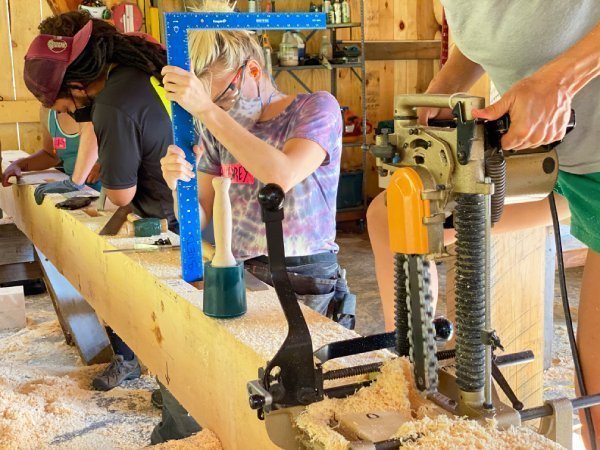 Days 3 – 5
Continue cutting; learn how to create both mortises and tenons, dry fit them, and label them in a way that will help you and your team understand how all the pieces fit together; begin to understand timber framing in your hands, heart, and bones.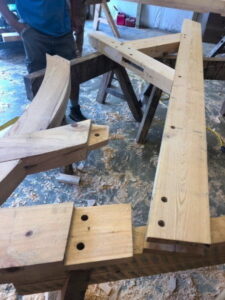 Days 6 and 7
Continue fitting pieces together; refine the fits so that they are perfect; start putting the pieces together to erect the frame in all its glory.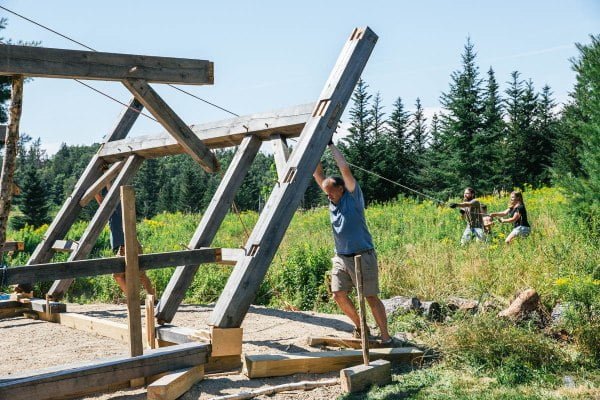 ---
Tools for Timber Framing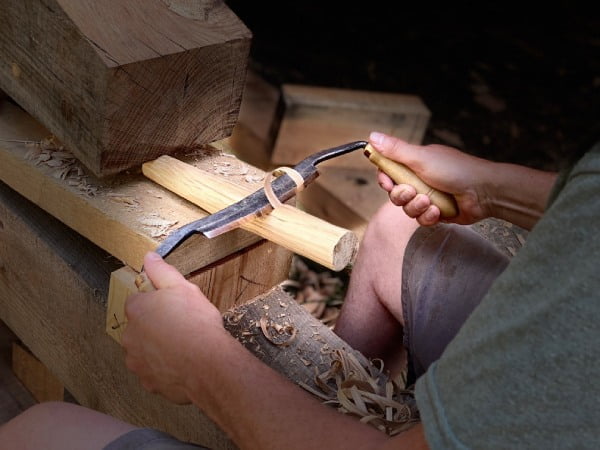 The tools unique to timber framing are uncomplicated and a joy to use. In this timber framing class, you'll be asked to bring basic carpentry tools, like a tape measure, a square, etc. In addition, you're strongly encouraged to bring your own timber framing chisel, hand mallet, and low-angle block plane (we'll share some good sources for these, and have some loaners on hand for those who can't get them before class). These same tools can be used when you go home to work on our own timber framing projects, small or large.
In addition to hand tools, we'll be working with modern power tools as well, some specific to timber framing. We'll use chain mortisers, big drills, and large circular saws to do some initial cuts, followed by hand tools for precision. Some experience with safe tool use and basic woodworking is required. 
---
Learn mortise and tenon joinery!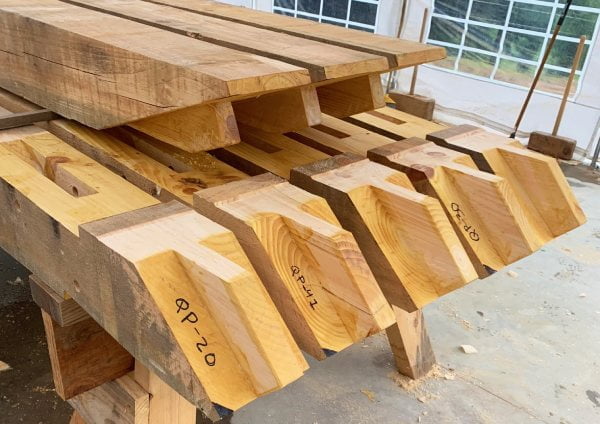 With these tools in hand, you'll learn how to use simple framing and combination squares to lay out your joinery. Then, you'll be shown how to safely and effectively make exact cuts and create the mortises and tenons that will hold everything together. The beauty of this technique is in its simplicity and strength. Mortise and tenon joinery works by creating pieces that fit together exactly, thanks to the careful use of hand tools to get them just right. The result is what's considered a "housed joint," because one part (the tenon) fits inside of the other (the mortise); think: square peg, square hole. 
---
Learn from an experienced and patient instructor.
The lead instructor for this timber framing class, Brian Snedeker, has had a lifelong love-affair with old tools and craft. He's been timber framing for over 15 years, from repairing and stabilizing historic barns and homes in New England (including major rebuilds), to designing and building frames and practicing carpentry here in the Asheville area for the past 9 years.
Brian has been sharing skills for the craft of timber framing for many years. As a member of the Timber Framers Guild, Brian participates in conferences, skill sharing, and continuing education. Brian not only loves building timber frames, he also finds joy in sharing the craft with others. Indeed, he's excited to continually adapt this time-honored building style for modern applications. Along with lots of building, Brian cares for a bustling rural homestead with his partner and their twin toddlers. All of this is to say: his skill is accompanied by patience and flexibility. 
Where you will be learning – Ivy Creek Timber Frames
Unlike many of our classes, the Timber Framing Class is NOT held at the Wild Abundance Homestead Campus. Instead, the class meets at instructor Brian Snedeker's beautiful homestead and timber frame workshop, Ivy Creek Timber Frames. It's just down the road from Wild Abundance, in Barnardsville, NC. Students will receive detailed information about the site, plus directions, upon registration.
---
Instructors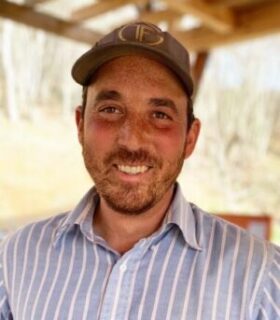 Brian Snedecker
Brian (he/him) has been timber framing for over 15 years, from repairing and stabilizing historic barns and homes in New England (including major rebuilds), to designing and building frames and practicing carpentry in the Asheville area for the past 9 years.
---
Class Location
This class is held in Barnardsville, at the Ivy Creek Timber Frames sister campus
Our sister campus at Ivy Creek Timber Frames is also the home and workspace of your lead instructor, Brian Snedeker, and his family (including their cows, goats, and chickens). It's located about 30 minutes north of Asheville. You'll receive detailed directions on how to get to the campus upon registration. Along with a beautiful timber framed barn, this campus has a sunny open-air work area with stunning views of the mountains and valleys of Barnardsville, NC. 
Please note: our campuses are all unconventional, with rustic amenities and uneven ground. Read more about our campuses here.
Local Accommodations and Facilities
Wherever you're coming from, you're welcome to pitch a tent in one of our flattish camping spots, or to tie a hammock in the forest. If you live locally, you may prefer to commute from Asheville (25 minute drive). There is an outdoor shower and Port-a-john for students to use (no flush toilet). Clean and safe drinking water is available. The cooking area has skillets, pots, and a stove top. Please bring your own cooler, as there is no refrigeration.
If you prefer something with more creature comforts, we suggest you browse Airbnb for numerous options close by in Barnardsville, NC. You can also check out local motels and B&Bs within a 10-15 minute drive to Ivy Creek Timber Frames. We'll send a list of links to several options (with varying amenities and prices) in a welcome letter upon registration.
---
Registration Info
Please pay what you can afford. The median price is suggested to help cover the full cost of hosting this class. Please select the low end of the sliding scale if you are low-income. If your household income is over $80,000/year, please select the maximum fee. Please place yourself in this range where you deem appropriate, based on your income.
Join the WAITLIST to be notified when new sessions open for registration
You'll also receive our regular newsletters