Join the WAITLIST to be notified when new sessions open for registration
You'll also receive our regular newsletters
---
A practical, hands-on approach to learning permaculture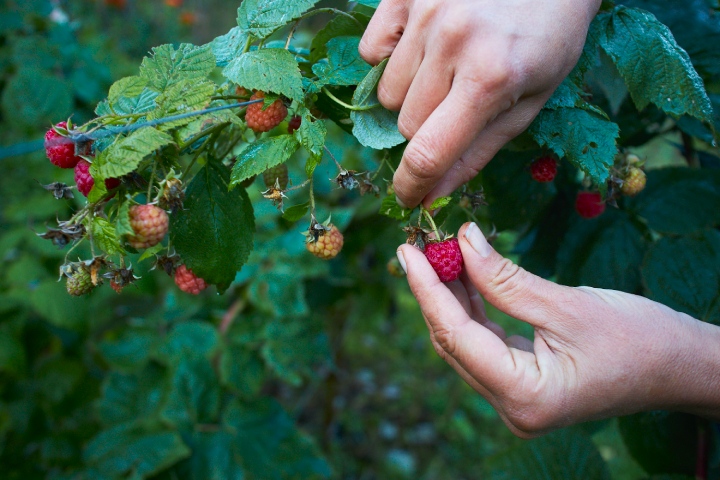 This hands-on permaculture design course (PDC) engages the mind, body, and heart. Students get to see permaculture in action in a wide variety of settings, from urban gardens to larger ecologically integrated farms.. Throughout the program we get our hands dirty and engage all of your senses; it's about learning by doing. Every one of the instructors incorporates permaculture into their landscapes, businesses, and day-to-day lives. You'll learn from their successes and failures, as they share candidly about diverse experiences applying permaculture principles to real-life situations.
---
Earn your Permaculture Design Certificate and build community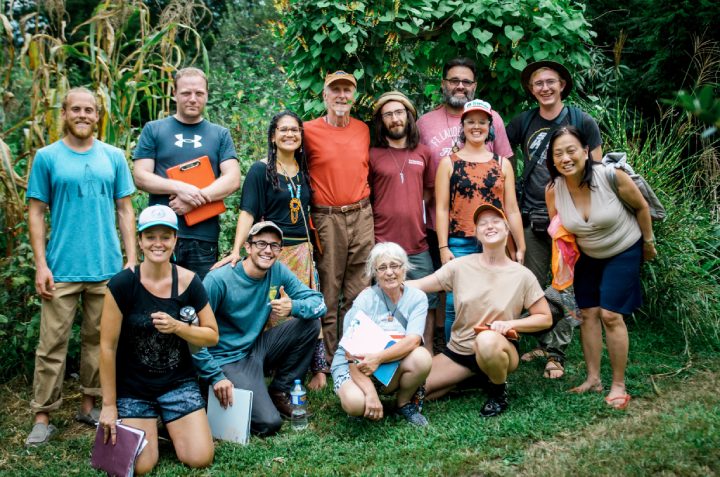 Throughout the 14 day intensive you'll build connections amongst your fellow students while working on real-world design projects for local community members. Interspersed within the course are hands-on activities like gardening, natural building, and basket weaving.
Learn to integrate a whole-systems approach to your life and landscapes
---
What is Permaculture?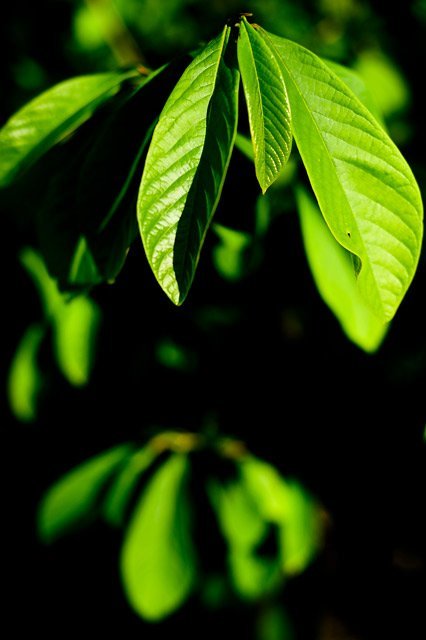 Permaculture is a way to cooperate with the living world, instead of trying to dominate it. Indigenous and other Earth-based peoples have practiced "permaculture" for generations, without calling it that. In fact, the field of permaculture is simply one modern set of tools, vocabulary, and techniques for remembering this original relationship between humans and the greater-than-human world. As permaculturists, the living world is our guide when we design living landscapes, human settlements, organizations and our lives.
Permaculture is an interdisciplinary approach to ecological design. That means it involves lots of different tools and techniques; from mapping and measuring, to watching the movement of water, to gardening, botany, building, and even human communication. It's a way of looking at, understanding and engaging with living systems that takes into account both the big picture and the minute details. 
The goal is to help us make smart choices about how to design and interact with the environment around and within us. In practice, permaculture involves identifying the interrelationships of living systems and engaging specific tools and techniques to guide what we do with respect for those systems.
---
What you'll learn in this Permaculture Design Course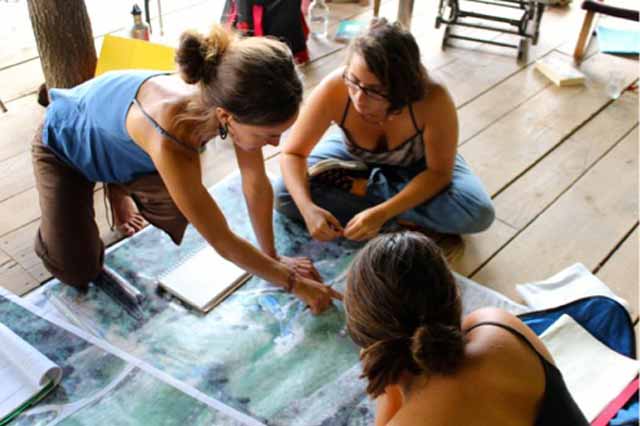 This class will empower you to become an effective ecological designer. You'll learn tools and skills to integrate permaculture ethics, principles, and whole-systems thinking into any landscape and situation. We follow the Permaculture Institute of North America's (PINA) 72-hour curriculum, which is based on permaculture founder Bill Mollison's model. To this we've added more time covering aspects that we find especially compelling (and useful), including design considerations for the Southeastern US bioregion and interactive, hands-on learning.
---
Foundational Permaculture Ethics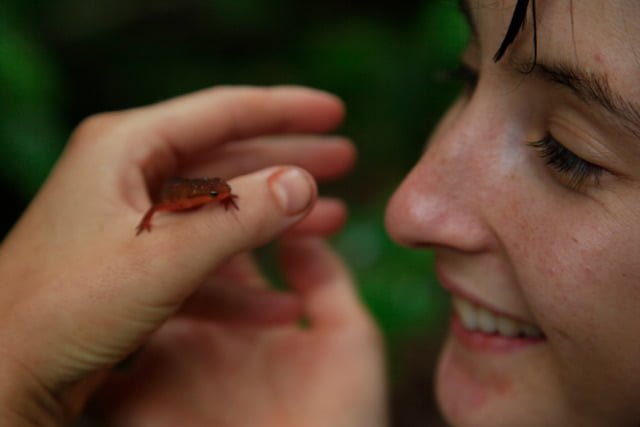 There are 3 foundational ethics that, together with the principles, form the underlying structure of permaculture design. These are central to the value systems of many indigenous human cultures around the world and throughout time. They are:
Earth Care

: Considering the impact of our actions on the planet and other-than-human beings. Choosing actions that respect balance, synergy, and health, in order to participate in the ecology of all life in a mutually beneficial way. 

People Care

: Asserting that the health and wellbeing of our fellow humans is important, and has a huge impact on the sustainability of any culture. Designing systems that take into account human resources, and that support

all

people's ability to meet their physical, social, emotional, and spiritual needs.

Fair Share: Embracing the interconnectedness of planet earth and her creatures. Acknowledging that true sustainability cannot be for a small group of people or in a limited place, but must take into account the experiences of all beings, human and non-human.
We dive deeply into the three ethics at every step of this permaculture journey. Like all permaculture design courses, we explore the principles of ecology, along with numerous tools and techniques to work with soil, water, plants, buildings, energy, and animals. We also don't shy away from the complex issues of equity, social location, privilege, and exploitation. There are several class sessions that center these issues, and they are present and considered throughout the course.
---
Permaculture Principles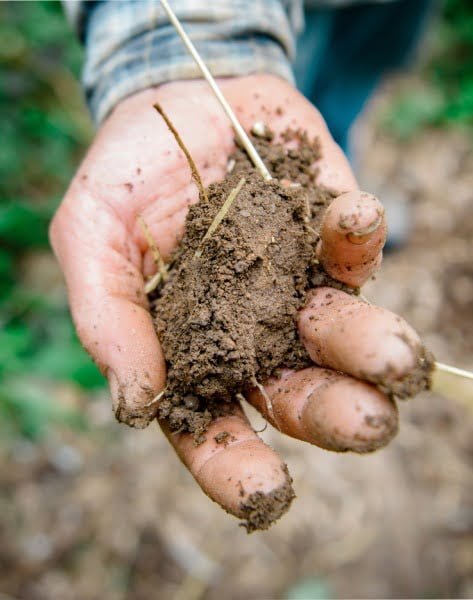 The modern practice of permaculture design is based on a set of 12 principles, which themselves derive from many common aspects of Earth-based, Indigenous cultures of the past and present. These are qualities that can be observed in the wild world, and which guide us as we try to participate in the beauty and elegance of the Earth, while also meeting our human needs. They are:
Observe and interact

Catch and store energy

Obtain a yield

Apply self-regulation and accept feedback

Use & value renewable resources and services

Produce no waste

Design from patterns to details

Integrate rather than segregate

Use small and slow solutions

Use and value diversity

Use edges and value the marginal

Creatively use and respond to change
Every PDC covers these principles. What makes ours special is that in this course, you'll get to observe every principle being implemented in different contexts and situations. Beginning in the forests near the main class location in Marshall, NC, you'll familiarize yourself with how some of these principles work in nature. Then, throughout the course, and at a wide range of sites, you'll see how permaculturists work with these principles to design and build functional, sustainable systems. The 12 principles of permaculture aren't just something you learn about, they'll get into your mind and body as a new tool to engage with the world.
---
Core Curriculum Topics
With the principles and ethics guiding us and weaving everything together, we'll dive into the ideas, skills, and tools that allow you to become a permaculturist. These are the nitty-gritty subjects that form your toolbox as you move into the design process. What's awesome is that we teach most of them in the woods or in a permaculture paradise; no stuffy classrooms here! Core curriculum topics include:
Principles of ecology and the local ecosystem

Introduction to forest guilds

Reading the land and observing patterns

Plant identification and succession

Climates, biogeography, microclimates

Gardening and soil science

Holistic forestry and orcharding

Conservation and renewable energy

Waste, recycling and bioremediation

Social ecology and invisible structures

Economics and budgeting

Home, eco village, and neighborhood design

The built environment

Water systems, conservation and catchment

Earthworks and broad-scale landscape design

Incorporating animals

Appropriate technology

Designing for catastrophe

Access to land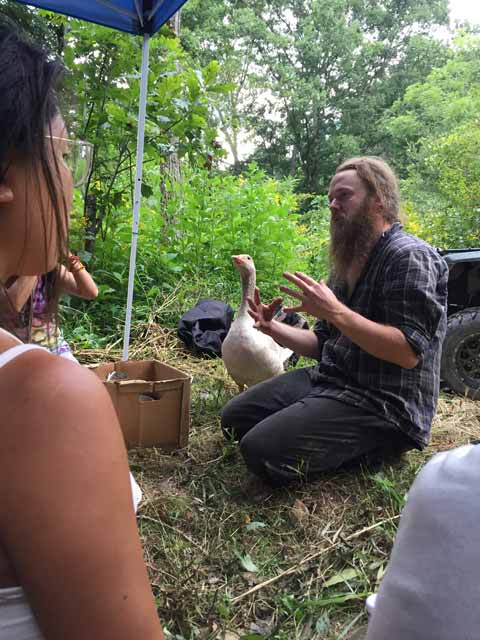 ---
Permaculture Design Process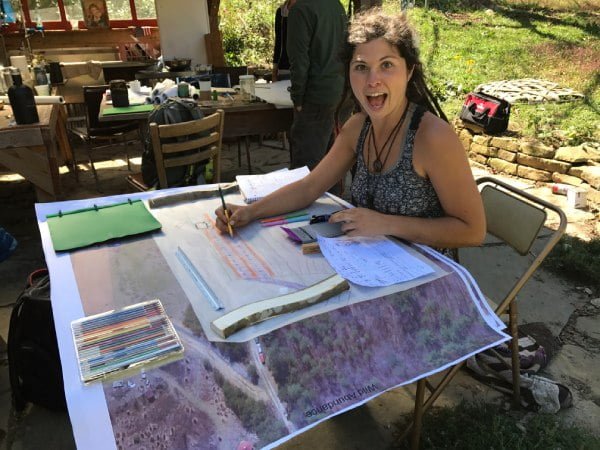 In small groups, students will complete permaculture designs over the course of the PDC. This is how all of the myriad tools and topics become synthesized into an actionable plan for engaging with a place. We collaborate with friends and neighbors so that student teams create designs for real people and landscapes…your suggestions may become reality! We'll teach you all the nitty-gritty steps of design, along with the bigger-picture aspects of creating a permaculture plan. Subjects and skills we'll cover:
Understanding zones and sectors

Mapping

Powerful tools for site analysis

Client interviews and relations

Goal setting

Needs and yields analysis, flow charts, budgeting

Invisible structures and social permaculture
---
Bonus Material unique to Wild Abundance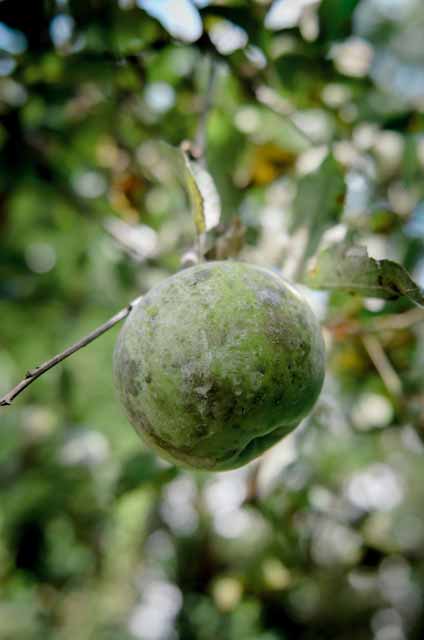 Our course goes above and beyond the 72 hours of required material and delves deeply into the following and more.
Edible perennials for the Southeast and beyond

Decolonization of "sustainability"

Urban farm tour

Racial equity and social justice

Wild foods and plant ID in the magical Appalachian mountains

Farming the forest

Human nutrition

Special tools for increasing your understanding of a place
---
Delve deeply into plants for permaculture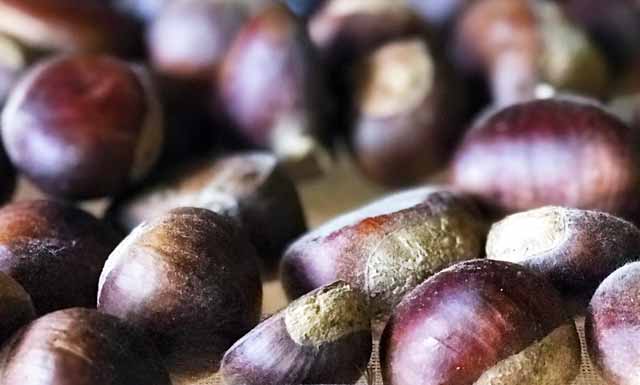 Part of why this class is so special is because it takes place amongst a permaculture oasis here in the Southeast. You will get to touch, smell, and sometimes taste dozens of plants that lend themselves beautifully to permaculture landscapes.
Revolutionize how you view and relate to the Earth and your everyday life
---
Course Structure: This is an Intensive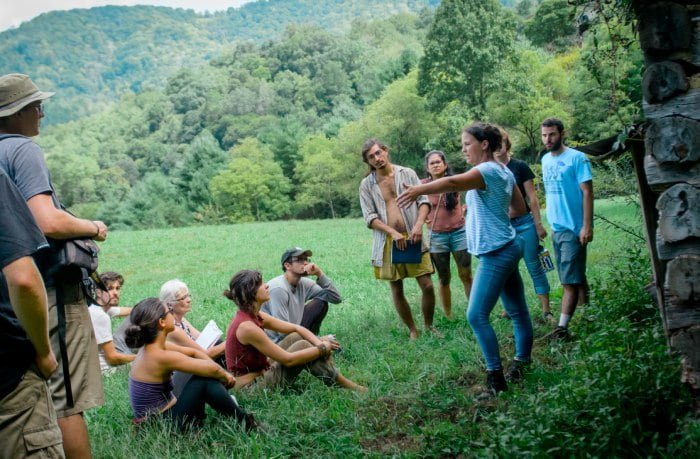 Permaculture is a vast area of study. A whole lot of information and skills are packed into the permaculture design course curriculum. Each day of learning is very full, including morning and afternoon sessions, plus project work and studying that you can do in the evenings. We incorporate breaks into the flow of the class, but keep in mind that it is an intensive. You'll be living, breathing, and probably dreaming permaculture during the course. As one student put it, "I really really loved this course so much and never could have guessed that we would cover so much in so little time!"
---
Educators who speak from experience and embrace mentorship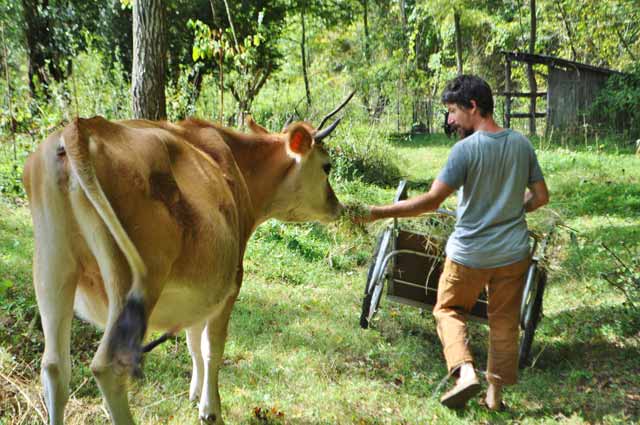 We're lucky to live in a hotbed of ecological farmers and modern-day back-to-the-landers. This means we've got access to a stellar array of teachers to cover the many diverse aspects of permaculture design and implementation.
---
Who is this Permaculture Design Course for?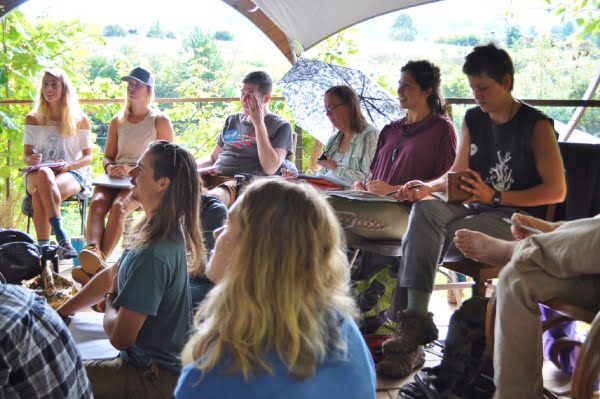 This intensive course is appropriate for everyone interested in applying Earth-inspired philosophies to their lives, and also for those pursuing a career in permaculture design. All students will cultivate a deep engagement with the ecological and human systems of which they are an integral part. 
Our students have come from many walks of life. For example, we've taught gardeners, builders, teachers, landscape designers and architects, nurses, coaches, college students, engineers, parents, writers, herbalists, lawyers and more. Permaculture principles can be applied to diverse places and situations. This course is accessible and relevant to everyone who wants to live their life more in-tune with living patterns and cycles. And it's especially relevant for those who want to be agents of positive change and healing in this beautiful, vulnerable world.
---
Permaculture Design Certification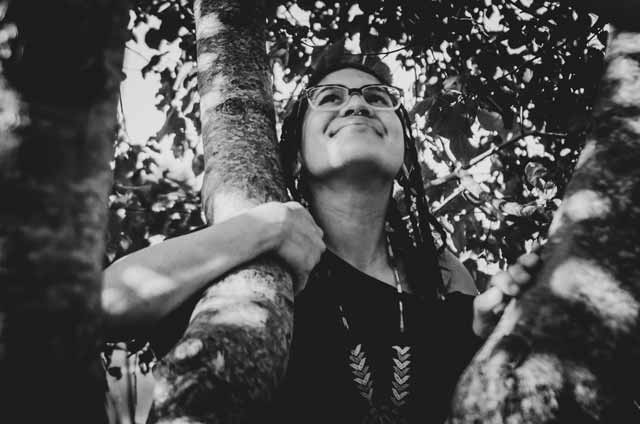 Once you've completed the course and submitted and presented your final design, you will earn your Permaculture Design Certificate. This recognizes all the work that you've put in, and all the skills that you've learned and demonstrated throughout the course. It's a jumping-off point to your unique integration of permaculture into your life, whether you plan to design for a living, or just want to work on your own land. If you do plan to make a career out of permaculture, we advise that you first invest a significant amount of time applying your skills with real-world landscapes before you advertise your design skills. The permaculture design certificate marks the beginning of the road for a professional permaculture designer.
---
About your main instructor: Laura Ruby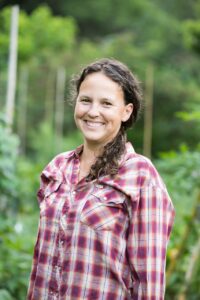 Laura will be your touchstone and your shepherd throughout this intensive program, which is full of amazing guest instructors. She covers most of the framework and actual permaculture design tools and techniques, along with assisting and directing students. In addition, Laura hosts the course at her family's farm, the Ruby Roost.
Laura was born with a strong, inborn love of plants and animals. But it wasn't until she earned her Permaculture Design Certificate in 2002 from Crystal Waters EcoVillage in Australia that she understood how to work with them sustainably, through whole systems design. After this experience, and graduating from the University of Colorado with an Environmental Science degree, she started working with the Growe Foundation, designing and implementing gardens at 14 elementary schools. While working here, she went back to school to earn a MBA from Green Mountain College. Through an inspiring curriculum and seeing more and more children eating veggies that they grew at school, she started YummyYards to help families grow food where they live.
In 2013, she moved to Western North Carolina and immediately started working with other landscapers and nurseries in the Asheville area. Through volunteering with The Fruit and Nut Club (they are awesome folks, check them out!), she took a position with The Roots Foundation, where she was the Director of Curriculum. In that position, she worked with teachers in Asheville City Schools and developed multi-disciplinary, real world, project based learning lessons for grades K-7. She also co-designed many of the outdoor learning classrooms at Vance Elementary School of Ecology and Verner Center for Early Learning.
Some of her most fun teaching and designing highlights include: Co-teaching and co-facilitating the first for-credit Permaculture Design Course at the University of Colorado; teaching the first Permaculture Design course for 11- to 17-year-olds through Colorado University's Science Discovery Program; running the urban farming segment for the Escoffier School of Culinary Arts in Boulder, CO; co-facilitating a permaculture design course at the GrowHaus in Denver, CO; designing and teaching a permaculture course for Jamaican residents at the Source Farm in Johns Town, Jamaica; and organizing and co-facilitating a permaculture course at The Yoga Farm in Costa Rica.
---
Course Location near Asheville, North Carolina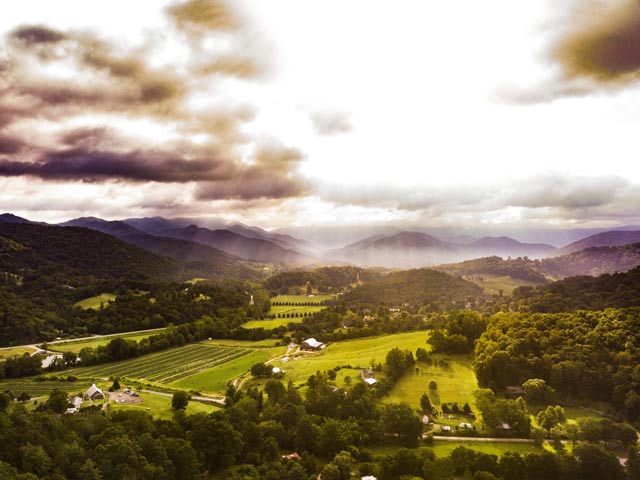 The permaculture design course takes place at the Ruby Roost (located 35 minutes north of Asheville near Marshall, NC). It includes field trips to a bevy of sites in the area, both rural and urban.
---
Frequently Asked Questions
---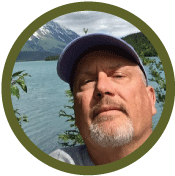 "I thoroughly enjoyed this course. The teaching was extensive, and from very knowledgeable instructors: some of the leading figures in the permaculture movement. I highly recommend it."
Dean Jones, Asheville, NC
Retired Mailcarrier
Permaculture Design Course Student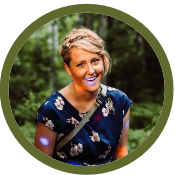 "Laura Ruby is a gift to permaculture. She doesn't just teach the design methodology, she embodies the ethos. During this course we were shown, with joy and wisdom, what a functional, dynamic community looks like between humans, plants, animals, soil, and everyone else pitching into life on this planet. The immersive experience was a glimpse into the good life: where we trust ourselves, lean into our human gifts, and collaborate with the beings around us to build the more beautiful world our hearts know is possible. Laura is an expert, a mentor, and knows how to assemble one hell of a team of instructors. This course will change the way you engage with reality."
Cedar Schimke
Permaculture Design Course Student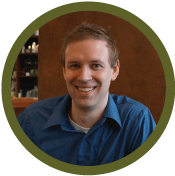 "My name is Nathan and this course is something that can change the course of your life. Not only will you learn all about permaculture, but you will be immersed in a new way of living that shows in a concrete way how we can live according to these principles. It's not geared towards any one type of person or any experience level. All you need is the desire to learn about permaculture and the fortitude to make it through an intense program that is fun and will give you so many new tools to face life and start a farm, garden, or homestead."
Nathan Dalton, New Orleans
LA Tax Preparer
Permaculture Design Student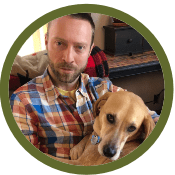 "The permaculture design course with Laura Ruby through Wild Abundance was a deeply enriching experience for me. Laura's knowledge in all areas of the course were vast and inspiring. Upon completion, I felt challenged and intrigued, looking to create as many positive relationships and changes in my life as physically possible."
Kyle Broomhall
Permaculture Design Student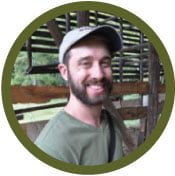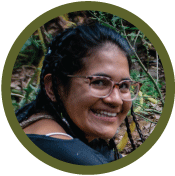 "Taking the Permaculture Design Course opened my mind drastically. The knowledge I gained will benefit my family, community, and myself tremendously. Thank you from the bottom of my heart."
Rosie Soto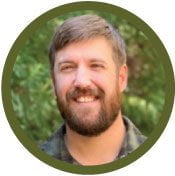 "I especially liked how so many different aspects of permaculture were tied into the course. I see now how it's so hard to really cover everything in a PDC, there's just so much! But they did a great job. I also loved how it was really hands on."
Ben Marchman
Hear more about Ben's experience on our blog
Ben Marchman – Regenerative Community Building
---
Instructors
---
Class Location
This class is held in Marshall, at the Ruby Roost Sister Campus
The Ruby roost is a family farm that's co-owned by lead permaculture instructor Laura Ruby, along with her mom and sister. It's located in the beautiful rolling landscape of rural Madison County, with a combination of open pastures and wooded hillsides. You'll receive detailed directions upon registration. This site is a busting ongoing permaculture experiment, with ducks, geese, fruit trees and shrubs, along with annual gardens. 
Please note: our campuses are all unconventional, with rustic amenities and uneven ground. Read more
about our campuses here
.
Local Accommodations and Facilities
Wherever you're coming from, you're welcome to pitch a tent in one of our flat camping spots in the woods or field, or to tie a hammock in the forest at the Ruby Roost. If you live locally, you may prefer to commute to the Ruby Roost from Asheville (35 minute drive). If you choose to camp, please bring your own bedding and rainproof tent or tarp. In the early spring and late fall it can be cold at night, so please bring warm bedding if you'll be here before May or after September. We have a lovely outdoor kitchen equipped with a stove and running water, an outdoor shower, and an outhouse available to campers.  In extremely cold weather, the sink and shower may be out of operation due to water freezing.
If you prefer something with more creature comforts, we suggest you browse Airbnb for numerous options close to the Ruby Roost. 
---
Registration Info
Join the WAITLIST to be notified when new sessions open for registration
You'll also receive our regular newsletters
We strive to make our classes accessible to those who wish to learn. Please pay on the sliding scale what you can afford, given your income.
Sliding Scale: $1,650 – $2,640
**All scholarships and worktrade for this class are full for 2022. Please fill out this form to be kept in the know on 2023 scholarships. **