March 1 – November 20, 2022 (Full, Standby Registration FULL)
Get on the waitlist to be notified when new sessions open up
You'll also receive our regular newsletters
One 7 hour day each week for 9 months
Becoming a permaculture apprentice will equip you with the skills you need to nurture reciprocity with the web of life.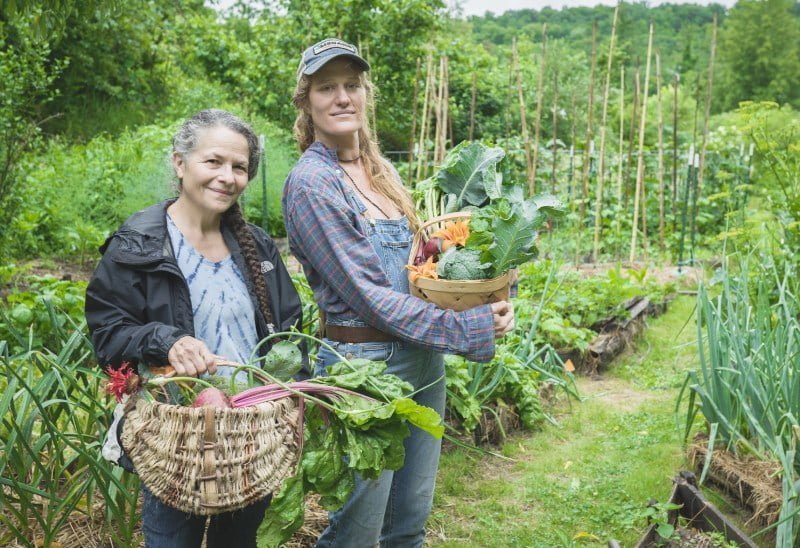 Our apprenticeship is non-residential and take place at Wild Abundance, located near Asheville, NC. 
---
Get your hands into the Earth
Learn to tend bountiful gardens and food forests as a permaculture apprentice.
Join us for one day each week, throughout the growing season, in the Wild Abundance gardens and orchards. You'll get the experience of living and working with natural rhythms through in-depth tours, clear and hands-on guidance about what needs doing and when, and the practice (not just theory) of how to do it. The permaculture apprenticeship includes access to our comprehensive Online Gardening School, along with additional online instruction in permaculture. This way, you get to learn the concepts and put them into action, in a flexible online/in-person setting. 
---
What to Expect: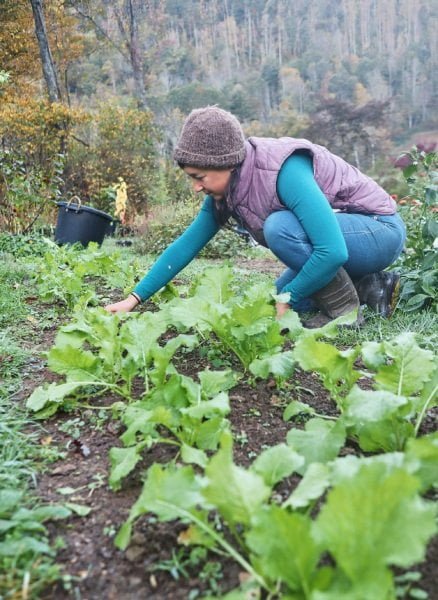 Permaculture Plant Care and Organic Gardening 
This season-long, one-day-a-week apprenticeship will give you a deep understanding of how to grow food in the Southern Appalachian bioregion; it'll also give you a framework for doing so elsewhere. We'll work in the well-established annual gardens and food-forest edges at the Wild Abundance campus. Throughout our time together, you'll get a chance to learn and do every step along the way for the full growing season. As a result, you'll harvest knowledge of sowing, tending, pruning, feeding, and caring for dozens of annual and perennial food crops.
Our permaculture apprenticeship days will flow something like this (subject to change due to weather and tasks at hand):
Arrive; tour of annual garden; talk about what's going on there

Instruction on the things that need doing, and doing the things that need doing — with discussion and inquiry

Lunch break

Tour of perennials; talk about what's going on with them

Instruction on the things that need doing, and doing the things that need doing — with discussion and inquiry
---
This permaculture apprenticeship is all about learning by doing.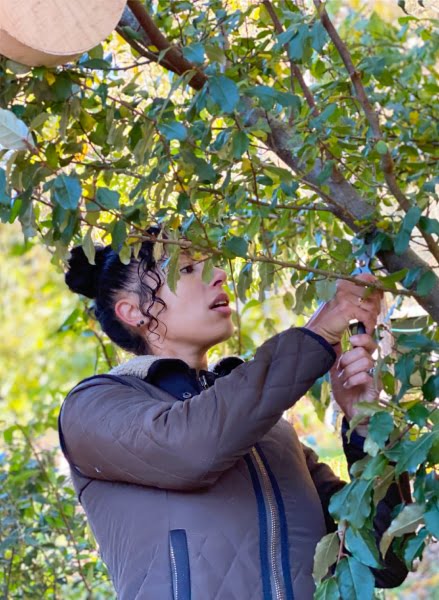 Throughout the season, you'll be guided by folks who have been growing in this area for a long while. Tasks you'll learn and do together include:
garden planning

sowing/seeding

thinning

weeding

mulching

diagnosing and treating disease and pest issues

turning over crops

planting and managing cover crops

no-till techniques

season extension techniques

greenhouse management

pruning, mulching, shaping, troubleshooting, harvesting perennial crops

and whatever else comes up as the season unfolds!
Please note: this program includes real work. You'll be bending, stooping, using tools, carrying heavy loads, pushing wheelbarrows on uneven ground, climbing ladders, and working in varied weather. Nobody will be pushed beyond their own physical abilities, but everyone will be expected to "pull their own weight." If there is a serious deluge, we will skip a week; however, we will gather and work in gentle rain, wind, and hot sun. Before you apply, be sure that you're up to the physical and mental challenge of working hard outside for a full day each week. 
---
Get into the rhythms of the seasons!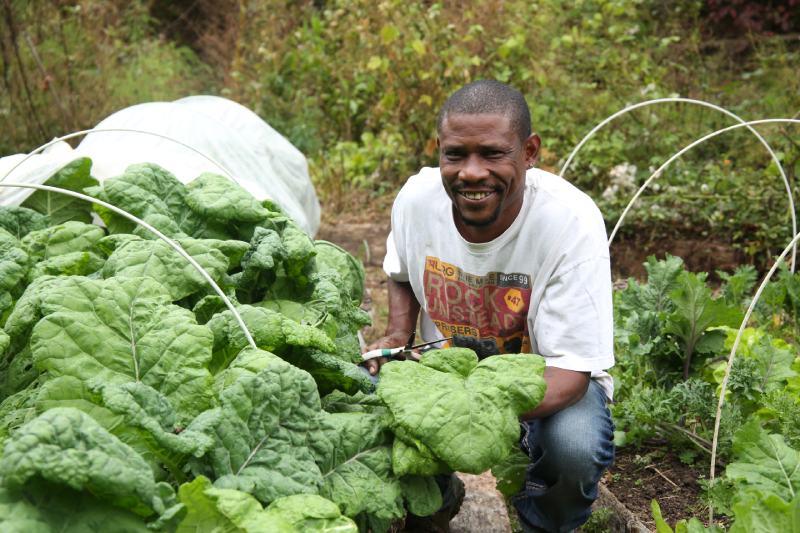 Cultivating food in an ecological way is all about timing. Indeed, by working with the natural rhythms, we generally don't even need to till the soil in an established garden. Through this program, you will come to understand the flow of the seasons in your bones, and get a feel for the right timing of all of your food-producing activities. You'll have a chance to take a shortcut through past years of trial and error, and instead learn through guided study and hands-on practice how to collaborate with ecological rhythms. 
---
The Permaculture Apprenticeship includes:

2-5 hours each week of vegetable gardening instruction with hands-on learning and doing

2-5 hours each week of instruction and hands-on doing with perennial fruit and nut trees, as well as shrub planting, pruning, and care

1-4 hours weekly of online learning about vegetable and berry growing 

Unlimited access to these Wild Abundance online classes:

Online Gardening School

Spring Wild Food Series

Natural History of the Southern Appalachians

Vegetable Fermentation Class

Permaculture Content

Permaculture Principles in the Landscape

Intro to the Permaculture Design Process

Permaculture Maps and Mapping

Plant Guilds

Animal Husbandry Classes
Along with all of this online and in-person learning, we'll provide the tools needed for hands-on garden and orchard care while onsite, plus a set of bypass pruners and a hori hori (garden knife) for each apprentice to keep. 
Please note: this program does not include a weekly share of vegetables. During abundant times of year, apprentices will be sent home with veggies and fruits to enjoy, but food is not considered part of the program. 
---
Tending your own permaculture garden is strongly encouraged.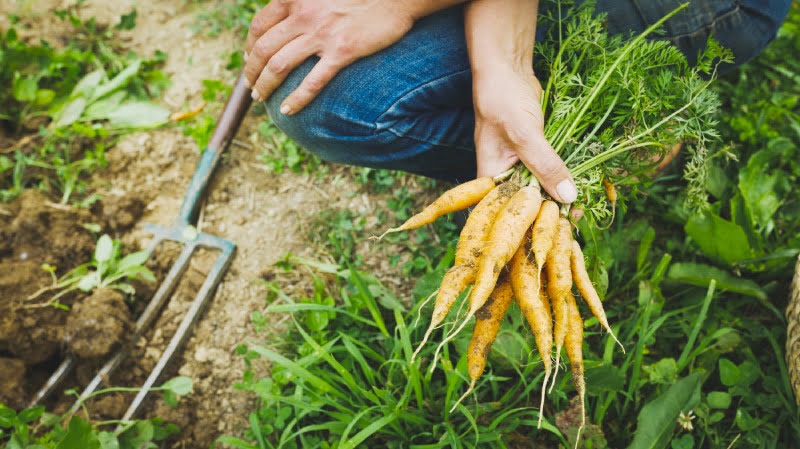 Over the years, we've seen that people learn gardening best when they're able to tend their own plots. In fact, when we ran our residential apprenticeship program, we noticed that apprentices had higher knowledge retention and confidence when they had their own garden to tend alongside doing hands-on learning with an instructor in the main gardens here. As a result, we strongly encourage permaculture apprentices to grow their own garden concurrently, while participating in this program. If you don't have a space to do this, we can offer a plot here at the Wild Abundance campus, though you will need to provide all your own seeds, plants, and tools. 
---
Schedule and Timing of the Program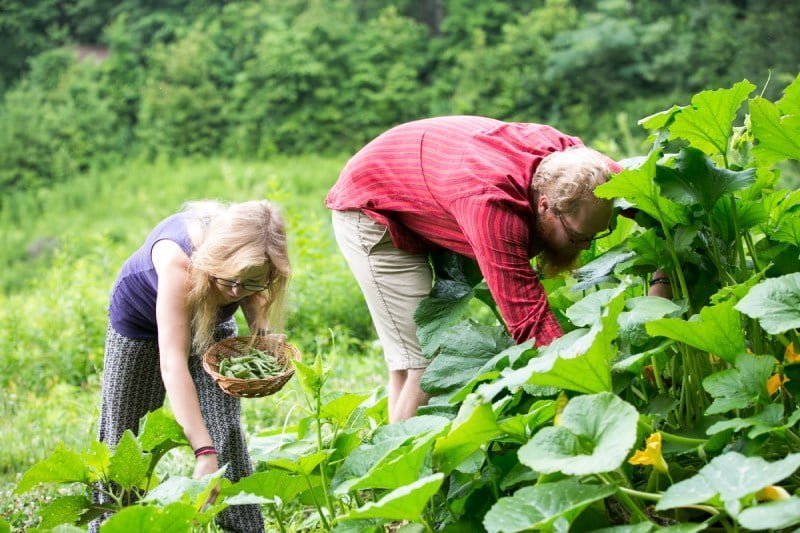 We generally meet each Thursday, with some breaks and flexibility around weather. During the March 1st–November 20th timeline, approximately 27 of the 35 Thursdays will be apprenticeship days. Within that time frame, three Thursdays will be skipped for breaks, and we can expect that some days will be rained out. If you have obligations that prevent you from coming for a few Thursdays, don't worry about it. Most students will miss a few days, but we expect you to attend at least three Thursdays per month. 
Starting in March, we'll meet from 10am-5pm. 
As the weather gets hot, we may change the timing to 8:30am-12pm and 4:30pm-8:00pm. This long midday break helps us beat the heat, and gives you a great opportunity to explore the creeks, streams, and rivers in the nearby national forest. 
As it cools down in the Fall, we will return to the early spring timing (10am-5pm), to make the most of the warm part of the day.
---
Seasonal Flow of Activities in the Annual Garden and Food Forest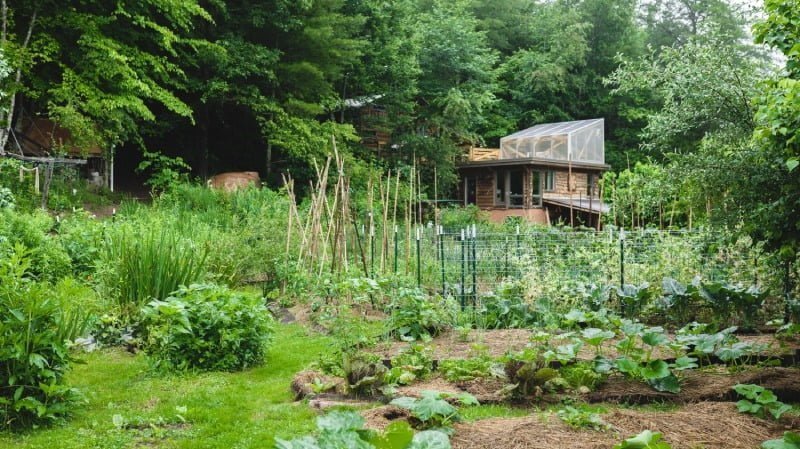 Following is a very generalized outline of what we will be doing when. Throughout the season, you will take part in a great many of these. We are pretty vague here about species, as we want to make this page easy to read, but know that you will have the opportunity to work with and learn the rhythms of dozens of species of fruits and vegetables — both common garden varieties and more unusual types.
March: prune and mulch trees to optimize production; plant berries and trees; start seeds in flats in a greenhouse; cut some cover crops to prepare beds for spring planting, plant other cover crops; harvest weeds for eating
April: prepare garden beds (no tilling or digging); plant out frost-hardy plants in garden; transplant up some vegetable starts into larger pots; weed recently sown beds; mulch and tend perennials
May: plant out frost-sensitive plants; weed recently sown beds; mulch and tend perennials; start sweet potato slips; make and use plant-based "tea" fertilizers; weed and mulch annuals and perennials; squish bugs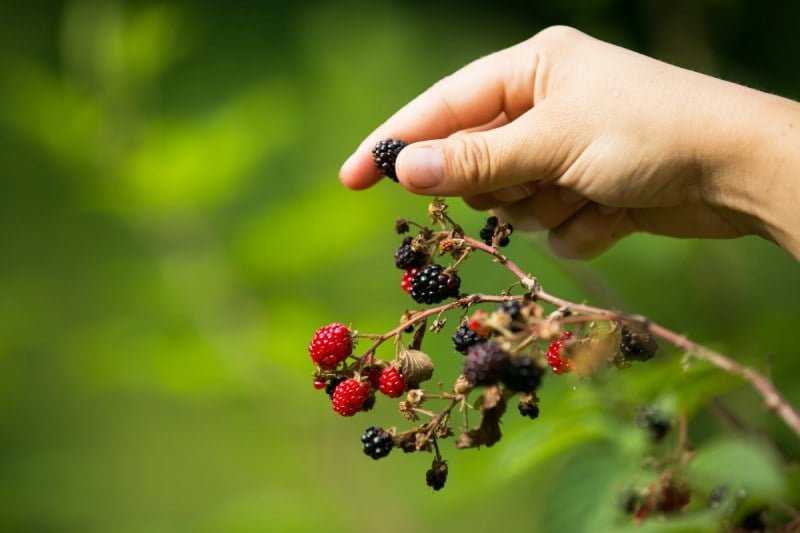 June: harvest berries; second planting of frost-hardy plants and cool-sensitive plants; build trellises; make and use plant-based "tea" fertilizers; weed and mulch annuals and perennials; squish bugs; harvest greens; prune suckers on fruit trees; shape fruit trees
July: start seeds for late summer plantings; harvest berries and fruit; make and use plant-based "tea" fertilizers; weed and mulch annuals and perennials; harvest vegetables
August: plant crops for fall and winter harvests; harvest berries and fruit; make and use plant-based "tea" fertilizers; weed and mulch annuals; prune berries; harvest lots of vegetables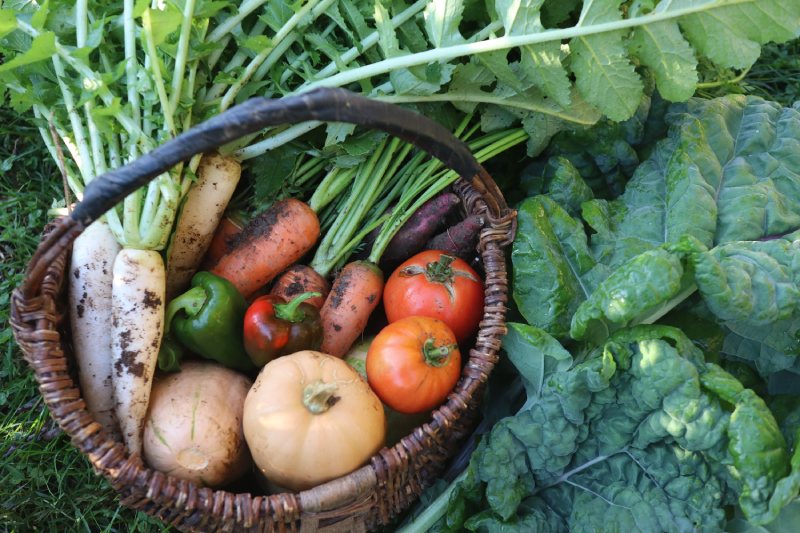 September: continue to plant crops for fall and winter harvest; plant cover crops; harvest storage crops; weed and mulch; plant in the greenhouse
October: winterize garden; harvest storage crops; put up hoops with row cover
November: prune fruit trees; plant fruit and nut trees; plant overwinter root crops
---
Online learning compliments in-person permaculture apprenticeship days.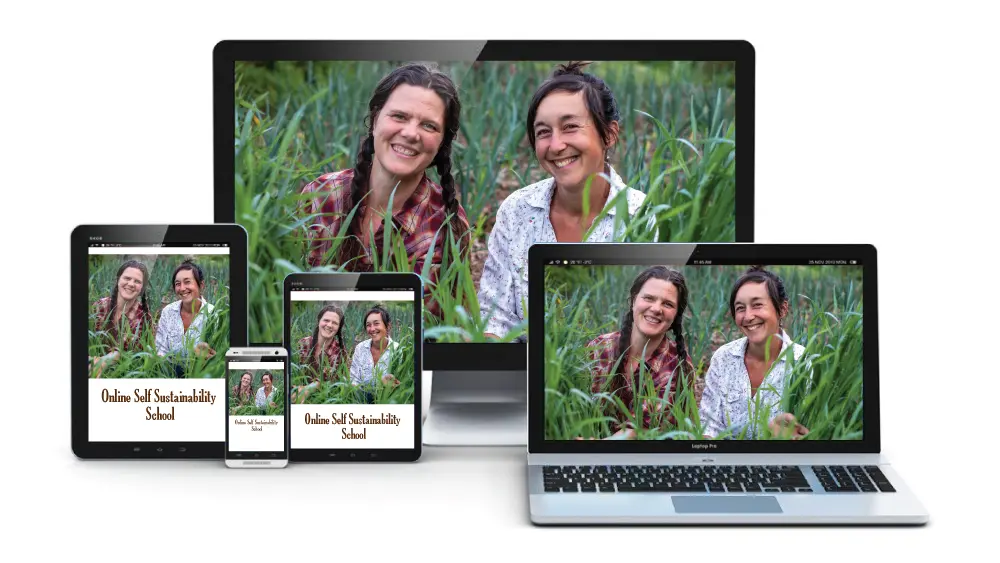 The "lecture" aspect of this program is done totally online, through watching our online class materials. The in-person portion is completely hands-on, and you should expect to really get things done in the garden! You will be helping to tend fruit trees and bushes, and to grow vegetables. Questions are welcome as we are getting our hands into the soil, in order to deepen and clarify the content that's been shared online. We ask that every apprentice watch the assigned online portion of the program before the in-person days, so you can arrive with a baseline understanding of what we'll be doing. This way, our discussions can be much richer and apprentices can utilize in-person time to deepen their knowledge. 
---
Apprenticeship Size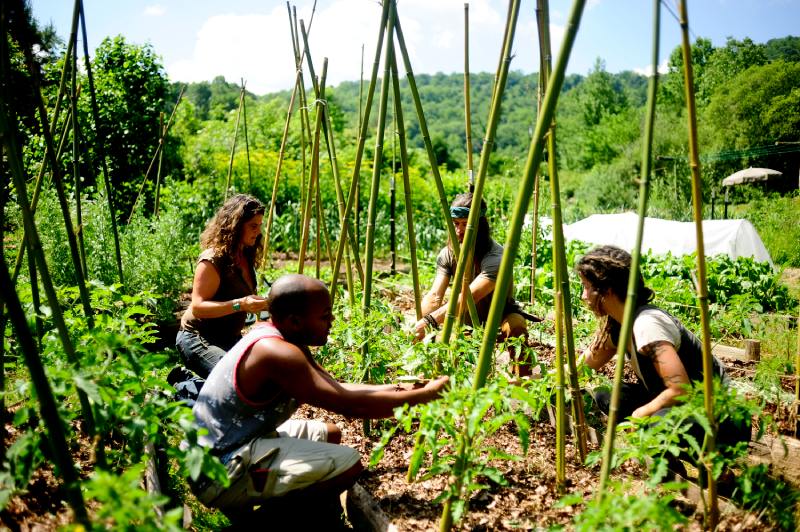 We will be welcoming a maximum of 7 apprentices into this program. If you are interested, please register as soon as possible.
---
Learn small-scale, non-mechanized food production.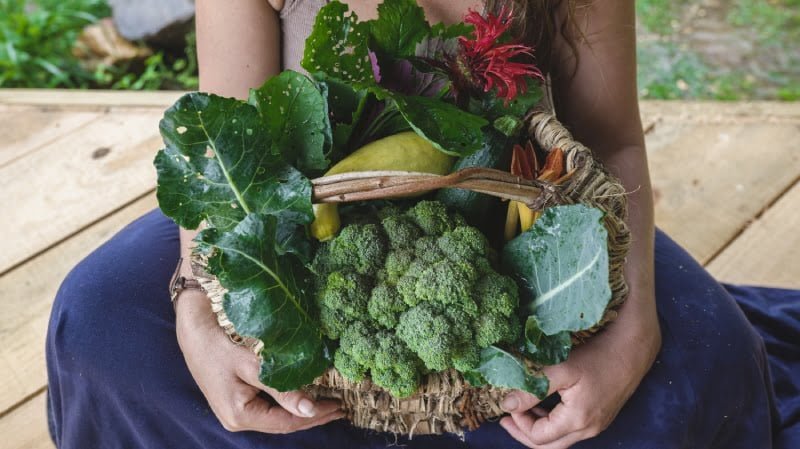 This class is about growing food on a human scale, without the use of machines; it's not about commercial production. We will be tending the garden and food forests at the Wild Abundance campus (and possibly other places), not working on a large farm. The skills that you learn here will be focused on growing a variety of foods for yourself, your family, and a small community. If your goal is to start a farm and grow food professionally, we suggest you find a farm-based apprenticeship program. 
---
Instructors
---
Class Location
This class is held in Barnardsville, at the Wild Abundance home campus 
The Wild Abundance home campus is a beautiful and diverse permaculture homestead, about 25 minutes north of Asheville. You'll receive detailed directions on how to get here upon registration. This is where Wild Abundance founder and director Natalie Bogwalker lives with her family. It's nestled amidst a handful of other homes in a small community on a short gravel road. If you're attending a class hosted at Wild Abundance, you will likely also traveling on field trips or going to other nearby sites for builds.
Please note: our campuses are all unconventional, with rustic amenities and uneven ground. Read more
about our campuses here
.
Local Accommodations and Facilities
Wherever you're coming from, you're welcome to pitch a tent in one of our flat camping spots in the woods or field, or to tie a hammock in the forest on our seven-acre property. If you live locally, you may prefer to commute to Wild Abundance from Asheville (25 minute drive). If you choose to camp, please bring your own bedding and rainproof tent or tarp. In the early spring and late fall it can be cold at night, so please bring warm bedding if you'll be here before May or after September. We have a lovely outdoor kitchen equipped with a stove and running water, an outdoor shower, and an outhouse available to campers.  In extremely cold weather, the sink and shower may be out of operation due to water freezing.
If you prefer something with more creature comforts, we suggest you browse Airbnb for numerous options close to the campus. You can also check out local motels and B&Bs within a 10-15 minute drive to Wild Abundance. We'll send a list of links to several options (with varying amenities and prices) in a welcome letter upon registration.
---
Registration Info
March 1 – November 20, 2022 (FULL, Standby Registration FULL)
Get on the waitlist to be notified when new sessions open up
You'll also receive our regular newsletter
One 7 hour day each week for 9 months
We strive to make our classes accessible to those who wish to learn. Please pay on the sliding scale what you can afford, given your income.
Sliding Scale: $1900-$2900