Tend perennial crops and food forests as a permaculture apprentice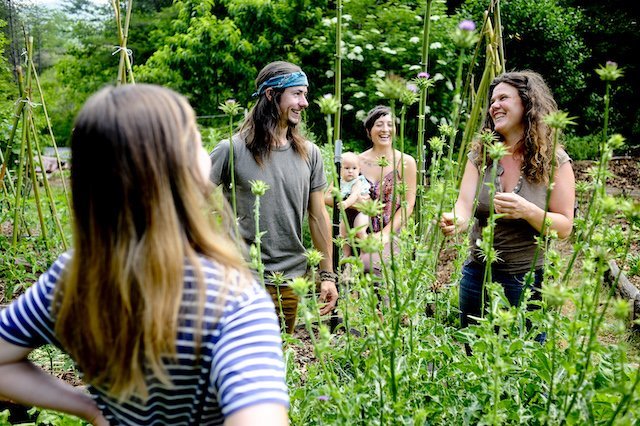 Becoming a permaculture apprentice will equip you with skills for dreaming up, planting, nurturing, and maintaining a food forest or permaculture landscape.
Join us for one day each week, throughout the growing season, at the Wild Abundance permaculture-inspired campuses. You'll get the experience of living and working with natural rhythms through in-depth tours, clear and hands-on guidance about what needs doing and the practice (not just theory) of how to do it. The permaculture apprenticeship includes access to our comprehensive Online Gardening School, along with additional online instruction in permaculture. This way, you get to learn many concepts and put them into action, in a flexible online/in-person setting. You also get a bunch of bonus online material about growing annual veggies.
---
What our students say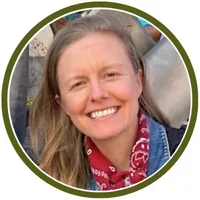 Genevive,
North Carolina
Small Business Owner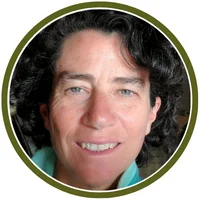 Margaret,
North Carolina
Part-time Public Health Program Coordinator and Stay at Home Mom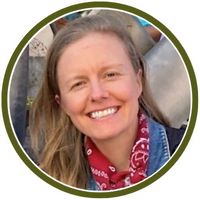 I can think of no better way of learning to care for the soil, grow food and be a better steward of my small piece of land than joining this apprenticeship. We have worked with the land for almost a year, following many annuals from seed to harvest and caring for the perennials. Gardening classes are easy to find, but there's no substitute for hands in the soil in the same climate. I'm so fortunate to have found Wild Abundance!
– Genevive, Small Business Owner, North Carolina
---
What to Expect:
Permaculture Installation and Plant Care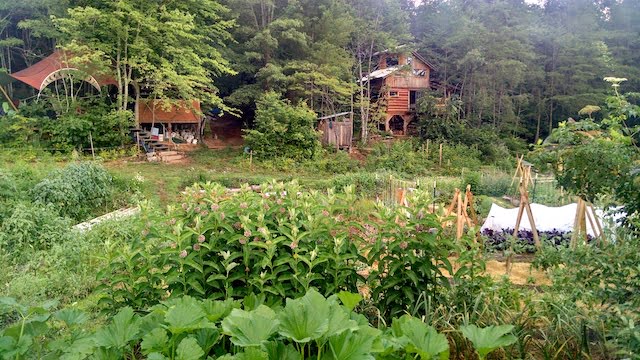 This season-long, one-day-a-week apprenticeship will give you a deep understanding of how to tend perennial crops using the tools of permaculture. We'll work in the well-established food-forest edges at the original Sanford Way Wild Abundance campus, and play an integral role in developing plantings at our new Paint Fork campus. Throughout our time together, you'll get a chance to learn and do every step along the way for the full growing season. As a result, you'll harvest knowledge of planting, tending, pruning, feeding, and caring for dozens of perennial medicinals and food crops.
---
This permaculture apprenticeship is all about learning by doing.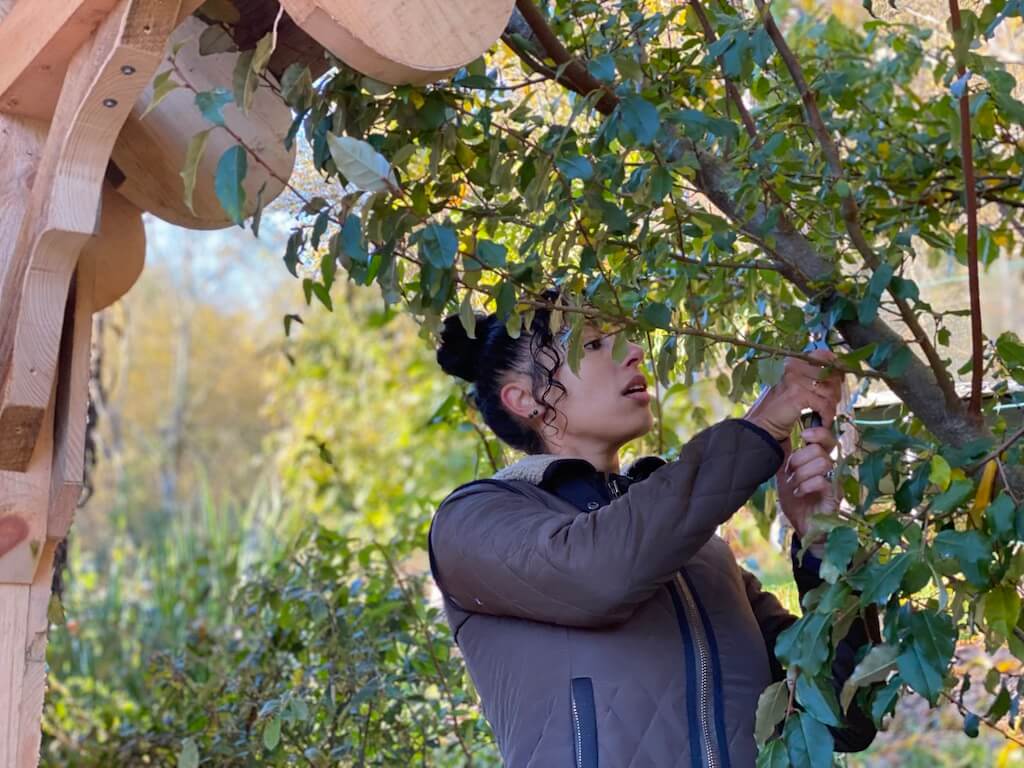 Throughout the season, you'll be guided by folks who have deep experience with growing perennials in this area for a long while. Tasks you'll learn and do together include:
Planning/designing perennial plantings

Weeding

Mulching

Diagnosing and treating disease and pest issues

Pruning, shaping

Harvesting
Please note: this program includes real work. You'll be bending, stooping, using tools, carrying heavy loads, pushing wheelbarrows on uneven ground, climbing ladders, and working in varied weather. Nobody will be pushed beyond their own physical abilities, but everyone will be expected to work hard. If there is a serious deluge, we will skip a week; however, we will gather and work in gentle rain, wind, and hot sun. Before you apply, be sure that you're up to the physical and mental challenge of working hard outside for a full day each week. If you have specific physical limitations, but still want to participate, reach out to us so that we can discuss if it's a good fit.  
---
Get into the rhythms of the seasons!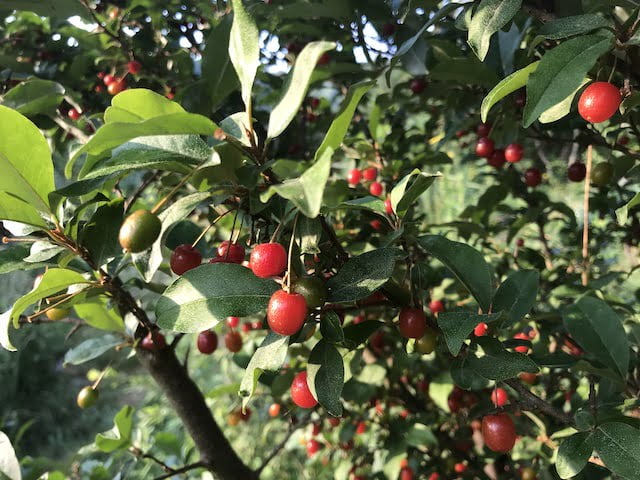 Caring for food plants in an ecological way is all about timing. Indeed, by working with the natural rhythms, we generally can support optimal health and prevent many potential problems. Through this program, you will come to understand the flow of the seasons, and get a feel for the right timing of all the steps in caring for perennial crops. You'll have a chance to take a shortcut through years of trial and error, and instead learn through guided study and hands-on practice how to collaborate with ecological rhythms. 
---
The Permaculture Apprenticeship includes:

Four hours each week of instruction and hands-on doing with perennial fruit and nut trees, as well as shrub and herb planting, pruning, and care
One-half to one hour weekly of online learning about berry growing 
Unlimited access to these Wild Abundance online classes:
Online Gardening School

Spring Wild Food Series

Natural History of the Southern Appalachians

Vegetable Fermentation Class

Permaculture Content

Permaculture Principles in the Landscape

Intro to the Permaculture Design Process

Permaculture Maps and Mapping

Plant Guilds

Animal Husbandry Classes
Along with all of this online and in-person learning, we'll provide the tools needed for hands-on garden and orchard care while onsite, plus a set of bypass pruners and a hori hori (garden knife) for each apprentice to keep. 
Please note: this program does not include a weekly share of fruits, nuts, or berries. During harvest seasons we will enjoy the bounty together while we're here, and sometimes there will be some fruit or nuts or herbs to take home, but this program is about learning more than getting produce. 
---
Schedule and Timing of the Program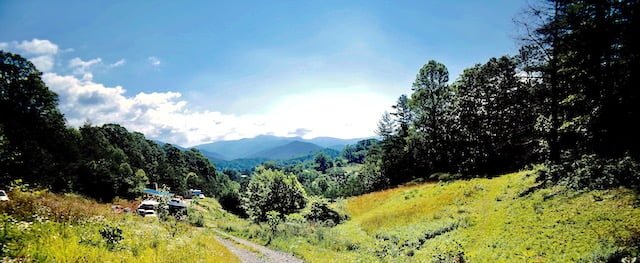 We generally meet each Tuesday, with some breaks and flexibility around weather. During the March 1st–November 20th timeline, approximately 27 of the 35 Tuesdays will be apprenticeship days. Within that time frame, four Tuesdays will be skipped for breaks, and we can expect that some days will be rained out. If you have obligations that prevent you from coming for a few Tuesdays, don't worry about it. Most students will miss a few days, but we expect you to attend at least three Tuesdays per month. 
We will meet from 10am-2pm each apprenticeship day.
---
Seasonal Flow of Activities in the Food Forest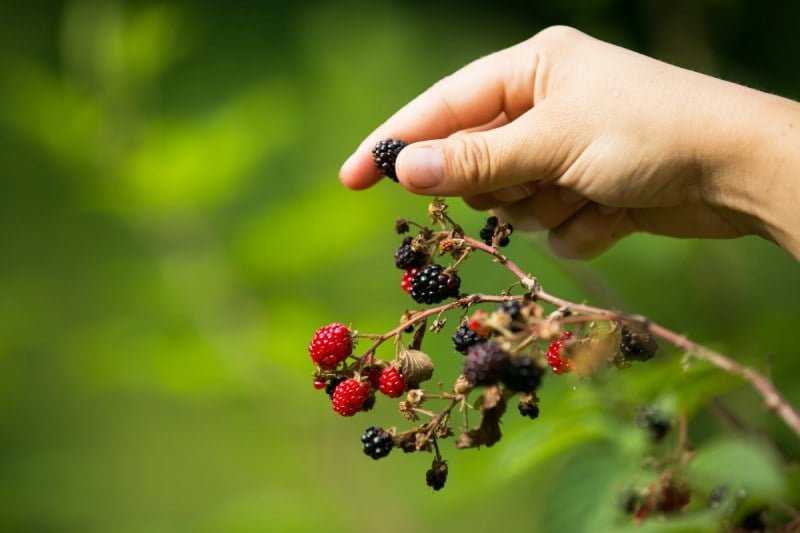 Following is a very generalized outline of what we will be doing when. Throughout the season, you will take part in a great many of these. 
March: prune and mulch trees to optimize production; plant berries and trees.
April: tend perennials, do some planting and some holistic sprays
May: weed and mulch perennials
September: make plans for fruit plantings
October: prepare for fruit plantings, prepare plants for winter
November: prune fruit trees; plant fruit and nut trees
June: harvest berries; weed and mulch; squish bugs; prune suckers on fruit trees; shape fruit trees
July: harvest berries and fruit; make and use plant-based "tea" fertilizers; weed and mulch 
August: harvest berries and fruit; make and use plant-based "tea" fertilizers; prune berries; 
September: make plans for fruit plantings
October: prepare for fruit plantings, prepare plants for winter
November: prune fruit trees; plant fruit and nut trees
---
Online learning compliments in-person permaculture apprenticeship days.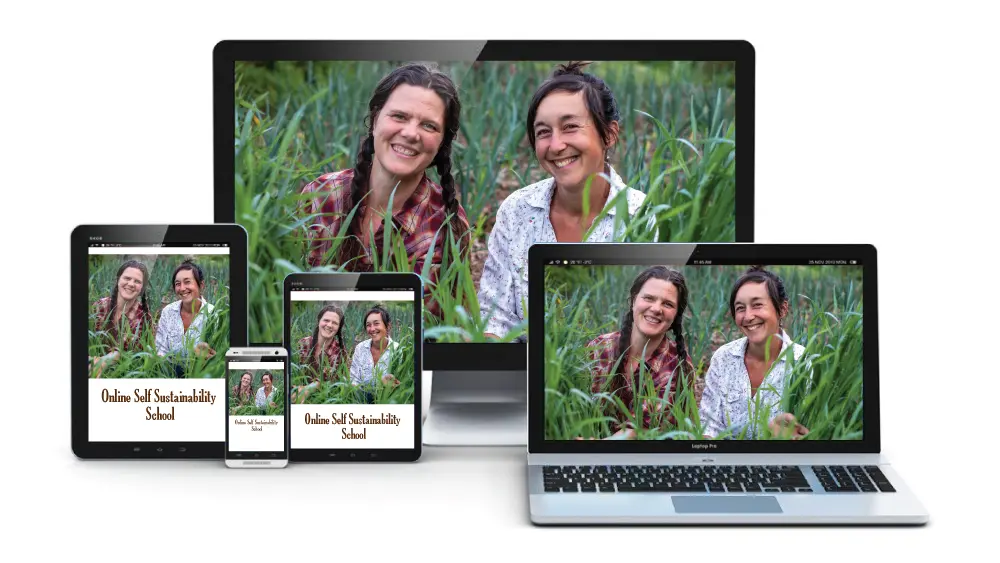 The "lecture" aspect of this program is partially done online, through watching our online class materials. The in-person portion is completely hands-on, and you should expect to really get things done in the perennial garden! You will be helping to tend fruit trees and bushes and herbs. Questions are welcome as we are getting our hands into the soil, in order to deepen and clarify the content that's been shared online. We ask that every apprentice watch the assigned online portion of the program before the in-person days, so you can arrive with a baseline understanding of what we'll be doing. This way, our discussions can be much richer and apprentices can utilize in-person time to deepen their knowledge. 
---
Apprenticeship Size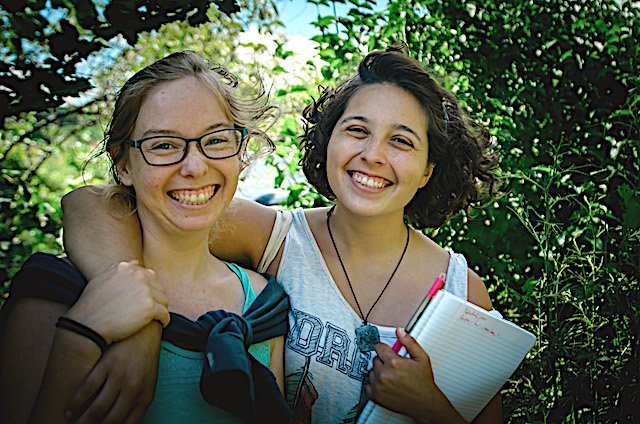 We will be welcoming a maximum of 7 apprentices into this program. If you are interested, please register as soon as possible.
---
Learn small-scale, non-mechanized food production.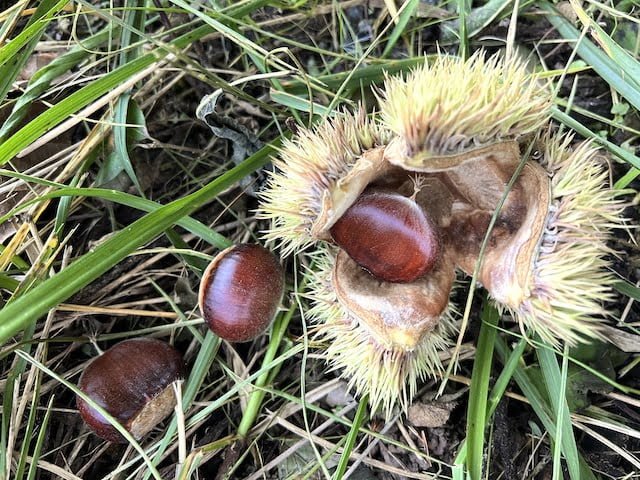 This class is about growing perennial food crops on a human scale, without the use of machines; it's not about commercial production. We will be tending the food forests at the Wild Abundance campuses, not working on a large farm or orchard. The skills that you learn here will be focused on growing a variety of foods for yourself, your family, and a small community. If your goal is to start a farm and grow food professionally, we suggest you find a farm-based apprenticeship program.
---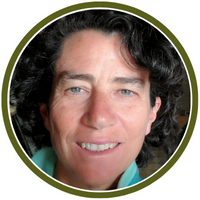 It's hard to capture in words just how amazing this long-term apprenticeship was and how grateful and fortunate I feel to have participated. It is a slow and steady dose of excellent information and hands on application, witnessing the full fruiting cycle of the plants, bushes and trees. Beyond always having access to the ever growing Wild Abundance library of videos, I will forever cherish the time spent each Thursday filled with learning, work and laughter with folks that I consider my friends.

It's hard to find an in-person community these days, so I especially enjoyed the company. And, you can't beat the gorgeous work setting and generosity of our teachers. If you have the time and interest, I promise that you won't regret signing up for this apprenticeship!
– Margaret, Part-time Public Health Program Coordinator and Stay at Home Mom, North Carolina

---
Instructors
---
Class Location
This class is held in Barnardsville, at the Wild Abundance home campuses
Wild Abundance has two beautiful mountain campuses just 30 minutes north of Asheville. Each of them is a a bustling landscape with woods, wild plants, trickling creeks, and lovely outdoor classrooms and facilities. Our original Sanford Way campus has well-established perennial plantings, many whimsical and beautiful hand-built structures, and a bustling community of people. Our newer Paint Fork campus is a bustling and beautiful place of new growth and development. We're in the process of doing permaculture plant installations and building infrastructure there, which you'll get to be a part of!
Please note: our campuses are all unconventional, with rustic amenities and uneven ground. Read more
about our campuses here
.
---
Registration Info
Regular Pricing: $1,800 – $3,600
Please pay what you can afford.  The median price is suggested to help cover the full cost of hosting this class. Please select the low end of the sliding scale if you are low income. If your household income is over $115,000/year, please select the maximum fee. Please place yourself in this range where you deem appropriate, based on your income.
Join the WAITLIST to be the first to know about next year's class sessions
You'll also receive our newsletters