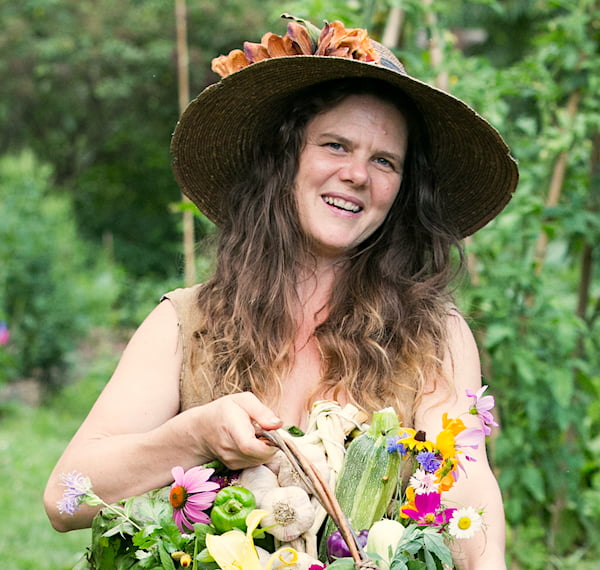 Founder and Director of Wild Abundance; Instructor for Permaculture & Gardening
Natalie (she/her) is the visionary behind Wild Abundance, as well as the founder, director, and an instructor for many classes. She also dreams up new classes, is a big part of curriculum development, manages the campus and designs buildings. Natalie is passionate about teaching and sharing skills to help all kinds of people live in an empowered and earth-centered way. This includes her staff, and the skills of running a cooperative and sustainable values-based business.  
In 2008 Natalie founded the Firefly Gathering, an earthskills gathering focused on bringing people together to teach and learn. Under Natalie's management, Firefly became the most well-attended event of its kind in the country, and the only one that was led by a woman. Natalie felt a strong desire to see the impact of sharing these skills with people throughout the year, not just at a once-a-year event, so in 2010 she founded Wild Abundance. 
At its inception, the school was a one-woman show with the goal of teaching people important skills (and earning enough of a living to keep doing that). As Wild Abundance has grown and matured, Natalie has embraced her role as a leader and an ecologically and socially-minded business person. (This has been challenging, given her anti-establishment, anti-capitalist, and anarchist background). She now works collaboratively with her beloved staff to create and innovate, so that Wild Abundance can be wildly successful at embodying and spreading its core values and growing its influence as an inspiring force of positive change in the world.  
Natalie and her family live at the Wild Abundance homestead campus in the Southern Appalachians. She balances her time between managing the logistics of the school, teaching, tending the garden, building, playing with her daughter, visiting wild places, connecting with her community, and basking in the beauty of nature. Read more about Natalie's life and adventures here.