October 13-16 (FULL, Standby Open for Registration)
Get on the waitlist to be notified when new sessions open up
You'll also receive our regular newsletters
---
A hands-on herbalist class where you learn how to identify, harvest, prepare, and use medicinal plants.
Do you want to take the power of healing into your own hands?  Are you skeptical of conventional Western medicine and pharmaceutical drugs?  Do you want to learn to recognize and work with plant allies?  Are you drawn to wildcrafting, but feel intimidated?  This is the wildcrafting herbalist class for you!  It will empower you to identify and utilize plants — both wild and cultivated — for healing and vitality.
Join our inspired and experienced team of herbalists, artisans, and ethnobotanists for this 4-day intensive.  You'll leave with a basket full of homemade medicines (made by you!). Plus, you'll gain the knowledge of how to make more — from plants growing all around you.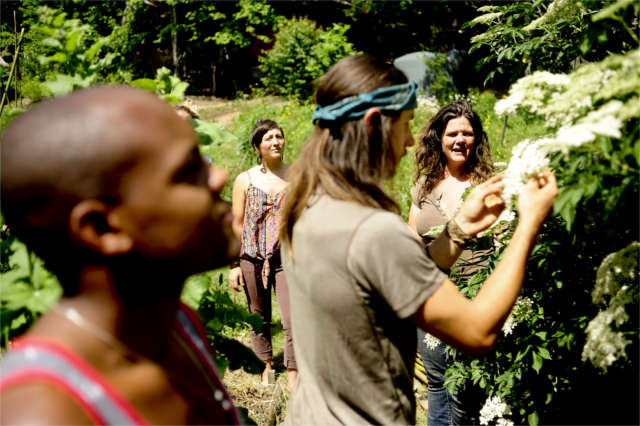 ---
What to expect in this wildcrafting class and herbal workshop:
We'll cover all aspects of wildcrafting herbal medicines. Starting with a wild plants walk, we'll also learn traditional uses of medicinal herbs, and how to make decoctions, infusions, herbal honeys, cordials, tinctures, oxymels, salves, and more. We'll cover plant identification, and the ethics and safety of harvesting, along with medicinal herb cultivation and wild foods cookery.
At the beautiful, lush Lindera campus, we'll explore both wild and cultivated medicinal herbs and wild edibles.  Experienced and talented herbalist instructors will guide you in learning to make multiple medicines to fill your apothecary. When these knowledgeable teachers walk you through how to make herbal preparations, you'll feel confident making your own after the class.  Throughout the long weekend of wildcrafting, we'll make and enjoy tasty herbal treats.
---
The fields and forest become your pharmacy when you learn wildcrafting and herbal medicine-making.
---

This herbalist class covers:
Plant Identification
How to get to know wild plants, even if you've never met them before, plus how to ID common medicinals and how NOT to confuse them with poisonous plants
Ethical Wildcrafting Practices
How to harvest responsibly, maintaining healthy wild plant populations through wild tending
Growing and Propagating Medicinal Herbs at Home
How to start and maintain your own herb garden
Wild Foods Preparation and Cooking
How to confidently cook wild foods, turning them into delicious meals
---
In this herbal workshop you will make and actually get to take home:
Herbal Salves
Topical medicine for skin healing
Herbal Tinctures
Concentrated, shelf-stable plant extracts
Herbal Liqueurs and Cordials
Fun and scrumptious healing drinks
Oxymels
Tasty herbal tonics made with vinegar and honey
---
Integrating Herbalism and Wildcrafting into our Lives
Our students leave not only feeling equipped to wildcraft medicinal herbs themselves, but also inspired and motivated to incorporate these plant allies into their lives.  It's one thing to know how to identify wild plants, or to understand how to turn leaves into an herbal preparation; we take a step beyond this. Our team of instructors — plant lovers who have been wildcrafting for years — actually have relationships with these herbs and use them on a regular basis. Throughout this herbalist class they will share with you bigger reflections like: how they make time to get out into the woods to wildcraft; guidance for growing herbs even if you don't have a garden; recipes for herbal delights that can be consumed daily and aren't just for acute conditions; and much more.
We're excited about plants (can you tell?), and we can't wait to share our excitement with you.
During the class we'll make several of these "everyday" herbal goodies and enjoy them together:
Infusions
Easy, tasty teas made from leaves and flowers steeped in hot water
Decoctions
Rich, flavorful teas made from leaves, barks, roots and berries, slow-simmered to perfection (think spiced chai, yum!)
Wildcrafted "Weed" Salad
A colorful and flavorful alternative to plain old lettuce that is higher in nutrients and healing properties.
---
Delight in the delicious, healing gifts given by the plants, and gathered by wildcrafting
---
About your main instructor: Rebecca Beyer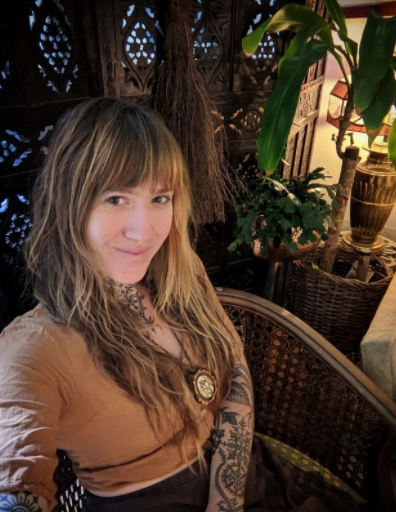 Rebecca Beyer will be your guide and hostess throughout the wildcrafting and medicine making intensive. You'll get to learn from many fabulous guest instructors as well, but Rebecca will be present throughout the entire long weekend. She is an Appalachian folk herbalist, huntress, and wild food forager dedicated to living simply on the Earth. She has taught and presented at universities, conferences and gatherings over the last 9 years with the hope of showing people that living a seasonal life grounded in connection with the Old Ways is possible. Through growing, foraging, hunting, fishing and preserving her own food, she strives to create a life as close to her ancestors as possible while paying homage to the diverse peoples who created her beloved Appalachia.
She makes her living tattooing, teaching foraging and Appalachian folk herbalism and craft classes at  her school, Blood and Spicebush School of Old Craft. Rebecca currently spends her days dedicating herself to Appalachian folk arts, primitive skills, folk music and learning the names of all the beings she shares her bioregion with.
---
"I attended [this] course without any prior knowledge of the subject, and I've walked away with so much…The teachers are incredibly knowledgeable, approachable, and accessible. My classmates were kind, inspiring, and so connected. The material is so practical, I'm already putting what I've learned into use and will undoubtedly continue to do so…It is essential that we take responsibility for our health and wellbeing! I look forward to exploring more courses in the future."
Connie Ng
---
Instructors
---
Class Location
This class is held near Marshall, at the Lindera sister campus
Our sister campus, Lindera, is a beautiful, partially forested mountainside community in the rural  Shelton Laurel region of Madison County, NC about 50 minutes from Asheville. You'll receive detailed directions on how to get to the campus upon registration. Lindera is home to lead instructor Rebecca Beyer, along with a friendly, rag-tag group of other woodsy people. Wild and cultivated gardens peek out from amidst native forest, and whimsical, hand-built structures dot the landscape.  
Please note: our campuses are all unconventional, with rustic amenities and uneven ground. Read more
about our campuses here.
Local Accommodations and Facilities
A few flat spots are tucked here and there amongst the beautiful wild flowers and trees for tent camping. There's also plenty of space for hammocks! Please bring tents with good tarps to keep you dry in case of rain. It can get muddy in bad weather so make sure to pack good boots as well.
All students will have access to a "viking" outhouse, hot outdoor shower, and sweet little outdoor kitchen. If you prefer more creature comforts, please check out the hotels and Airbnb's in Marshall or Hot Springs, NC or Greeneville, TN, as Lindera is just next to the TN border!
---
Registration Info
We strive to make our classes accessible to those who wish to learn. Please pay on the sliding scale what you can afford, given your income.
October 13-16 (FULL, Standby open for registration)
Sliding Scale Pricing: $750 – $1,200
Get on the waitlist to be notified when new sessions open up
You'll also receive our regular newsletters