Do you dream of building a tiny house with your own hands?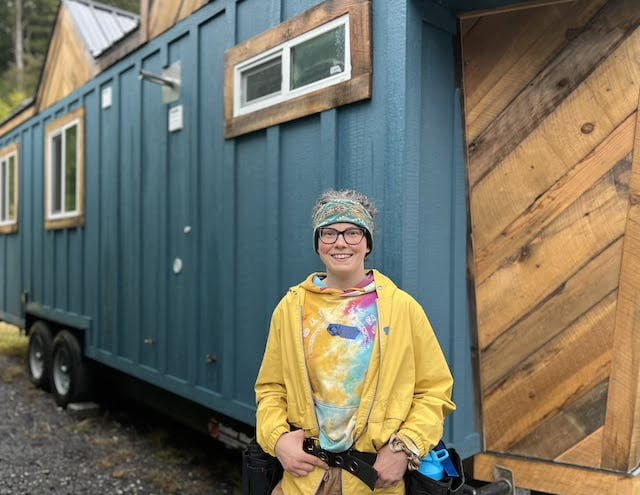 With this class, you'll learn how to make that dream into a reality. The in-person and online portions of this tiny house workshop combine to cover everything from creating your own tiny house floor plans, to choosing whether to build on wheels or on a foundation, to budgeting your build, to integrating natural building and green design.
In fact, students can get their hands on all of these aspects of building a tiny house, and more. There are many ways to do most of these steps, and we'll dive into at least one way to do everything that's practical and effective, based on our experience. 
---
What our students say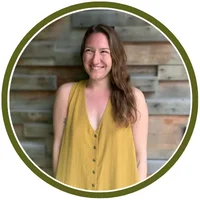 Jessie
Connecticut Accountant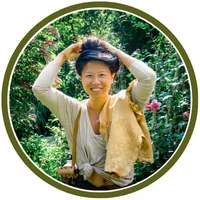 Honey
Massage Therapist, World Traveler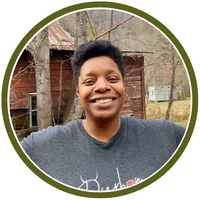 Monica
Massage Therapist, World Traveler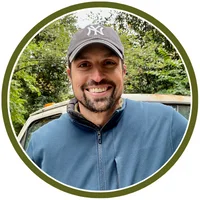 Bryan
New York Digital Health Products Developer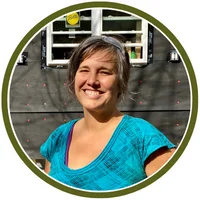 Sarah
North Carolina Photographer
This tiny house course is appropriate whether you are an experienced builder or are an enthusiastic novice.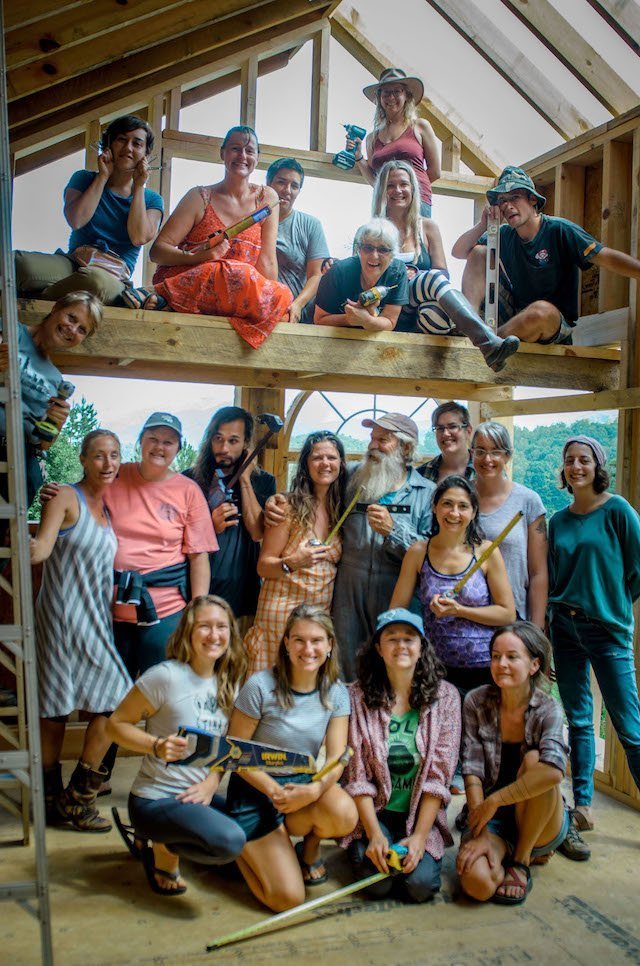 During most of our class time, we split the students into two groups, each with a lead instructor and usually an assistant.
During the first two and a half days of class, everyone gets to learn about and participate in building a pier foundation and a floor system. Newbies learn safe and effective hand and power tool use in a small group setting, while more advanced students go on tours and explore more of the subtleties of foundations and floor systems. Those who need tool instruction will get a bit of these other exciting things too, but more advanced students will have more time to sink their teeth in.
Everyone will get a chance to learn in a way that's tailored to meet them where they're at. 
---
Together, we build tiny houses from the ground up.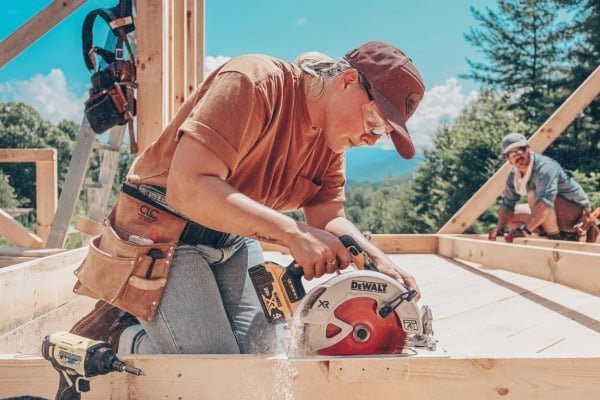 Applying the ideas and concepts you learned in the online lecture series will bring them to life and anchor your learning. For example, we'll learn about wall and roof systems conceptually, then get out and build some.
As a result, you'll leave the class feeling primed and inspired to build your own tiny houses or other buildings. In fact, many past participants have gone on to build tiny homes in Asheville and beyond!
---
What to expect from this tiny house workshop: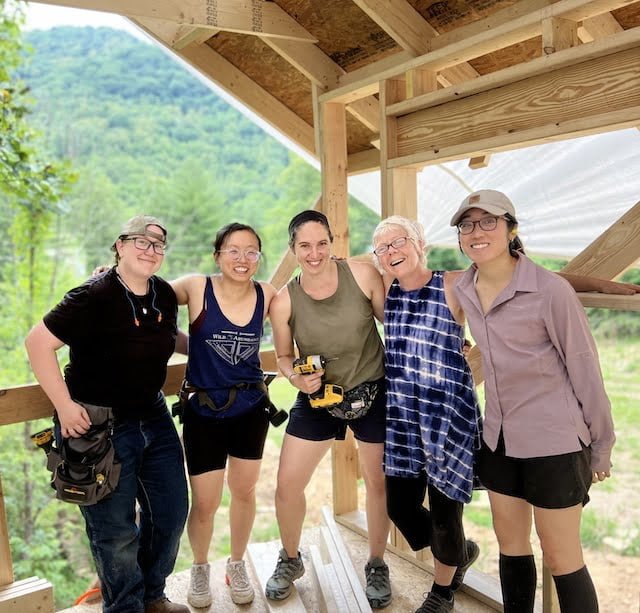 Between the online and the in-person content, you can expect to learn the nitty gritty details of how to build a tiny house. This comprehensive tiny house workshop even includes the basics of plumbing and electrical, plus how tiny homes can fit into community living. This is not a three-day overview or intro class. On the contrary, with the online content and in-person practicum combined, it's an all-encompassing program that will not only get you ready to build your own tiny house, but also prepare you to create your own design, source the best materials, and understand more deeply how tiny homes can fit into your life.
Not to mention, it's a great way to meet other folks who are excited about tiny houses and building for the people, by the people. Keenan, one of our lead instructors, has often been struck by the sense of community that grows from this workshop. "Folks absolutely bond with one another as they build together. Sometimes people come from the same state, county, or town having never met, but they get along incredibly well and stay in touch." 
---
During our time together, we'll focus on hands-on tiny house building and cover the following: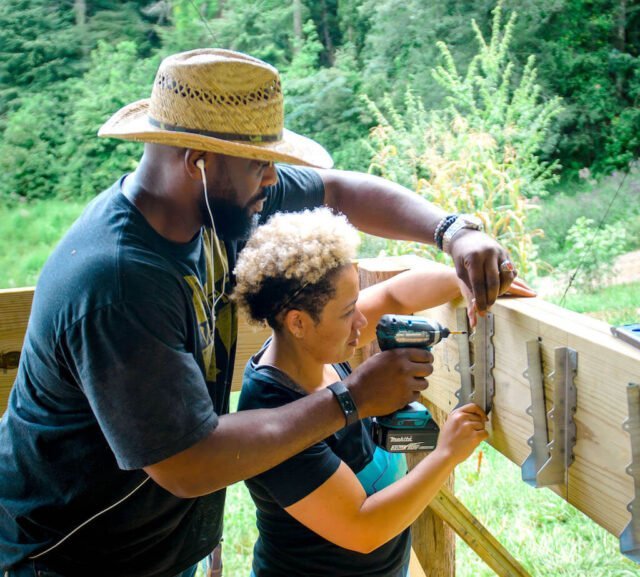 Foundations

Floor systems

Framing out wall systems

Erecting wall systems

Framing out windows and doors

Roof rafter pitch determination, cutting and installation

Wall and roof sheathing

Depending on the build, we will possibly get into window and door installation

Tiny and not-so-tiny house, plus natural building tours (for students who don't need a tools basics classes)

You'll even experience a real-life tiny house community!

And here's what you'll learn in the online lecture series: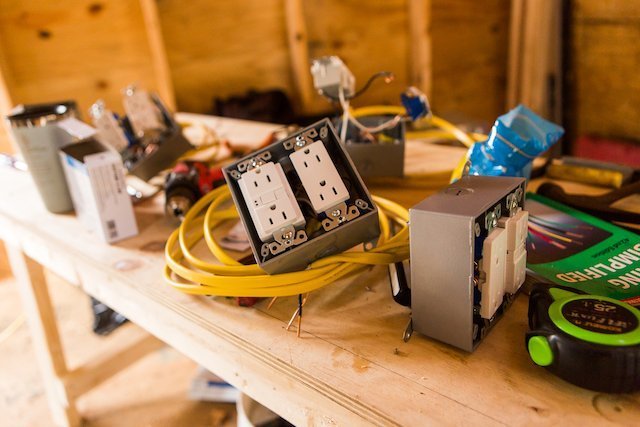 Steps of building a building

Tiny houses on permanent foundations vs. on wheels

Tools of the trade including: measuring and marking; plumb, level, and square; power tools and more!

Designing your own tiny house

Ecological awareness in building

Building site assessment

Passive solar design

Legal considerations for tiny homes

Pros and cons of natural building techniques

Basics of electrical: theory and install

Basics of plumbing

Tiny and not-so-tiny-tours

Tiny house foundations 

Tiny house floor systems

And so much more!
---
Foundations, floors, walls, and roofs – Learn the basics for any building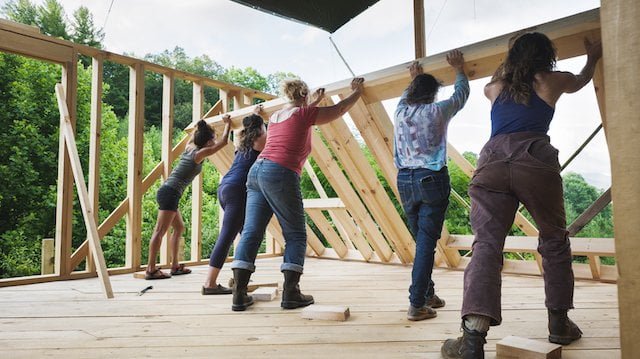 Whatever the size, a building must have a solid foundation for safety and function—even if that "foundation" is a trailer. We'll get into this, and also cover floor systems, walls, and roof systems. All of this information is crucial for building a solid, sturdy tiny house, or any kind of structure, no matter the size. In fact, one of the great things about the tiny house class is that you learn all the basics of building a house, but in a much shorter timeframe than it would take to build a traditional house.  
---
Tiny House Plans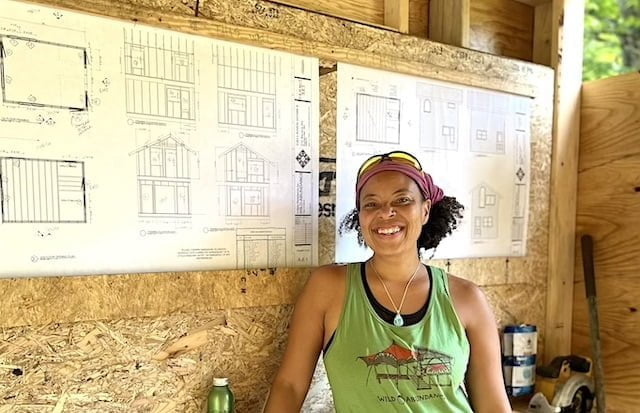 Planning your ideal tiny house takes some skill! And a good design can translate into a smoother building process and more beautiful and liveable space. 
In the online Tiny House Academy (included in the in-person class), we provide an overview of the design process that includes site analysis, sketching, and architectural and construction drawing exercises. We don't share cookie-cutter designs with you, but rather teach you the skills you need to create your own customized tiny house design.  
---
The best of both worlds: Nine days of hands-on tiny home building classes, plus 20+ hours of online instruction

We believe this is the most comprehensive tiny home building class you're going to find. That's because we cover so much breadth and depth. To do this effectively, we provide the lecture portions of the class in an online format, leaving the entirety of our in-person time to focus exclusively on skills that are best taught—and practiced— in-person.
It's a hybrid structure that maximizes our time together, and provides you with ample take-home resources to consult as you work on your own projects.
Before the in-person class starts, you will be invited to virtual presentations of the plans for the hands-on build project options. This way, you can decide which one you want to join when you get here.
You can get just the online portion only through our Tiny House Academy

If the in-person class is inaccessible to you for whatever reason, you can get access to the online portion as a stand-alone. The Online Tiny House Academy is a comprehensive program that walks you through at least one way to do every step in the process of building a tiny house, plus more, via on-demand video lessons. These include a ton of how-to's, along with a library of tutorials, lectures, and demos. The best part is that you can refer to whatever you need help with, again and again, throughout all your building projects! And, you get access to one of our lead instructors to answer your questions via the online classroom. 
The Tiny House Academy is a $697 value, making the in-person Tiny House Workshop an amazing deal. You basically pay for nine days of in-person instruction and get the online Tiny House Academy as a sweet bonus.
*All in-person tiny house students receive access to the Tiny House Academy as part of their registration.*
---
The Wild Abundance Tiny House Class Building Projects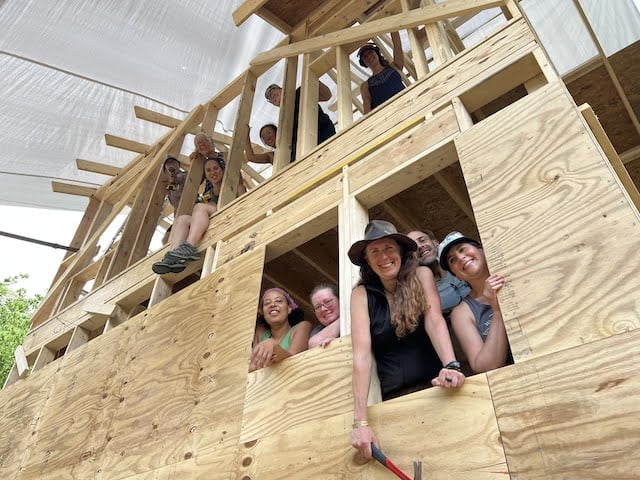 We break the class up into two groups to accomplish our tiny house builds. This happens after the first two and a half days of class, when we focus on foundations, floor systems, tours, and tool classes for those who need them. Both tiny house projects will be relatively similar; we break the class up so that every student gets more attentive guidance and so that there's plenty of space and tools for everyone to feel comfortable.
---
Two building locations: Nanostead and Paint Fork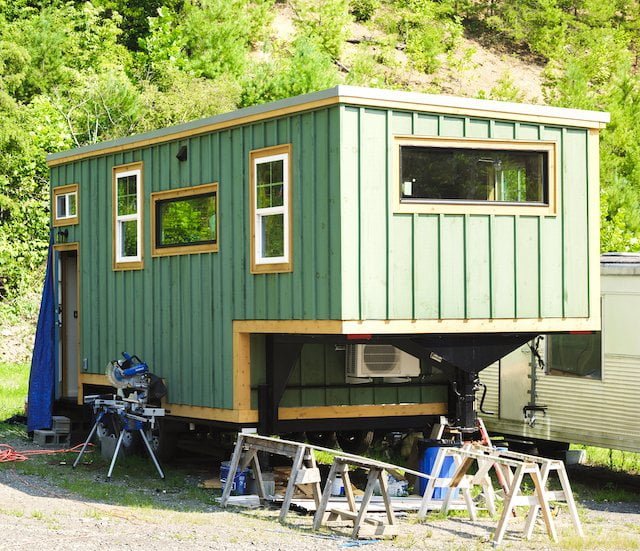 One build will happen at Nanostead, a modular and tiny house company in Marshall, NC run by one of our fabulous instructors. This 4,000 square foot pole barn is on the edge of a quaint town by the French Broad river and is a great place to work and learn.
The other build will take place at our Paint Fork Campus (the newer campus), under a large roof. Camping is available here for students working at either build; there is no camping at Nanostead. Those working on the build at Nanostead will commute from their campsites in Barnardsville to the build site. The rural Paint Fork campus features a lovely mountain creek, an outdoor kitchen and other facilities for campers. 
Both tiny houses that we build will be either on a trailer or on "skids." Skids are basically large beams that can act as supports and runners when moving a building that doesn't have a trailer base. They're a great option if the tiny house is going to move only once or twice from the place it is built, as trailers are a huge expense and building onsite sometimes isn't practical. 
---
Not-So-Tiny Houses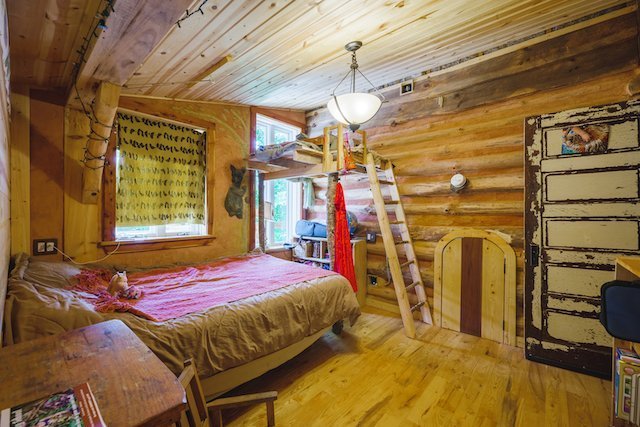 In addition to true tiny houses, this workshop applies to not-so-tiny houses (400-900 square feet). We applaud your enthusiasm for downsizing, and want it to really work! For some folks, especially when there will be multiple adults and/or kids living in the house, a not-so-tiny house can be way more appropriate than a truly tiny house.
Along with exploring several not-so-tiny houses, we'll engage in an honest discussion of the pros and cons of downsizing. Central to this is the importance of good design when you're living and/or working in a small space. Plus, we'll talk about and check out large covered porches, outbuildings, outdoor kitchens, shared infrastructure, and other strategies that can make tiny house living feel more spacious and doable. Both the hands-on aspects of the class and the lecture subjects will be applicable whether you are building tiny or not-so-tiny! 
---
Ecological and Natural Building Considerations
For our projects, we use materials sourced from a variety of places, including an onsite forest, a local sawmill, clay from near the site, the local lumber yard, and the big box building store. 
We encourage students to mix and match natural and conventional building styles based on their interests, skill set, resources, and desired outcomes. Just because you take a natural building course doesn't mean you have to build 100% natural in order to apply what you learn. You can find your own sweet spot according to your available time, budget, and whether you're going with a mobile unit, or a tiny (or not-so-tiny) house on a foundation.
The online portion of the class explores the pros and cons of several natural building modalities, which will help guide you toward which of these you might want to explore. Additionally, in the online portion, we discuss regenerative timber harvesting, milling your own lumber, the ecological impact of various building materials, and creative sourcing for up-cycled and lower footprint options. For a hands-on deeper dive into natural building, check out the Natural Building Add-on described below.  
---
Tiny House Workshop 2023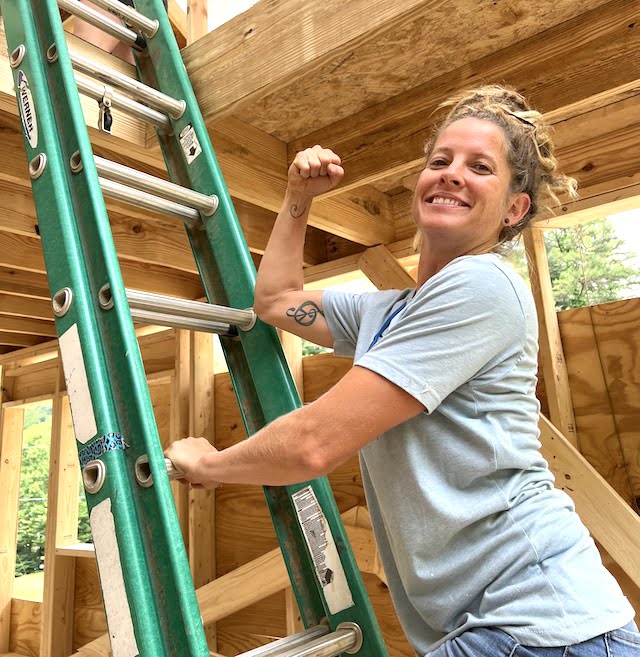 There is a very real housing crisis going on, and it's not going away anytime soon. There just simply aren't enough homes available for people in our area, and around the country. Compounding this, prices are being driven up by inflation. This combination online and in-person tiny house workshop will equip you with valuable skills to start taking control of your own housing options.
You'll learn carpentry, best building practices, design, utilities and systems, legal ramifications, how to budget your tiny or not-so-tiny house, and more. Getting this information out to as many people as possible is important now more than ever.
---
Practical Choices for Tiny Houses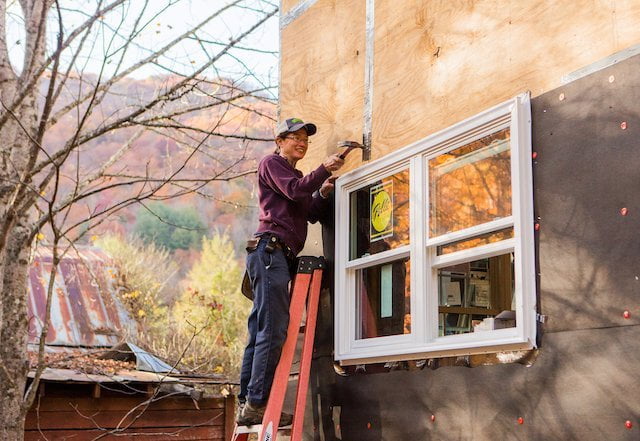 There is a lot of hype out there about building tiny houses and natural buildings, and many people who claim that they will solve all of your problems, in a short amount of time, on an extremely low budget. We're here to offer an encouraging and supportive voice of reason. Our team has decades of experience, and we've tried many of the tricks and shortcuts out there. In other words, everything you learn in this class will not only be cool and inspiring, but also practical and time-tested. 
In the online and in-person portions of the class we discuss the real implications of various choices and techniques, including their pros, cons, appropriate applications, and tradeoffs. For example: salvaging materials can save you money, but in some cases you'll end up paying in time, labor, or exposure to environmental toxins. We offer guidance on when it makes sense to salvage, and when it's more practical to buy new, and discuss the practicalities and appropriate use of various natural building approaches and ecological materials. We want you to succeed in your building aspirations, so we'll discuss, in detail, how to decide on a recipe for what to salvage, what to buy new, and what to source from the land.
---
Experience a Real-Life Tiny House Community!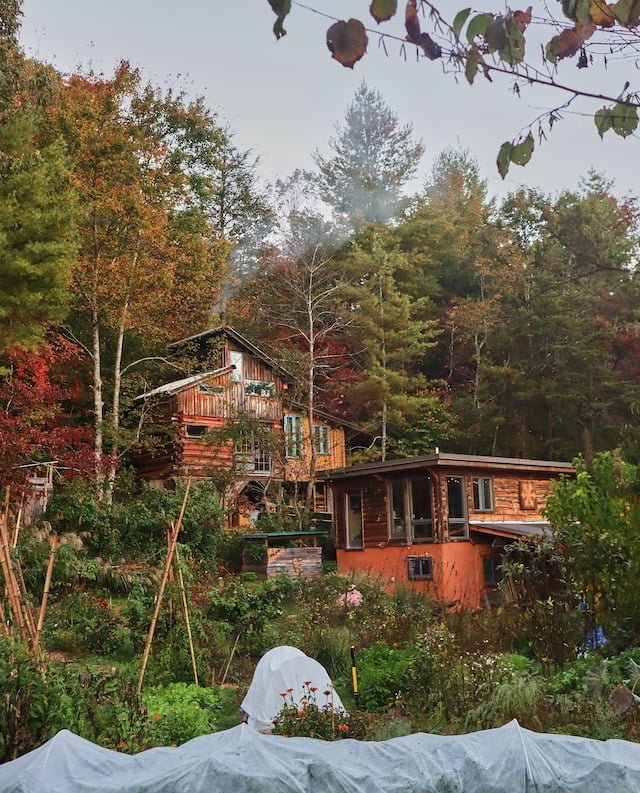 During the tiny house workshop you'll get a feel for "Tiny House Asheville." In our neighborhood, you'll see tiny houses of several different shapes and sizes that utilize an assortment of construction techniques, from conventional to adobe. Luckily, where we live, it's legal to build as small as you want, which is part of why this tiny house community is possible. The area surrounding and including Wild Abundance's Sanford Way campus is a great example of how tiny houses can allow people to live together and share resources, while still preserving the autonomy and personal space that many of us cherish.
---
Dynamic Video Tours Exploring Asheville's Own Tiny House Nation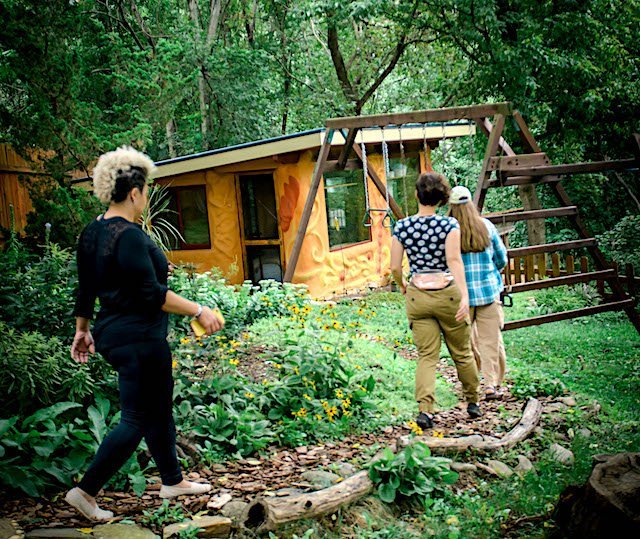 In the online portion of the class, we take tours of tiny houses in and around Asheville, NC. You'll get to see a variety of tiny home designs, materials, and sizes…It's Asheville's eco-conscious, DIY spin on Tiny House Nation!
In the in-person section, if you aren't taking the tool basics class, you will also see, touch, and learn about various building styles, including timber framing, log cabin construction, adobe, cob, strawbale, hempcrete, wattle and daub, and earthen floors. Additionally, you'll see how tiny houses can work in a community setting and can provide a viable option in an area with a housing crisis.
---
Hands-On Tiny House Building
Once the theoretical groundwork is laid, we'll divide the class into two crews, and dive into building two tiny houses from the ground up. During the majority of this workshop, you'll work with your build crew for most of the day. 
Our instructors provide lots of guidance, answer questions, and share what they know throughout the process. In fact, the mentorship, camaraderie, and "team spirit" of building together is often our students' favorite part of the workshop.
---
Natural Building Workshop add-on to this Wild Abundance Tiny House Class
Natural building is a strong thread at Wild Abundance, and we love teaching about how to use natural materials in construction. You'll get a selection of lecture-style natural building instruction through the online portion of the class.
If you want to actually get your hands on natural building techniques, you can add-on a four day session in the summer (August 12-15).
This option is available to you no matter when you take the nine day workshop. Simply add it on during your checkout process. In both the online and in-person natural building sections we'll explore the following:
Cob

Adobe

Hempcrete

Slip straw

Bas relief

Wattle and daub

And more!
During the add-on you'll also engage in hands-on experience with two of the above techniques, plus you'll learn to use natural plaster to create beautiful wall finishes. 
---
Frequently Asked Questions
---
Please note, not all instructors will teach for every session of this class
---
Instructors
---
Class Location
This class is held in Barnardsville, at our home campuses, and in Marshall, at the Nanostead sister campus
Our tiny house building classes are held at the Wild Abundance home campuses and at Nanostead in Marshall. All students are welcome to camp at Wild Abundance, a beautiful location with mountain views about 25 minutes north of Asheville. You'll receive detailed directions on how to get here upon registration. Campers have access to an outdoor kitchen and other facilities. 
The Nanostead sister campus is a ½ acre facility with a 4,000 square foot covered workshop right in downtown Marshall, about 30 minutes from Asheville. You'll receive detailed directions on how to get to Nanostead upon registration. Unlike our other campuses, Nanostead is not a rural homestead or farm, but instead is a bustling tiny house workshop, within walking distance to local restaurants, bars, and the other artsy attractions of quaint Marshall, NC. 
One of the tiny homes we build will be at the Wild Abundance Paint Fork campus, and the other will be at Nanostead. Depending on which build crew you join, you'll be spending the bulk of your hands-on building time at one or the other location. If you have a strong preference to be at one or the other location, our staff and instructors will likely be able to accommodate that.
Please note: our campuses are all unconventional, with rustic amenities and uneven ground. Read more
about our campuses here.
Local Accommodations and Facilities
Note: Camping for classes held at Nanostead is available at the Wild Abundance paint fork campus, 30 minutes from Nanostead.
Wherever you're coming from, you're welcome to pitch a tent in one of our flat camping spots in the woods or field, or to tie a hammock in the forest. If you live locally, you may prefer to commute from Asheville (25 minute drive). If you choose to camp, please bring your own bedding and rainproof tent or tarp. In the early spring and late fall it can be cold at night, so please bring warm bedding if you'll be here before May or after September. We have a lovely outdoor kitchen equipped with a stove and running water, an outdoor shower, and an outhouse available to campers.  In extremely cold weather, the sink and shower may be out of operation due to water freezing.
If you prefer something with more creature comforts, we suggest you browse Airbnb for numerous options close to the campus. We will send Nanostead's address upon registration so you can also check out local motels and B&Bs within a 10-15 minute drive to Nanostead in Marshall.
---
Registration Info
Pricing for Tiny House Workshop
Regular Pricing: $1,800 – $3,600
Pricing for Natural Building Add-on on August 12-15 : $600 – $1,200
We strive to make our classes accessible to those who wish to learn. Please pay what you can afford on the sliding scale. The median price covers the full cost of producing the class. Please select the low end of the sliding scale if you are low-income. If your household income is over $115,000/year, please select the maximum fee. Please place yourself in this range where you deem appropriate, based on your income.
All lectures will be online, hands-on content will be in-person and outdoors.
Join the INTEREST LIST to be the first to know about next year's class sessions
You'll also receive our newsletters