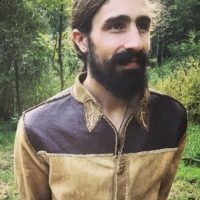 Tyler (he/him) and his family align their life with the cycles of the seasons and the bounty of the wild. They harvest and utilize as much as they can – straight from the woods around them.
Tyler first fell in love with Southern Appalachian ecology as a student at Warren Wilson College, where he received a degree in Environmental Education. The children's novel My Side of the Mountain sparked Tyler's passion for traditional skills and wild foods. Since then, he's been blessed with teachers and mentors who continue to draw his attention into deeper layers of mystery and the possibilities around crafting a handmade, wild life.
Over the years, Tyler has studied, apprenticed and taught at many traditional skills schools and events, including Wild Abundance, The Roots School, Living Earth School, Earthskills Rendezvous, The Firefly Gathering, Florida Earthskills, Whippoorwill, and others. He's worked with hundreds of children and adults through public and private schools, homeschool cooperatives, and special events. 
Passion and experience
Tyler has experience in all aspects of survival skills, with a special passion for primitive technologies. In 2015, he was hired by the Catawba Historic Society to build an authentic replica of an 18th-century Catawba bark lodge for the organization's living-history site. In 2018, he was featured on the cover of Asheville Made magazine for his handmade buckskin clothing.
Tyler is devoted to understanding material use in the context of its ecological niche – that of unveiling ancient and scientific wisdom of appropriate technologies. Whether he's preserving wild foods or working with stone tools, bows and arrows, animal hides, or natural fibers, Tyler orients his life by the skills that have kept our ancestors alive for thousands of years.
With his wife and their son, Tyler's also now focused on developing his Shelterwood Cove homestead.