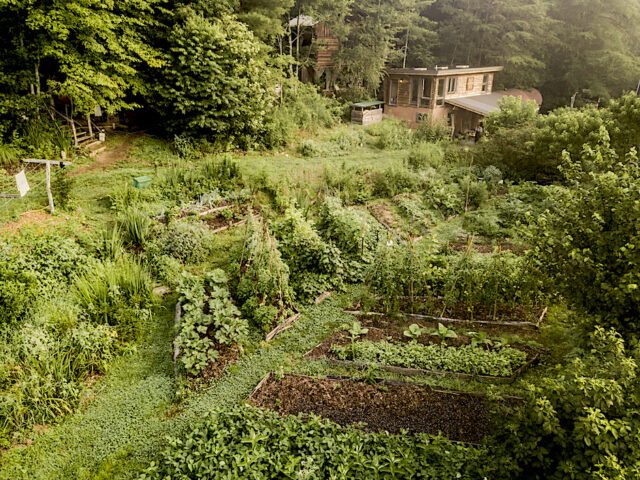 Wild Abundance is more than a school. It's our attempt to create the kind of world we want to live in. Here, we strive to honor the generosity of the living land, and to sustain ourselves in reverent reciprocity with everything that makes our lives possible.
Our campuses are nestled in the verdant folds of the ancient mountains of Shaconage (Sha-Kon-O-Hey, Cherokee language), the Land of Blue Smoke, known in English as the Southern Appalachians. They're all within 25-45 minutes of the town of Asheville, NC. 
Through all of our classes, at each location, we teach practical skills for living with the land and cultivating a more handmade life. Plus, we foster inspiration and connections among our community of students, instructors, and staff.
We acknowledge the many layers of human and greater-than-human inhabitants and relationships that we're layered amidst. They are here with us now: people, stones, waters, winds, plants, animals, mushrooms, dreams and songs that came in the past, and those whose bodies remain. All of their stories hold us here in this place, as they continue to be told.
Get to know our beautiful campuses, near Asheville, NC
All in-person classes take place safely outdoors, with appropriate shelter in inclement weather to keep you dry.
We're fortunate to be able to provide beautiful, functional, natural settings for each of our classes. Some subjects require certain types of landscapes or infrastructure, and we pair classes with the most appropriate location. At every one of our campuses you'll have access to clean drinking water, dry space in case of rain, an outdoor kitchen for preparing food, and lots of inspiration. The Sanford Way and Paint Fork campuses are managed by Wild Abundance. The other campuses are managed by sister organizations.
Sanford Way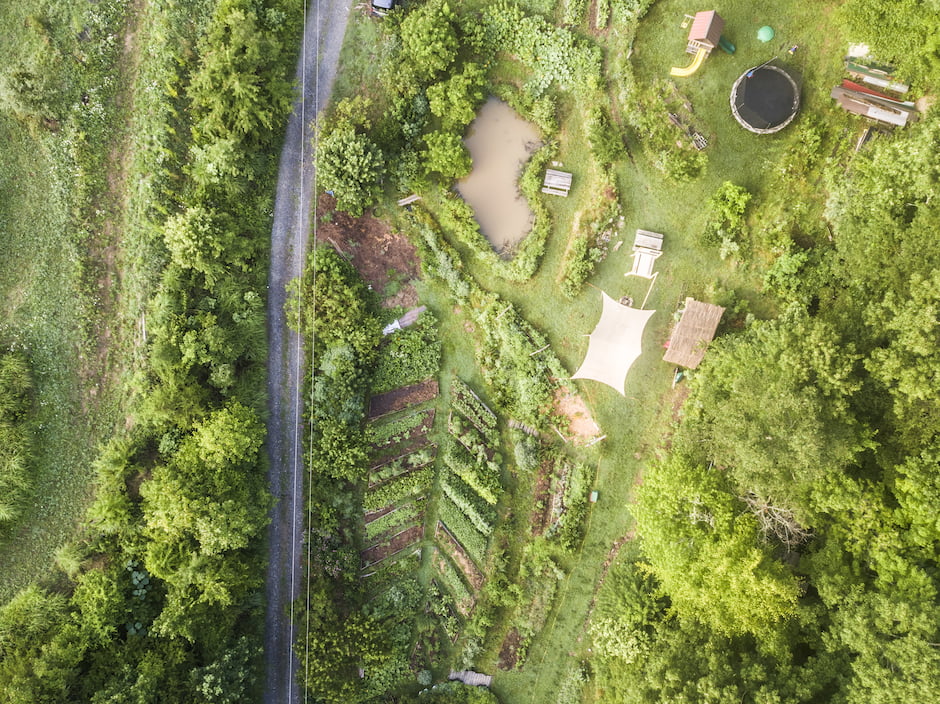 Wild Abundance's original home campus on Sanford Way in Barnardsville, NC boasts many gorgeous and functional features, all crafted lovingly by ourselves and our community of students, friends, and neighbors. We've got a bountiful leaf-shaped organic permaculture garden; a food forest including delectable perennial beds; a log cabin built out of trees from our own growing forest with a light straw clay addition; a cob oven; an outdoor classroom/wood shop topped with solar panels, and a stunning wattle and daub outdoor kitchen and classroom featuring a handmade sun motif sculpted out of clay by the hands of our students. This campus is tucked cozily within a small neighborhood on a narrow gravel road. It's a year-round home to our director, Natalie Bogwalker, and her family. It takes about 25 minutes to get here from Asheville.  
We will continue to host some classes here, but are slowly transitioning our carpentry classes to the Paint Fork Campus.  Our Women's Basic Carpentry, Women's Advanced Carpentry, Basic and Advanced All Gender's Carpentry classes, Tiny House classes, Women's Rewilding, and Wildcrafting and Medicine Making classes are divided between our Sanford Way and Paint Fork Road campuses, with portions of each class taking place in the field. Student's in classes hosted at the Sanford Way Campus are welcome to camp onsite.
Paint Fork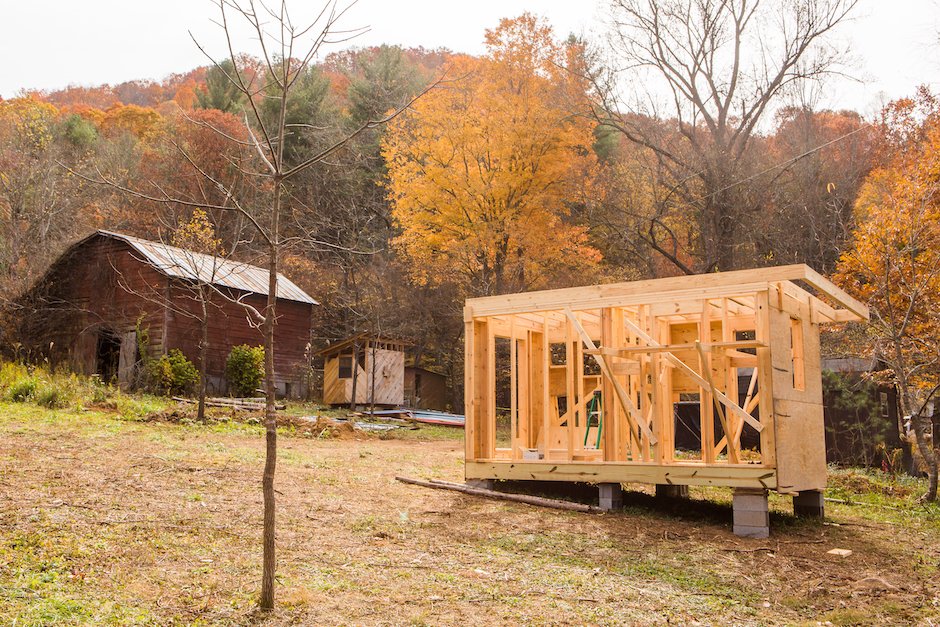 As our classes and community have expanded, we've been delighted to also expand our home campus. In spring of 2022 we purchased a beautiful nine-acre creekside property just a few miles from our Sanford Way campus, on nearby Paint Fork road in Barnardsville, NC. This campus has a lovely open, gently sloping landscape, paired with a rugged mountain side featuring many rock outcroppings. It's bustling with energy as we engage in conversation between its innate features and our desires for the school. So far we've built trails, started reclaiming the pasture, delved into a collaborative design process, established amenities for students and staff, and are well underway with a beautiful office and bathhouse, plus a lovely  post and beam outdoor kitchen with a view of the gorgeous nearby mountains. We've been hosting campers and classes at the paint fork campus since May of 2022.  
During our 2023 Timber Framing class, we'll be constructing an elegant timber framed pavilion classroom space. We're also excited to engage in earth moving and perennial plantings… and maybe even build a pond! One fabulous feature of the Paint Fork campus is that it's more easily accessible (no narrow gravel road with neighbors who are inconvenienced by Wild Abundance traffic), so we're able to host more community gatherings there too. It is about 30 minutes from downtown Asheville.  
Our Women's Basic Carpentry, Women's Advanced Carpentry, basic and advanced all genders carpentry classes, Tiny House classes, Women's Rewilding, and Wildcrafting and Medicine Making classes are divided between our Sanford Way and Paint Fork Road campuses, with portions of each class taking place in the field. Student's in classes hosted at the Paint Fork Campus are welcome to camp onsite.
Nanostead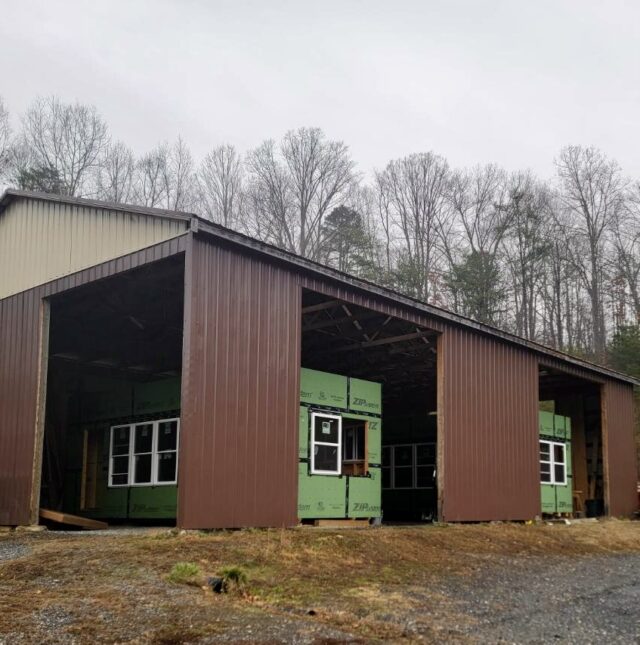 This is the workshop and business-home of one of our key instructors for Tiny House Building classes. It's a half-acre facility with a 4,000 square foot covered workshop right in downtown Marshall, NC.
Unlike our other campuses, Nanostead is not a rural homestead or farm, but instead is a bustling tiny house workshop, within walking distance to local restaurants, bars, and the other artsy attractions of quaint Marshall, NC. A portion of each tiny house class happens here, and students will also get a chance to experience the Paint Fork campus as well. Nanostead is about 25 minutes from downtown Asheville.
Students in our Tiny House Workshop are divided into two groups for the last 6.5 days of class. One of those groups accomplishes their build at Nanostead, the other does their build at the Paint Fork Campus. There is no camping available at Nanostead, but students in the tiny house workshop are welcome to camp at the Paint Fork Campus.
Ivy Creek Timber Frames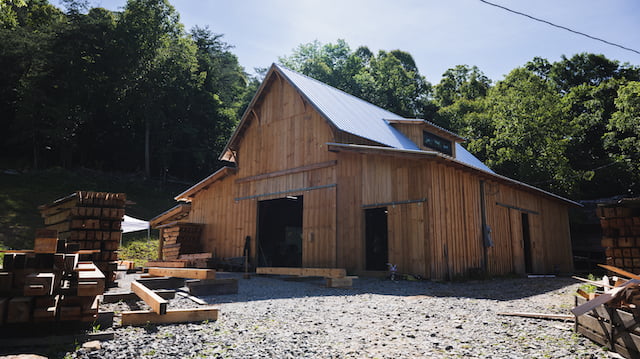 This beautiful farm and workshop is home to Brian Snedecker, our lead Timber Framing class instructor, along with his family and business, plus their milk cow, many goats and chickens, and a couple of dogs. It's just down the road from our Sanford Way and Paint Fork campuses in Barnardsville, NC.
This land features a gorgeous 2,000 square foot timber framed barn/workshop where most of class takes place. Along with the barn, this campus has a sunny open-air work area with stunning views of the mountains and valleys of this incredible region.  Ivy Creek Timber Frames is about 30 minutes from Downtown Asheville. Camping at Ivy Creek Timber Frames is limited. Students without vehicle access are welcome to camp onsite; those with transportation will camp at the Paint Fork Campus and commute a few miles each day to Ivy Creek Timber Frames.
Earthaven Ecovillage
We're delighted to partner with the School of Integrated Living and Cooperate WNC to collaboratively host our Permaculture Design Course at Earthaven Ecovillage. This permaculture-based community offers a unique living classroom where students directly engage with regenerative food systems, eco-infrastructure, and the intimate experience of community living. Staying and learning at Earthaven is an adventure! Earthaven is off-the-grid, they derive electricity from hydro (water) power, solar (sun) power, or a gasoline-powered generator, and their water from on-land springs and wells.
Classes take place in the community's beautiful, hand-built Council Hall, as well as under outdoor canopies and in the woods or on farms. Meals are served in an outdoor covered dining area. Earthaven is located 45 minutes from Asheville, via very winding mountain roads.
Shelterwood Cove
Home to a member of our site crew and instructor for Survival Skills and Hide tanning course, Shelterwood Cove is a lovely and welcoming gentle, flat homestead amidst forested mountains. It's located in the Reems Creek area of Weaverville, NC. This campus has a lovely blend of cleared land and bountiful gardens, along with wild woodlands where many creatures make their home. Shelterwood Cove is about 25 minutes from downtown Asheville.
Each of our campus locations provides an opportunity to learn the subject matter, and also to witness different ways that human beings are integrating their lives into the landscape.
---
Our Campuses are unconventional
At each of our campuses, you'll see handmade structures that are whimsical, beautiful, and different from your typical home or classroom. We have outdoor showers and permitted outhouses or port-o-johns instead of traditional bathrooms (no flush toilets), along with outdoor kitchens. As you explore the campuses, you may find yourself walking along footpaths and up and down rustic steps made of split logs and packed earth, or strolling through the woods. We encourage you to wear sturdy, comfortable shoes in order to navigate the terrain. Additionally, bringing a flashlight or headlight will be useful if you plan to camp on-site. 
Wifi and refrigeration are not available at most of our campuses, and not all cell phones will get service here. We invite you to enjoy a bit of unplugging when you come learn with us. 
Campsites are available to our students for free. Most are a short walk from parking areas, as we reserve car-camping spots for those with particular need for this access. In-car camping can also happen at all of our campuses. Each campus is rich with abundant trees from which to hang a hammock.
We try to make classes accessible to students of varying physical abilities. However, it's important to note that our mountain campuses are not wheelchair accessible and may pose some difficulty to those who are not able-bodied.
Learning with the landscape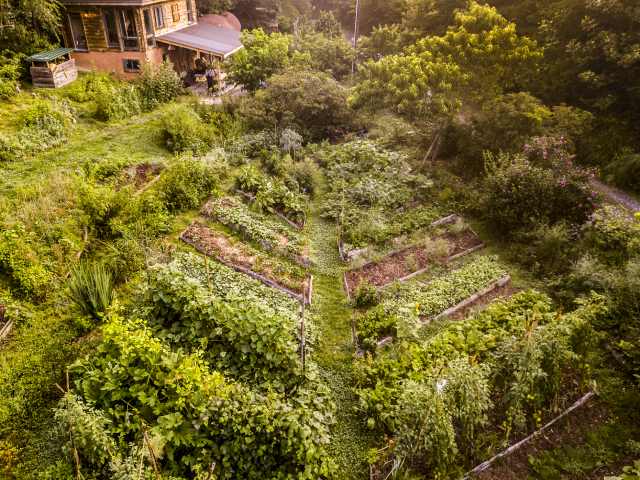 Our land-based living campuses continue to grow, change, and thrive. Indeed, the loving contributions of each and every person who comes here adds to the beauty and richness of this school. We're grateful to all of the students, friends, and neighbors who share their gifts and love with Wild Abundance.
Our hope is that the school will, in turn, change the lives of those who come here. As visitors leave their mark on our campuses, so will these lands leave their mark on everyone who travels here. We consistently receive feedback from students that the physical spaces where our classes take place are a significant part of their experience. While it's possible to teach carpentry, for example, in a sterile-feeling shop or warehouse, we don't go that route. Instead, we've crafted outdoor classrooms where students can breathe fresh air and witness the beauty of these mountains as they're learning new skills. 
May your experience at one of our campuses inspire a deep reverence for the sacred and ancient relationship between human beings and the rest of the living Earth.
You'll get to pee near a tree! (if you want to)
One aspect of our unconventional campuses that catches some folks off-guard, is that we encourage students to "pee near a tree." This is because outhouses function (and smell) best as dry moldering systems; too much urine brings imbalance. Additionally, urine, unlike feces, rarely harbors harmful microbes, and is a balanced source of nitrogen and other plant nutrients. As a result, we suggest that students pee outside rather than in the outhouses, if they feel comfortable doing so. While this is novel to many, students often end up enjoying the liberating and comfortable practice, and the quiet moments in the forest. Nobody is required to pee outside if they don't want to. To learn more about the benefits of peeing near plants, please check out our blog on using urine as a fertilizer.
---
"This school deeply inspires students to dream about what is possible. By being here, I've learned ethical and sustainable living is feasible in beautifully simple ways."
– JJ, Permaculture Apprentice