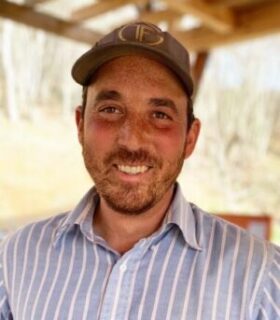 Brian Snedeker (he/him) has had a lifelong love-affair with old tools and craft. He's been timber framing for over 15 years, from repairing and stabilizing historic barns and homes in New England, to designing and building frames and practicing carpentry here in the Asheville area for the past decade.
Brian has been sharing skills for the craft of timber framing for many years. As a member of the Timber Framers Guild, Brian participates in conferences, skill sharing, and continuing education. Brian not only loves building timber frames, he also finds joy in sharing the craft with others. Indeed, he's excited to continually adapt this time-honored building style for modern applications. Along with lots of building, Brian cares for a bustling rural homestead with his partner and their twins. All of this is to say: his skill is accompanied by patience and flexibility.
Originally from New Hampshire, Brian grew up rurally being active and outdoors. His love for old tools, craft, and building began young with influence from his father. Timber framing, however, didn't come into his life until his early 20's when he came upon the good fortune of getting a job in historic preservation in Huntington VT. While working there, he repaired, stabilized, sometimes disassembled and rebuilt historic, mostly English, agricultural buildings regionally. The beauty and function of these buildings really spoke to him. Naturally gravitating towards homesteading and craft he fell in love with this architecture and with timber framing immediately. Today he feels as thrilled to be a part of keeping this tradition alive and attached to its spirited roots as ever. Every building is a discovery. From historical preservation to modern timber frame designs and techniques, Brian loves being a part of a hard working team dedicated to high level craftsmanship, integrity, and learning. Brian owns Ivy Creek Timber Frames.