Natalie Bogwalker founded Wild Abundance in 2009. She's now the director, visionary, grounds manager, and lead instructor for many of our classes. Her infectious laugh can often be heard from one side of the homestead campus to the other.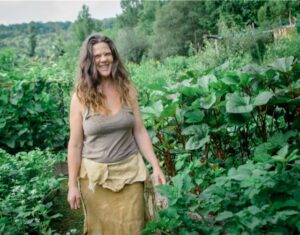 Growing up in rural Washington State, Natalie Bogwalker went to public school, picked wild berries, rode her horse…and felt the pressure of the suburbs encroaching.
Trepidation at the ominous expansion of cookie-cutter culture urged her to explore alternatives. This – plus a deep desire for meaning and connection, and an innate love of all that is wild and natural – have motivated her life's work.
Natalie left home and attended the University of Washington to study genetic engineering. She hoped to find cures for cancer and other horrible diseases. However, not long after beginning school, she was hit by a car while riding her bicycle. This accident and the resultant injuries she sustained plunged her into re-evaluation of her life and some major soul searching. Consequently, Natalie decided to quit school. After that, she worked, traveled and before long, returned to school.
While studying ecological agriculture at Evergreen State College, Natalie discovered permaculture.
After graduating from Evergreen, Natalie held various jobs, including running a local-foods catering business and working in the nonprofit sector. Additionally, she traveled and lived abroad in Spain and Guatemala. There, she organized community gardens. All the while, Natalie continued exploring the wilds with lots of backpacking trips. She explored the Pyrenees in Spain, the rainforests of the Pacific Northwest and the mountains of Central America.
Eventually, Natalie was seduced by the luscious biodiversity and mountain culture of the Southern Appalachians near Asheville, NC.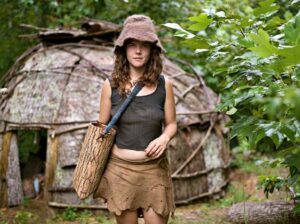 Here, she joined a community of super-hardcore back-to-the-landers who taught her many skills. With them, Natalie foraged for wild food and discovered ancestral skills like hide tanning and natural building. Both were deeply nourishing to her. In fact, they felt meaningful in a way that nothing else had. For several years, she lived closely with the Earth at the Wild Roots community.
Natalie found a long-sought sense of connection and meaning when she learned skills to engage the natural world with her own two hands. 
While at Wild Roots, Natalie built first a bark lodge (see above) and then her own cabin. She tanned hundreds of animal hides and made her own clothes, bags and shoes with them. She and her fellow community members foraged and gardened for nearly all their food. In addition, Natalie learned tracking and trapping, and she butchered and preserved wild animals. She also learned to start fires by rubbing sticks together and cooked all her meals on an open fire. It was very hardcore, a time of deep learning and connection – and a tiny bit lonely.
Since she's a socially engaged, big-picture thinker, Natalie wasn't totally satisfied living in this Earth-based way without a role in the wider culture.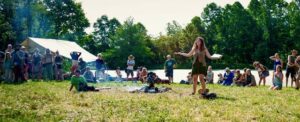 She felt deeply connected to the wild at Wild Roots, but she was isolated from other people. In fact, she realized that in order to inspire social change toward a more Earth-centric way of living, she had to have a foot in the modern world. So, in 2008 Natalie co-founded the Firefly Gathering, now the biggest skill-sharing gathering east of the Mississippi. Soon after Firefly began, Natalie started teaching classes and offering apprenticeships.
Thus began Wild Abundance.
Now Natalie wears cotton stretch pants more often than buckskin dresses, and she shops at the grocery store to supplement what's grown in the Wild Abundance gardens. Her current hand-built log cabin tiny house has electricity, running water, and WiFi. She even spends 10 to 30 hours a week on her computer taking care of the less-than-glamorous parts of directing the school.
While Natalie's lifestyle may have shifted somewhat from those days in the true wild, her passion hasn't diminished
Indeed, she's made these changes in order to share the skills she believes are vital to human fulfillment and to the health of the planet.
What Natalie Bogwalker's students have to say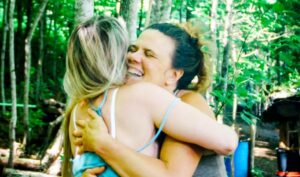 "Natalie is a phenomenal teacher, host, and land steward. I recommend taking any and all of her courses if you can! The team around her reflects her leadership and passion at every step, and her supporting network is a testament to the lasting relationships she clearly builds with her community."
Nikita Lukichev, Natural Building and Tiny House Workshop
"This class was absolutely incredible, and I greatly appreciated Natalie's expertise and friendliness throughout the weekend. Her skill in teaching was also apparent, as everything she showed or explained to us was very simple to comprehend, despite the complexity of the process. I will certainly be looking into other classes and programs, as this one was top notch!"
Anonymous, Hide Tanning Class