November 10-13, 2022
PLEASE NOTE: Because our classroom is outdoors and we require masks at close distance, we feel confident that all classes will run in 2022. If conditions change and we need to adjust, we will notify students immediately. For more info on classes during covid, see our refund policy and our protocols and procedures. 
Learn how to tan a deer hide using the all-natural brain tanning method
In this four-day workshop, you'll learn the ancient art of brain tanning. Each student will learn and practice every step of the process. Over the course of the long weekend, you'll transform a deer rawhide into soft, supple, natural, beautiful, wearable leather. Rawhides are provided.
Please note: this is a physically intensive class.
We also offer an Online Hide Tanning Course, which provides comprehensive, video-based instruction, plus a very thorough course manual and an online community of support.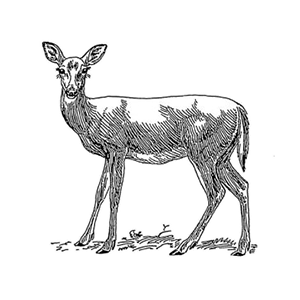 ---
PLEASE NOTE: Due to the global coronavirus pandemic, some classes may need to be rescheduled or moved online, for safety. We're heeding the recommendations of our county governance and the CDC. At this time we are not offering refunds if the timing or structure of your class changes in response to this crisis. We are offering transfers to other in-person and online classes, if rescheduled dates don't work for you. For more information, see our revised refund policy
---
What to Expect: Brain Tanning from Start to Finish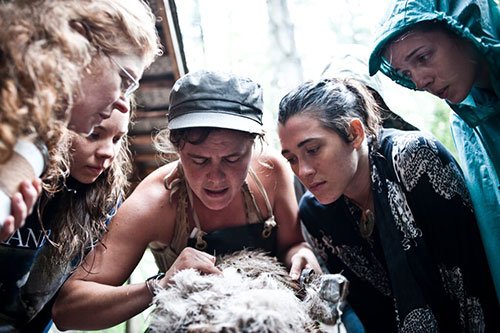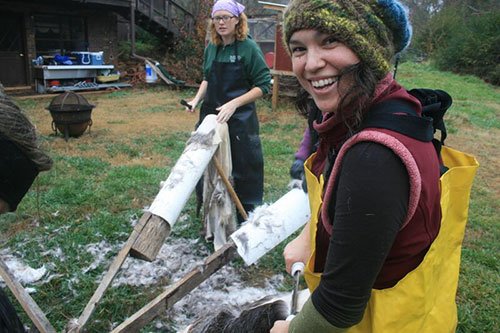 Thursday – Overview of brain tanning; skinning, fleshing, scraping
We will start at 9:30 am with a discussion of deer skinning, a fleshing demonstration, discussion of hide preservation, and an overview of tanning techniques. Each student will be given their own hide, much of the rest of the day will be spent hands-on learning the art of removing not only hair, but also grain. Everyone will remove the hair, grain, and membrane on this day.  This day is fairly strenuous.
Friday – Braining and wringing
Students will spend the day braining, wringing, braining, wringing… you may see a pattern here.
---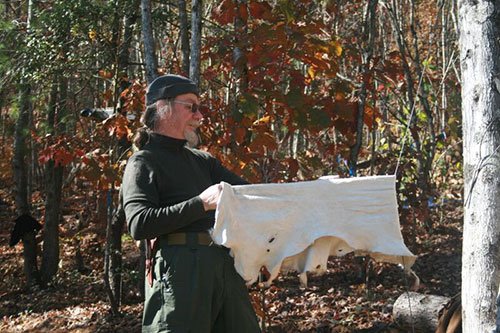 Saturday – Softening your brain tanned buckskin
This day is all about softening your hide.  We'll show you several methods for softening your brain tanned buckskin, before smoking it. Everyone will get a chance to try out various approaches to getting their hide nicely supple. This day is fairly strenuous.
---
Sunday – Smoking our hides
Some folks will be finishing up with softening; others will be sewing their hides into tubes and preparing them for the smoking process. Smoking a hide preserves the super-soft character that the hides have taken on, gives them a lovely honey color, and prevents them from turning back into hard rawhide. Smoking will be finished by 6:00 pm. Fortunately, this often involves much merriment as we wait for our hides to smoke, feeding our coals frequently with "punky" wood.
Walk away with a beautiful brain tanned buckskin, and the knowledge to make more of them.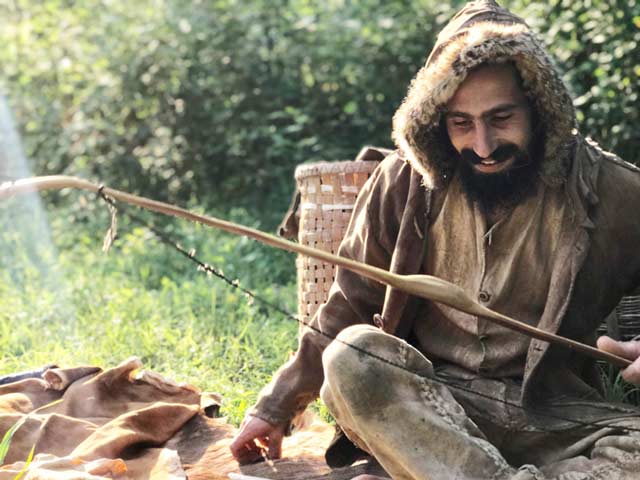 We do our best to ensure that everyone finishes their hide over the course of the class. Plus, when you leave we'll send you off with a comprehensive, beautiful, and image-rich guide to hide tanning. This resource will help enable to you to tan as many hides as you wish when you get home.
To learn more about brain tanning, including all the steps that are involved, check out or blog post about how to tan a hide, naturally.
---
"Thank you so much for offering the hide-tanning class. It was a wonderful and unforgettable experience. I came expecting just to learn new skills but I left with…a new passion and a new-found appreciation for hide-tanning. It was so fun and enriching working with people of all different ages and skill levels. There was plenty of time to get to know the group and share stories and laughter while working on our hides. The instructors made it really easy to understand and were available for plenty of one-on-one help. At the end of three days, they had helped us all turn our hides into beautiful works of art and left us with the knowledge to continue on our own! Hide tanning at Wild Abundance is an experience that anyone will enjoy and leave wholly enriched." – (Trudie Henninger, 2015)
---
Instructors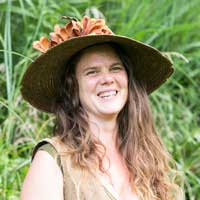 Natalie Bogwalker
Natalie is the visionary behind Wild Abundance, as well as a primary instructor for many classes. She's passionate about teaching and sharing skills to help all kinds of people live in an empowered and Earth-centered way. Natalie and her family live at the Wild Abundance homestead campus in the Southern Appalachians. She balances her time ...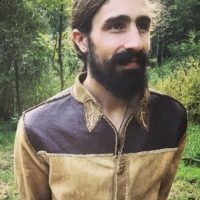 Tyler Lavenburg
Nose to the grindstone (sometimes literally), Tyler (he/him) lives for unraveling the mysteries of the Earth. He first fell in love with Southern Appalachian ecology as a student at Warren Wilson College, graduating with a degree in Environmental Education. Beginning as Natalie's first apprentice in 2009, he has since traveled around the Eastern US learning ...
---
Our Campus is Unconventional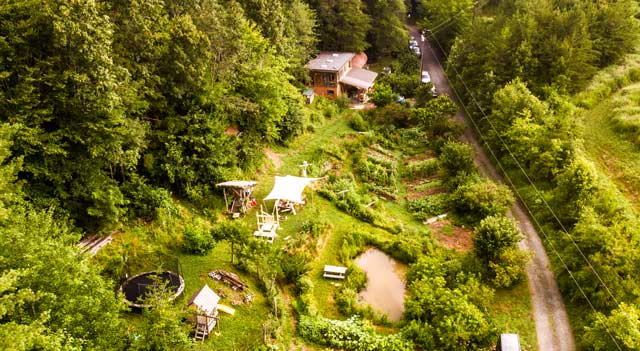 To read about our facilities, including accessibility for alter-abled people, read about our Campus here.
---
Local Accommodations
Wherever you're coming from, you're welcome to pitch a tent in one of our flat camping spots in the woods or field, or to tie a hammock in the forest on our seven-acre property. If you live locally, you may prefer to commute to Wild Abundance from Asheville (25 minute drive). If you choose to camp, please bring your own bedding and rainproof tent or tarp. In the early spring and late fall it can be cold at night, so please bring warm bedding if you'll be here before May or after September. We have a lovely outdoor kitchen equipped with a stove and running water, an outdoor shower, and an outhouse available to campers.  In extremely cold weather, the sink and shower may be out of operation due to water freezing.
If you prefer something with more creature comforts, we suggest you browse Airbnb for numerous options close to the campus. You can also check out local motels and B&Bs within a 10-15 minute drive to Wild Abundance. We'll send a list of links to several options (with varying amenities and prices) in a welcome letter upon registration.
---
Registration Info
We strive to make our classes accessible to those who wish to learn. Please pay on the sliding scale what you can afford, given your income.
November 10-13, 2022
Sliding Scale: $650 – $1,040