Tan a deer hide using the all-natural brain tanning method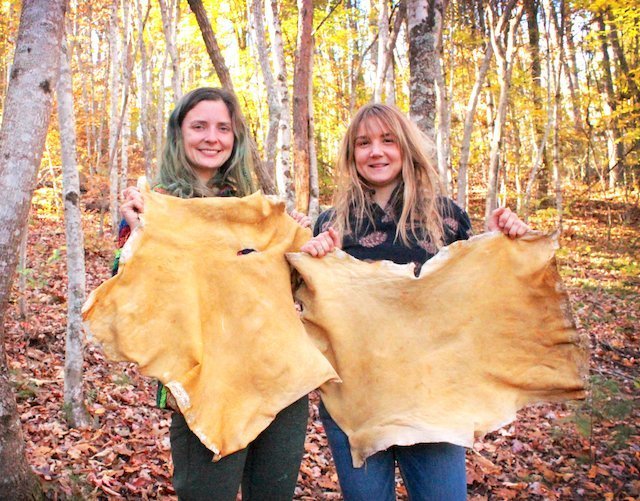 In this four-day workshop, you'll learn the ancient art of brain tanning. Each student will learn and practice every step of the process. Over the course of the long weekend, you'll transform a deer rawhide into soft, supple, natural, beautiful, wearable leather. Rawhides are provided.
Please note: this is a physically intensive class.
We also offer an Online Hide Tanning Course, which provides comprehensive, video-based instruction, plus a very thorough course manual and an online community of support.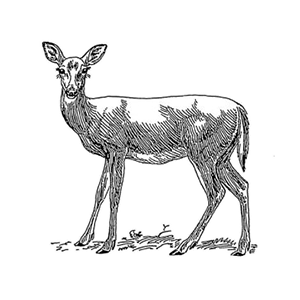 ---
What our students say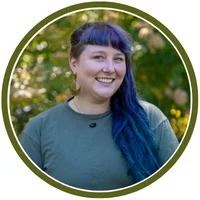 Trudie
North Carolina
Kid's Program Coordinator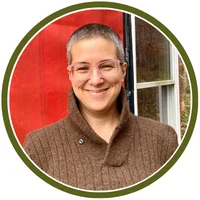 Jen
Florida
Customer Service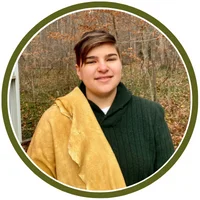 Lil
Florida
Amateur Tailor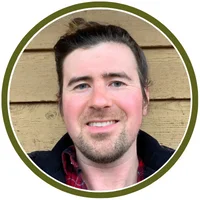 Robert
North Carolina
Farmer
---
What to Expect: Brain Tanning from Start to Finish

Thursday – Overview of brain tanning; skinning, fleshing, scraping
We will start at 9:30 am with a discussion of deer skinning, a fleshing demonstration, discussion of hide preservation, and an overview of tanning techniques. Each student will be given their own hide, much of the rest of the day will be spent hands-on learning the art of removing not only hair, but also grain. Everyone will remove the hair, grain, and membrane on this day.  This day is fairly strenuous.
---
Friday – Braining and wringing
Students will spend the day braining, wringing, braining, wringing… you may see a pattern here.
---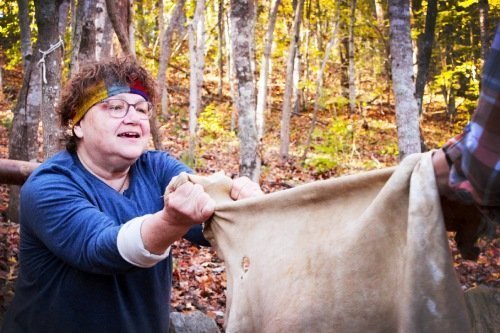 Saturday – Softening your brain tanned buckskin
This day is all about softening your hide.  We'll show you several methods for softening your brain tanned buckskin, before smoking it. Everyone will get a chance to try out various approaches to getting their hide nicely supple. This day is fairly strenuous.
---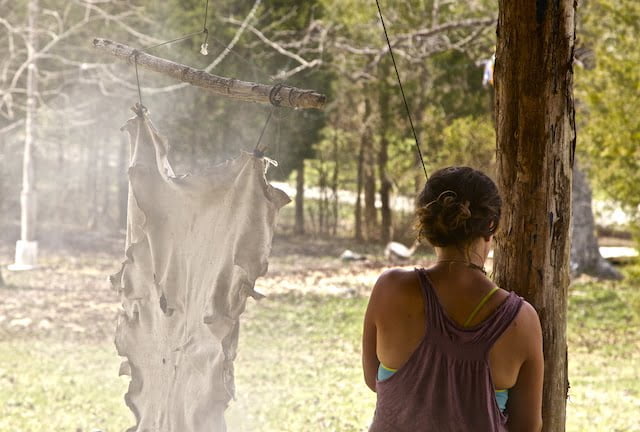 Sunday – Smoking our hides
Some folks will be finishing up with softening; others will be sewing their hides into tubes and preparing them for the smoking process. Smoking a hide preserves the super-soft character that the hides have taken on, gives them a lovely honey color, and prevents them from turning back into hard rawhide. Smoking will be finished by 6:00 pm. Fortunately, this often involves much merriment as we wait for our hides to smoke, feeding our coals frequently with "punky" wood.
---
Walk away with a beautiful brain tanned buckskin, and the knowledge to make more of them.
We do our best to ensure that everyone finishes their hide over the course of the class. Plus, when you leave we'll send you off with a comprehensive, beautiful, and image-rich guide to hide tanning. This resource will help enable to you to tan as many hides as you wish when you get home.
To learn more about brain tanning, including all the steps that are involved, check out or blog post about how to tan a hide, naturally.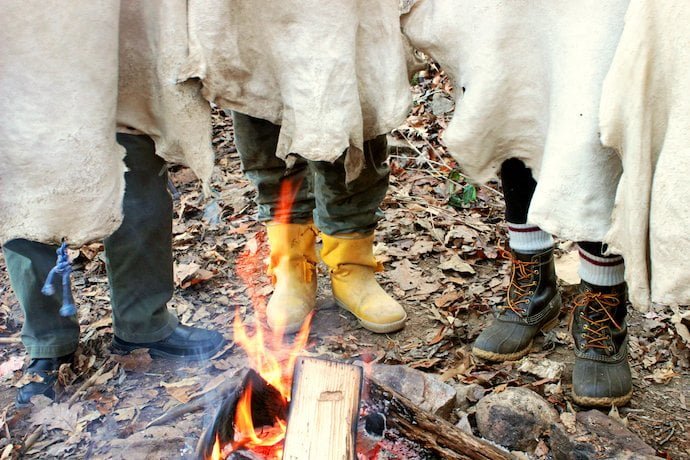 ---
Instructors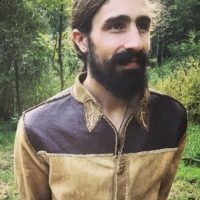 Tyler Lavenburg
Tyler (he/him) and his family align their life with the cycles of the seasons and the bounty of the wild. They harvest and utilize as much as they can – straight from the woods around them. Tyler first fell in love with Southern Appalachian ecology as a student at Warren Wilson College, where he received ...
---
Class Location
This class is held in Weaverville, at the Shelterwood Cove sister campus
Shelterwood Cove is a lovely and welcoming homestead amidst forested mountains in the Reems Creek area of Weaverville, NC, about 25 minutes from Asheville. It's home to lead instructor Tyler Lavenburg and his family, along with a small collection of other friends. This location has a lovely blend of cleared land and bountiful gardens, along with wild woodlands where many wild creatures make their home. You'll receive detailed directions on how to get to the campus upon registration.
Please note: our campuses are all unconventional, with rustic amenities and uneven ground. Read more
about our campuses here.
Local Accommodations and Facilities
Wherever you're coming from, you're welcome to camp at Shelterwood Cove. There's plenty of flattish open land for tents, plus sloped forest where hammocks can be set up, and a few completely flat spots for tents in the woods. All campsites are relatively close to the parking area. You'll have access to two outhouses and clean running water. In order to camp in comfort, we suggest you bring a warm sleeping bag and a camping pad or mat. Also, please come with a sturdy tent or tarp in case of rain.
---
Registration Info
Pricing for Hide Tanning
Regular Pricing: $650 – $1,300
Please pay what you can afford.  The median price is suggested to help cover the full cost of hosting this class. Please select the low end of the sliding scale if you are low income. If your household income is over $115,000/year, please select the maximum fee.  Please place yourself in this range where you deem appropriate, based on your income.