Wild Abundance is a permaculture and homesteading school nestled in the mountains of Western North Carolina, just outside Asheville. It's also a home, a hub, and a dream of a more interconnected and sustainable world. That dream is constantly co-created by everyone who participates in it.
We see modern life pushing people further and further away from their connections to the natural world, from each other, and from the skills for engagement. The school is our act of hopeful resistance to this trend. It's also our invitation to you to gain confidence and competence.
Wild Abundance is here to help you nurture a lifestyle that's aligned with your values and your hopes for the future.
We strive to do this in alignment with the living world and our fellow stewards. See more on our Land Acknowledgement.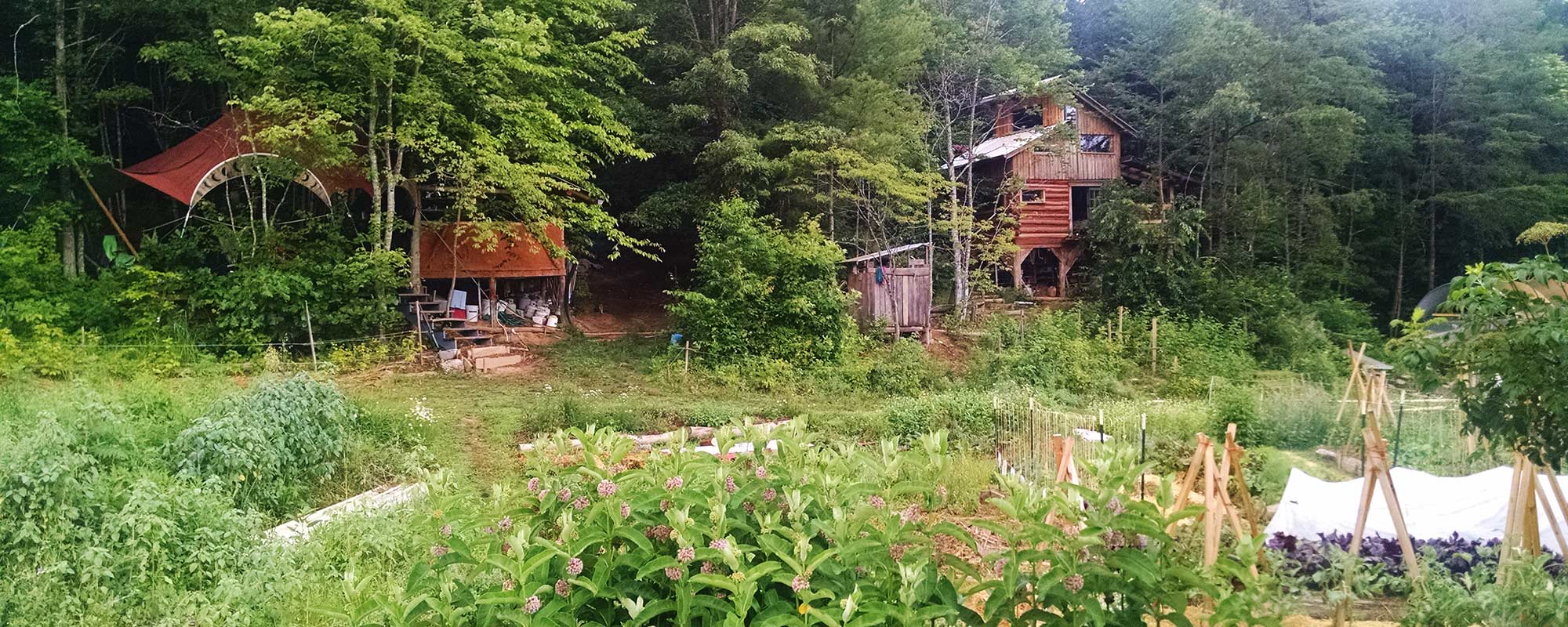 Who We Are
We're a passionate group of people who have dedicated our lives to land-based living and practical skills. Our instructors all live what they teach, from permaculture to herbalism to carpentry. Our staff cares deeply about providing an excellent experience for our students and running a business that's aligned with our core values.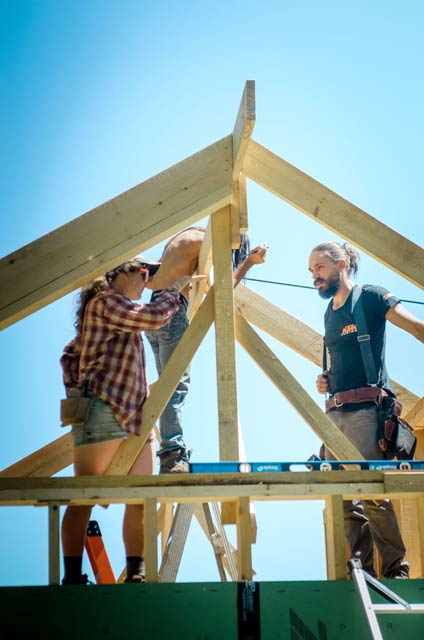 Yes, our instructors are badasses (i.e., incredibly skilled). But don't worry, they're not intimidating once you get to know them. Their job is to help you to cultivate your own inner badass!
Wild Abundance has a small core staff of six women, plus a few folks who take diligent care of the campus, and more than 20 instructors of various genders, ages, backgrounds, and passions who are leaders in their fields. We all come together to provide the highest quality experience for our students.
"I love being at Wild Abundance! The open-air classroom is nestled into the trees, making it an excellent setting to learn about homesteading and permaculture. Natalie and her team bring a vibrancy to all that they do and have created a very welcoming wilderness retreat for their guests." 
(Mel Shapcott, Natural Building and Tiny House Workshop)
Ready to join us?
Sign up below and get $50 off your first class with us!
You'll also get our newsletter, which is full of how-to's, seasonal tips, wild foods recipes, and more, plus specials on classes. Don't worry, we won't share your info with anyone. We care about your privacy.
How We Began: Natalie's Story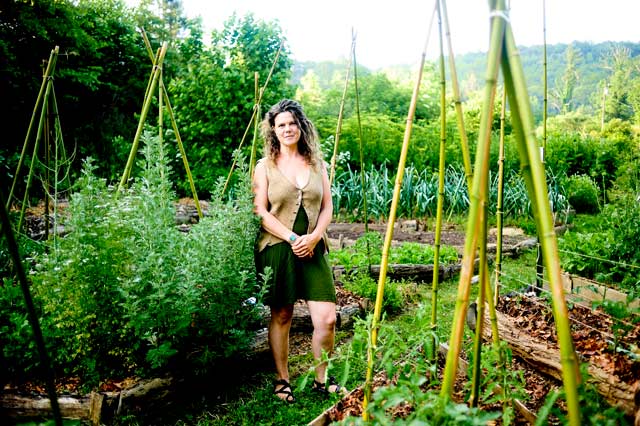 Wild Abundance was founded in 2009 by Natalie Bogwalker. She's now the director, visionary, grounds manager, and lead instructor for many of our classes. Her infectious laugh can often be heard from one side of the homestead to the other.
Growing up in rural Washington State, Natalie went to public school, picked wild berries, rode her horse…and felt the pressure of the suburbs encroaching. Trepidation at the ominous expansion of cookie-cutter culture urged her to explore alternatives. This – plus a deep desire for meaning and connection and an innate love of all that is wild and natural – has motivated her life's work…(click to read more)
A Growing Community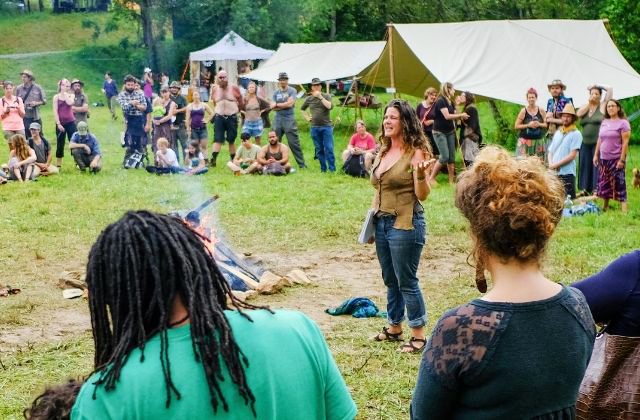 At first, Wild Abundance was a one-woman show, with Natalie at the helm. She taught and managed the whole thing herself. But people got excited about it and wanted to get involved. Plus, Natalie may be a powerhouse, but she definitely isn't an expert in everything and has but so much energy. Besides, the whole point of Wild Abundance was to share skills and connection. So, over time, Wild Abundance has evolved to include a small and very sweet staff, Natalie's partner Frank (also an instructor) and their daughter Hazel, plus an amazing collection of guest instructors, hundreds of students, a couple dozen or so past apprentices, as well more than 20,000 supporters who form our extended community.
"The abundance of knowledge from the instructors, who will now undoubtedly remain my lifelong mentors and friends, is matched only by the beauty of the land."  (Iz Parshaw, Apprentice)
Instructors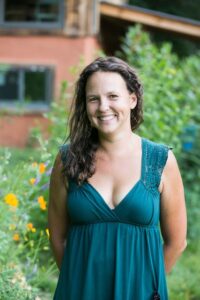 Wild Abundance could not exist if it weren't for the depth of knowledge of our instructors. Most of them are our friends and/or neighbors, too. Most have 10 to 30 years of experience practicing what they teach. But these aren't just folks who know what they're doing. We choose our instructors based on their personalities, too. They're humble, approachable, clear communicators, and generally have good senses of humor. Click here to learn more about individual instructors.
It's a win-win relationship with our instructors. That's because the school itself helps to value their skills by providing an opportunity for them to share what they are passionate about.

"Homesteading is hard work. It's rewarding, but it can feel isolating too. When we get a chance to host Wild Abundance classes here on the farm, it reminds us how important these skills are, and that people out there actually value them and want to learn."
(Cailen Campbell, Permaculture Instructor)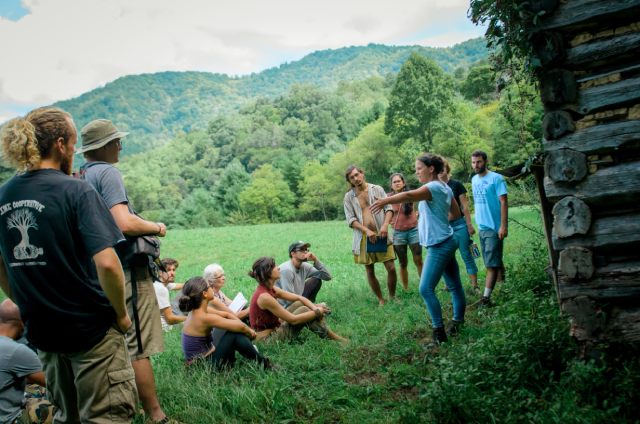 "In spending time with the students and teachers, I feel like I inherited this group of genius friends all working on the same big questions I am. With the support of teachers and peers and with these experiences in my bones, I finally feel ready to set out and step courageously into our present and start designing the world I would want to give to the future."
(Anonymous, Permaculture Design Course)
Core Staff
The Wild Abundance team is comprised of six passionate women who make sure things run smoothly. We organize classes, answer your questions, write for the website and blog, curate social media, and handle all the nitty-gritty details of running the school.   
Each of our lives are, in various ways, inspired by and connected with the skills that the school teaches. Plus, we've all been teachers or students of Wild Abundance classes. It's pretty awesome that we get to do something we feel is so deeply important for our jobs!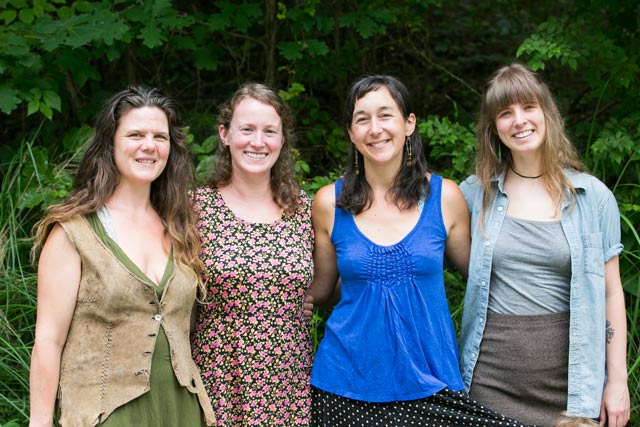 Every staff member believes that what we're offering can inspire personal empowerment and connection that greatly benefits our students and the world.
A little inside scoop: We love to bring very fancy snacks and tasty teas to our seasonal staff meetings (read: goat cheese with wild greens pesto and perfectly ripe pears with gruyere, plus freshly-harvested aromatic herbal infusions). When we get together to strategize and reflect on our successes and failures, we enjoy doing go-arounds of appreciation for one another. We're also constantly scheming about how to make Wild Abundance better and better and how to share what we're doing with everyone who's interested. To learn more about our staff members, click here  
You: Our Students and Supporters
Whew, that was a lot about us, when really, Wild Abundance is way more about YOU. The foundation of why we're here is to build connections and personal empowerment through teaching skills. So, clearly, you're a major player in what we do. Here, we'll answer a few of the big questions that many of our prospective students want answered. Additionally, check out our FAQ for more info.   
All are welcome here. Connecting with the world through hands-on, practical skills is a human birthright.
No matter your age, race, gender, spiritual beliefs, sexual orientation, socioeconomic position, or any other unique characteristics, we'll strive to make you feel welcome and to share our knowledge in an accessible way. We welcome your feedback on this and hope to create a safe space for everyone. 
Ready to get your hands dirty?
Who's ready to learn?
If you've gotten this far, clearly you're interested in skill-building and Earth-based living. You know that your personal choices can make a difference in the state of the world, and you feel inspired to learn how to live in a way that's aligned with your values. Things like permaculture, homesteading, carpentry, herbalism, gardening, and primitive skills appeal to you. They speak to something deep inside that yearns for a relationship with the natural world and with your own confident, competent self.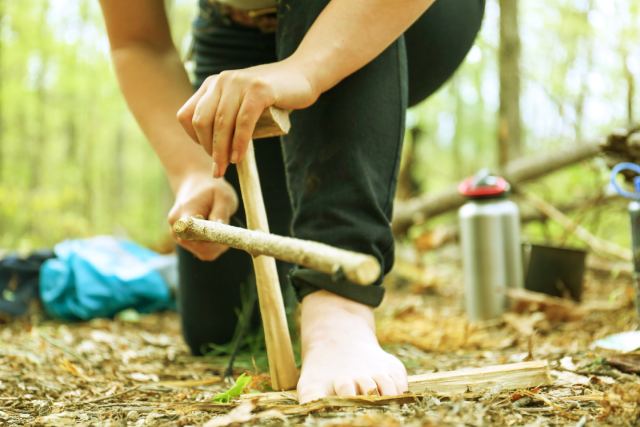 But you may be asking yourself, am I too much of a beginner? Am I too much of a "city slicker"?
The answer to those questions is a definitive no. Skills are what we teach, and everyone is welcome here. There are no prerequisites for our classes (with one exception: the advanced women's carpentry class). In fact, total beginners can be some of our best students because they arrive especially open and excited to learn. Here are some examples: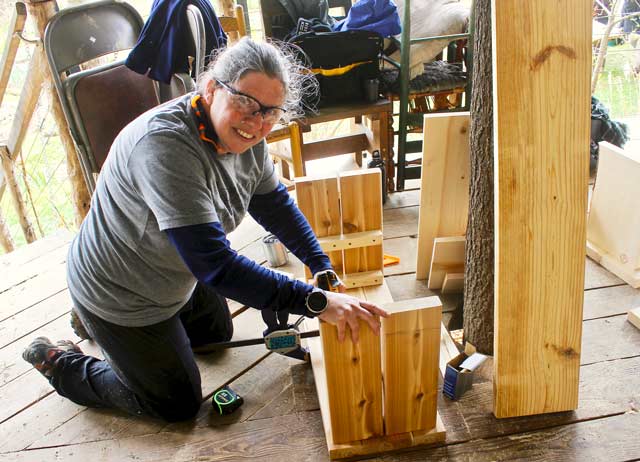 Wanda, a 64 year old financial consultant from New York City took our Women's Basic Carpentry Class in 2019. She had never used a drill, hammer or saw but had wanted to learn woodworking since the age of 14. At that time, in high school, she was told she couldn't take woodshop (being a girl) and that she'd have to be satisfied with Home Ec. Wanda left our 4-day carpentry course with a full tool belt, a lovely cedar bench, and the confidence to build whatever she might need or want.
Arden went on our Wild Foods Hike in 2016. It totally transformed his life, opening up the world of wild foods, as well as that of Earth-based culture. After the hike, he quit his job in Pittsburgh and is now creating a new life for himself here in North Carolina. He's immersed in wild foods and focused on helping small businesses create positive change in the world.
Tom, a student from Raleigh, took our Natural Building and Tiny House Workshop without ever having built anything. He had some special design constraints for tiny houses because he is 6 feet, 6 inches tall. After the class, he was able to build his very own tiny house, specifically made to accommodate his exceptional height.

If you want to live a more connected, empowered and sustainable life, and you've got the DIY spirit, you're more than ready.
"The Wild Abundance permaculture course changed me. I felt the story of what I can be and how I relate to life on this planet change into something more open, relational, attuned and beautiful. Like a thriving food forest, the diversity of teachers, sites we visited, topics we studied and perspectives of other students gave rise to something deeply alive. I was challenged profoundly to open my senses, awaken to our present, see in systems and embrace being a beginner."  (Anonymous, Permaculture Design Course)
On the other hand, maybe you have some experience in Earth-based living: You already have a small garden, you know how to do basic carpentry, you make and use herbal teas as remedies.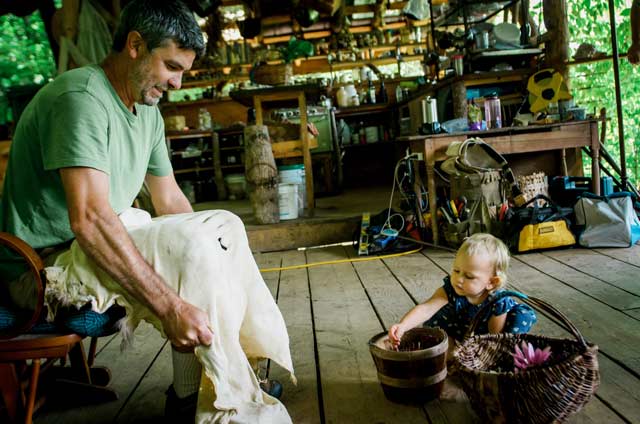 In this case, perhaps you're asking yourself, will I learn anything in these classes? 
The answer to this is yes, there will be plenty for you to learn. Several of our classes go way beyond the basics, and all of our instructors can dive deeper and answer more complicated questions if that's what students are up for. Here are some examples of students who came with a wealth of knowledge and skills and who deepened and broadened those skills through our classes: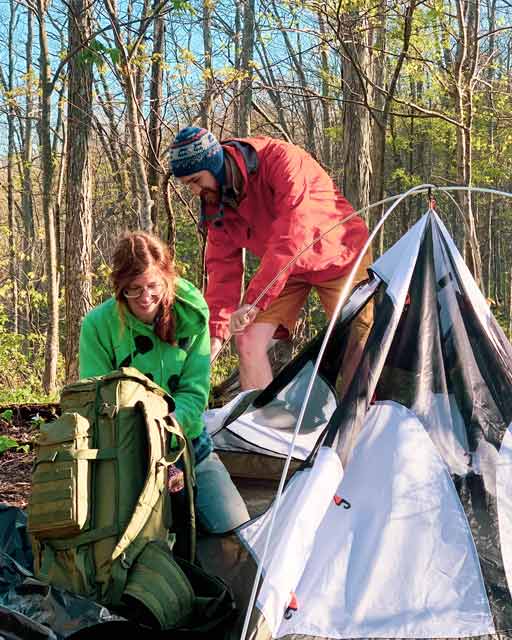 Jesse was a handyman who wanted to learn more about tiny houses and natural building. He wanted to add those skills to his repertoire, so he took our Natural Building and Tiny House Workshop. He soaked up everything that the class had to offer and asked some especially insightful questions. In particular, he was totally blown away by the natural building tours and especially with the practice of building with clay. After taking the class, Jesse has become integrated into the Wild Abundance community. Through this connection and his broadened skill set, he's been hooked up with a slew of jobs that take advantage of his new skills.
Jeff and Stephanie came to the Wild Foods Hike every spring for five years. They come back each year to get refreshed on the spring edibles and medicinals in this region. But perhaps the biggest reason they return time and again is to enjoy the sense of community in the forest that the class offers. They've attended other classes, too, and we're so happy to have them as a regular part of our community.
Josh, from Jacksonville, Florida, was a real estate agent with a strong interest in permaculture.  After taking our Permaculture Design Certification Course, he's integrated what he learned to become a "Permaculture Realtor." Josh is a truly unique resource for clients who are excited about land-based living; he helps them find land that truly suits their needs. After the sale, he also offers permaculture design and installation services. His holistic approach to real estate has supported many people who feel passionate about integrating food systems into their landscapes.
What's it like to take a class at Wild Abundance?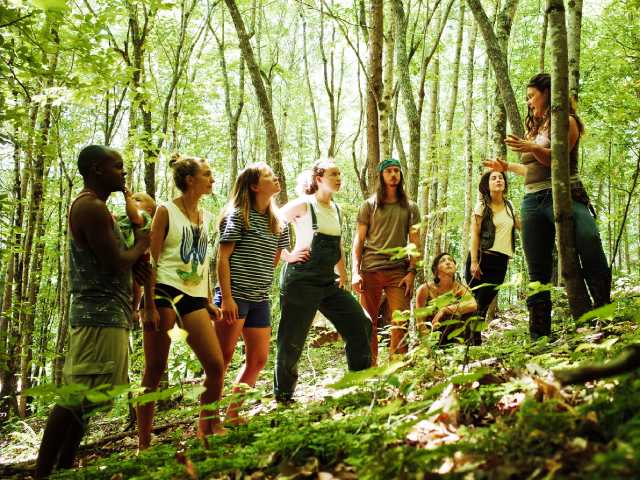 Classes here have been described as "summer camp, but for grownups." We host students at our beautiful homestead campus, where some camp on the grounds and others commute. Upon arrival, everyone is oriented to the space and the format of our time together. Then we introduce ourselves to one another. Throughout each class, students forge bonds with one another as much as with instructors.
"The community that formed amongst those in the class was incredible, as was learning from the stellar lineup of outstanding teachers. Each of these teachers had their own unique perspective of the natural world, which was great to see and understand for ourselves. It was a pleasure to be in such a rich, diverse, and powerful place with these incredible people."  (Owen Doll, Wildcrafting and Medicine Making Intensive)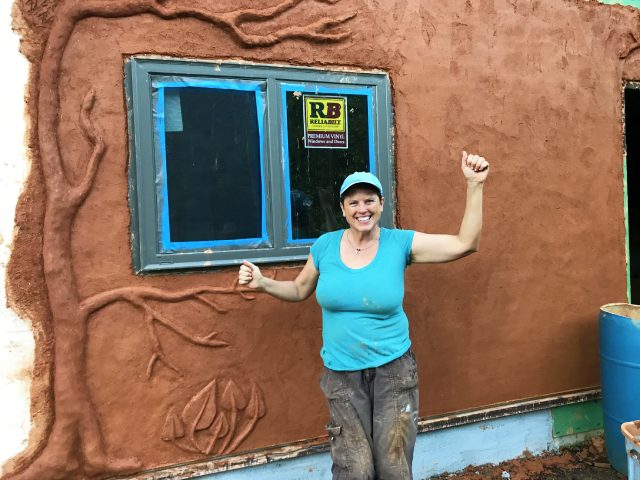 Many classes are held here exclusively, while others include site visits and tours of other locations in the region. Every class day has several breaks, including about an hour for lunch. We provide handouts and materials to help facilitate learning and send folks home with class contact lists and ample resources to support continued learning on the given subject.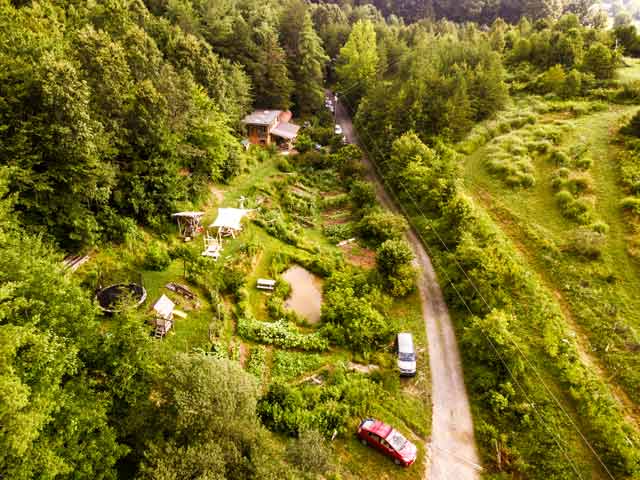 "When I arrived, Natalie's property was lush and bursting with greenery. I felt so lucky to be camping there for the weekend. Everywhere I looked I was overwhelmed–there were so many plants to look at, so many unique buildings, and a huge pile of power tools on a table at the front of the large open-air structure where the first class took place…Within 24 hours I went from someone who had never used a chop saw, an auger bit, or an impact driver, to someone who was helping build an actual building. It was one of the most empowering experiences of my life. I loved the whole process."  (Jennifer DeMoss, Women's Basic Carpentry)
Our Core Values: Connection, Quality, Practical Skills
Connection – We're in This Together
Human and ecological systems are, by nature, webs of connection. Nurturing community – with  other people and with the natural world – is at the core of what we do and why we do it. That means that we don't just teach skills; we foster relationships. During our classes and programs (and even our staff meetings), we respect and embrace individuality, value and practice compassionate communication, explore different perspectives, integrate feedback, and cultivate a sense of welcome and inclusion.
Once you've become a part of our community, you'll always have a place at our table. Whether you live here for nine months as an apprentice or just read one of our blog posts from time to time, we want to know what's important to you and how we can support you on your path.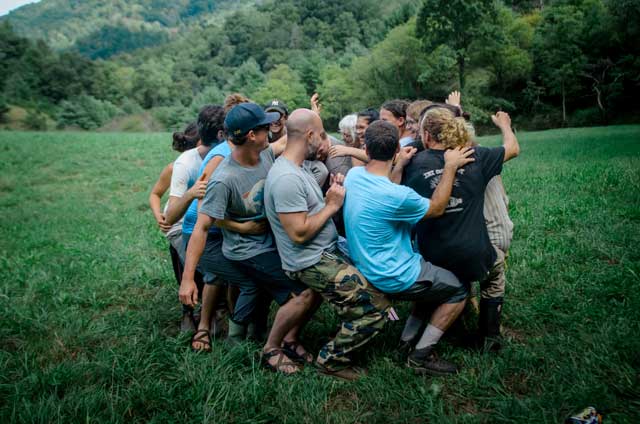 "The course, teachers, the school, and Natalie all far exceeded my expectations. The group of people in our course were also amazing and we simply had a beautiful time. The classes were intensive as they should be but we came out on the other side confident in our new skill sets. I would highly recommend Wild Abundance to anybody (and already have, my roommate is taking the course next year)" 
(Rachel Kopel, Earthskills and Permaculture Immersion)

"The instructors were compassionate and facilitated a nurturing space for connection and reflection; I felt so inspired by the depth and naturalness of our conversations. To this day, my heart yearns for the freedom and empathy I experienced at Wild Abundance, and it was this course that continues to fuel my quest of healing, compassion, and wonder." 
(Kate Weschler, Women's Rewilding Weekend)
Quality – Only the Best
When we're working the land, we use the best tools we can buy. Our homes may be simple, but they're beautiful and efficient. When we're crafting content and teaching courses, the same mind-set applies: Quality is worth the effort. With our classes, the free content we share, our customer service, and everything that we do, we strive to offer you a superb and satisfying experience. Hey, we've got busy lives, too, and this world is already brimming with mediocre. Your time is valuable, so we take the time to curate our offerings to be well above average.
"Not only was I welcomed and instructed with such excellence but the people the atmosphere and the knowledge I took away with me was so valuable that I am humbled and grateful for every day that I had with this edible foods hike." (Erica Allison, Wild Edibles and Foraging Adventure)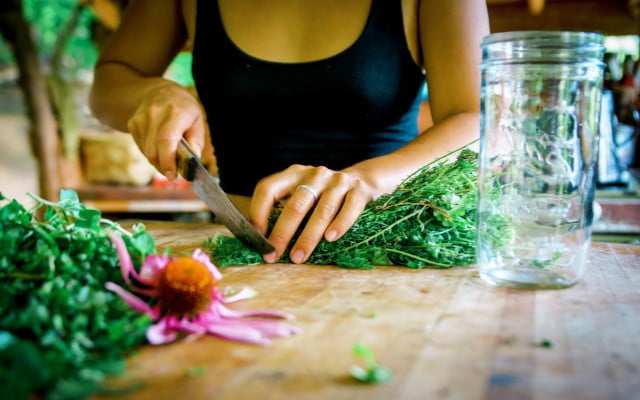 Practical skills – Competence builds confidence
We teach practical skills. Everything we offer is useful in today's world. And, our students leave here with the ability to continue practicing these skills in their day-to-day lives. This isn't just about exploring ideas, watching a demo or trying something new one time. On the contrary, it's about building capacity. In fact, all of our classes are a healthy mix of lectures, group discussions, demonstrations and hands-on opportunities for students to get comfortable with the subject matter.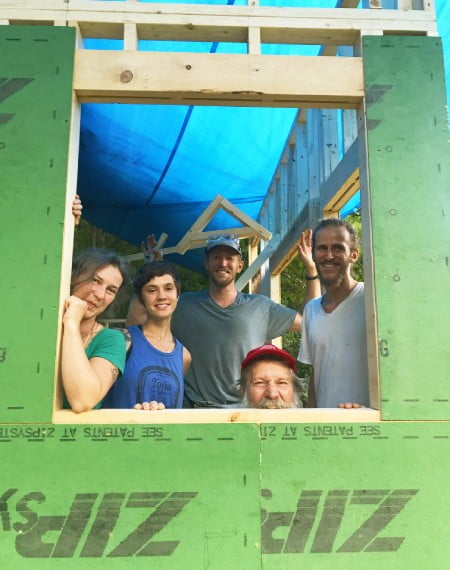 Our Friends and Allies
The movement toward a more sustainable, connected, and resilient future is, by nature, a community endeavor.
Click here to learn more about individuals and organization that we support and collaborate with.
Ready to join us?
Sign up below and get $50 off your first class with us!
You'll also get our newsletter, which is full of how-to's, seasonal tips, wild foods recipes, and more, plus specials on classes. Don't worry, we won't share your info with anyone. We care about your privacy.