The only tiny house course you'll ever need!
This comprehensive online program is like a toolbox that's full to the brim! It covers: tool use and construction basics, natural building techniques well-suited for tiny houses, systems like electrical and plumbing, and how to save money on your build. You'll learn how to design your tiny house, decide whether to build on wheels or on a foundation, what regulatory constraints may apply to you, and more. Plus, you'll get a clear understanding of energy-efficient options like passive solar design and solar electric.
The basic steps of how to build a house are the same, no matter its size. We explain and demystify this process so that you can truly understand and feel confident embarking on your own build.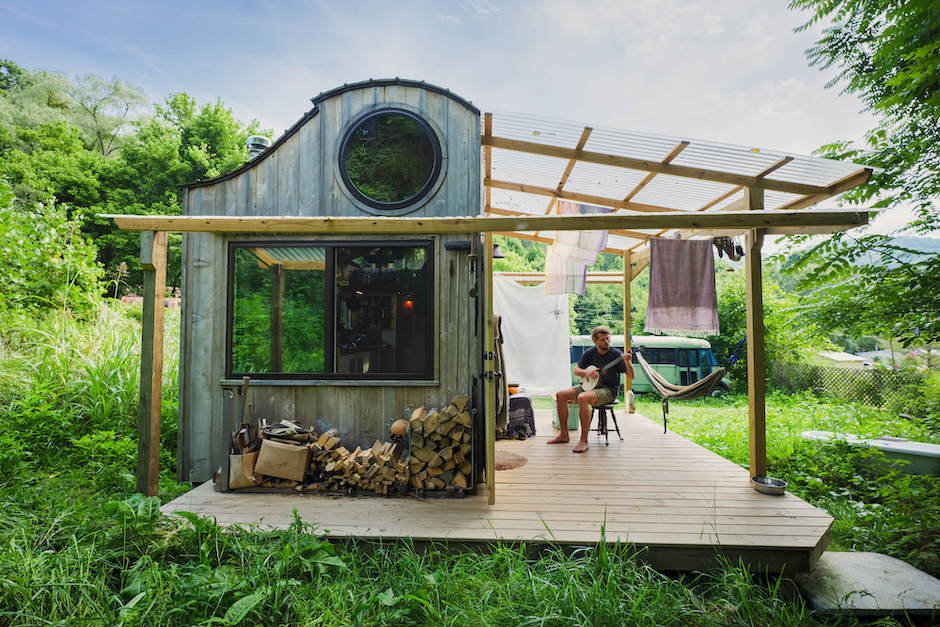 On demand, go-at-your-own pace content library 

 Unlimited lifetime access 

 Comprehensive, yet down-to-earth, with a touch of humor 

 Appropriate for all skill levels 
What our students say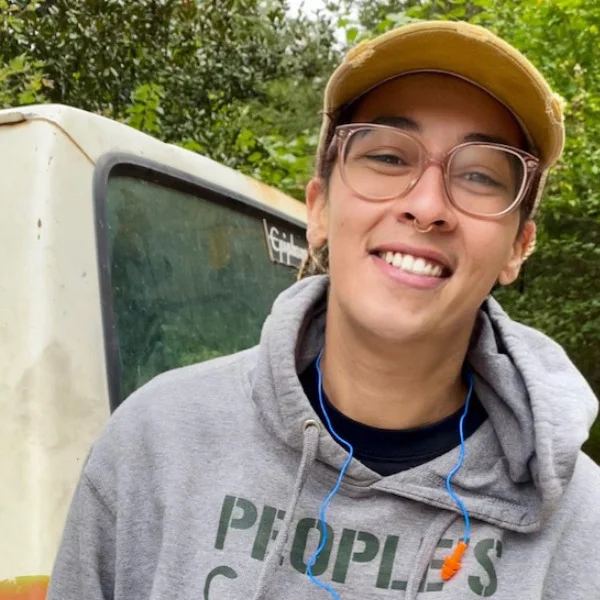 Dare,
California
Farmer, Chef, Activist, and Natural builder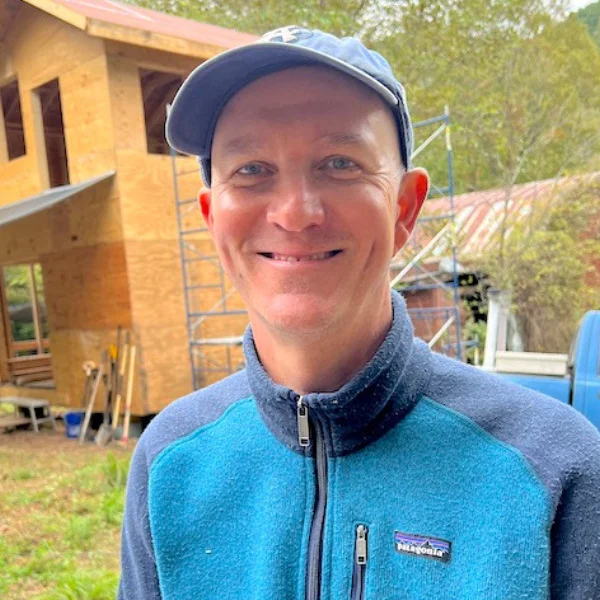 Dan,
North Carolina
Store Manager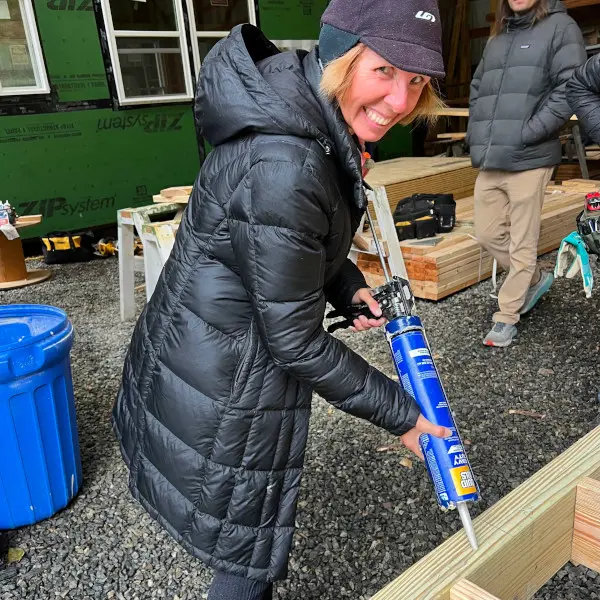 April,
Iowa
Home health provider
---
Let's build homes with beauty, individuality, ecology, and empowerment at the foundation.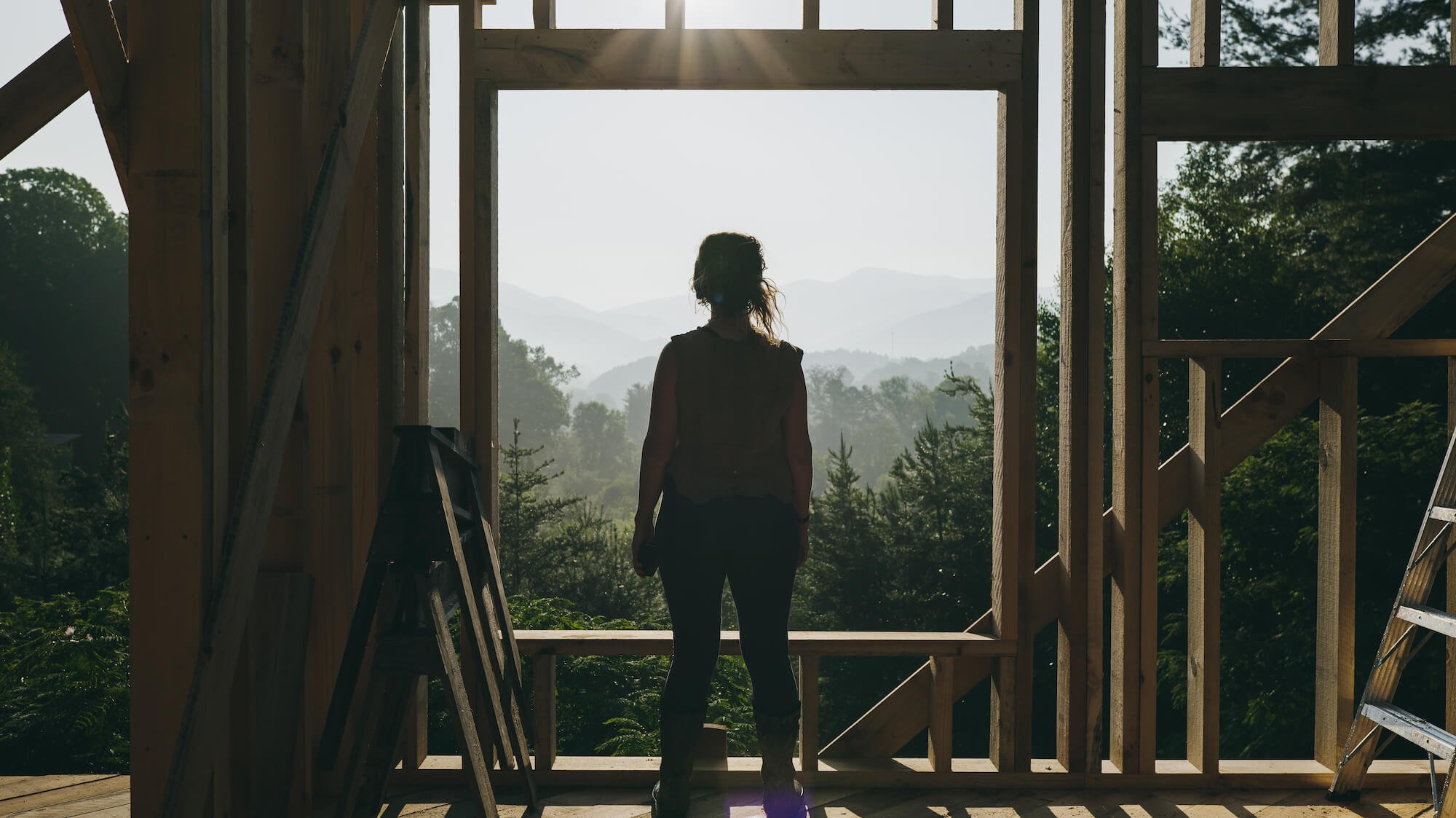 Imagine yourself in a living space of your own design, built by your own hands, in a way that reflects your personal style and unique needs, possibly even made of beautiful materials straight from the earth. Not only that: in this dream-home, you get to steep in a sense of satisfaction and confidence, knowing that you have the skills to provide elegant shelter for yourself and others. This doesn't have to be just a dream!
---
Bucking the trend of cookie-cutter behemoths
Right now, you probably live in a house or apartment that you had nothing to do with designing or building. If it is conventional construction, it was likely made in a way that was harmful to the earth. And you may or may not love the way it looks, feels, and functions.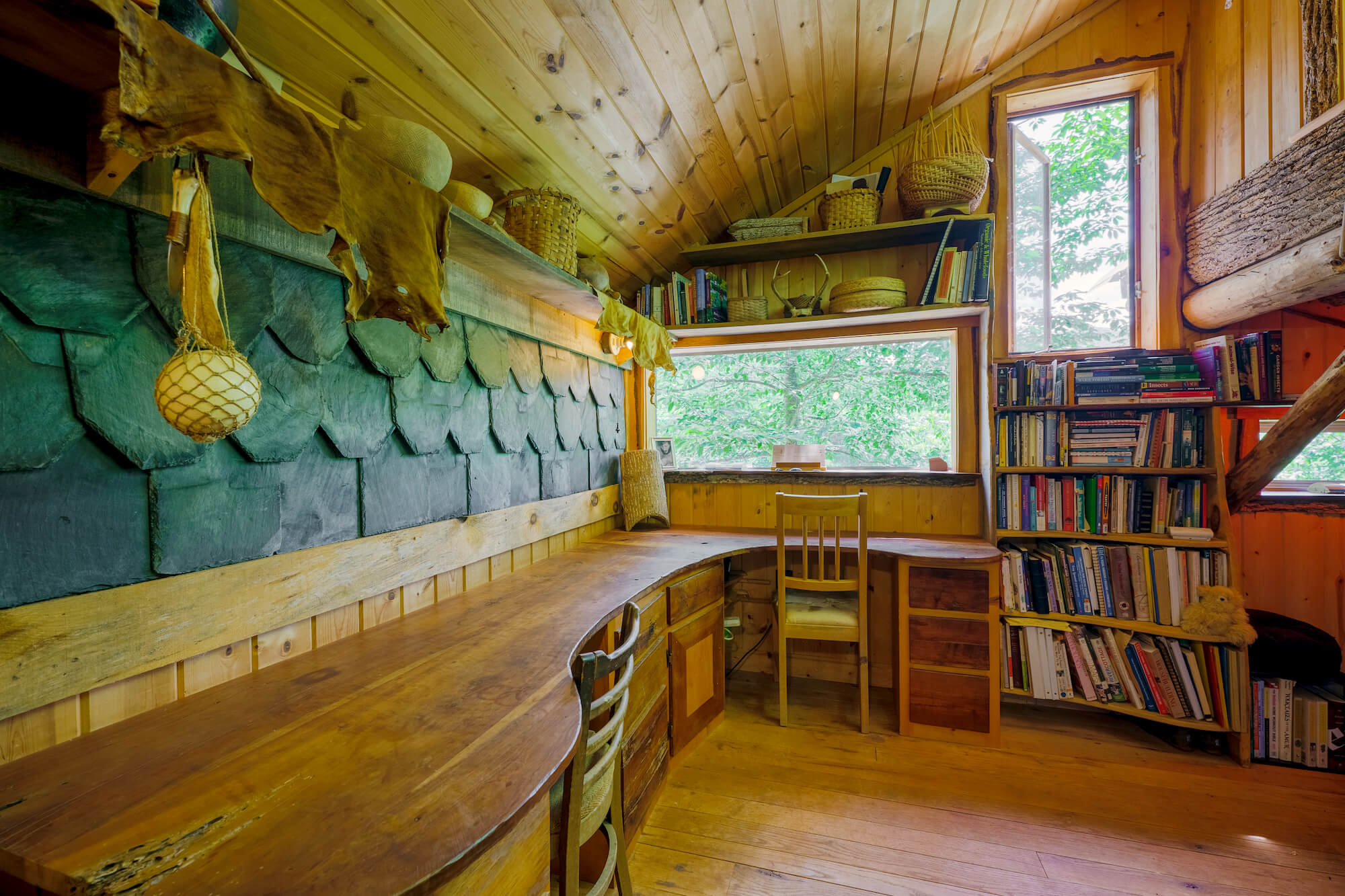 The fact is, most of the houses built in the US these days tend toward the bloated and the cookie-cutter. Indeed, the size of an average single-family home is over 2,000 square feet, almost double what it was in 1960. These houses are generally built very quickly, cheaply, and poorly, and won't last nearly as long as the simple, well-built homes of the past. 
What's more, many of the mass-produced industrial building materials that go into new homes levy a heavy tax on the earth. This happens through initial resource extraction, toxic processing, waste, and overall carbon emissions throughout manufacturing.
If the global cement industry were a country, it would be the world's third largest carbon emitter, topped only by the US and China.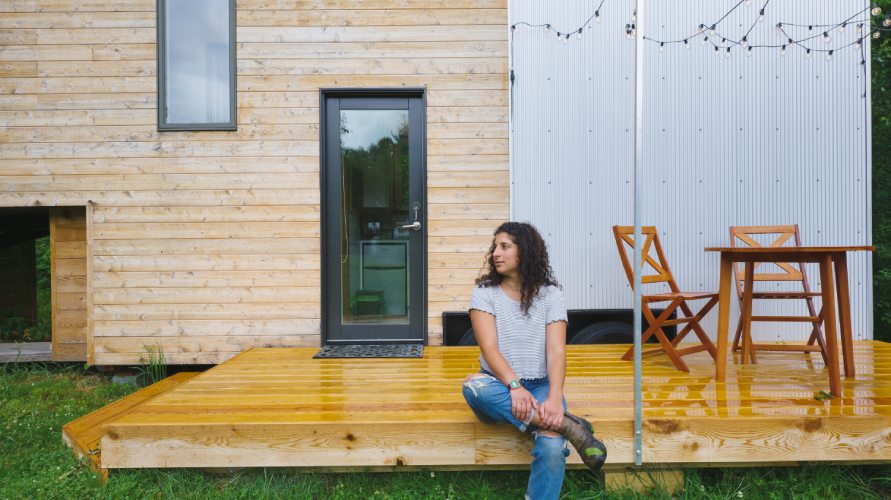 All of these ecological ills, combined with the sheer size of modern houses, end up leaving a big, ugly footprint on the beautiful and generous Earth, and are a significant contributor to climate change.
You have the choice to do things differently. 
---
But can you really imagine yourself as a home-builder?
Even as you feel inspired to create a home for yourself that's aligned with your values, when you think of a carpenter, do you imagine a big white dude swinging a hammer? Have you ever seen someone who looks like you, who you can identify with, building their own home?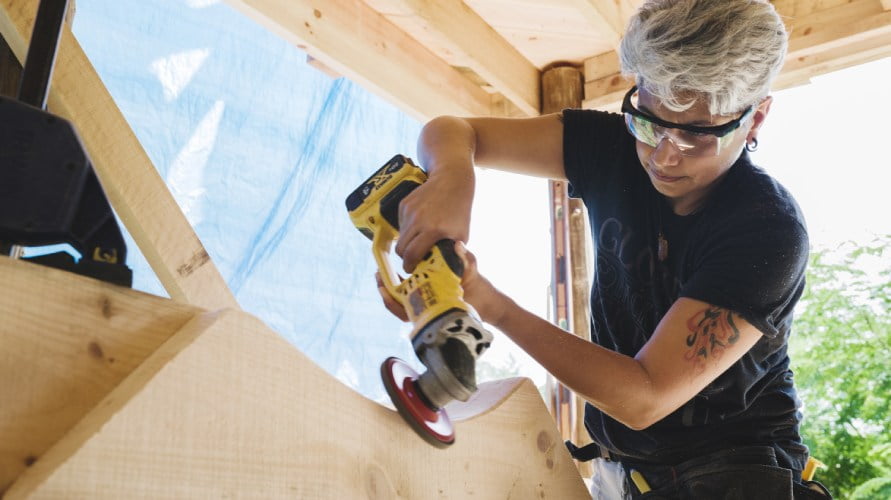 Unfortunately, in this culture, one subset of men tend to dominate the field of building. Folks who identify with them tend to grow up with a greater sense of confidence with tools, thus perpetuating a discouraging narrative about who can and can't build things.
Let's disrupt that outdated story, and together, write a new one.
---
We've taught hundreds of people how to build.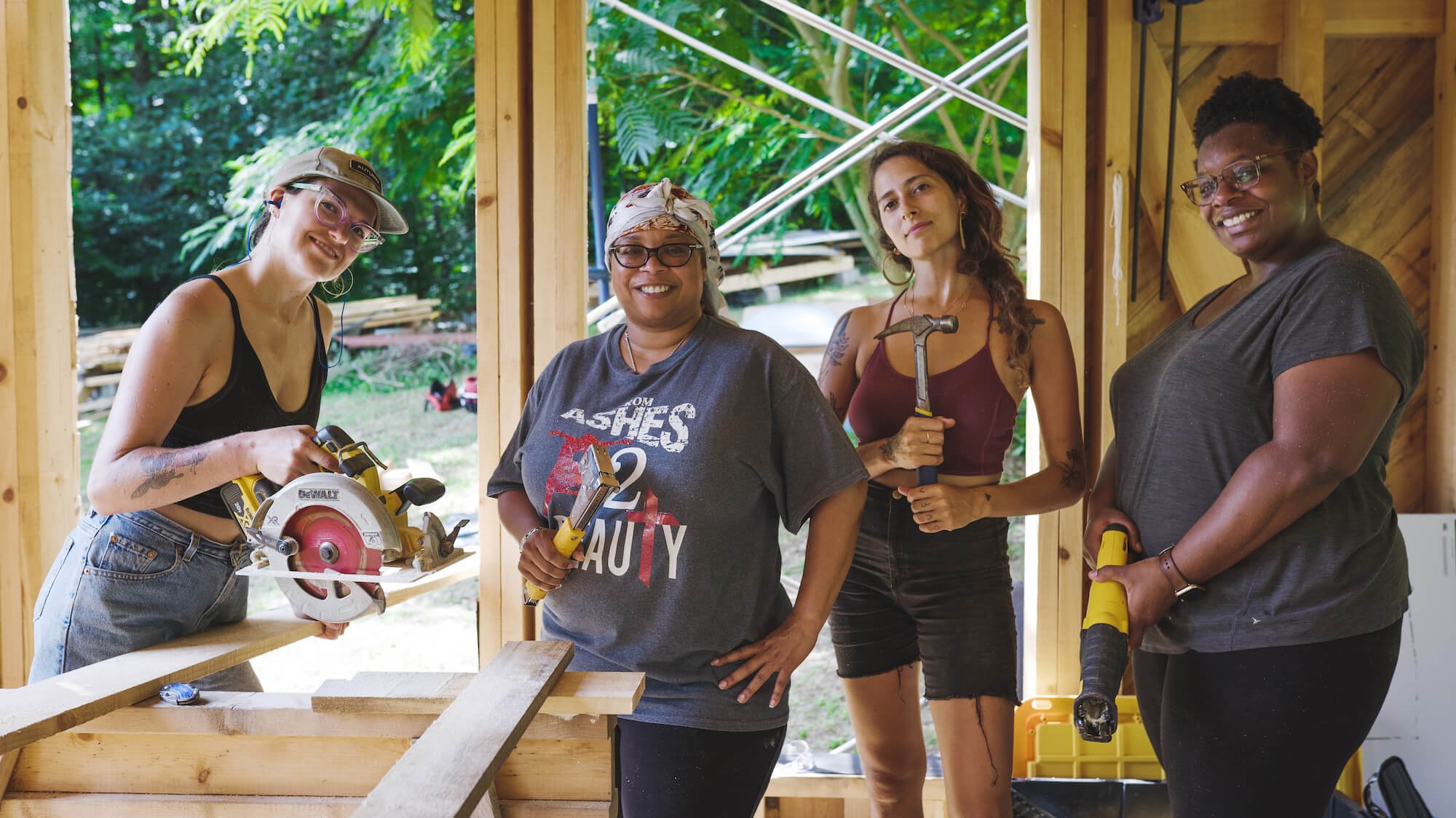 Anyone with a deep desire to build can learn how to do it. We know this from experience, because over the last 10 years we've taught hundreds of people, mostly women, these skills. During each class, we've seen folks transform from newbies who are timid with the tape measure, to confident, budding carpenters. 
The key is giving clear, detailed instruction in a space that feels welcoming and comfortable, and inviting any and all questions that folks have.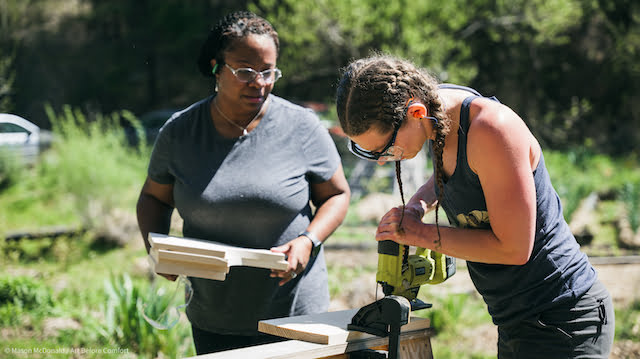 Some of our students have never picked up a carpentry tool before, while others have been contractors looking to broaden their skills and learn something new. They've been chefs, freelance writers, engineers, lawyers, nurses, physicians, full-time parents, and others, with ages ranging from 14-74. Many have identified as women and/or femme, and have been thrilled to finally learn in an environment where they're at the center. 
---
Gain the confidence to design and get started building your own beautiful, ecological tiny house from the ground up, with your own hands.
---
What's Included – How to Build a Tiny House
This is a comprehensive course, probably the only one you will ever need. We cover the steps of building a tiny house, or any small house, plus lots of bonus material, too. Videos include clear and thorough lectures, hands-on demos, diagrams, humor, and personality. 
This course is divided into 10 modules. There are dozens of actual video lessons within each module. We invite you to watch sequentially, or to skip around to whatever is most relevant to you at the moment. At the beginning, you'll find a class on how to use the course. There, we give suggestions about where to start and how to proceed, given your experience level, interest, and projects.
Closed Captioning Provided
Closed captioning is provided in the online Tiny House Academy. When we add new video lessons, our transcriptionist will complete closed captioning within one month of publishing.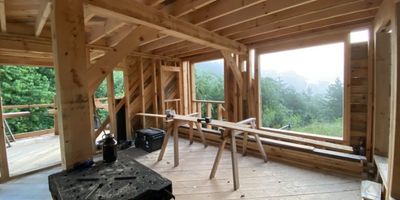 1. Big Picture
How to Use This Class ✦ Tiny Houses on Wheels vs. on a Foundation ✦ Lumber Choices ✦ How Big To Go? ✦ Simple and Sustainable Living in a Tiny House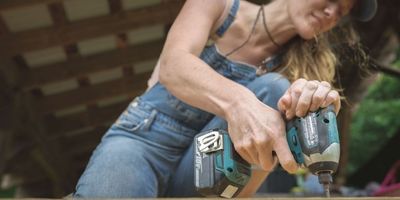 2. Tools of the Trade
Introduction to Tools ✦ Measuring and Marking ✦ Power Tools: Chop Saws, Circular Saws, Table Saws, Jig Saws, Impact Drivers, Drills ✦ Plumb, Level, and Square ✦ Framing Square ✦ Hammer and Nail Guns ✦ Hand Tools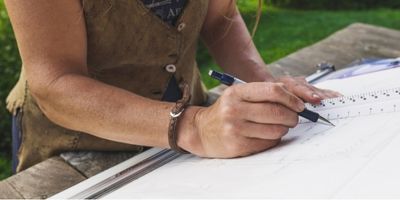 3. House Design
Designing Your Tiny House ✦ Designing with the Sun ✦ Passive Solar Design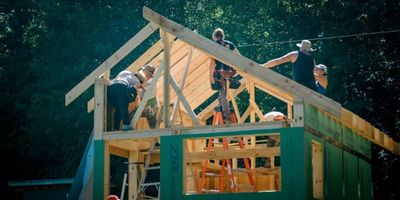 4. Legality and Costs
Legal Considerations for Tiny Homes ✦ Budgeting 101 ✦ Top 10 Ways to Save Money When Building a Tiny House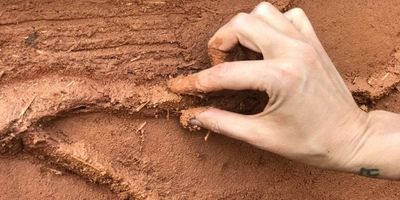 5. Natural Building and Ecological Construction
Introduction to Natural Plasters (Clay and Lime) ✦ Naturally Built Wall Systems ✦ Cob ✦ Regenerative Timber Harvesting ✦ Milling Your Own Lumber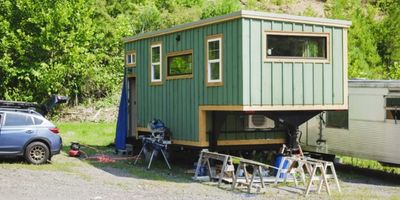 6. Building a Tiny House: Step-by-Step Overview
Steps of Building a Building ✦ Foundations ✦ Stick Framing and Wall Construction ✦ Roofs ✦ Special Construction Considerations for THOW and THOF
7. Rough Construction
Getting Started on a Foundation: Finding Square with Batter Boards ✦ Concrete Pier and Footer Foundation ✦ Framing ✦ Window and Door Installation ✦ Metal Roofing Installation ✦ Soffit and Fascia ✦ Siding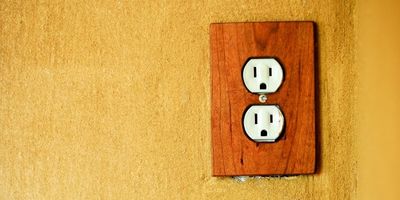 8. Utilities and Systems
Basics of Electrical: Theory and Installation ✦ Solar Electric for Tiny Houses ✦ Basics of Plumbing, Water Supply, and Water Heaters ✦ Fuel/Gas Overview ✦ Toilets ✦ Bathtubs/Showers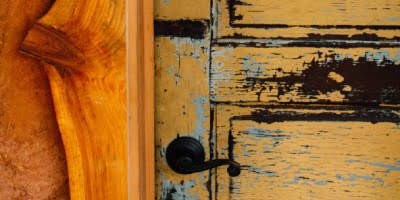 9. Finish Work
Hardwood Floor Installation ✦ Drywall ✦ Interior Trim – Windows and Doors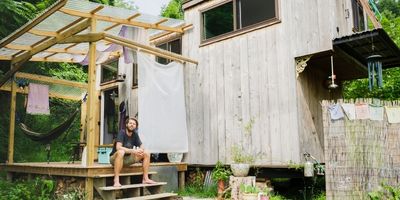 Bonus: Tiny and Not-So-Tiny Tours
Not-So-Tiny Log Cabin with Additions ✦ Two-Story 12*12 Writers Retreat ✦ Whimsical and Artsy Tiny House on Wheels ✦ Tiny Family Home with Lots of Repurposed Materials ✦ Tiny House on Skids, Built During One of Our In-Person Classes ✦ Spacious Tiny Home for Two on Wheels
Discount on in-person building classes with Wild Abundance
When you enroll in the Tiny House Academy, you'll also get a coupon for $200 off our in-person tiny house building class.
What students are saying
"I love the length of the videos because they're not overwhelming. Small, short videos are easy for me to understand." ~ April, Home Healthcare Provider, Iowa
"What the Tiny House Academy showed me was a multitude of ways to do different things, and ways to think, as opposed to just ways to do." ~ Bryan, Digital Healthcare Products Developer, New York
"I like how it focuses on the pieces that you really need to know and doesn't add too much fluff. I feel like each one that I've watched, I've walked away learning something that I didn't know, even if I thought I knew it before I walked into it." ~ Joshua, Software Engineer, North Carolina
---
Education for all experience levels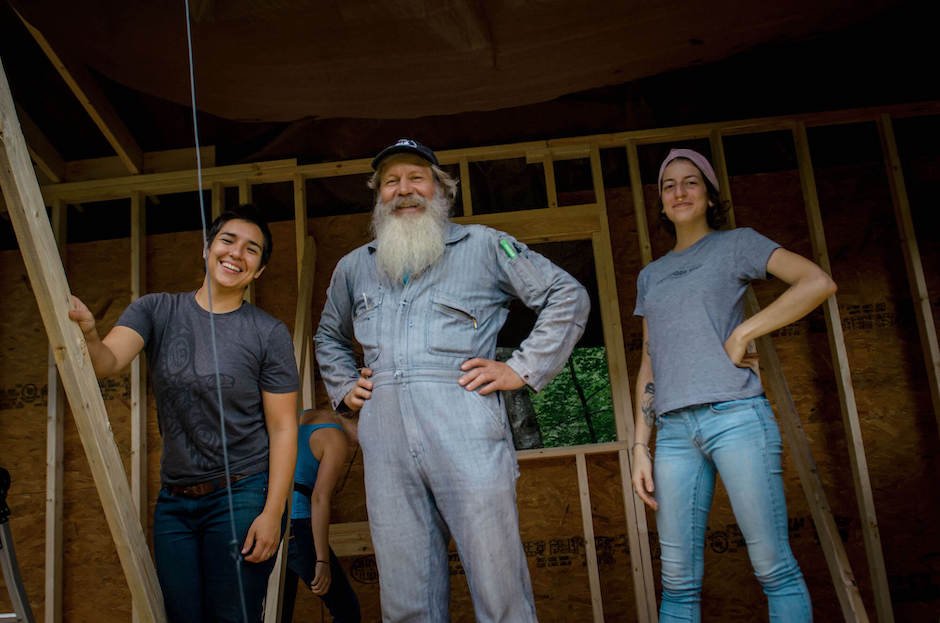 Each of our modules is thorough, and designed to meet you where you're at. If you are a beginning builder, you will likely watch all of the lessons, rapt, and take thorough notes. Our guess is that you'll get really stoked on the tool and rough construction modules, which teach you the basics of getting started. Even if you choose to hire help with more advanced things, like plumbing and electrical, those videos will be useful, too. After watching them, you'll have much more confidence when talking with any contractors you hire. 
If you have some background in carpentry or woodworking, you may not need to review the entire tool module, but you'll be able to really dig your teeth into natural building and ecological construction, legality and costs, and utilities and systems.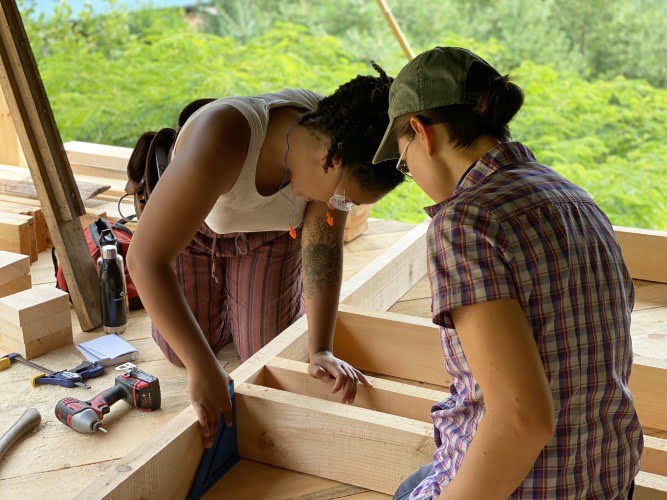 There is so much rich material here that no matter your experience level, you will get a lot out of this course.
---
This course is for you if you: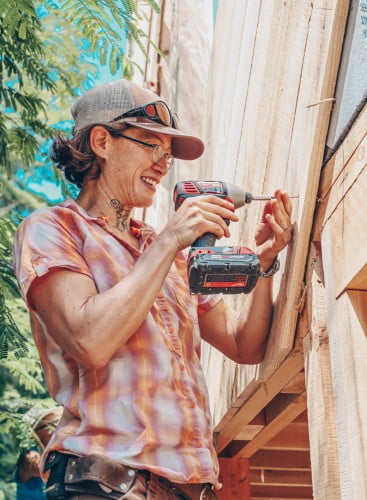 Get all tingly and excited when you imagine building a home with your own hands

Feel excited, but overwhelmed, about how to begin your tiny house journey

Love working with your hands and building things, but never felt welcome or supported in the world of carpentry

Feel stoked to learn at your own pace, in your spare time, and be able to refer back to the material again and again

Want the flexibility to design and build based on your needs and budget

Are excited by power tools, but also intimidated by them, and want clear, thorough instruction on safe, effective use

Can't make it to one of our in-person classes, but you're drawn to how we do things and what we've got to share

Want to design your own space instead of downloading a cookie-cutter plan 

Want support with putting your vision into action

Care about the planet and want to build a house that incorporates natural materials and techniques
Please note: This building program is for folks in the US and Canada, or who have access to the tools and materials that are available here.
Because of the type of building taught, this class is most appropriate for students in the US, Canada, and other regions that have similar material and tool availability Feel free to reach out to onlineclasses@wildabundance.net to help determine if this program is a good fit.
---
Special Highlights
Below, we highlight some of the modules, and also some of the lessons that exist within each module, that we feel especially excited about. 
The Tools of the Trade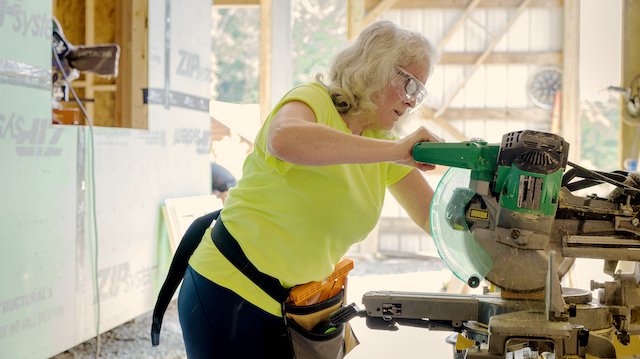 Just because you want to build your own house doesn't necessarily mean you already know how to use tools.
This course includes a whole section on tool use, including both power tools and hand tools. We don't make assumptions about what you already know, since so many folks aren't taught basic carpentry as young people. In case you're in this boat, or if you need a refresher, we cover everything from proper use of the carpenter's pencil and tape measure, to taming the oft-feared beast of the table saw.
What students are saying about the tools section:
"I am a newcomer to carpentry and building, and the online lessons are packed full of information, guidance and instruction, and have given me the confidence to pick up those tools and give it a go." ~ Dan, Store Manager, North Carolina
"This is the best description of how to read and use a tape measure that I have ever heard." ~ Tim, Barber, Arizona
"The tools section was really helpful because right now I'm building out my van and a lot of those tools I need to use. It was very scary at first and being able to watch those videos gave me a lot of knowledge on the safety aspects." ~ Clarissa, Human Resources, Florida
With individual, step-by-step videos for each tool, we cover safety, uses, and basic maintenance of all these important tools:
Marking and Measuring:

tape measure; carpentry pencils; chalk line

Cutting

: circular saw, table saw, jigsaw, sawzall, and the chop, miter, and compound sliding miter saws

Screwing and Drilling

: drills (battery drills, hammer drills, corded drills); impact drivers

Plumb, Level, and Square:

levels; plumb bob; speed square; framing square
---
Practical Ways to Integrate Natural Building Elements Into Any Home You Build
The home construction industry is a significant source of waste and a driver of climate change. Indeed, this is one reason why building a tiny house is appealing: smaller homes mean fewer resources used. However, just building a small home with the same materials and techniques as conventional homes can still be resource intensive. 
In this course, we offer experience-based, totally doable, beautiful ways to incorporate natural building techniques and sustainable design, including sourcing, into your build. Working with this guidance, you'll be able to minimize waste and increase functionality. The result will be a gorgeous, energy-efficient home that feels so much better, too.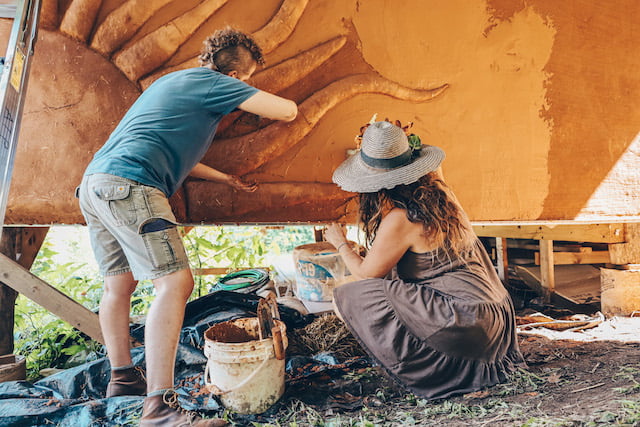 Wild Abundance brings together the worlds of natural building and tiny house building; you won't find that anywhere else.
We've experimented with what kinds of natural building techniques really work for both mobile and stationary tiny houses, and we share all that wisdom with you. Building with cob, light clay slip, strawbale, cordwood, and logs all have pros and cons, and we let you know where, when, and why to use each one.
---
Passive Solar Design
Did you know that you can keep your house warm in the winter and cool in the summer by designing with the angle of the sunlight in mind, including how it changes throughout the seasons? Passive solar design is a simple, elegant, and ecological way to decrease energy consumption and keep your tiny home (or any home) at a pleasant temperature all year long.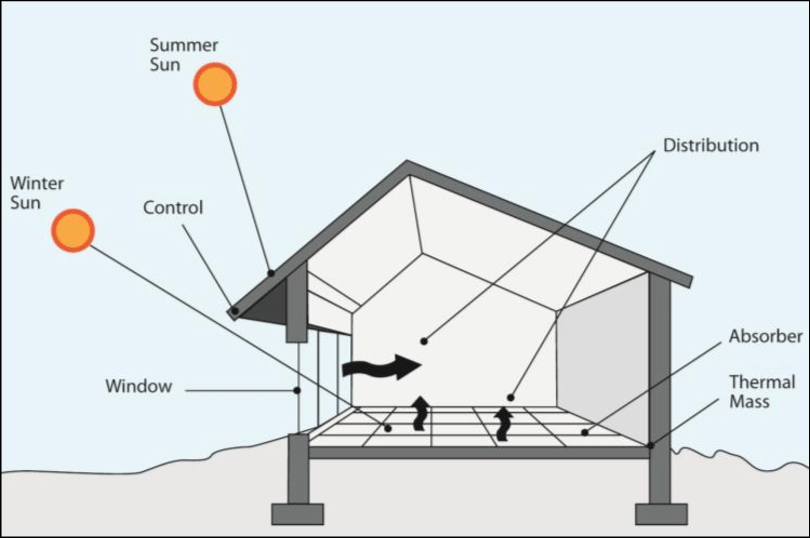 The basic concept is simple: prevent the sun from coming in during the summer, and let it in during the winter in such a way that its warmth can be stored as solar energy in thermal mass. In this course, we go into the details of how this works in practice; we'll teach you how to design a functional passive solar home in your specific location.
---
Tiny Houses on Wheels and on Foundations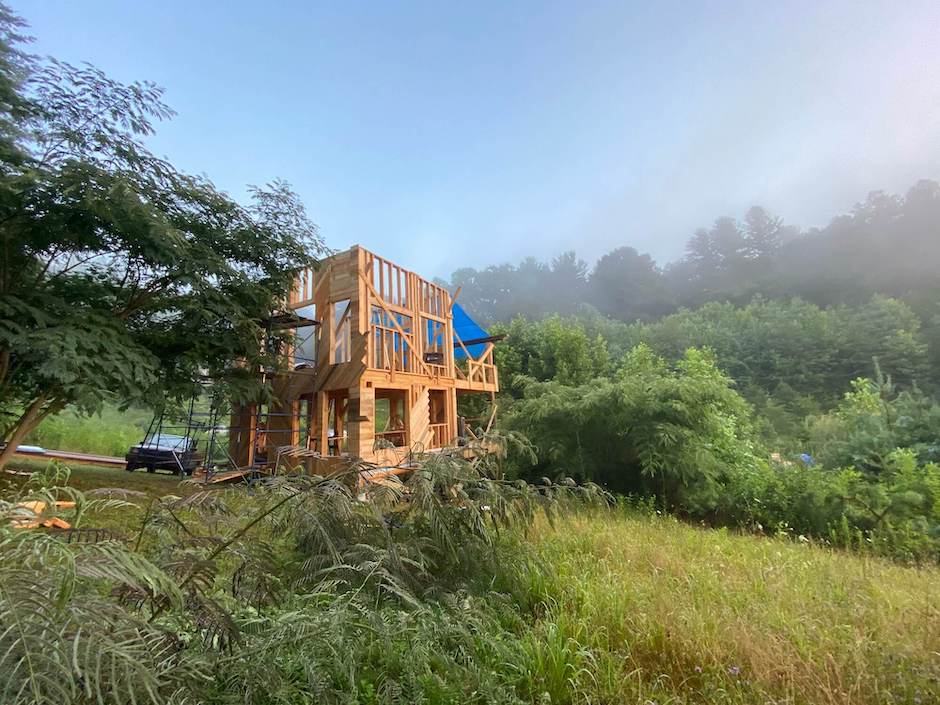 Tiny houses don't need to be limited to mobile units on trailers. The Tiny House Academy addresses both mobile and permanent tiny houses. Depending on your situation, one or the other might be better for you. 
This course will give you the skills to decide which kind of base is appropriate for your situation, and how to move forward accordingly. If you want to build on wheels now, but have a plan for a bigger, natural, and permanent dream home in the future, we've got you covered for both!
---
Solar Electric for Tiny Houses

One way to shrink your ecological footprint is to power your tiny home with solar electricity. In order to do this, you'll need to understand how solar electric systems work, what they're made of, and how they are built and hooked up. We cover all of this, plus go into the pros and cons of off-grid solar systems vs. grid-tied systems, and how to determine how much electricity you'll actually need in your tiny home.
---
Tiny House Design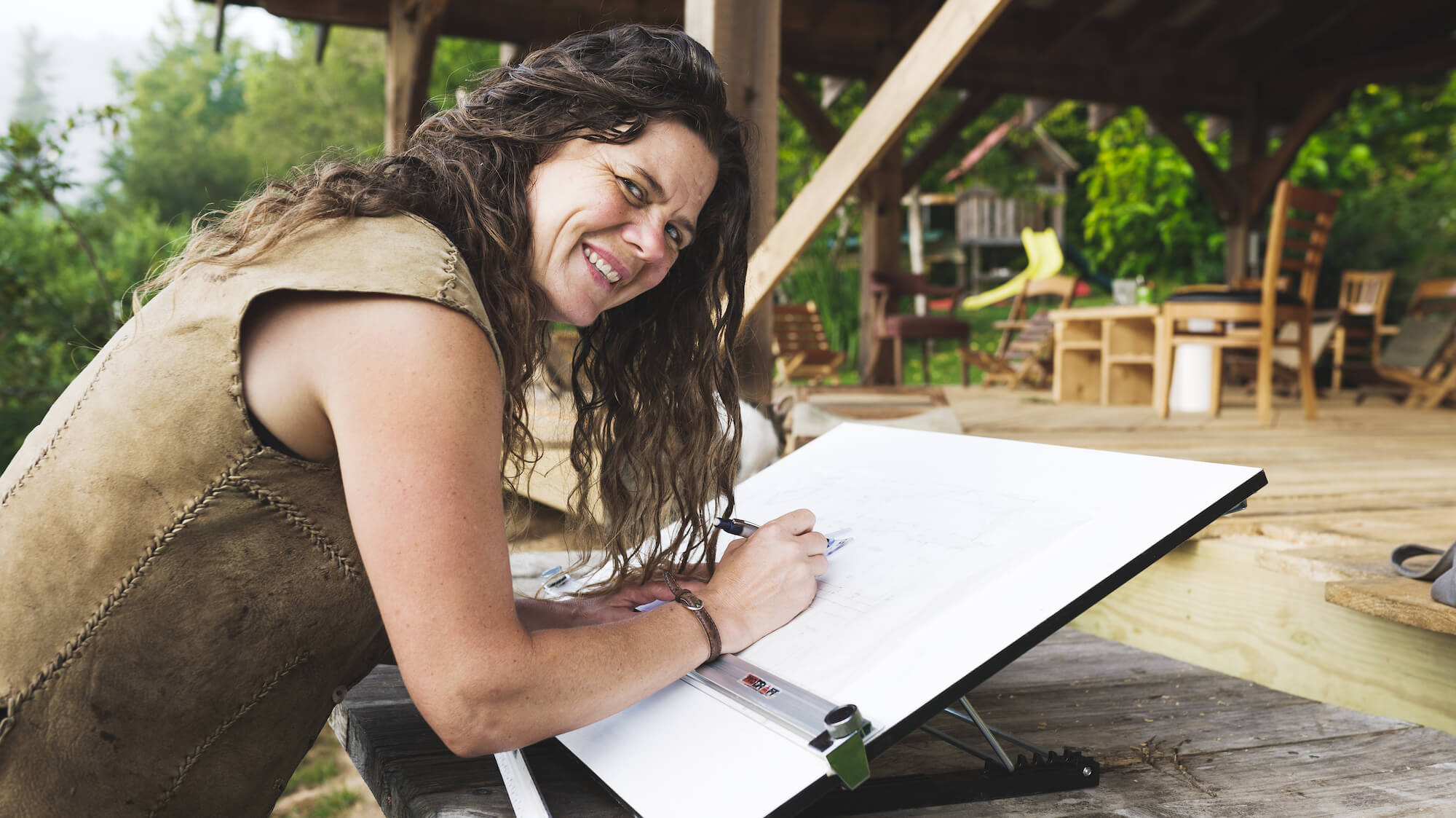 Learn how to design your own house, customized for your life! Happy, comfortable, and un-cramped tiny living is all about design. A few hundred square feet can feel like a closet or a whole spacious home, depending on how it's laid out. Plus, having a solid design makes the entire building process more smooth, allowing you to organize your space, materials, and budget. 
We don't give you a bunch of prefab designs — instead, we teach you how to custom design your own tiny (or not-so-tiny) dream home.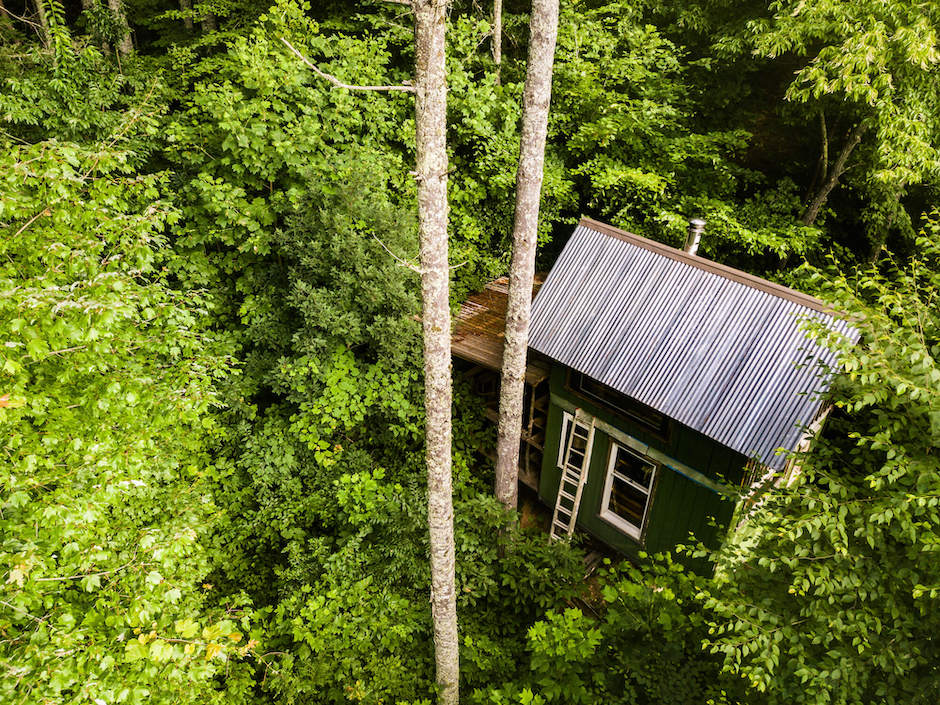 You won't leave this course with an architecture degree, but you will be able to create fabulous and useful sketches and lists, just like the professionals use. This makes it much easier to communicate with others about your design, whether they're carpenters, friends, or other folks helping you. Planning things out will give you a finished product that is way more suited to your life, while taking most of the panic out of the process, reducing work and time overall, and helping you save money.
---
Tiny House Water Systems
Water flowing in and out of your tiny home will make it way more functional. Whether you choose to just have a sink inside and a separate composting toilet or outhouse, or multiple sinks and a flush toilet, there are many options for tiny house water systems. We'll cover:
Rainwater catchment

Water hookup to city water or a well

Greywater systems

Hookup to a septic or greywater system, including how to set up a Drain Waste Vent (DWV) system

How to set up cold and hot water supply systems

Different kinds of hot water heaters (propane and on-demand electric)
---
What Makes This Course Unique
A Dynamic Learning Experience
This is not just a bunch of videos of people talking about tiny houses. Instead, it's a comprehensive online education on how to build your own, from the ground up. We combine lecture-style instruction with plenty of diagrams and demos so you can see theories put into action. In fact, you'll see several different styles and sizes of tiny houses under construction, giving you a breadth of examples to draw from. The result is an engaging program that shows you much of what it takes to build your own house, whether it's a tiny house or not-so-tiny house, on wheels, or on a foundation. 
---
Not your typical construction workers…
If you're tired of being "mansplained" to by well-meaning carpenter friends or sweethearts, or confused by DIY YouTubers with bad camera angles and poor explanations, then you've come to the right place! 

How students feel about the instructors
"It's difficult to find people who are on this path, and seeing those who have done it outside of the traditional structures of society is really awesome." ~ Kayla, Auto Mechanic, New Hampshire
"They really break it down and they talk to you at a beginner level, but not demeaning. I feel like I know them! They're very open, cool and personable, very understandable and welcoming." ~ Samantha, ABA Therapist, Illinois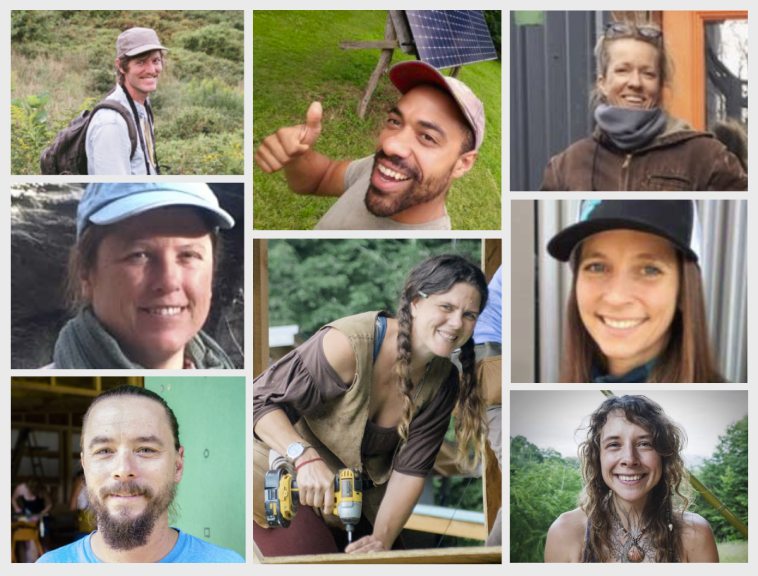 This program is taught by an enthusiastic, friendly, and unconventional team of instructors with various backgrounds and identities, led by women. Each of them brings a unique perspective, body of experience, and personality to the table. As a result, we're confident that you'll feel respected and welcomed, and you'll get your questions answered, even the most basic ones. Throughout the video lessons, new vocabulary is explained, and demos and diagrams help make everything more clear. 
Think of this course as your gateway into a new world of building:
One where belonging is based on inspiration, enthusiasm, and a commitment to learning, not on how big your hammer is, or if you already know all the jargon.
---
Creativity is Queen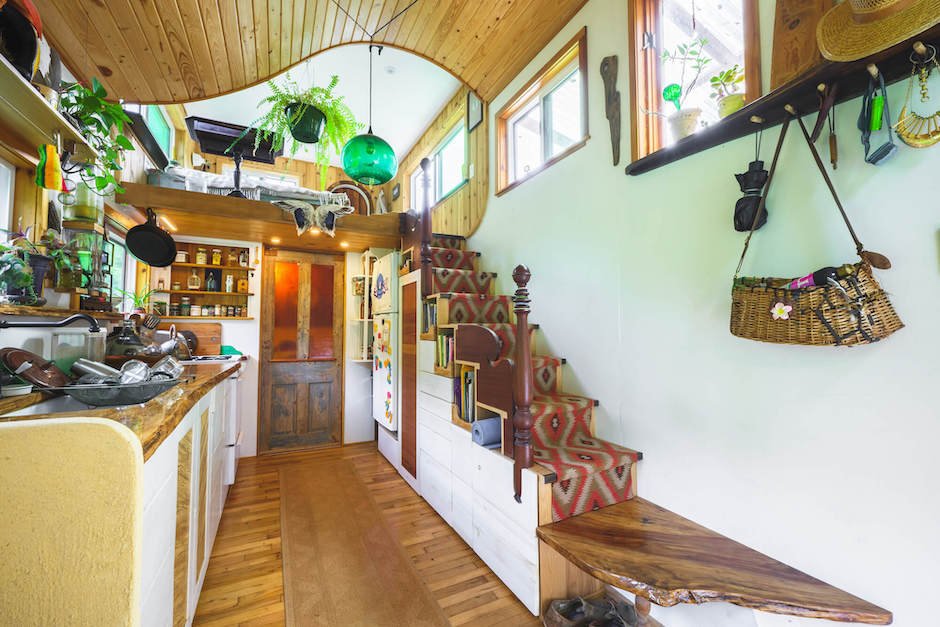 Everyone's tiny home dreams — and needs — are a little bit different. To honor this, we explore a variety of options to help you work through what's best for your situation, climate, and budget. Instead of laying out cookie-cutter designs and approaches, we teach you how to be your own designer. This way, you can feel empowered to customize your tiny house for your unique aesthetics, desires, creative inspirations, and lifestyle. 
Beauty ✦ Individuality ✦ Imagination
Resourcefulness ✦ Ecological Awareness
These characteristics of the lost art of home-building deserve to be revitalized! 
---
Realistic and experience-based, no claims of $300 tiny houses here!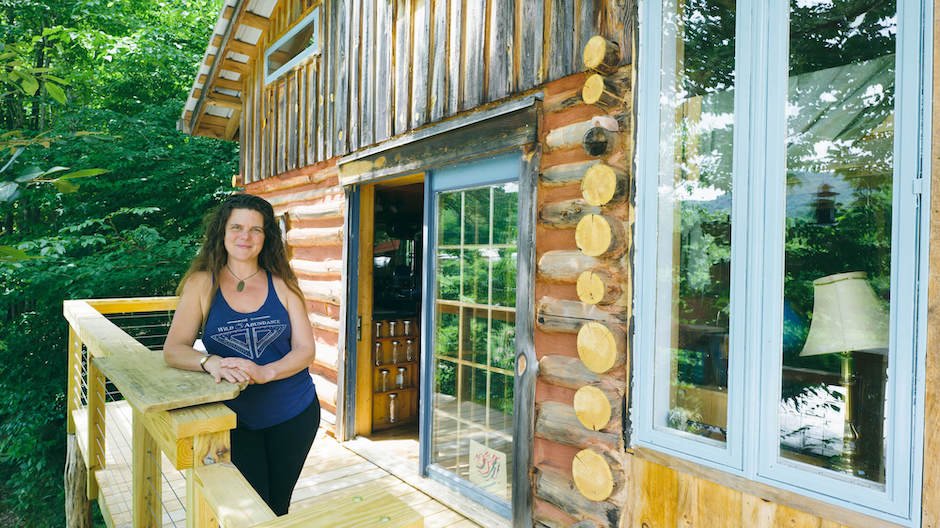 Your instructors have built and lived in multiple tiny houses, so everything you'll learn in this class is based on real-world experience. As the tiny house movement has become more and more trendy, we've noticed articles and posts claiming that you can build a tiny house in a tiny amount of time and on a tiny budget. Seeing these makes us feel frustrated, because with all of our years of experience and various backgrounds, we just haven't found that to be possible. 
Since we want people to succeed at building their own homes, it's important to us to provide accurate information and clear guidance. This class will show you how to set realistic goals and walk you through the important steps to reach them.
---
Learn building skills that apply to more than just tiny houses.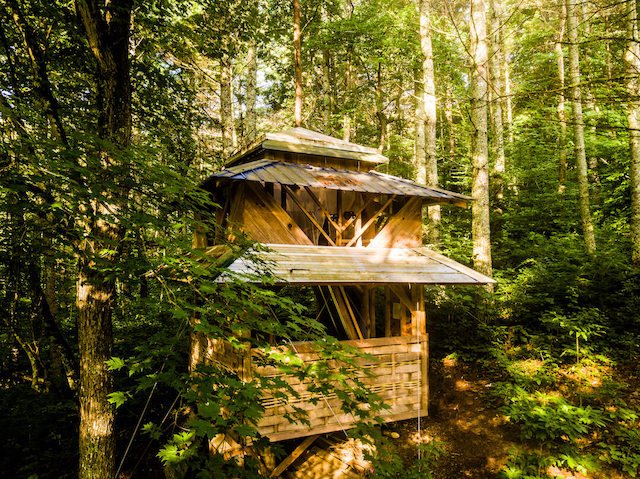 You can apply many of the skills we teach in this course to lots of different kinds of building projects. Here are some examples of what we think you could bust out after moving through the lessons. The course doesn't include step-by-step guidance on how to build these other projects, but it does teach you the foundational skills necessary for doing it:
Sheds ("she-shack", "man cave", wood shed, goat shed, etc.)

Outhouse

Wood-framing of a greenhouse

Doghouse

Kid's play structure

Covered porch

Simple Gazebo 
---
Lifetime Access to Our Library of Resources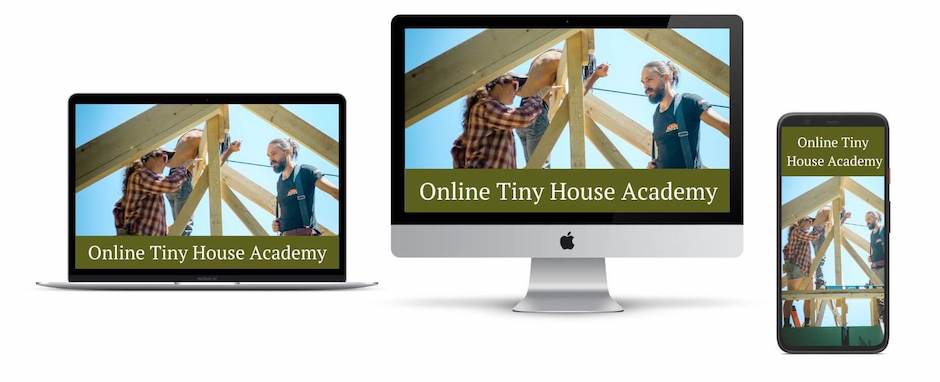 This program can be watched, class by class, as a comprehensive building education. Or, you can think of it as a toolbox to help you manifest your dream of building a simple, sustainable home. Just reach in and grab what you need, when you need it, as many times as you want.
---
Personalized and Live Support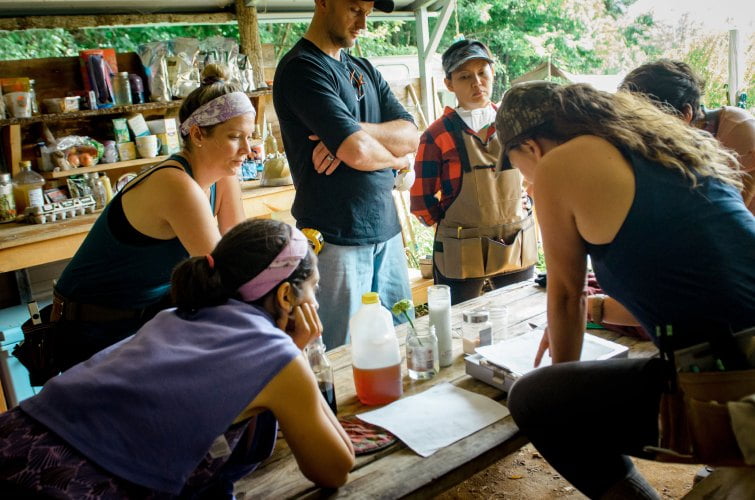 You can ask questions in the online classroom, via the box provided below each video lesson. Your instructors will respond within a few business days, usually sooner. We'll also be hosting monthly live Q+A's via Zoom through, so that you can get answers to your burning questions in real time.
"Feedback from instructors has been really incredible. The responses that I've received from instructors have been really thoughtful, you can tell they took time to encourage in their comments." ~ Anna
---
Start learning how to build a tiny house, so you can start building!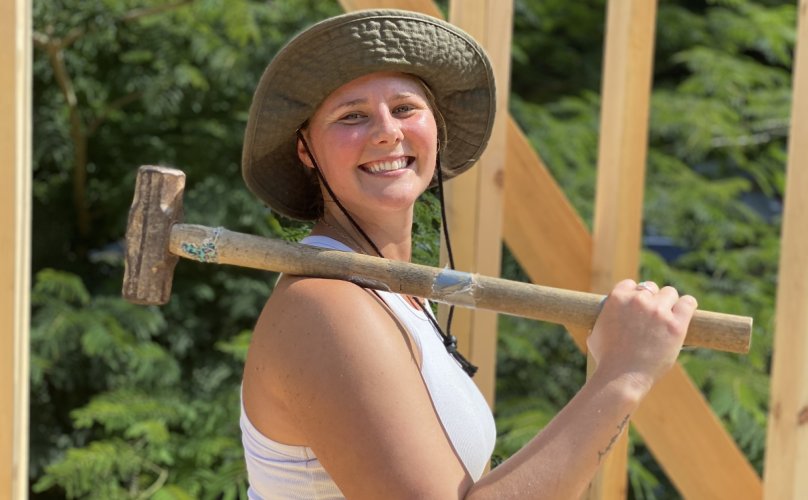 If you want to build a beautiful tiny or not-so-tiny house with your own two hands, there is no time like now to get started! The rewarding journey of home-building begins, like all journeys, with a single step. And while you may think that's when you cut the first board, it's actually when you begin to materialize a dream into an action plan. Giving yourself the gift of this course will help anchor your visions and aspirations into a concrete action step, and will guide you along the steps that follow.
Let's build a world of beauty, sustainability, and style.
Dare is a farmer, chef, activist, and natural builder who lives in California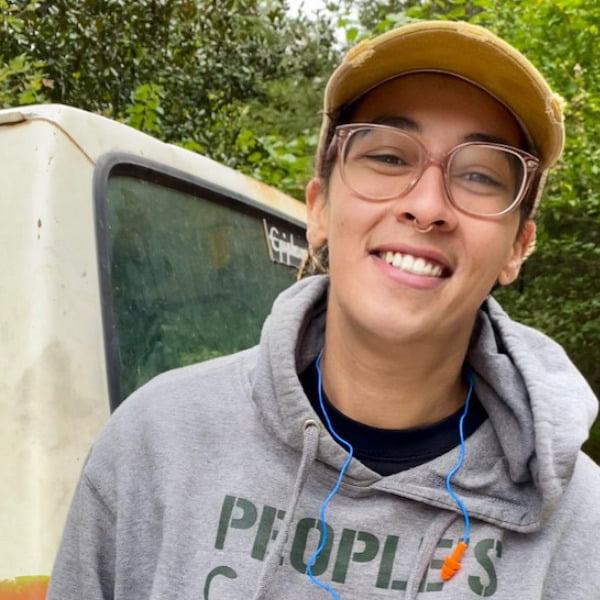 "Oh my gosh, this is the class I've been waiting for my whole life! The design parts are there, how to read plans, all the carpentry, how to use basic tools, especially the stuff that people who have been doing this a long time don't even think to explain, like how to properly read a tape measure."
Dan is a store manager who lives in North Carolina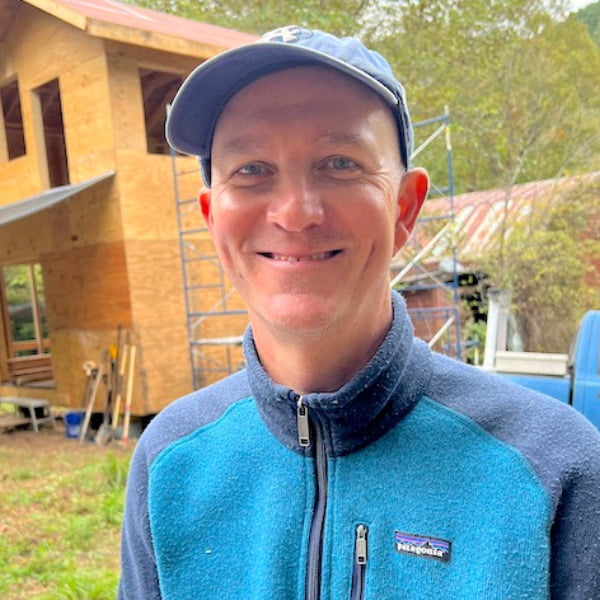 "I can't count how many times I have had "AHA" moments during the Tiny House Academy… and the humor included is a welcome bonus. The live Q&A sessions, and the fact that you can always return to these videos for reference, makes this learning system invaluable."
April is a home health provider who lives in Iowa
"I love the online videos! It's so helpful to go through step-by-step and learn tools I didn't know how to use, and how to use them correctly. These lessons have been super instrumental for me right now because they're meeting me where I'm at in terms of learning to build."
Frequently Asked Questions
---
Instructors
---
Registration Info
Pricing for the Online Tiny House Class
One time payment: $697.00
Payment plan: $117 each month for 6 months
The following is included in registration: unlimited lifetime access to a well-organized and comprehensive library of video lessons, open invitations to all live Q&A sessions, one-on-one instructor support through the online classroom, live online orientation call with your cohort of students.
Join the WAITLIST to be the first to know when this class opens up for enrollment.
You'll also receive our newsletters