Course Dates:
Apr 6-9, 2023

May 11-14, 2023

Jun 8-11, 2023

Jul 20-23, 2023

Aug 24-27, 2023
Join the WAITLIST to be notified when new sessions open for registration
You'll also receive our regular newsletters
Why Women's Carpentry?
Let's face it: in this culture, it's much more likely for men to be comfortable with tools and carpentry than women. But given the chance to learn, women can be just as proficient as men when it comes to manifesting their own creative building ideas. Since our bodies are different, and our backgrounds and learning styles are likely different, we need a female-oriented space, just for ourselves! 
This class is intended to respond to that need. It will get women (and other femme-identifying people) up-to-speed on basic carpentry skills, including working with wood, planning and designing simple projects, and using hand and power tools safely and effectively.
This class is open to all women, including trans and femmes
Focus is placed on creating a safe, comfortable, relaxed and fun learning environment in which students with beginning to intermediate skill levels can thrive. Our goal is to help each student learn, rather than to progress projects at a fast pace. 
---
This class is truly about the basics of carpentry. It's about learning to use tools and getting comfortable with them by working on some large and small projects. No prior experience is required.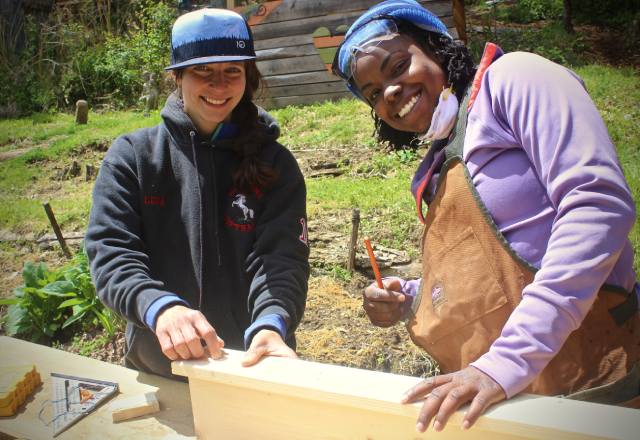 That said, if you have experience but don't have a mastery over safe and ergonomic use of the table saw, chop saw, circular saw, and hand tools, this is also the class for you. If you're interested in bigger projects, especially structural building, we offer an Advanced Women's Carpentry Class for graduates of the basic class. Anyone who has completed the basic carpentry class will be well prepared for the advanced class. Plus, when you sign up for this more advanced class at the same time as the basic class, you get a discount!
---
Ladies, prepare to tame those mythical beasts (power tools) and make them part of your building repertoire.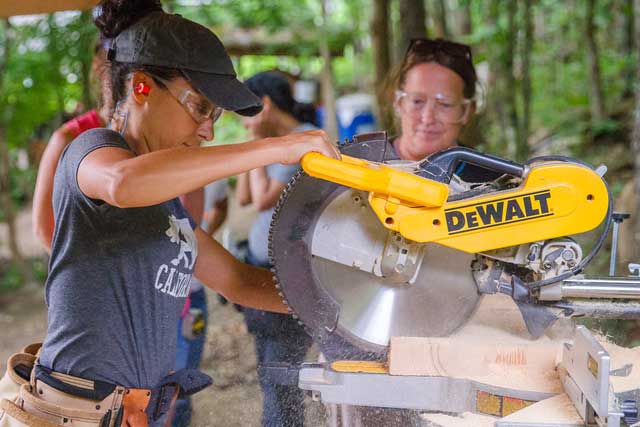 ---
What to Expect: Learn Basic Carpentry Skills

During this four-day course, we will cover basic carpentry skills through lectures, demonstrations, and lots of hands-on practice. 
Topics covered include:
Safe and effective tool use (including hand and power tools)

Choosing the right tools for different kinds of jobs

Accurate measuring and cutting

Small project design and planning

Lumber (wood) selection and purchasing

Implementation of your own project
This wealth of information will be specifically tailored for women's learning styles and women's bodies. There will be ample time to dialogue with instructors and get clear about the subject matter. We firmly believe that there are no "dumb questions."
---
Class Schedule and Timing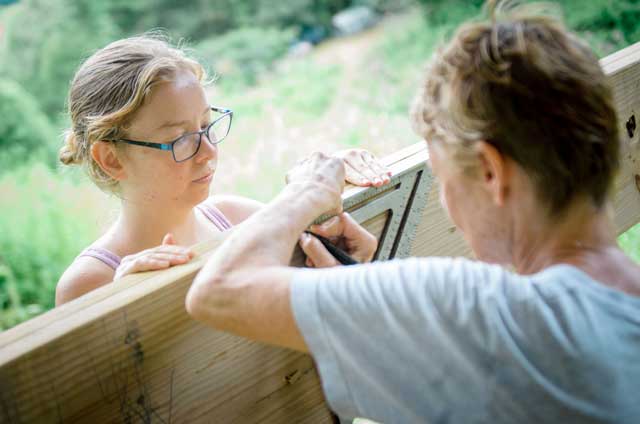 Thursday 9:30am-12:30pm and 1:30pm-5pm
Friday 9:30am-1:15pm and 2:45pm-5pm
Saturday 9:30am-1pm and 2pm-5:30pm
Sunday 9:30am-1:30pm and 2:45pm-4:45pm*
Please note: Some classes will have slight changes in the schedule due to weather, the needs of the projects, and the desires of the group. Some students choose to come early on Sunday to start their personal projects.
* Class ends by 4:45pm on Sunday, and students may leave whenever they finish their personal projects on this day. This can be as early as 1:30pm if they have time constraints and choose a very simple project. During our lunch break on Sunday, we hold a closing circle, which we encourage everyone to stay for, if they're able.
---
Day 1: Tools, Tools, Tools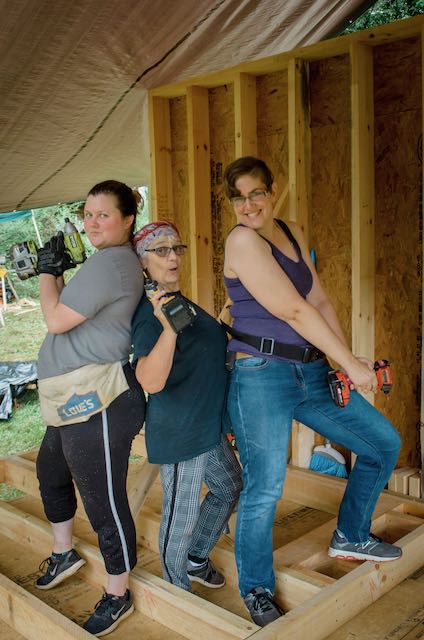 And women's empowerment!
Our theme of day one is women's empowerment. To begin, we'll have an orientation and overview of the class. Then we'll move into the bulk of the day: tools! We'll cover tool choices, their ergonomic use, and safety. Each tool will be introduced and demonstrated in detail, then you'll get a chance to try it yourself (with plenty of guidance and support). When we cover the more intimidating power tools, the class will break up into three groups so each person can get personalized attention. Whether you're building a birdhouse, bathroom shelves, a bike shed or a log cabin, having the right tools, and using them properly, makes all the difference. 
Tools we'll cover on day one include:
Circular saw

Carpenter's pencil

Measuring tape

Speed square

Safety equipment

Table saw

Chop saw

Miter saw and sliding miter saw
---
Day 2: More Tools, Project Design, and a Field Trip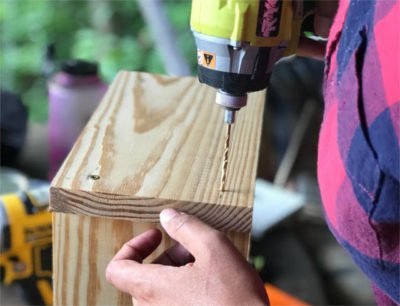 Explore more tools, plan out your personal project, and learn to navigate a lumber yard
On day two, we'll get our hands on more tools, learning safe and proper use of:
Drills for making holes in wood

Impact drivers for driving screws *This is always a class favorite…women seem to love screwing around*

Bits for the above-mentioned tools, each of which are quite different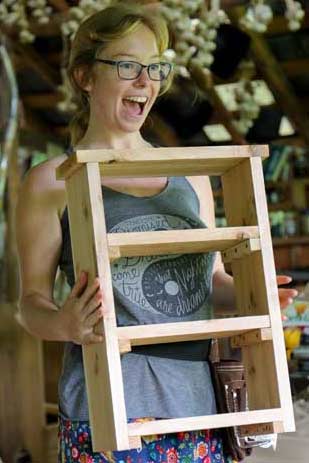 Your Personal Project
On day two, you'll also choose and design your own small personal project (to be built on day four). Of course, you'll get plenty of support and guidance from the instructors. In order to ensure every student's success within a specific timeframe, we limit personal projects to a selection of simple objects. You can choose to build a small shelf, a birdhouse, or a tool caddy.
After lunch, we'll head to the lumber yard to pick out materials for everyone's personal projects. While we're there, we'll explore lumber selection and how to choose a straight board (surprise, not all boards are straight!). Before our field trip, we'll discuss what kinds of wood are appropriate for different projects, and go over screws and other fasteners, including their application. Equipped with this knowledge, everyone will buy what they need for their personal projects, which we'll tackle on day four.
---
Day 3:
Tools Finale, Plus Hands-on Practice
Get proficient in a real-world application
On day three, we'll have our third and final tools class. This time we'll cover:
Levels

Chalk lines

Hammers

Hand saws
Next, for three hours, we'll work in small groups on simple, real-world projects. Some of these will be on Wild Abundance infrastructure, while others may be for neighbors, community members, or local non-profits. We won't be trying to get a whole lot accomplished on these projects, but instead will focus on starting to master tools that have been covered so far in the class. 
These projects vary, based on our infrastructure and community needs at the time of class.
However, they're always something real; you won't just be cutting and screwing scrap wood, you'll be contributing to building something. We choose group projects so that students get an opportunity to practice the basic carpentry skills that are the foundation of this class.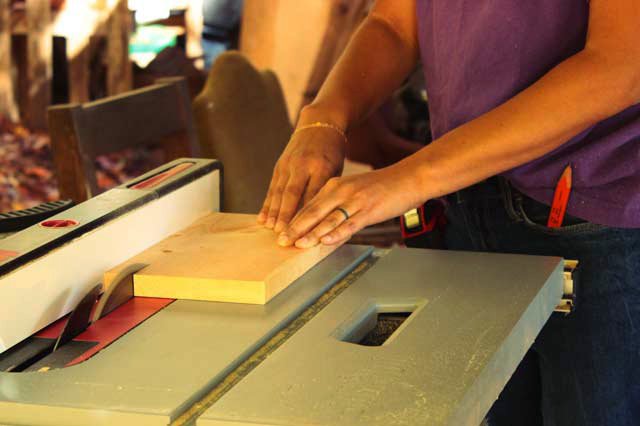 Some examples of past group projects are:
Siding on a building

Deck

Picnic table

Children's play structure

Fence

Rafters and purlins on a roof (only for students who feel at ease with heights)

Garden tool hanging structure

Shelves
During group project work, students will practice measuring, making cuts, using levels and speed squares, and fastening boards. Beyond the basic use of tools, we'll also practice working together and getting our hands, minds, and bodies in the groove of doing serious carpentry. These projects are invaluable for getting the basics of carpentry deep into your bones. It's one thing to learn about tools, it's something quite different to get proficient with them, and that's just what students will do during these group projects.
Toward the end of day three, you'll get a chance to cut out the pieces for your personal project. 
---
Day 4: Your Own Woodworking Project

Build your very own rough and simple masterpiece
On day four, everyone will get to complete (as schedules allow) a woodworking project of their very own (with lots of support, if they want it)! To do this, we'll reference the designs we solidified on day two, and utilize the materials we gathered at the lumber yard and cut on day three. Throughout the process, instructors will circulate to answer questions, provide guidance, and avert disaster. Students will work semi-independently, making use of all the skills and confidence they've been building over the past three days.
Note on Day 4 End Time:
We'll close up the wood shop at 4:45pm (earlier than days 1-3). Individuals will be done with the class when they complete their personal projects (any time between noon and 4:45pm). If you have time constraints, we advise you to choose a simple project like a small bookshelf.
---
Enjoy our beautiful outdoor woodshop near Asheville, NC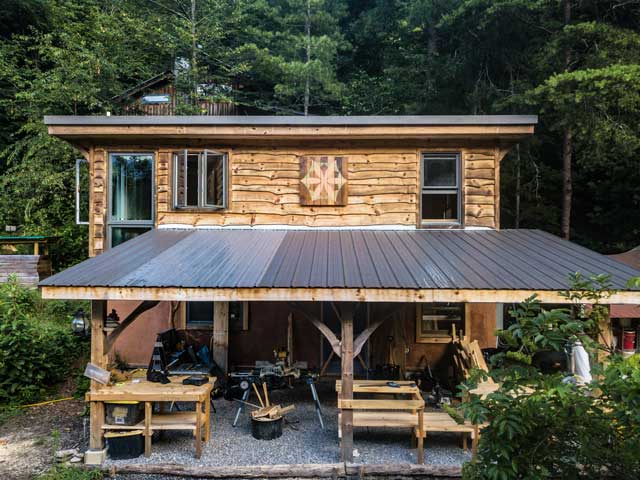 The Women's Basic Carpentry class "woodshop" is the lovely Wild Abundance homestead campus. During the class, we work in several covered areas amidst our gardens and natural buildings. There, students can use tools and work on projects with views of the vegetables and mountains. As a result, many folks who come to learn carpentry also get excited about the other things we do here, like permaculture and gardening. Additionally, getting to learn and work in this simple, outdoor woodshop can be very inspiring; you don't need a fancy, dedicated space in order to use tools and build beautiful things! Please note: class happens mostly outdoors (under cover), rain or shine, whatever the temperature.
---
You're just a weekend woodworking class away from building your ideas into reality
You might be asking yourself, can I really learn to build on my own in a weekend woodworking class? And we're here to tell you that, yes, it's absolutely possible! In one long weekend, you can get comfortable with tools, understand how to work with wood, and learn how to plan out and design your own simple carpentry projects. We've seen it happen time and again, with hundreds of satisfied students.
Of course, people spend lifetimes perfecting their woodworking skills, especially those who build houses or do fine finish work like cabinetry or furniture making. It's not realistic to learn to do these high-level kinds of projects in a long weekend workshop. However, you can take the first steps that every carpenter and fine woodworker once took. And you'll leave with the ability to turn your basic ideas into reality, right away.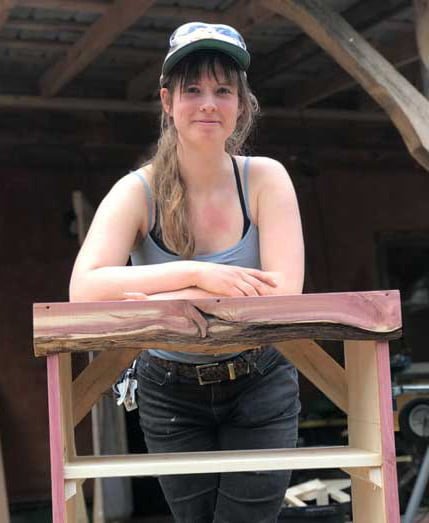 ---
Frequently Asked Questions about Women's Basic Carpentry
---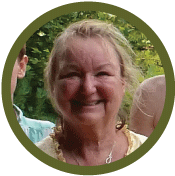 "This was the best workshop I have ever participated in. I am planning on taking more at Wild Abundance. I have much more confidence and the skills I learned are invaluable to me, as I live alone and hate to depend on someone for simple carpentry needs."

Dannie Piped
Women's Basic Carpentry Student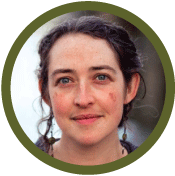 "I've always been drawn to building and carpentry, but I've never had the basics explained to me in a coherent, hands-on way. The Women's Basic Carpentry Course at Wild Abundance was the perfect incubator for my skills and confidence. The teachers were genuine, enthusiastic, and so willing to share their hard-earned knowledge and wisdom. One of the most valuable things I learned was how to be realistic with my plan—how to slow down on the front end and invest a bit more time into planning my projects so I can be more efficient and productive as I begin to build. I highly recommend this course."

Jocelyn Mosser, Marshall, NC
Professional Counselor
Women's Basic Carpentry Student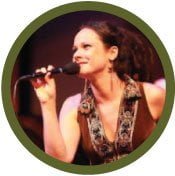 "Thanks to you I now have an impact driver and drill kit, a skill saw, speed and carpenter squares. I've finished my first project! This was immensely gratifying. My dad and husband helped me on the roof but I did the rest myself. I hope you're well and I can't thank you enough. I love my scooter shed!"
Annie Sellick, TN
Nashville Jazz Singer
Women's Basic Carpentry Student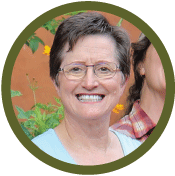 "I recently finished the Basic Carpentry Course at Wild Abundance and was blown away. I'm not sure exactly what I had expected, but my expectations were exceeded.
We were trained how to use all the tools safely and were coached as we tried. In the course we were taught exactly how to measure, mark, and cut with the appropriate tool.
I was surprised by the age spread of the participants. We had students from 14 to 70, and I enjoyed all the camaraderie. Everyone was willing to help others, so each person's skill level just added to the learning process. The days were intense, but each person could work at her own pace.
The instructors were very hands-on and patient. Some students arrived concerned that they didn't know as much as others, but no one left feeling intimidated. The students and teachers alike were encouraging and kind, and everyone finished the course feeling more confident and skilled. Overall, it was a great experience, and I recommend this course to anyone who wants to be more capable of handling projects and skilled at preparing for and executing them."
Patty Rhodes, Greenville, SC
CEO of manufacturing company
Women's Basic Carpentry Student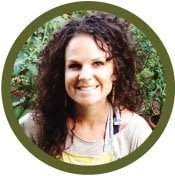 "I took both the Basic & Advanced Women's Carpentry workshops in the summer of 2019 and am so glad I did! I had spent some time going through the motions of buying my first home, and after lots of searching, it was clear that I'd either have to settle for something I didn't even really like a whole lot or build it myself! And with that realization, I got a real bad itch to build my own home that all at once, became equal parts exciting and overwhelming. Basic carpentry seemed like the most logical place to start. 🙂 
I didn't realize how much I was going to enjoy the fact that the workshops were just for women. I felt that it created a softer, more supportive, open, and uniquely empowering learning environment. Our instructors Natalie, Barron, and Ella were all incredibly knowledgeable and helpful. Their diverse experiences and styles only added to the wealth of information being shared and made for a very well-rounded learning experience. I felt the projects tackled were also diverse enough to serve different skill & comfort levels. (I was even given several opportunities to challenge a wee fear of heights. Bonus!) And overall, there was an incredibly refreshing and rewarding balance of hands-on instruction and space to figure it out on your own, which I believe is one of the best ways to learn. The campus is so beautiful, the food is especially delicious, and the learning is so good! I'm so excited to be one step closer to building my own home someday! Thank you!"
Sass Ayres, Asheville, NC
Restaurant General Manager
Women's Combined Carpentry Student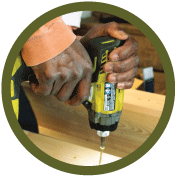 "I was really surprised and pleased at HOW MUCH I enjoyed this class. I expected it to be Darned Good and for me to learn a bunch. What I experienced was that it was really really well planned, well orchestrated, and I left having both had a fantastic time (loads of laughter) and feeling deeply empowered. The setting of just being with women freed me up to ask "stupid questions" and feel anything but stupid. Within a few moments of getting parked and starting class, Natalie handed us balanced and thoughtful schedule, which I really need to feel relaxed (to know when I can rest and settle in and the like). The meals were nourishing and beautiful. The facility was inspiring and well-kept. And perhaps best of all, the teachers were patient, skilled and supportive. I loved it so much that I would do it again in a heartbeat, both to brush up on my skills and solidify them more deeply, as well as to enjoy the beautiful space and camaraderie."
Karen
Women's Basic Carpentry Student
---
Instructors
---
Class Location
This class is held in Barnardsville, at the Wild Abundance home campus 
The Wild Abundance home campus is a beautiful and diverse permaculture homestead, about 25 minutes north of Asheville. You'll receive detailed directions on how to get here upon registration. This is where Wild Abundance founder and director Natalie Bogwalker lives with her family. It's nestled amidst a handful of other homes in a small community on a short gravel road. If you're attending a class hosted at Wild Abundance, you will likely also traveling on field trips or going to other nearby sites for builds.
Please note: our campuses are all unconventional, with rustic amenities and uneven ground. Read more about our campuses here.
Local Accommodations and Facilities
Wherever you're coming from, you're welcome to pitch a tent in one of our flat camping spots in the woods or field, or to tie a hammock in the forest on our seven-acre property. If you live locally, you may prefer to commute to Wild Abundance from Asheville (25 minute drive). If you choose to camp, please bring your own bedding and rainproof tent or tarp. In the early spring and late fall it can be cold at night, so please bring warm bedding if you'll be here before May or after September. We have a lovely outdoor kitchen equipped with a stove and running water, an outdoor shower, and an outhouse available to campers.  In extremely cold weather, the sink and shower may be out of operation due to water freezing.
If you prefer something with more creature comforts, we suggest you browse Airbnb for numerous options close to the campus. You can also check out local motels and B&Bs within a 10-15 minute drive to Wild Abundance. We'll send a list of links to several options (with varying amenities and prices) in a welcome letter upon registration.
---
Registration Info
Pricing for Women's Basic Carpentry
Regular Pricing: $850 – $1,700
Please pay what you can afford.  The median price is suggested to help cover the full cost of hosting this class. Please select the low end of the sliding scale if you are low income. If your household income is over $115,000/year, please select the maximum fee. Please place yourself in this range where you deem appropriate, based on your income.
Pricing for Women's Carpentry Package
Includes Basic and Advanced Women's Carpentry 
Regular Pricing:  $1,600 – $2,560
Please pay what you can afford.  The median price is suggested to help cover the full cost of hosting this class. Please select the low end of the sliding scale if you are low income. If your household income is over $80,000/year, please select the maximum fee. Please place yourself in this range where you deem appropriate, based on your income.
Please note that our Advanced Women's Carpentry Class is only available to those who have already taken the Women's Basic Carpentry Class. 
Course Dates:
Apr 6-9, 2023
May 11-14, 2023
Jun 8-11, 2023
Jul 20-23, 2023
Aug 24-27, 2023
Join the WAITLIST to be notified when new sessions open for registration
You'll also receive our regular newsletters