Are you looking for ways to save money building a tiny house? Look no further! Here at Wild Abundance, we've designed and built dozens of tiny homes using various money-saving techniques. In this post, we'll share some cost saving tips for building a tiny house on a budget.
Break down your budget 
One of our no-brainer tips to save money building a tiny house is to create a budget. This way, you can ensure you're not spending money you don't have. We like to break out tiny house building budgets into four categories: design and planning, materials, labor, and other expenses.
Check out the video below to learn more about our approach to tiny house budgeting.
Design and planning
Costs associated with a tiny house build's design and planning phase can make up to 10% of total project costs. Hiring an architect to translate your tiny house dreams into a physical reality will take up the bulk of that 10% cost. The first budgeting phase includes a rough, loose budget, where you might tell the architect what you can afford. The architect will try to create a design that falls within your price range, but it isn't necessarily the architect's job to know the cost of everything. First, the architect will take your design ideas and create a floor plan. From that floor plan, you can determine material costs and whether or not the project is feasible.
Learning how to design your own tiny house can save you some money in this phase of the building process. In our online Tiny House Academy, we teach you how to custom design your tiny house without the help of an architect. By learning to make architectural drawings on your own, you can save up to 10% right off the bat.

Creatively source materials 
Building material costs can make up about 40% of your overall tiny house project costs, or more if you plan to do all the labor yourself. And, with ever-increasing lumber and material costs, it can be easy to hit that 40% quickly. If saving money building a tiny house is your priority, we recommend getting creative when sourcing building materials. One way to do this is by sourcing used materials, since buying used materials can cost less than buying new ones. You can sometimes even get used materials for free! Luckily, there are many creative ways to get second-hand materials for your tiny house.
One great source for both new and used building materials at reasonable prices is at Habitat ReStores, home improvement stores operated by non-profit Habitat for Humanity. There, people donate building materials, appliances, fixtures, and more. It's even possible to get lucky and find new materials that were never really used. These include materials that were overstocked or were ordered for a job and returned. And the money made from items purchased at ReStores goes directly back into local communities to build, rehabilitate, and repair homes. Shopping at ReStores is a win-win for you and your community members in need.
Craigslist is another go-to tool we like for finding inexpensive building materials. For example, if you search for "used hardwood flooring" on Craigslist, you will likely find some results that fit your needs. If you go the extra step to help the person tear out the material they're offering, they might even give you the materials for free. Facebook Marketplace is another excellent resource for searching for second-hand tiny house building materials.
An important note about sourcing used building materials: Sometimes they're not worth it. You may pay later in the time it takes to utilize these materials. So, be thoughtful about what you source used, and when it makes sense to buy used. We explain more about this in our online Tiny House Academy. 
Check out the video below to hear more creative sourcing suggestions. 
Use natural materials 
Another great way to save money while building a tiny house is to use the natural materials available to you. For example, building a log cabin from trees you can find on your land is pretty affordable. By milling your own lumber from trees on your land, you get a higher quality and less expensive product than you'd find at a lumber yard or big box store. And a natural building technique like slip straw allows for a relatively fast construction process and doesn't require much labor. Not only does building with natural materials help save money, but it also helps reduce waste and lessen the ecological impact of your tiny home.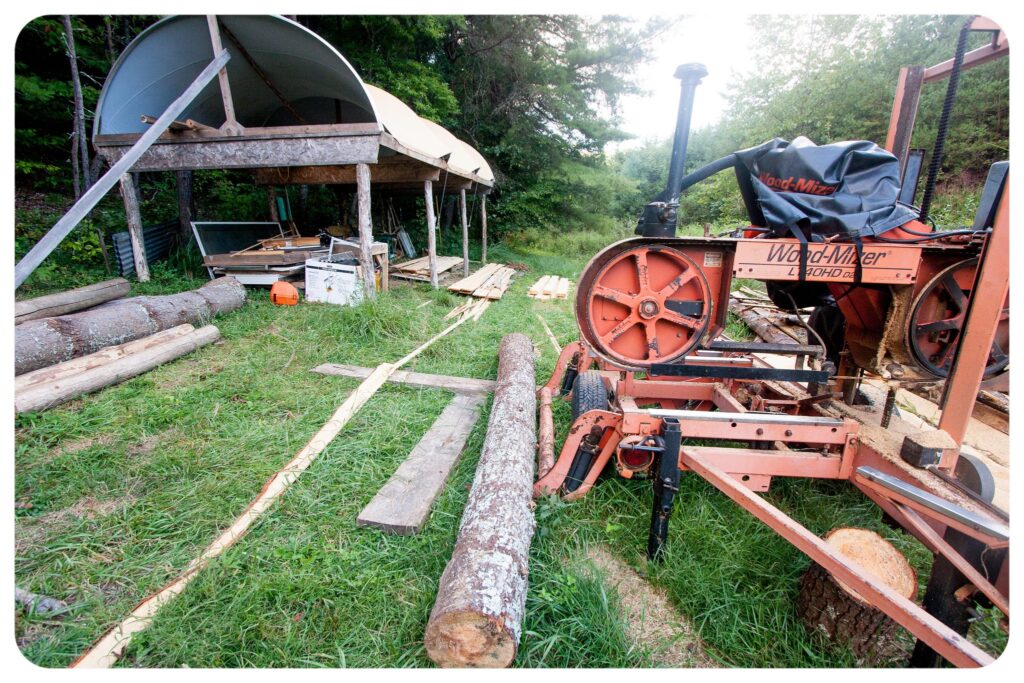 Consider buying or building out an existing structure 
Instead of starting from scratch, purchasing an existing structure can save you money in your tiny house journey. Take campers, for example. Buying a camper and re-doing the interior to your liking can cost less than buying a trailer and adding insulation and a floor system. Similarly, you can build out school buses, vans, and shipping containers like this. 
If you live somewhere you know you'll be for a while, there might be a shed on site that you can transform into a tiny house. Or, you might be able to build out part of a pre-existing barn. Sometimes, you can even find tiny homes for sale that have been halfway built. You're likely to find halfway-built tiny homes from people who decide that tiny living isn't for them after starting their build. Halfway-built tiny homes might not necessarily be the layout you want, but they can cost you a fraction of what it would cost to build using new materials.
Tool sharing and MakerSpaces 
Hot tip: you don't have to own all of the tools necessary to build a tiny house! Instead of buying tools you might only use a few times, tool libraries allow you to borrow them. These tool-sharing programs reduce waste and conserve resources by limiting unnecessary purchases. Here in Western North Carolina, we're grateful to have the Asheville Tool Library right at our fingertips. Why bother investing in a $1,000 table saw when you can get one on loan? 
MakerSpaces are fantastic resources, too. MakerSpaces are communal, collaborative workspaces where you can often find people building furniture and doing other woodworking projects. By joining MakerSpace communities, you can engage with other builders and likely even set up trades on each other's projects.
Be the labor 
You've probably heard the age-old adage "time is money." Well… it's true. When you invest time into your tiny house build by doing things yourself, you'll save significant money. Since labor typically makes up about 30% of overall project costs, you can reduce the cost of your tiny house by DIY-ing your build.
Hiring a contractor and any paid laborers they might employ can cost anywhere from $35 – $100 per hour, depending on your location. Luckily, some contractors will allow their clients to work with them and do the grunt labor that might otherwise be hard to hire out. Think of your contractor as your boss: let them give you direction and then do the work yourself, rather than paying hired laborers. Not only will contributing to your build in this way save you money, but you'll likely also gain a deep sense of satisfaction for your work. Having a basic level of carpentry skills will be handy if you go this route. We recommend enrolling in a tiny house building class, or a basic carpentry class to up-level your building skills, as needed.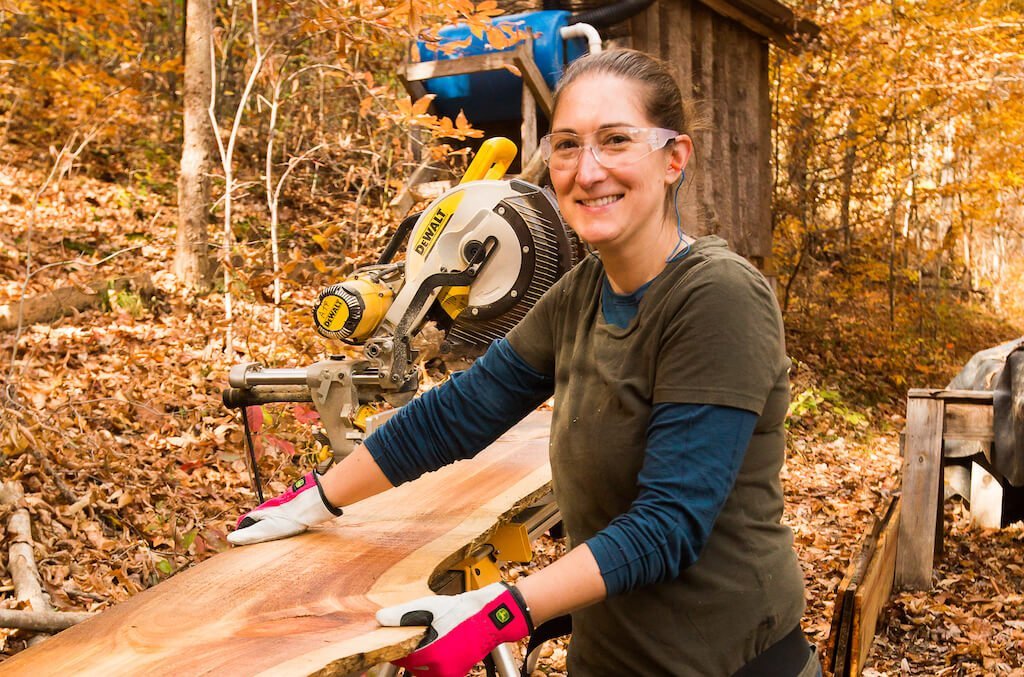 That said, some tasks absolutely make sense to outsource in your tiny house build. Take electrical systems, for example. If you try to set up your own electrical system with minimal knowledge and experience, you could set your house on fire. But if you DIY your window trim and it looks a little wonky, it's not as big a deal. Knowing when to hire out expertise is critical for the safety and integrity of your tiny house.
Call on community
The culture shift that the tiny house movement is a part of involves reimagining our relationships with one another. Asking your friends for a little bit of help is not just a great way to save money on labor, it also helps create community. 
We encourage you to try time-sharing with those in your community who might also be building. For example, if you have a friend who has a building project, you could work on your tiny house together on Mondays and their building project on Fridays. You can also tag along with friends who might be doing a siding job, flooring, or roofing job. Ask if you can be their free laborer for the day in exchange for learning about the process. People are often quite generous in sharing their knowledge, especially if they can get free labor in exchange.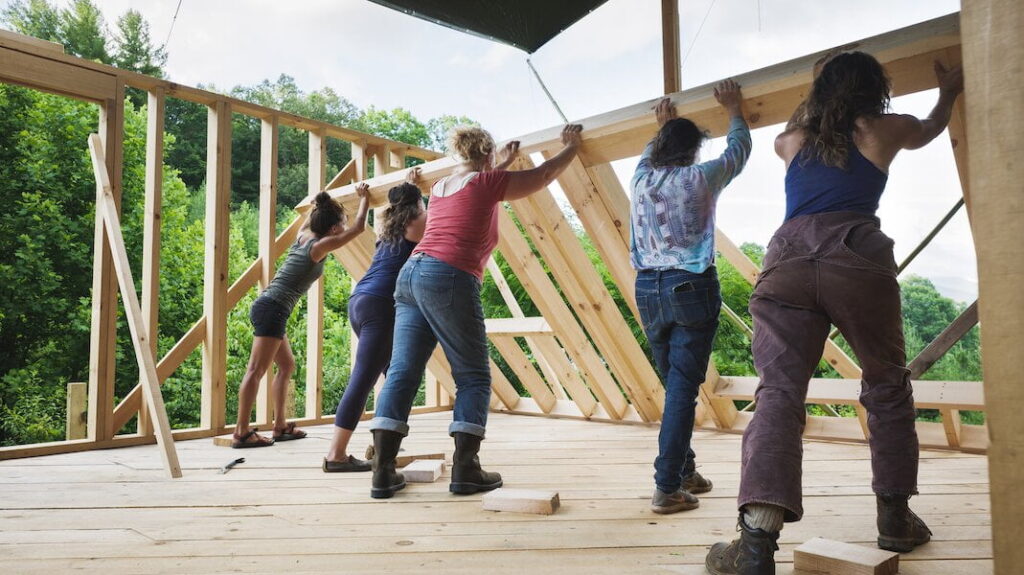 Hosting work parties is another option for leveraging community support. It requires coordination to organize the people, tasks, and tools that are essential for work parties. But they're a wonderful way to include people in your build, especially those who might want a glimpse into the process. Before organizing your own work party, tap into your community and see if there's another one on the horizon and show up and plug in as you can. 
With the resurgence of DIY culture and community building, empowering each other and learning and building together is easy. This way, we can support each other to save money and be less dependent on mass-produced industrial building materials and systems.