Get deep satisfaction from learning carpentry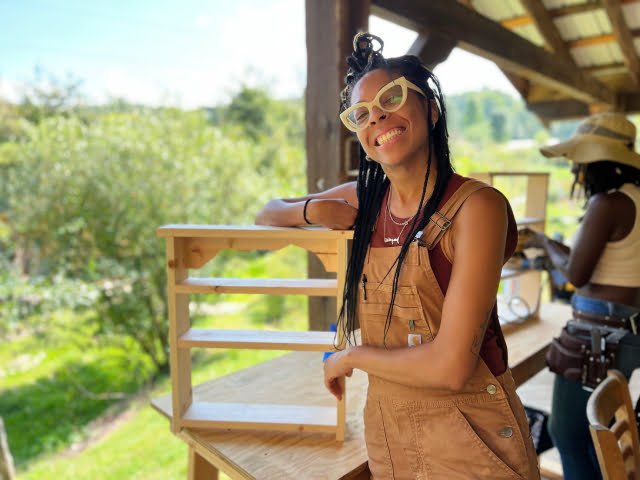 In a culture that's zooming toward virtual reality and digitizing the day-to-day, not everyone grows up learning how to use tools and work with their hands. Our woodworking class for beginners and folks who have used tools, but don't feel totally comfortable with them is here to change that. No matter your lifestyle, you surely interact with physical objects like shelves, chairs, tables. Learning carpentry can be rewarding and satisfying whether you want to build for yourself, feel confident fixing things around the house, or interacting with folks you hire in a confident way. Studies have shown that working with our hands actually increases "happy hormones" in our brains like serotonin. This class is here to welcome everyone to the world of carpentry and a more hands-on lifestyle.
We also offer Women's Basic Carpentry Classes for women and non-binary folks who might feel more comfortable in that gender dynamic. 
This woodworking class for beginners is truly about learning carpentry from square one.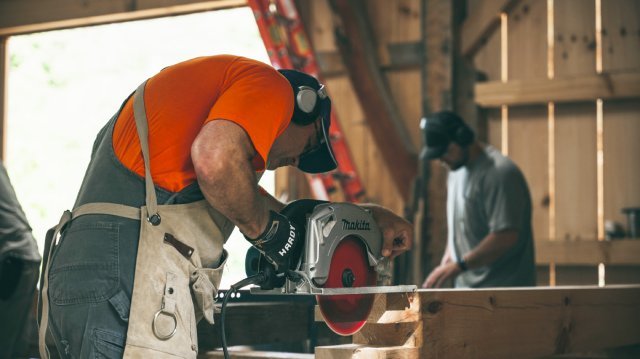 You'll learn to use tools and grow confident with them by working on various sized projects. You don't need any experience to join this class. However, if you've used the table saw, chop saw, circular saw, and hand tools, but don't feel like you have a mastery over them, this is also the wood shop class for you. 
If you're interested in bigger projects, like sheds, pole barns, decks and covered porches, we offer an All Genders Advanced Carpentry Class and a Women's Advanced Carpentry Class for graduates of the basic class. After you've completed the carpentry and woodworking class for beginners, you are qualified for the advanced classes. BONUS: when you sign up for this more advanced class at the same time as the basic class, you get a discount!
---
We set the stage for learning by creating a comfortable, relaxed, and fun learning environment. No pressure to "get things done," instead we focus on learning.
---
What to Expect: Learning Carpentry Step by Step
During this four-day woodworking class for beginners, we will cover basic carpentry skills through lectures, demonstrations, and lots of hands-on practice. 
Topics covered in this woodshop class include:
Learning which tool should be used for which purpose

How to measure and cut accurately

How to use power saws and hand tools safely and effectively

Hand tool techniques and safety

The basics of wood, it's strengths, weaknesses, and how to choose the right board

Designing and creating your own project to take home
This wealth of information will be shared in a way that meets everyone where they're at and welcomes engagement. We firmly believe that there are no "dumb questions."
---
Class Schedule and Timing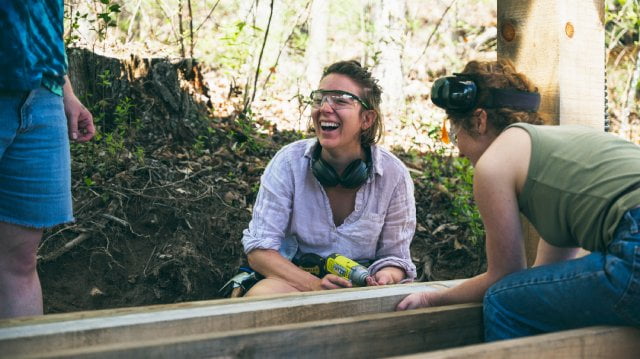 9:30am – 5:00pm each day* with an hour for lunch. 
Please note: Some classes will have slight changes in the schedule due to weather, the needs of the projects, and the desires of the group. Some students choose to come early on the last day to start their personal projects.
* Class ends by 4:30pm on the last day, and students may leave whenever they finish their personal projects on this day. This can be as early as 3:00pm if they have time constraints and choose a very simple project. During our lunch break on Sunday we hold a closing circle, which we encourage everyone to stay for, if they're able.
---
Day 1: Get a handle on woodworking and carpentry tools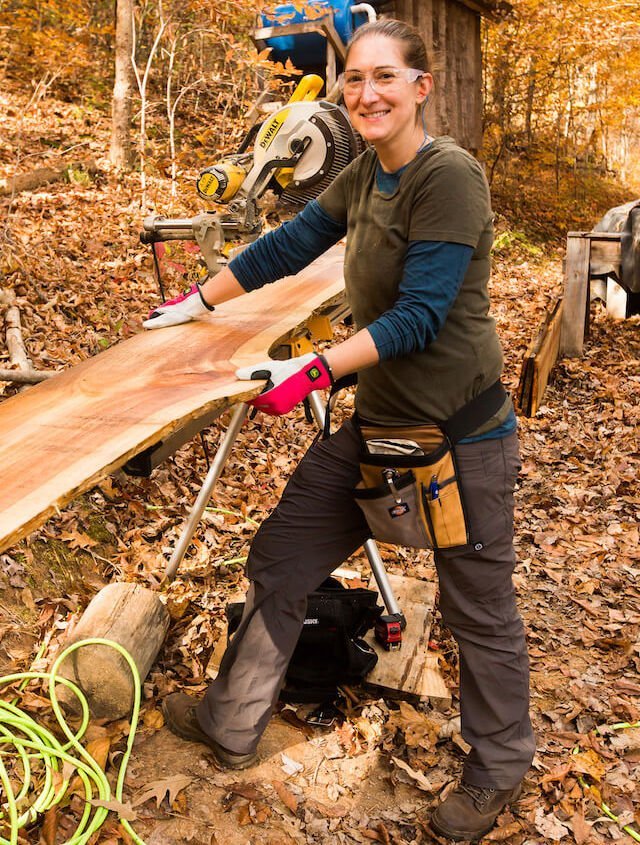 To begin, we'll have an orientation and overview of the wood shop and class flow and details. Then, we'll move into tools. We'll address which tools to use when, safety, and ergonomic use. You will get a chance to see each tool demonstrated, and then you'll practice using it yourself, with lots of guidance and support, of course! In order to promote a sense of safety and mastery, when we get into the circular saw, table saw, and sliding mitre saw (the more intimidating tools), we break the class into three groups, to make sure everyone gets the focus that they need. 
Tools we'll cover on day one include:
Safety equipment

Carpenter's pencil

Measuring tape

Speed square

Table saw

Miter saw and sliding miter saw

Circular saw

Chop saw
Day 2: Design of projects, other tools and a field trip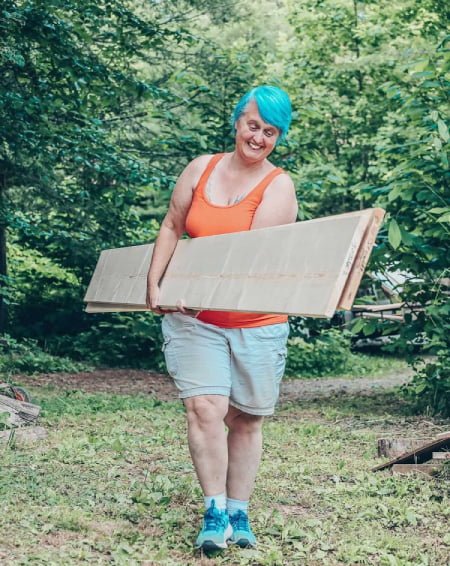 Plan out your personal project, explore more tools, and learn to navigate a lumber yard
On day two, we'll get our hands on more tools, learning safe and proper use of drills, drivers, drill bits for making holes in wood and driver bits for driving screws into wood. 
Your Personal Project
On day two of this woodworking class for beginners, you'll also choose and design your own small personal project (to be built on day four). To do this, you'll get plenty of support and guidance from the instructors. In order to ensure every student's success within a specific timeframe, we limit personal projects to a selection of simple objects. You can choose to build a tool caddy, small shelf, or a birdhouse.
After lunch, we'll leave the wood shop and head to the lumber yard to pick out materials for everyone's personal projects. While we're there, we'll explore lumber selection and how to choose a straight board (surprise, not all boards are straight!). Before the field trip, we'll discuss what kinds of wood are appropriate for different projects, and go over screws and other fasteners, including their application. Equipped with this knowledge, everyone will buy what they need for their personal projects, which we'll actually build on day four.
Day 3: Final Tools and Group Project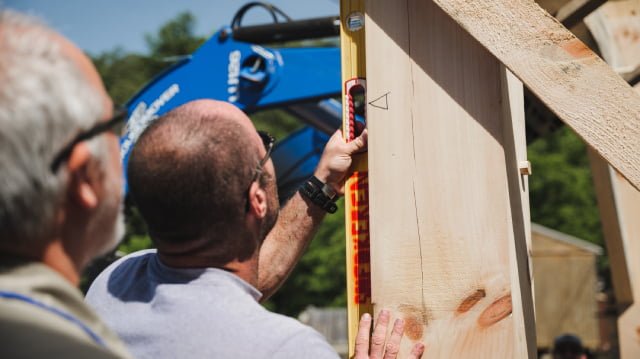 We'll have our last tool class, covering:. 
Chalk lines

Levels

Hand saws

Hammers
After lunch, we will transition to group projects. This means working on infrastructure on the campus. The point is not to get things done quickly, but rather to focus on gaining muscle memory and mastery of tools that have been covered already in the class.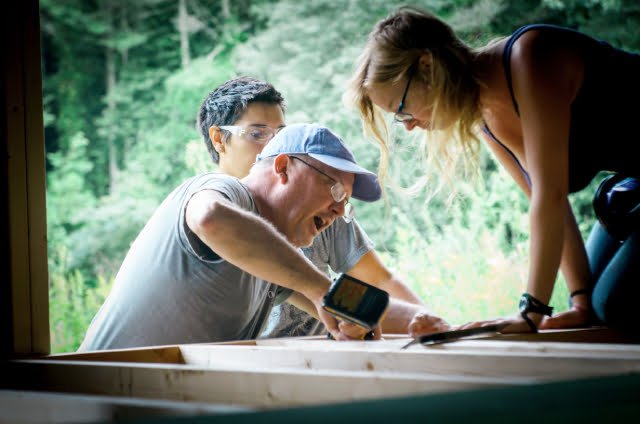 No matter what the specific projects are, they're always something real; you won't just be cutting and screwing scrap wood; you'll be contributing to actually building something. We choose group projects in the woodworking class for beginners so that students get an opportunity to practice the skills that are the foundation of this class.
Here are some possibilities of what your group might get into:
Working on a deck

Building a fence

Putting diagonal sheathing on a building

Building shelves

Putting siding on a building

Building a bridge over a small creek
Day 4: Your Own Woodworking Project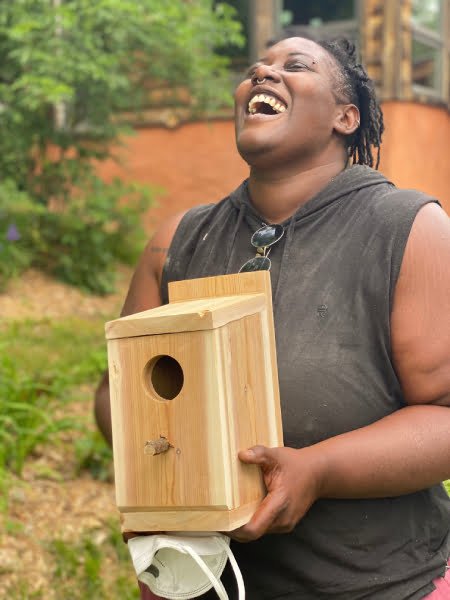 On day two you made a cut list and a materials list, and you purchased the boards for your personal project. Day four is when you will use your design to cut your boards, assemble your creation, and fasten its pieces together. Instructors will be guiding you through the process. You'll get support to help you complete your project and learn while doing. We try to equip our students with the skills and confidence to be able to design and create projects on your own, once you leave class. 
Note on Day 4 End Time of this Wood shop Class:
We'll close up the wood shop earlier than days 1-3, at 4:30pm. Students who choose the most simple project, a small shelf, may end early.
---
Enjoy our beautiful outdoor woodworking classroom near Asheville, NC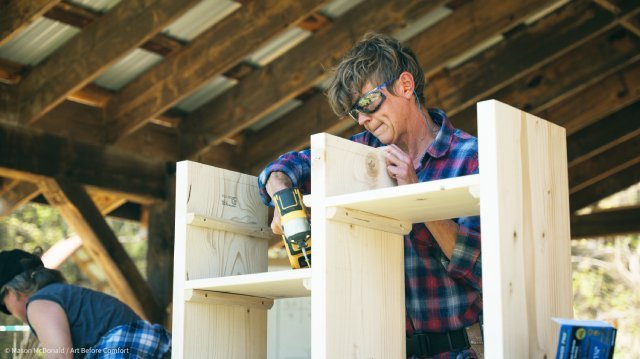 Our wood shop for this class is one of the lovely Wild Abundance homestead campuses. During the class, we work in several covered areas amidst mountain views and native plants. There, students can use tools and work on projects with fresh air and a gorgeous backdrop. As a result, many folks who come to learn carpentry also get excited about the other things we do here, like permaculture and gardening. Additionally, getting to learn and work in this simple, outdoor wood shop can be very inspiring. Please note: class happens mostly outdoors (under cover), rain or shine, whatever the temperature.
---
Build your ideas into reality in this woodworking class for beginners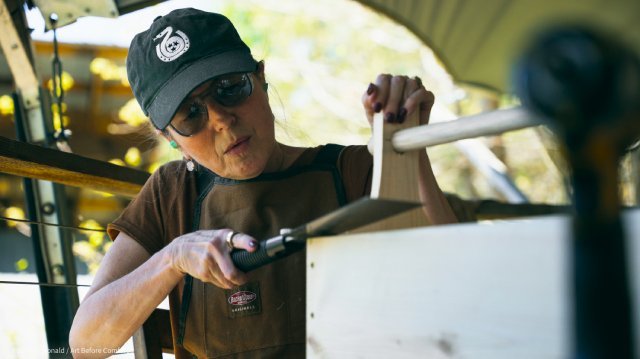 You might be asking yourself, can I really learn carpentry in a weekend woodworking class for beginners? And we're here to tell you that, yes, it's absolutely possible! In one long weekend, you can understand how to work with wood, get comfortable with tools, and learn how to plan out and design your own simple carpentry projects. We've seen it happen time and again, with hundreds of satisfied students.
Of course, people spend lifetimes perfecting their woodworking skills, especially those who build houses or do fine finish work like cabinetry or furniture making. It's not realistic to learn to do these high-level kinds of projects in a long weekend workshop. However, you can take the first steps that every carpenter and fine woodworker once took. And you'll leave with the ability to turn your basic ideas into reality, right away. 
---
Frequently Asked Questions about the Basic Carpentry and Woodworking Class
---
Class Location
This class is held in Barnardsville, at the Wild Abundance Paint Fork Campus
Our Paint Fork campus is a bustling creekside landscape with gorgeous mountain views and lovely outdoor classrooms and facilities. It's 30 minutes north of Asheville. You'll receive detailed directions on how to get here upon registration. If you're attending a class hosted at Wild Abundance, you may be traveling to other sites for field trips.
Please note: our campuses are all unconventional, with rustic amenities and uneven ground. Read more
about our campuses here
.
Local Accommodations and Facilities
Wherever you're coming from, you're welcome to pitch a tent in one of our flat camping spots in the woods or field, or to tie a hammock in the forest. If you live locally, you may prefer to commute to Wild Abundance from Asheville (25-30 minute drive). If you choose to camp, please bring your own bedding and rainproof tent or tarp. In the early spring and late fall it can be cold at night, so please bring warm bedding if you'll be here before May or after September. We have a lovely outdoor kitchen equipped with a stove and running water, an outdoor shower, and an outhouse available to campers.  In extremely cold weather, the sink and shower may be out of operation due to water freezing.
If you prefer something with more creature comforts, we suggest you browse Airbnb for numerous options close to the campus. You can also check out local motels and B&Bs within a 10-15 minute drive to Wild Abundance. We'll send a list of links to several options (with varying amenities and prices) in a welcome letter upon registration.
---
Registration Info
Pricing for All Gender's Basic Carpentry
Regular Pricing: $850 – $1,700
Please pay what you can afford.  The median price is suggested to help cover the full cost of hosting this class. Please select the low end of the sliding scale if you are low income. If your household income is over $115,000/year, please select the maximum fee. Please place yourself in this range where you deem appropriate, based on your income.
Pricing for Basic and Advanced Carpentry Package
Includes Basic and Advanced Carpentry 
Regular Pricing:  A single, $250 discount will be applied if companion courses are purchased together.
Please pay what you can afford.  The median price is suggested to help cover the full cost of hosting this class. Please select the low end of the sliding scale if you are low income. If your household income is over $115,000/year, please select the maximum fee. Please place yourself in this range where you deem appropriate, based on your income.
Please note that our Advanced Carpentry Class is only available to those who have already taken the Basic Carpentry Class. 
Join the WAITLIST to be the first to know about next year's class sessions
You'll also receive our newsletters