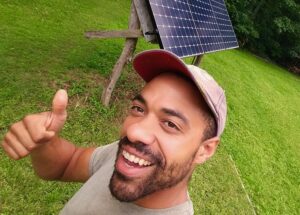 Keenan (he/him) was always curious as a young kid. His parents were building a house around age 3-5 and they spent time seeing many houses in progress. He loved it! Touring an unfinished house was one of his favorite things to do as a kid, picking up strips of nails, seeing where the pipes and wires went, the rough framing, sheetrock halfway hung. He learned a lot from that and still enjoys being in homes of all stages of construction.
Out of high school Keenan went to college to study Physics and Engineering, but after a couple years decided that wasn't quite the path for him. He'd always dreamt of building his own home and finally embarked on that journey in his mid-twenties figuring it would be better to apply that college education in a way that could liberate his life rather than indebt it. It caught the attention of friends and neighbors and resulted in the accidental creation of his small construction/renovation business, KSPhillips Contracting.
He recently finished his 5th start to finish house (2nd fully off-grid solar electric) and got the 6th one "dried-in" during one of Wild Abundance's Tiny House Workshops. He's done many other projects and renovations over the years and is excited to share what he's learned to empower others. Keenan is truly wise beyond his years. Check his website or Instagram (@KSPhillips_Contracting) to get a glimpse of all the wildness he gets into!