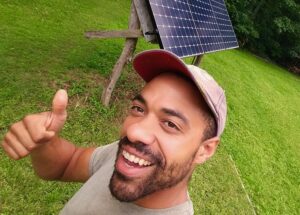 Keenan (he/him) was always curious as a young kid. His parents were building a house around age 3-5 and they spent time seeing many houses in progress. He loved it! Touring an unfinished house was one of his favorite things to do as a kid, picking up strips of nails, seeing where the pipes and wires went, the rough framing, sheetrock halfway hung. He learned a lot from that and still enjoys being in homes of all stages of construction. He was also taught by a neighborhood teenager to skateboard and work on bicycles around the age of 7 so that got him tinkering with mechanical things and eventually building skateboard ramps. A family friend also taught him to build radio controlled airplanes from raw balsa wood and wire up motors, servos, and radio controls.
He'd always dreamt of building his own home one day and finally embarked on that journey 6 years ago. It's still a work in progress, but it caught the attention of friends and neighbors and resulted in the accidental creation of 
his small construction/renovation business, KSPhillips Contracting
. He is now assisting a friend in building their home which is his 5th one start to finish. He's done many other projects in these recent years and is excited to share what he's learned to empower others.