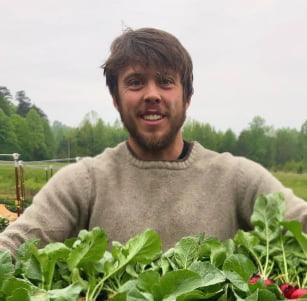 Noah (he/him) is a farmer, writer, and educator that has gratefully called Western North Carolina home since 2014. At the core of all he does is an interest in relationship, both human-human and human-earth. This is why he farms: so that he can spend as much of his waking life as possible engaged in all forms of deep relationship with his community.
Noah has worked as a field biologist, forestry technician, arborist, land design consultant, and farm manager. His farming philosophy is grounded in a strong understanding of ecological patterns and a passion for effective small farms that revitalize rural communities and economies. With his diverse background and wide knowledge base, Noah co-runs Wild East Farm, facilitating a thriving farm ecosystem and educational space in which the community can become immersed native ecology, soils, animal physiology, and viable farm production systems. 
He looks forward to a lifetime living alongside and learning from the agrarian community of this place.