Equip yourself with the tools you need for self-sufficiency and sustainable living in this unique Permaculture Design Course
One 3-day weekend a month, April-November
Plus exercises and projects to work on at home
---
This class might be the deepest permaculture design course out there.  That's because in addition to the 72 hours of content required for certification, we include more than 100 hours of additional classes and instruction.  In order to help you build a strong foundation, we integrate multiple modalities into the program.  Specifically, it covers skills that we believe are indispensable for sustainable living, such as:
Foraging for food and medicine, friction fire, natural building, community dynamics and communication, whole-systems thinking, preparing for catastrophe, human nutrition, water management, homestead economics, and much more.
The Earth Skills and Permaculture Immersion Course grew out of our "Essentials" course. We've added a whole day of instruction each month, plus some amazing new guest instructors (see below).
What to Expect in this Permaculture Design Course: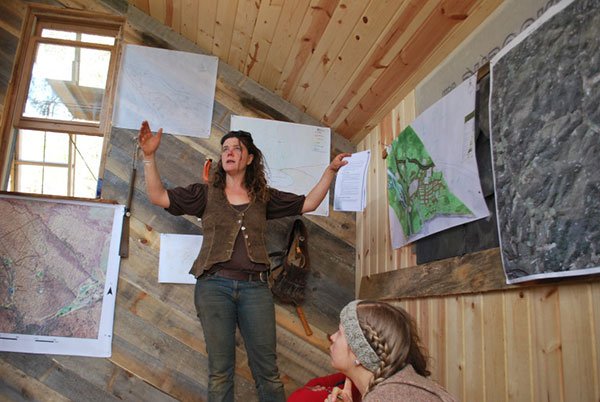 Students will have the opportunity to delve deeply into the content, integrating what they are learning into their lives. To do this, we meet for one three-day weekend intensive per month. Each weekend has a theme and covers a group of topics and skills. The design projects each student will create in a small group (part of the requirement for permaculture certification) will be informed by months of learning, observing and reflecting. Class time will be a dynamic mix of hands-on projects, site visits to observe principles in practice, group discussion, lecture and supported design time.
Schedule of this Intensive Path to Permaculture Certification
Special Note: If you are unable to attend one or two weekends, not to worry! There will be opportunities for you to make-up classes by attending other Wild Abundance classes, self-study or attending the classes you missed next year.

Hours are generally
Friday: 9:30am-1pm, 2-5pm and 6-8:30pm
Saturday: 9:30am-1pm, 2-5pm and 6-8:30pm
Sunday: 9:30am-1pm and 2-5pm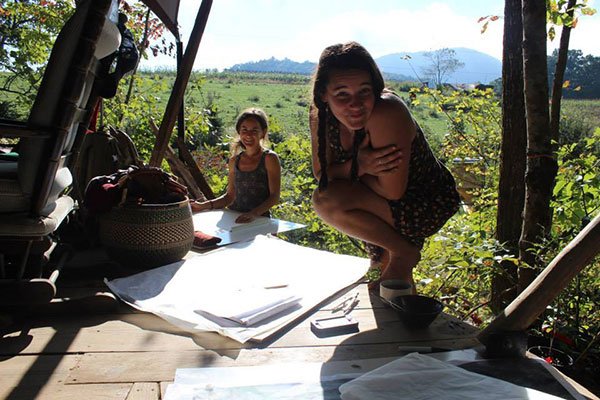 Learn from Seasoned Homesteaders in and around Asheville, NC, plus a few Visiting All-Stars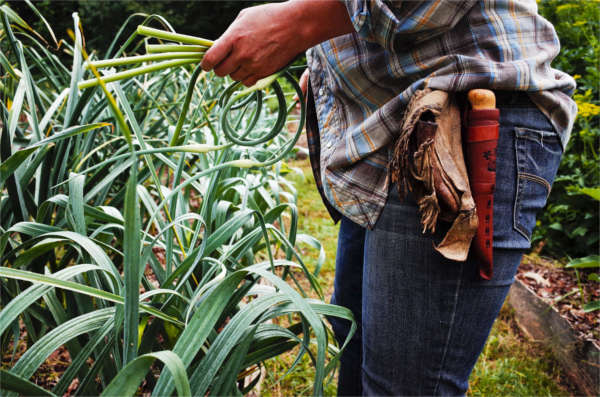 We are lucky to live in a hotbed of modern day back-to-the-landers and homesteaders living with ingenuity and creativity.  Asheville is known as a hub for organic gardening, natural building, intentional community development, earthskills, and permaculture.  Our instructors are some of the area's finest in their fields. They teach their specialties and passions, infusing this permaculture design course with a wealth of experience, inspiration and engaging teaching styles.  
Along with our local legends, this year we are excited to welcome a few extra-special instructors from further afield, including:
Eric Toensmeier, award-winning author, Yale lecturer, international trainer, and best of all, brilliant permaculturist with two decades of practical and theoretical experience.  A perennial vegetable and carbon farming expert, Eric will help us learn to survive and thrive in the face of global climate change.
Ben Falk lives permaculture every day at his Vermont homestead, a testing-ground for ideas and projects that he shares with the wider world through teaching, consulting, and writing. He's the author of the award-winning book "The Resilient Farm and Homestead." This guy walks his talk!
Brad Lancaster is an expert in the field of rainwater harvesting and water management. He authored the book on these subjects, "Rainwater Harvesting," and he has created a verdant oasis at his home in Tucson, AZ, where rainwater is often less than 12 inches per year!
See more about individual instructors at the bottom of this page.  
---
Dates and Details of the Immersive Permaculture Design Course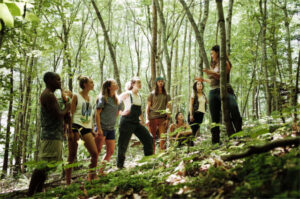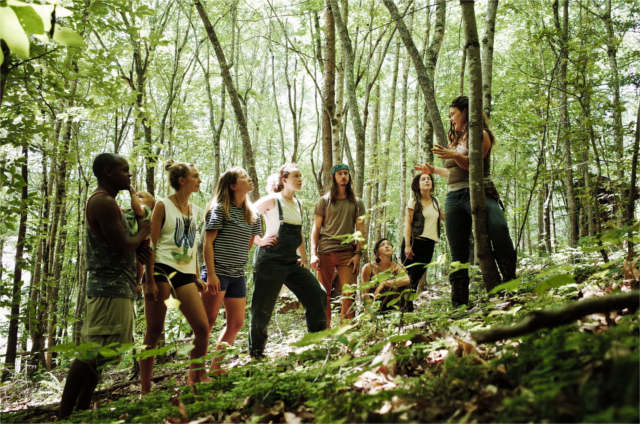 April 26-28, 2019: Wild Foods Hike, Nature as Teacher
Backpacking trip covering identification and uses of wild edible plants and mushrooms, medicinal plants, botany, foraging edible weeds and wild foods cookery. The forest (and our team of naturalists and botanists) will introduce us to plant guilds, holistic forestry, climates, biogeography, microclimates and reading the landscape.
---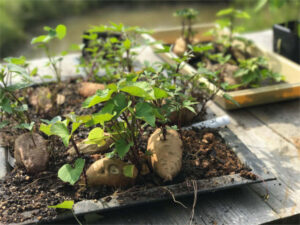 May 17-19, 2019: Sowing Seeds and Lighting Our Fire, the Journey Begins
Fire-by-friction, early spring gardening and garden planning, seed starting, knife sharpening, permaculture principles, knife sheath making, and more. We'll review the process for getting your permaculture certification.
---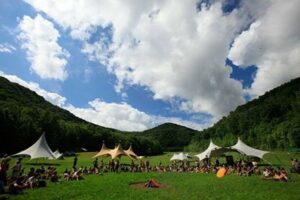 June 28-30, 2019: The Firefly Gathering, Earth Skills and Community
A weekend pass to the Firefly Gathering (the largest primitive skills gathering in the US), which hosts dozens of classes on permaculture, eco-homesteading, and primitive skills taught by some of the most knowledgeable and experienced instructors in our field. Think of this as time to explore electives. Laura Ruby will guide you through class decisions and will facilitate a check-in each day to ground these electives within the container of the whole course, if you choose. The rest of the event can be added on at a reduced rate.
---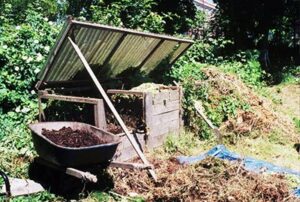 July 26-28, 2019: The Languages of Living Systems
Soil science, permaculture design tools and techniques, making permaculture maps, water systems, earthworks, compost, waste, budgets, fostering independent living,  and more…
---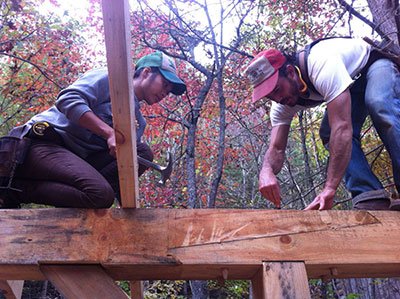 August 23-25, 2019: Structure and Function, Tiny Houses and Natural Building
During the Tiny House and Natural Building workshop, we'll take a tour of local homesteads, have an overview of natural building and do hands-on natural building and carpentry projects. Students can choose to attend just for the 3-day weekend, or can add the rest of the workshop for a reduced fee.
---
September 20-22, 2019: Farms of All Sizes, Integrating Animals and Preserving the Harvest
Urban Farm Tour, playing with pasture management and larger-scale gardening, holistic orcharding, working on hands-on permaculture designs, greywater systems.
---

Designing for Community, plus Spoon Carving
[Optional but highly encouraged!]
Facilitated design time, ecovillage and neighborhood design, and preparing for catastrophe.  You'll also learn homestead economics, and have time to meet with your design groups and spoon carving.
---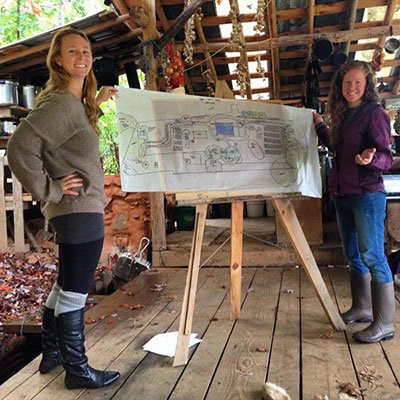 October 4-6, 2019: Going Deep: Permaculture Design Presentations, Hunting, Nutrition, Tools and Basketry
Final permaculture design presentations, human nutrition, tools of the homestead, deep ecology, harvesting materials for baskets, starting baskets, introduction to using chainsaws, introduction to hunting, stalking, and flintknapping.  
---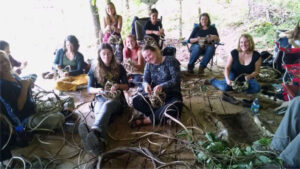 November 1-3, 2019: Weaving It All Together: Getting to Know Ourselves, Communication Skills and Bringing Seeds to the Future
Focus on figuring out where to go from here.  We will look at gifts and abilities, and help each other find our paths and identify the obstacles standing in the way.  We will finish our beautiful baskets, and learn seed saving and fruit tree pruning.
---
"Natalie and her team of instructors thoughtfully constructed a comprehensive PDC program that includes a wide breadth of practical, theoretical and hands-on instruction… I would recommend the program to anyone, but especially to individuals who are looking for a program that covers applications for permaculture design principles beyond basic site design. This PDC thoroughly covers design of both rural and urban sites and includes applications for homesteading, forestry, entrepreneurship and intentional community development… If you have any interest in taking a permaculture design course, you'd be doing yourself a favor by signing up for this one." – (a PDC 2015 student)
---
Instructors
---
Local Accommodations
While some locals prefer to commute to Wild Abundance from Asheville, students from the area and out of town are welcome to pitch a tent in one of our flat camping spots in the woods or field, or to tie a hammock in the forest on our seven-acre property. We strongly suggest bringing a very warm sleeping bag and bedding. We do have a fully functioning outdoor kitchen and bathroom, though in extremely cold weather, sometimes one or both are out of operation due to the water freezing.
If you prefer something more conducive to creature comforts, we suggest browsing Airbnb or checking out some of the local motels and B&Bs within a 10-15 minute drive to Wild Abundance.
Below are a few local accommodations you might find to your liking:
Comfort Inn in Mars Hill, NC
---