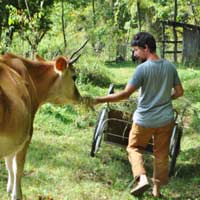 Instructor for Homesteading and Permaculture & Gardening
After dropping out of college in 1994, Cailen (he/him) completed a Permaculture Design Course and year-long natural building and permaculture apprenticeship at the Ecovillage Training Center at The Farm in Summertown, TN, followed by a year-long apprenticeship with Eustace Conway at the Turtle Island Preserve, where he learned a diversity of skills related to early American and Appalachian pioneer-era life ways, including logging with animal power and log-building. For the next 17 years, he made a "career" out of co-creating symbiotic relationships with land-owners and basically homesteading in other people's backyards in and around Asheville, NC. He is locally infamous for his portable suburban barnyard and semi-nomadic dairy goat herd seen foraging around the vacant lots and kudzu patches of West Asheville, his mobile cider-pressing, and his wild experiments in radical nutrition as highlighted in Sandor Katz's book, The Revolution Will Not Be Microwaved.
Cailen met his partner Chloe in 2011 while attending Martin Prechtel's "school," Bolad's Kitchen, which has deeply informed and inspired their evolving approach to reawakening the indigenous soul and keeping the seeds of real culture alive through spiritual farming. In 2013, Cailen and Chloe bought 23 acres in Barnardsville, NC, just a mile up the holler from Wild Abundance, where they are developing a diversified and integrated permaculture-inspired homestead christened Bittersweet Farm. Cailen is passionate about developing community-based resilience, independence from the global/industrial economy, and truly sustainable Earth-based culture. He is also a locally renowned fiddler.