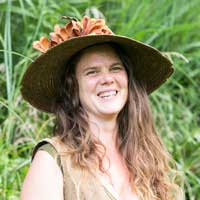 Natalie (she/her) is the visionary behind Wild Abundance, as well as a primary instructor for many classes. She's passionate about teaching and sharing skills to help all kinds of people live in an empowered and Earth-centered way. 
In particular, Natalie gets excited about: cooking ashcakes on coals next to an open fire with her daughter, Hazel; vernacular architecture (buildings built for a specific time, place and culture with local and natural materials); eco-building design; ethical business development; creative and sexy wooden trim; cooperative models; dancing wildly by herself to early '80s music (the music of her childhood); gardening on summer evenings while drinking cucumber water and enjoying the silence that allows plants to speak. 
Natalie is both a teacher and mentor to her students, apprentices, and the Wild Abundance staff. Through this work, she helps to bring forth people's gifts so that they can share them with the world.
Natalie and her family live at the Wild Abundance homestead campus in the Southern Appalachians. She balances her time between managing the logistics of the school, teaching, tending the garden, building, playing with her daughter and partner, visiting wild places, connecting with her community, and basking in the beauty of nature. Amidst all of this she's constantly scheming about how to inspire more and more people to make positive, ecologically minded changes in their lives and in the wider world. 
Natalie first studied Permaculture at The Evergreen State College, where she earned her B.A. in Ecological Agriculture in 1999. After that, she lived her own primitive and purist version of permaculture for 10 years. During the first few of these years, Natalie lived and learned in an informal context in Europe, Central America, the Caribbean, and around the US. Throughout her travels, she studied the uses of native plants, agriculture, traditional building, alternative culture, and radical community structures. For the following five years, she lived extremely primitively at the Wildroots Community. There, she learned to tan hides, built her first cabin, cooked exclusively on an open fire, and drank wild water every day. Click here to read more about Natalie's adventures and life story.
In 2008 Natalie co-founded the Firefly Gathering, as a way to share earth-based skills with more people. After 10 successful years, during which Firefly became the largest earthskills gathering in the country (and the only major one run by a woman), Natalie passed the gathering on to a new director. 
In 2010 Natalie organized her first Permaculture Design Course (PDC), as another way to share permaculture and earth-based skills with more people. It was taught by local instructors Zev Friedman and Patricia Allison. Now, Natalie and Laura Ruby are the primary instructors for Wild Abundance's PDC, along with a slew of guest teachers. In addition to Wild Abundance and Firefly, Natalie has also taught at the Chestnut School of Herbal Medicine, the MAPS Meet, Earthskills Rendezvous, Women's Wilderness Workshops, the Organic Grower's School, Florida State University, Southern Adventist University, Tulane University, Ohio University, Vanderbilt University, Western Washington University, and others. Natalie was also featured in Morgan Spurlock's documentary Freedom in America and appeared in the National Geographic series: Live Free or Die, in an episode titled "Butchers and Builders." She and Wild Abundance have been featured in many publications and podcasts. 
Natalie is grateful for the many teachers she has had over the years who have deeply enriched her life and expanded her perspective. These include: Juliet Blankespoor, Margaret Mathewson, Steve Watts and Frank Cook.