Are you ready to grow some serious food?
Have you always dreamed of growing a garden, but don't know where to start?
Have you felt intimidated by the idea of finding a mentor?
Have you fantasized about tucking seeds into soil and reaping abundant harvests?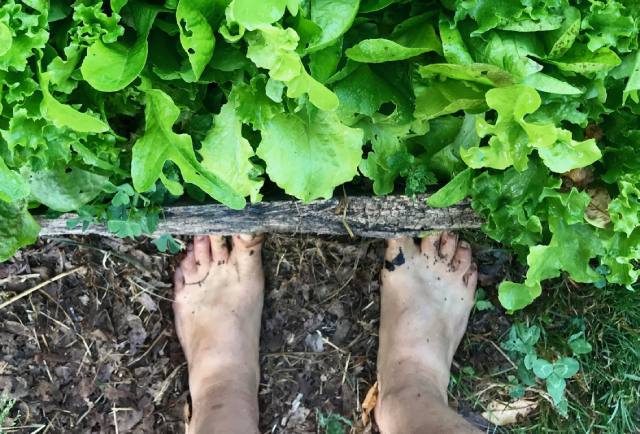 Now is the time to make your dream into a reality.
We're here to help.
Enrollment is closed for 2020. Get on the waitlist and grow with us in 2021
---
Check out our video about the Online Gardening School.
This Online Gardening School will show you how to grow bountiful food, whether you're gardening on your apartment balcony or you've got a quarter acre of sunny ground to work with, or if you're somewhere in between. In this age of global disease and disconnect, growing a garden is a powerful act of positive change, both for yourself and for the larger community. 
---
Take your food security into your own hands.

The Online Gardening School offers something for all experience levels.
Our content is accessible to the total newbie and will set a solid foundation for getting started in the garden. It's also useful and practical for folks who have already grown a garden or helped out on a farm but want to learn more, and it will provide new ideas for the avid gardener who wants to dig deeper.
This program covers all things gardening, from a holistic, permaculture-inspired perspective.
Indeed, it will not only give you the foundations you need to get started, but also serve as your companion as you tend your own plot. We offer step-by-step instructions for each month (including a checklist to make sure you aren't missing anything), plus we'll hold regular live Q&A sessions to provide mentorship and personalized guidance. There are also a bunch of bonus classes to deepen your gardening prowess and your big-picture understanding of food systems. It's up to you which classes you access, and when.
This gardening program is for anyone in the continental US.
We currently live in the mountains of Southern Appalachia, but we've both gardened all over the country and the world: from the Pacific Northwest, to Arizona, from New York State to Northern California and Florida. We've had students from all over the world participate in this class and get a lot out of it. Please note, if you live in the tropics or the desert, your conditions might be pretty different than ours. Feel free to reach out to us at gardening@wildabundance.net to help determine if this program is a good fit.
---
There has never been a better time to start a garden than right now!
Knowing how to grow food is your birthright.
We live in a strange new world, where the majority of humans live in cities and where the vast majority of our food is grown in monocrops on large, industrial farms. Even big organic farms can take the shape of a factory, without holistic engagement with the agroecology and social systems that they exist within. Most of us grew up with little understanding of where our food comes from, let alone learning the magical knowledge of how to grow it ourselves.
But no matter who you are, your ancestors had deeply rich relationships with their food, whether they tended gardens or tended the garden of wild nature. Now is the time to reclaim your birthright and replenish the knowledge that is at the core of living in harmony on planet earth.
Get gardening mentorship while learning through your own experience.
It may sound strange, but we've had many students who have helped out on farms, yet don't have the confidence to plant gardens on their own. In fact, there's something very different about actually planning and planting a garden from scratch, rather than being told exactly what to do and where.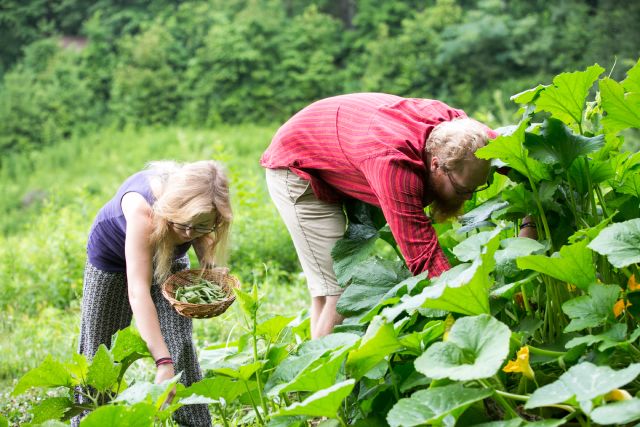 The Online Gardening School gives you the skills and tools you need to be able to grow a garden for yourself, from the ground up, whether it's 6'x6' or 60'x60'. In other words, we give you guidance and support, but you're in charge of making decisions and customizing your garden to fit your personal needs. We've learned about soils, seeds, weeds, and gardening techniques all over the world, but you're the world's leading expert on your garden. Together, we'll create a synergy that leads to success, as well as a sense of empowerment and ownership over your work and accomplishments.
---
It is time to taste the fruits — and vegetables — of your labor.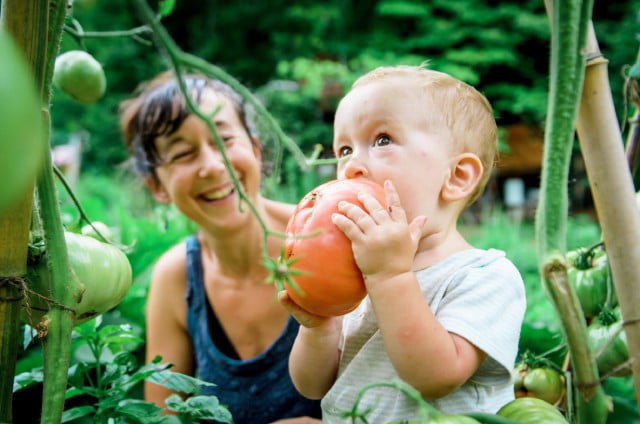 ---
Wherever you are, on any device, you can watch the videos and access the written materials for this course.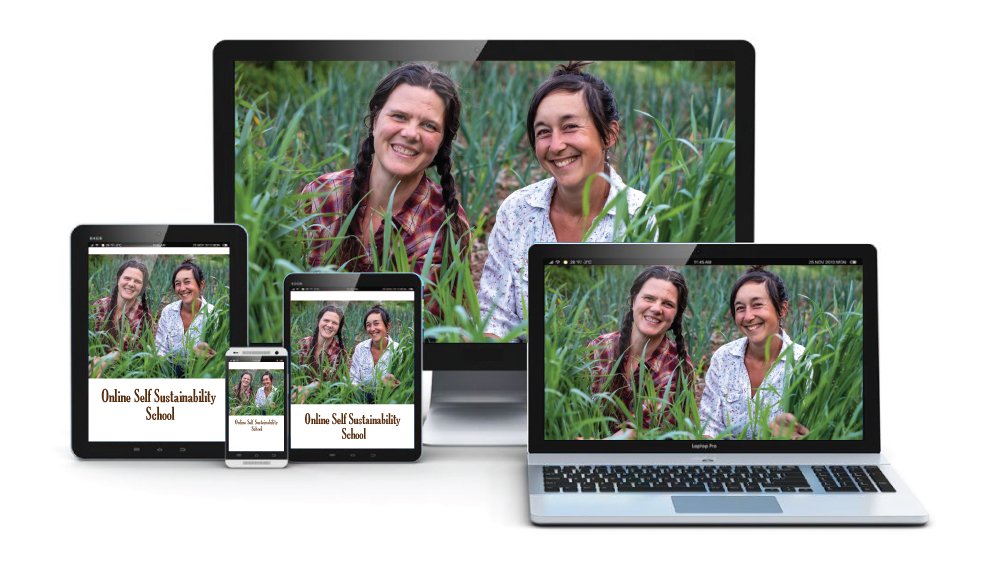 ---
The core of the Online Gardening School is 12 foundational lessons.
These videos and handouts teach you what you need to know to break ground and start growing some serious food. You don't have to complete them all before you get started, rather choose what feels most relevant to you and explore the lessons further as your garden grows. We'll cover: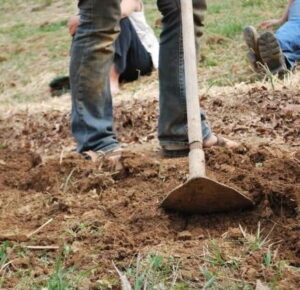 What a Garden Needs 

Starting a Garden from Grass 

How to Plant a Seed and Get It to Grow 

Garden Planning

Basic and More Specialized Gardening Tools

Seed Selection and Considerations

Choosing Plant Starts

Fertility and Fertilizers

Weeds and Weeding

Water and Irrigation 

When You Can Start a Garden

Soils 101
---
Seasonal Garden Classes Every Month

Monthly video classes
Each month, we'll release a series of timely guides to walk you through the process of growing healthy, organic vegetables. Throughout the year, you'll receive a set of video lessons and written content specifically tailored for each month. These include an overview of the garden at that time of year and profiles of several vegetables that are being planted, tended, or harvested that month, plus tips on infrastructure, troubleshooting, managing fertility, weeding, pest control, cooking from the garden, and more. Additionally, we'll discuss edible weeds and cover crops in their own lessons. 
You could grow a tomato like THIS!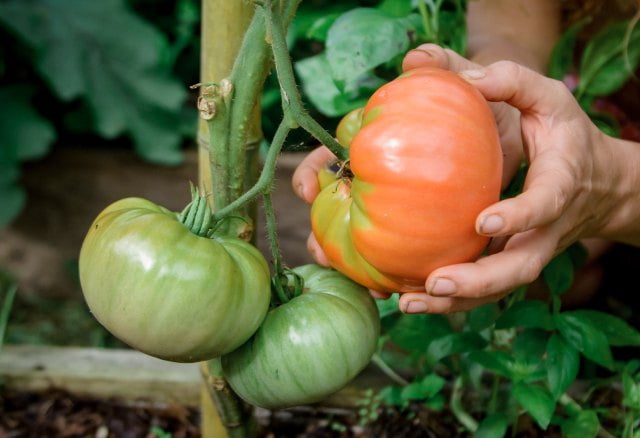 Every month, we will present around a dozen videos, each focusing on a different vegetable and what is going on with it that month. You can choose which ones you want to grow and just follow those, or completely dork out on them all. Please don't pressure yourself to grow them all (especially if you don't like them or don't have enough room), but we want your palette of vegetables to feel abundant. There is a long list of the veggies and herbs that we will visit. Some of our favorites that you will be able to grow with the help of this course (depending on your climate) are: tomatoes, broccoli, kale, cilantro, potatoes, sweet potatoes, beans, basil garlic, herbs, cucumbers, squash —plus so many more. For a more complete list, check out the FAQ below.
As a companion to the videos, you'll receive the following written content:
Monthly Garden To-Do's Checklist for 

Planting
Harvesting
Processing
Tending, fertility, and garden maintenance

 

Recipe of the Month that Showcases the Bounty from your Garden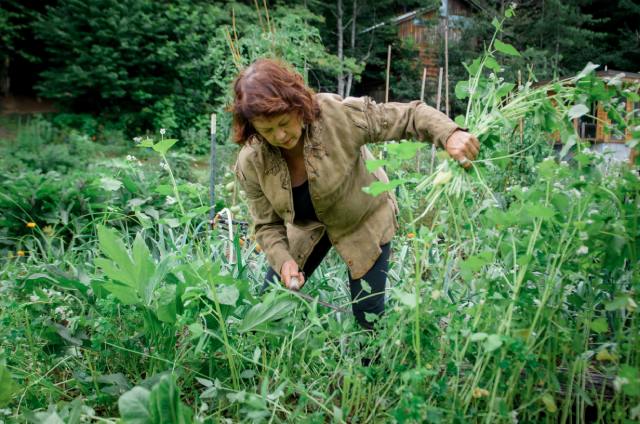 Receive personalized mentorship from experienced gardeners.
In addition to the monthly video and written lessons, we'll also offer live Q&A sessions. This gives you a place to troubleshoot whatever comes up and receive personalized mentorship as you grow as a gardener.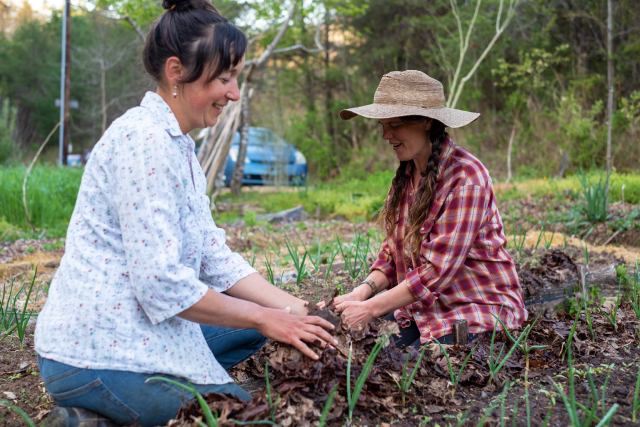 ---
Along with the foundational classes and monthly resources, the Online Gardening School includes a rich library of references and bonuses.
We've been passionate about growing food and supporting local, sustainable food systems for a long time. In fact, we can totally nerd out on the subject! While we're committed to offering practical, accessible instruction on the nitty-gritty of growing a garden, there's also so much more to explore. Plus, there are lots of amazing resources out there that we just love, and we think you might too. That's where the appendix and bonus material for the Online Gardening School come in.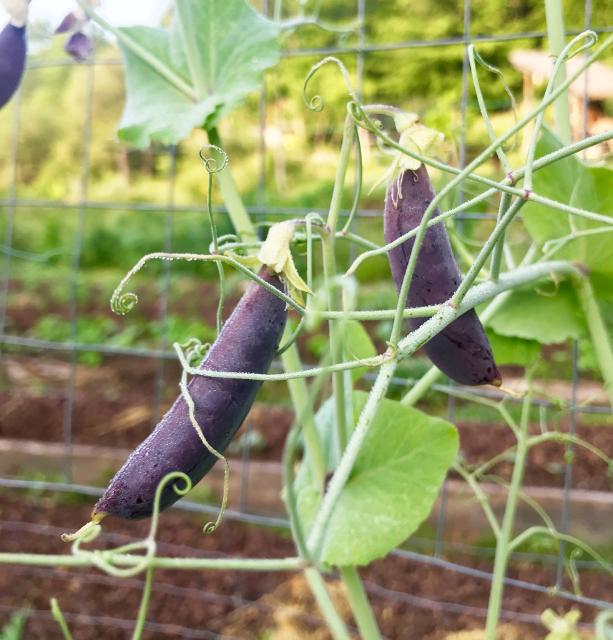 Appendix
There is a lot of gardening information that's best communicated through the written word, charts, and lists. We provide a bunch of this good stuff in PDF form, as an Online Gardening School Appendix. These can be viewed on your phone, tablet, or computer, or downloaded and printed out. Some of these resources are original (like our favorite varieties and books), and some come from our mentors and allies.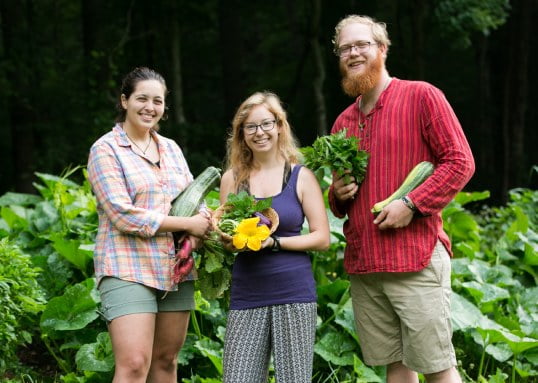 Soil Temperature Germination Chart

Seed Spacing Chart

Our Favorite Varieties for Homestead Use

Sources for Tools and Supplies

Our Favorite Books and Other Resources

Small Bioregional Seed Companies

Planting Dates for Various Bioregions
Deepen and broaden your relationship with your garden, and the larger food system, with our bonus classes.

In our experience, gardens and food systems are a point of intersection for so much of our lives. And there are so many different ways to do things! In this extensive library of bonus material, we share original and guest lessons on more "unconventional" or advanced techniques like season extension, raised beds, container gardening, hugelkultur, and more. Coupled with these deeper dives into the practical side of growing food, we expand the lens to look at the food system as a whole. Here, we offer discussions of health and nutrition, regenerative agriculture, social and racial issues in our food system, and more. 
We hope you feel excited, not overwhelmed, by all this bonus material. You'll have plenty of time to look it over, digest it, and apply it as your gardening journey continues. 
In these times of uncertainty, doing peaceful, productive work with the natural world that increases your food security is truly a potent medicine.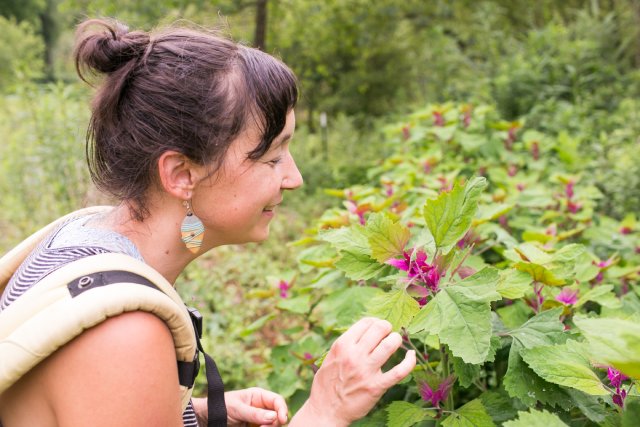 ---
"Each day, my peace of mind is directly correlated with the time I spend in my garden." – Natalie Bogwalker

---
100% Satisfaction Guaranteed
If you aren't fully satisfied, we'll give you a full refund for up to 2 weeks after you are granted access to the class.
Go at your own pace
With the Online Gardening School, you can move at your own pace, taking advantage of any available time you've got to work in the garden. This flexibility means you can tailor your learning experience to your unique lifestyle and schedule. Registration is open on a rolling basis.
Lifetime access
When you sign up for the Online Gardening School, you get lifetime access to the course materials. This means you'll be able to revisit lessons over and over, year after year. Also, as we add new content to the program, it will be yours, free of charge.
---
Enter the journey of gardening with seasoned mentors.
Your guides into the journey of gardening bring enthusiasm and decades of experience to the table. Their own paths have been deeply influenced by their experiences in the garden — nurturing small seeds, excitedly watching them germinate, celebrating their strong green growth, marvelling at the flowers and pollinators, and graciously harvesting delicious fruits and roots to be prepared with love and skill in the kitchen and shared with friends, family, and neigbbors. Both instructors have formed their lives around growing food and celebrating the rhythms of the seasons through gardening, farming, raising animals, and practicing permaculture.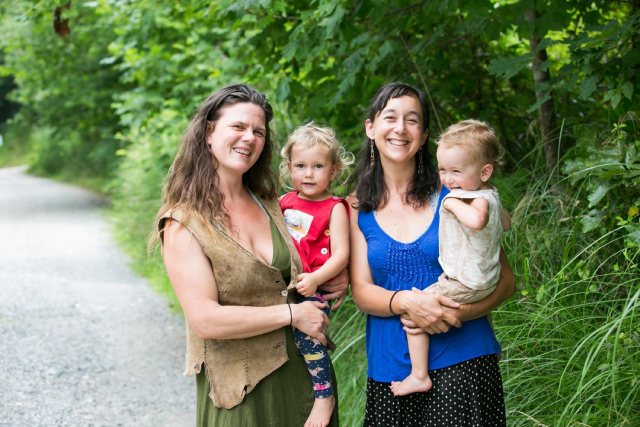 Natalie started her first garden in the backyard and on the roof of a carport at a rental house in college.
She had begrudgingly helped her mother in the garden as a child, but at 19, when she began to understand the cultural and political importance of food autonomy, that's when she really dove in. Once she took the plunge herself, with all of her early-adulthood political intensity, she fell deeply in love with the process. Natalie found that gardening gave her a sense of peace, gave her body the physical challenges that it needed, and gave her mind a healthy outlet for analysis and improvement. She changed her studies to ecological agriculture and graduated from The Evergreen State College with a degree in the subject. She taught her first gardening class over 20 years ago at a free school in Olympia, Washington. Since then, Natalie has dedicated her life to learning, sharing, teaching, and organizing the teaching of earthskills, including gardening, permaculture, natural building, and carpentry. Natalie currently directs Wild Abundance, a school she founded in 2008 that teaches skills for self-sufficiency. Wild Abundance, located in the mountains of North Carolina, teaches both online and in-person classes.
Chloe has wanted to be a farmer since she was a wee child in the suburbs of Northern California.
She didn't grow up with any kind of garden at her home, but two of her best friends lived more rurally and their families raised vegetables, flowers and fruits, milked goats, made cheese, and rode horses. Needless to say, Chloe spent as much time with them as possible. From the age of about 7, when Chloe took a stance against the cruelty of factory farms and became a vegetarian, activism has been a part of her passion for food and the earth. Throughout her life, she's explored and engaged the intersections of food, environment, social justice, and community. From an environmental studies program in high school, to early graduation and a year spent WWOOFing all over New Zealand, to her major in Agroecology and Sustainable Food Systems at the University of California, Santa Cruz that involved worth with direct-trade models and collaborative projects with farmer cooperatives in Central America and Mexico, she's be driven to learn and understand how we as humans have gotten into such a dysfunctional relationship with growing and distributing food, and how we can shift that. Since 2013 she's been co-managing a 23 acre homestead with her partner, who is also passionate about self-reliance, land-based innovation, experimentation, sharing with the collective, and delicious, nourishing food.
---
The bounty of the Earth is waiting for YOU!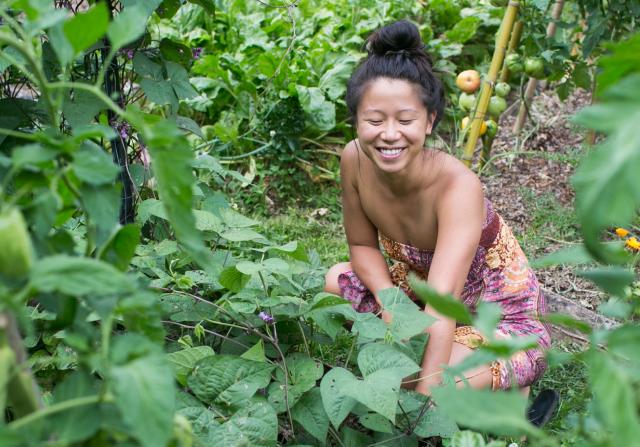 ---
Frequently Asked Questions about the Online Gardening School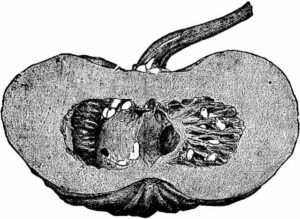 ---
Instructors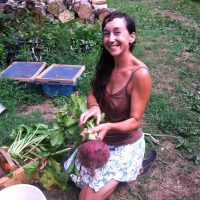 Chloe Lieberman
Chloe writes for Wild Abundance's blog, newsletter, and website.  In addition, she cooks for some classes, teaches a few others, and jumps in to help out with management and strategy. These roles give her a welcome outlet for the knowledge and excitement she perpetually cultivates around land-based living and a positive future for the planet. ...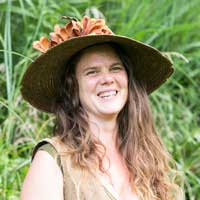 Natalie Bogwalker
Natalie is the visionary behind Wild Abundance, as well as a primary instructor for many classes. She's passionate about teaching and sharing skills to help all kinds of people live in an empowered and Earth-centered way. Natalie and her family live at the Wild Abundance homestead campus in the Southern Appalachians. She balances her time ...
---
Registration Info
Registration is closed for 2020. Get on the waitlist to join us and grow in 2021.