Do you want to take the power of healing into your own hands?  Are you skeptical of conventional Western medicine and pharmaceutical drugs?  Do you want to learn to recognize and work with plant allies?  Are you drawn to wildcrafting, but feel intimidated?  This is the herbalist class for you!  It will empower you to identify and utilize plants — both wild and cultivated — for healing and vitality.
Join our inspired and experienced team of herbalists, artisans, and ethnobotanists for this 4-day intensive.  You will leave with a basket full of homemade medicines (made by you!), plus the knowledge of how to make more — from plants growing all around you.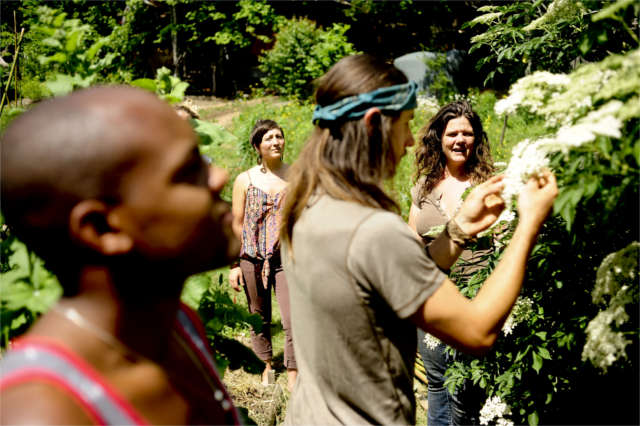 ---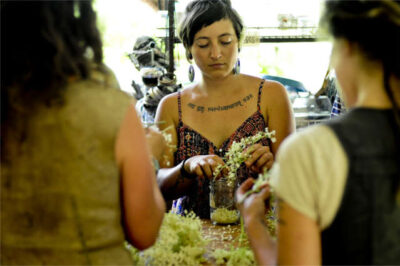 What to expect in this herbalist class:
We will cover all aspects of wildcrafting herbal medicines, from a basic botany class, to plant identification, and the ethics and safety of harvesting.  At the beautiful, lush Wild Abundance campus, we will explore both wild and cultivated medicinal herbs and wild edibles.  Guided by experienced and talented herbalist instructors, you will learn to make multiple medicines to fill your apothecary. Knowledgeable teachers will walk you through how to make herbal preparations so you can feel confident making your own after the class.  Throughout the long weekend, we will make and enjoy tasty herbal treats.
---
We are surrounded by medicine everywhere we go. The fields and forest can be our pharmacy. Our wildcrafting class simply helps you to remember what you know in your bones.
---
You will learn:
Plant Identification – How to get to know wild plants, even if you've never met them before, plus how to ID common medicinals and how NOT to confuse them with poisonous plants
Ethical Wildcrafting Practices – How to harvest responsibly, maintaining healthy wild plant populations
Growing and Propagating Medicinal Herbs at Home – How to start and maintain your own herb garden
---
You will make and actually get to take home:
Herbal Salves: Topical medicine for skin healing
Tinctures: Powerful internal plant concentrates
Flower Essences: Energetic medicines from our floral friends
Herbal Liqueurs and Cordials: Fun and tasty healing drinks
Cough Syrups: Soothing natural alternatives to get you through cold season
Oxymels: Tasty herbal tonics made with vinegar and honey
---
Integrating Herbalism and Wildcrafting into our Lives
Our students will leave feeling not only empowered to wildcraft medicinal herbs themselves, but also inspired and motivated to incorporate these plant allies into their lives.  It's one thing to know how to identify wild plants or to understand how to turn leaves into an herbal preparation.  We want to take a step beyond this.  Our team of instructors — plant lovers who have been wildcrafting for years — actually use these herbs on a regular basis.  Throughout this herbalist class they will share with you how they make time to get out into the woods to wildcraft, guidance for growing herbs even if you don't have a garden, recipes for herbal delights that can be consumed daily and aren't just for acute conditions, and much more.  We are excited about plants (can you tell?), and we can't wait to share our excitement with you.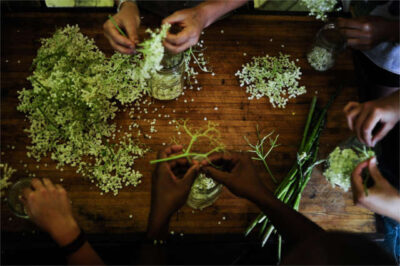 During the class we will make several of these "everyday" herbal goodies and enjoy them together, such as:
Infusions:  Easy, tasty teas made from leaves and flowers steeped in hot water
Decoctions: Rich, flavorful teas made from leaves, barks, roots and berries, slow-simmered to perfection (think spiced chai, yum!)
Pestos: Delicious and power-packed dips and spreads that carry healing properties and are usually crowd-pleasers at dinner parties, even for kids!  Explore the world of herbs beyond basil, and you will be pleasantly surprised
Wildcrafted "Weed" Salad:  A colorful and flavorful alternative to plain old lettuce that is higher in nutrients and healing properties.
---
Join us and delight in the delicious, healing gifts given by the plants.
Savor the flavors and wisdom of herbal medicines.
---
Instructors
---
Local Accommodations
While some locals prefer to commute to Wild Abundance from Asheville, students from the area and out of town are welcome to pitch a tent in one of our flat camping spots in the woods or field, or to tie a hammock in the forest on our seven-acre property. We strongly suggest bringing a very warm sleeping bag and bedding. We do have a fully functioning outdoor kitchen and bathroom, though in extremely cold weather, sometimes one or both are out of operation due to the water freezing.
If you prefer something more conducive to creature comforts, we suggest browsing Airbnb or checking out some of the local motels and B&Bs within a 10-15 minute drive to Wild Abundance.
Below are a few local accommodations you might find to your liking:
Comfort Inn in Mars Hill, NC
---