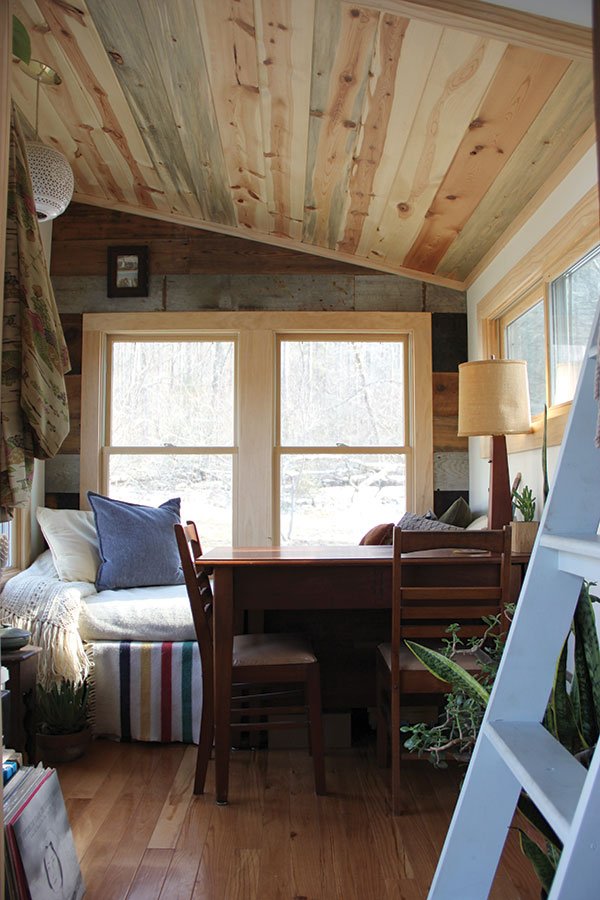 Planning for your Tiny House
Imagine your dream tiny house… we know you have one. Yes, they're cool. Yes, they are key to a sustainable future, as they are less resource intensive in basically every way when compared to a traditional American home. But best of all, they are actually within your reach. Financially speaking, saving up to buy one is a viable option for most. But even more accessible, and of course much cooler, is to build your own tiny house. Again, if you are somewhat handy (with basic carpentry skills), willing to work, and have a plan, you can do it too.
Here at Wild Abundance, we have a 10-day workshop in which we tour an array of local tiny houses, as well as some natural building examples, then we actually build one to give you all of the skills you need to build the basic structure. But first let's go through the basic design process and a few of those big decisions you'll have to make.
Tiny House Budget
It is always wise to start with a sound budget. This will help guide the decisions on what you could buy, whether it is a whole home or just certain features. Even if you plan to build from scratch, you will still want to shop around for design ideas, being certain that you will get the most out of your investment. Local builders can build a wonderful home for $60,000, which might be a great choice for you depending on your needs.
Building Your Base
For those of us that like to get our hands dirty, let's start the design process. The first big decision will be whether to build your tiny house onto a trailer or on a set of skids. The main considerations are the legal restrictions in your area and then how often you plan to move this structure over its lifetime. If you are planning to move it often, meaning more than just a few times, put it on a trailer or something with some permanent wheels.
Building it on skids will also give you some flexibility with the width of the house. You'll have options with length either way, but on a trailer your width will be capped at 8 feet. Without this limitation, you might be able to push that to 10 feet, which will make a huge difference in the interior space of the home.In either case, your tiny home will need insulation throughout the base of the structure. There are trailers available that are built specifically for tiny houses that come with the necessary insulation. Remember, in your tiny house every inch of space will matter as we will see when we try to fit everything in it.
Floor Planning
Here is where this house begins to become you. In this phase, you will draw out the layout of each room, wall, divider and storage space. Think long and hard about everything you will have in there so you can plan effectively ahead of time. You can find plenty of free tiny house designs and ideas to get started. Small dividers and thoughtful storage can maximize a rooms usefulness while not taking up too much actual space or making too many very, very tiny rooms.
Where will your stove go? Where will your desk go? Your couch? Here's a big one-where will your bed go? A common place for the bed is on a loft if you don't mind climbing up into it every night. If you do put one up there, make sure you give yourself a window that opens for proper circulation at night. Kitchen space and bathroom space can be minimal if there are on-site kitchens and outhouses, as there are in many communal settings. It is important to determine your own needs and work with them to achieve your goals with your space.
As you draw up your plans on paper, Sketchup, or any flavor of floor-plan software, be sure to include the thickness of the walls, doors, and windows in your design. Every inch counts. For the more tactile thinkers, try making paper cut-outs to have a tiny-scale representation of your furniture or room needs. This will help as you try to wrestle down the size of all of your needs into this tiny space.
Raising Your Walls and Roof
Next will be your walls, which are determined by your floor plans of course. We recommend commercial 2×4's to erect your stick walls, which actually measure 1.5″ x 3.5″, as opposed to rock sawn 2 x 4's if you are accustomed to using that. Anything to save a little space and weight will be preferred. When it comes to your windows, shop for them first and build your walls around them. Used windows can be found and purchased ahead of time, which will greatly decrease your cost and efforts putting these in.
The style and dimensions of your roof will have a great impact on your usable interior space, and the overall feel of size while inside. You may go with a number of roof styles, but gabled or shed style the most popular. Commercial 2 x 6's will generally be appropriate for a simple roof structure, though with a gabled roof you might use 2 x 4 with trusses.
The pitch of this roof will be very important to the functional size of your tiny house once complete. Height is generally limited by law for tiny houses, so that will always be your highest point. Maintaining a lower pitch enables you to open as much space as possible within the limitations of width and height.
Our Tiny House and Natural Building Workshop
If you're really interested in learning to do this right, and learning from the people who know, consider this 10 day intensive offered at our permaculture and homestead school near Asheville, NC. This class includes two days of tiny house tours, including a tiny house business and a number of natural building examples. Each day includes lectures with more in-depth coverage on things like legal constraints, electrical systems, plumbing systems, composting toilets and waste management. Learn more about our home building workshops that give you the skills to build your dreams into reality.

Thank you for reading and for your interest in tiny, sustainable, houses. We are happy to help you along, and to help us all move toward living more responsibly with the space and the resources we are blessed with on this planet.