***We are not running our Apprenticeship program in 2021 or 2022. Please get on the waitlist to be notified when this program is running***
Permaculture
, Primitive Skills and 
Natural Building Apprenticeships and Internships
near Asheville, NC
Becoming a permaculture apprentice will equip you with the skills you need to live with the web of life: Natural Building & Tiny House Construction, Foraging & Wildcrafting, Hide Tanning & Basket-Making; Permaculture Design & Organic Gardening; Herbalism & Nature Connection; Functional Communication & Community Living, Storytelling, Deep Ecology and much, much more!  
Come back to your roots.
Our apprenticeships are on-site residential immersions at Wild Abundance, located near Asheville, NC.  They are the most intensive and intimate programs we offer, and are our humble attempt to welcome a small group to our land every year to venture into the relational process that involves living on the land, building community, renewing culture, developing earthskills, mentoring & personal growth!  Through these immersions, we share the depth and creativity of how we live and the richness of the real life challenges, opportunities and abundance that make up our family, community, home and lives.
---
---
Learn to live off the grid as a homesteading and permaculture apprentice
All of our Apprenticeships include:
A selection of Wild Abundance classes that take place during your apprenticeship (

please see our Classes for more details

).

One day a week (Wednesday – Friday) of small-group hands-on instruction on core curriculum: primitive skills, nature connection, gardening, permaculture, natural building, personal development, regenerative culture and community building, deep ecology, herbalism, traditional crafts and eco-homesteading.  Schedule varies on weeks when there are Wild Abundance classes

1-1 ½ days a week of facilitated independent study and apprentice garden time

One day per month of of meeting with your mentor one-on-one.

Access to beautiful and simple rustic accommodations at our

homestead

at Wild Abundance. This includes a spacious communal outdoor kitchen, permitted outhouse and shower, and your own private 3-season sleeping shelter.

Seasonal food from the apprentice garden

A breathtaking view of Mount Craggy from your communal kitchen (for real, it's an amazing view!)

Close access to the wildlands and trails of the Big Ivy section of the Pisgah National Forest

Living at ground zero of the homesteading and Earthskills cultural renaissance! A one-of-a-kind opportunity to live and learn in a gorgeous, thriving community of folks in the hinterlands of Asheville, NC; it is about a 20-25 minute drive to downtown.
The apprenticeship is a mostly full-time program. Please don't expect to be able to hold down a full-time job while enrolled.  However, there is the space in your schedule to take on a part-time job, if you so desire. Apprenticeship days are generally Tuesday through Saturday, although this varies during weeks when there is class.  These days are spent with us, and occasionally guest teachers, and some with your other apprentices doing a mix of:
Practical homesteading and permaculture projects

Intensive garden learning and doing time with Natalie

Crafting with natural materials and hands-on learning

Interactive small group exercises and discussion

Naturalist excursions and ecology hikes

Exploring "soft-skills," storytelling and inner development

Facilitated independent study and apprentice garden time   
We take the balance of hard work, personal growth and enjoying life very seriously and routinely have check-ins during which the instructors and the apprentices collaboratively create priority lists of how we'll spend our time together. In general, in any given week, we strive to spend half our personal instruction time getting our hands dirty and working hard and half our time hiking, group discussion, crafting and engaging in fun learning activities!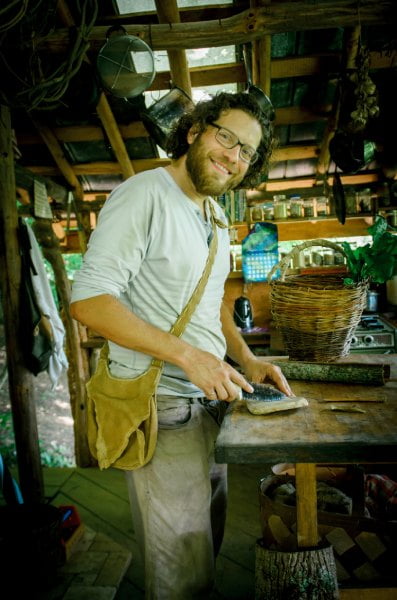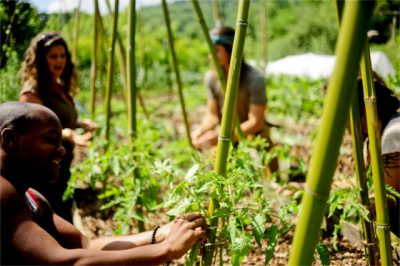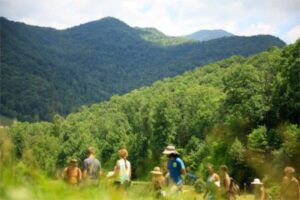 ---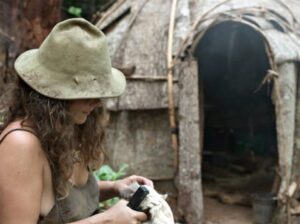 Our Comprehensive Curriculum Goes Way Beyond Permaculture Training:
The Apprenticeship Program curriculum is made up of a combination of the Wild Abundance classes and small group apprenticeship days. The weekly content and instruction are determined by balancing what the apprentices are most interested in learning with the real world needs of the land, infrastructure and projects here. There will not be time to cover every single aspect of the skills we have to offer at Wild Abundance in one apprenticeship (we end up covering about ⅓ of the following during the Spring Gardening Apprenticeship, and ⅓ during the Fall Natural Building Apprenticeship , for a total of about ⅔ of the 9-month Permaculture and Natural Building Apprenticeship .
---
Permaculture & Gardening
Forest Gardening

Seed Starting & Transplanting

Permaculture Design Certification

Animal Husbandry

Holistic & Paleo-Nutrition

Fermentation & Food Preservation

Plant Care & Feeding

Tree Crops & Agroforestry

Climate Change Resiliency

Annual & Perennial Staple Foods

Food Preservation & Canning

Diagnosing & Treating Plant Pests & Diseases

No-Till Gardening & Soil Science

Seasonal Garden Planning

Appropriate Technology & Solar Design

Rain Water Catchment

Mapping & Holistic Landscape Design

Homestead Gardening & Plant Propagation

Mushroom Cultivation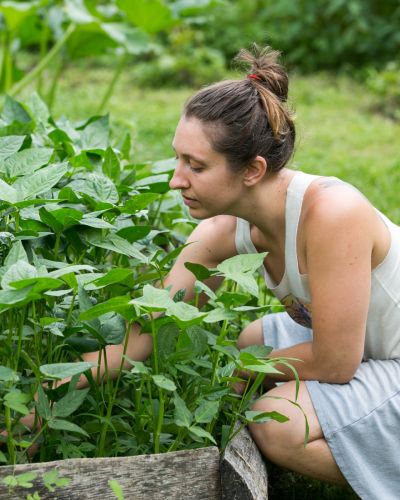 ---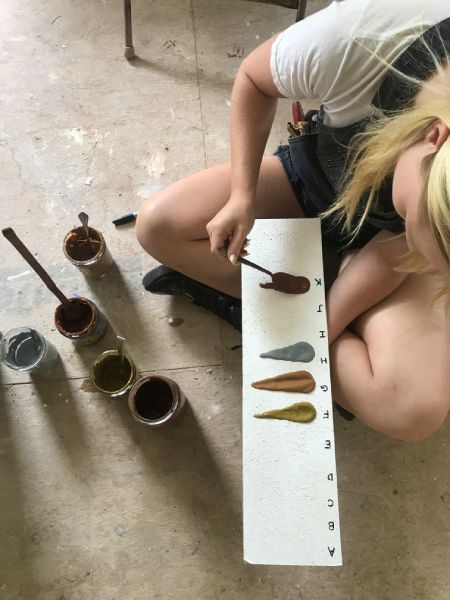 Tiny House, Green & Natural Building
Tiny House Building (you will leave with the skills to build your own Tiny House!)

Earthen Plaster & Earth Paint

Round-Pole Construction & Timber Framing

Cob, Slip-Straw & Waddle-and-Daub

Living Roofs

Basic Carpentry & Framing

Power Tools 101 & Tool Safety

Foundations, Walls & Insulation Alternatives
---
Primitive Skills & Crafts
Willow and Kudzu Basket Weaving & Tulip-Bark Baskets

Hide Tanning & Leatherwork (including Buckskin Clothing!)

Bow-Drill & Fire Tending

Debris Shelters

Humane Slaughtering & Butchering

Survival Skills

Bow Making

Knife & Sheath Making

Cordage & Fiber Arts
---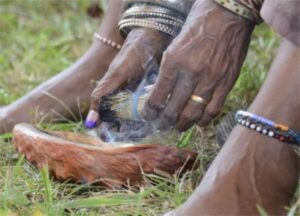 Community Building & Cultural Renewal
Wilderness Initiation & Fasting

Seasonal Ceremony & Earth-Based Spirituality

Nonviolent Communication

Myth & Storytelling

Ancestral Healing

Vedic Astrology

Sweat Lodge & Sauna

Cooperative Meals & Games

Medicine Wheel Paradigm

Social Justice & Collective Liberation
---
Personal Transformation
Learning How to Live Your Dream

Exploring Your Gifts & Realizing Career Niches

Forgiveness & Gratitude Ceremony

Grief & Shadow Work

Holotropic Breathwork

Inner Guides & the Imaginal Realm

Cultivating Vulnerability & Humility

Discovering & Healing Core Wounds

Understanding Fate & Destiny

Nature-Based Human Growth Model

Telling Your Story & Empathic Listening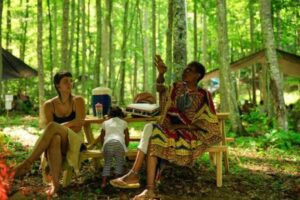 ---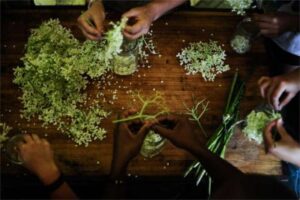 Nature Connection, Herbalism, Foraging, & Deep Ecology
Botany & Ecology Hikes

Naturalist Notebook & Journal Exercises

Herbal Medicine Making

Deep Time & Understanding Appalachia

Wild Foods & Ethical Wildcrafting

Animal Tracking  

Gaea Theory, Evolution & Earth Systems

Following Golden Threads of Earth Poetry

Bio-regional Herbarium
---
Sample Spring Schedule On A Non-Class Week
| | | |
| --- | --- | --- |
| | 9:30am-1:00pm | 2:30pm-6:30pm |
| Monday | Free Time | Free Time |
| Tuesday | Apprentice Garden Time | Readings & Class Homework |
| Wednesday | Reading Discussion with Apprentices | Work Day with Natalie |
| Thursday | Readings & Class Homework | Apprentice Garden Time |
| Friday | Foraging and Ecology Hike | Hands-On Mentorship Time |
| Saturday | Naturalist Notebook | Independent Land Stewardship Project |
| Sunday | Free Time | Free Time (we suggest meeting social needs) |
Sample Spring Schedule On A Class Week
| | | |
| --- | --- | --- |
| | 9:30am-1:00pm | 2:30pm-6:30pm |
| Monday | Free Time | Free Time |
| Tuesday | Apprentice Garden Time | Readings & Class Homework |
| Wednesday | Naturalist Notebook Time & Reading Discussion with Apprentices | Work Day with Natalie |
| Thursday | Wildcrafting & Medicine Making Intensive | Wildcrafting & Medicine Making Intensive |
| Friday | Wildcrafting & Medicine Making Intensive |  Wildcrafting & Medicine Making Intensive |
| Saturday |  Wildcrafting & Medicine Making Intensive |  Wildcrafting & Medicine Making Intensive |
| Sunday |  Wildcrafting & Medicine Making Intensive | Wildcrafting & Medicine Making Intensive |
Sample Fall Schedule On A Non-Class Week
| | | |
| --- | --- | --- |
| | 9:30am-1:00pm | 2:30pm-6:30pm |
| Monday | Free Time | Free Time |
| Tuesday | Apprentice Garden Time | Readings & Class Homework |
| Wednesday | Gardening or Work Day with Natalie | Shelf Construction in Personal Shelter |
| Thursday | Readings & Class Homework | Reading Discussion with Apprentices |
| Friday | Foraging and Ecology Hike | Hands-On Mentorship Time |
| Saturday | Naturalist Notebook | Independent Land Stewardship |
| Sunday | Free Time | Free Time |
---
The Holistic Nature of the Apprenticeship
Our apprenticeship program is an ambitious attempt at a holistic curriculum. You may find yourself more interested in certain aspects of the program and less interested in others, which is only natural. We ask you to trust the big picture and the entire process. Oftentimes, people get the most out of activities in which they are initially less motivated to participate.
At first, you may be most interested in natural building and bored by developing your communication skills or participating in a gratitude ceremony, only to find out later that those "softer skills" truly transformed your personal character in the long run.  Likewise, you might show up wanting to spend all your time studying botany and learning how to live in community, and years later may find yourself feeling much appreciation for having gained carpentry and permaculture mapping skills when you are locating, designing and building your own house!
Trust us: If it's something we want to share with you, it will most likely be important at some time in your life journey.  We strive for a healthy balance of diversity and depth among all the threads that can be woven together to create a resilient and soulful tapestry of life skills that are supportive to living here on Earth in these unique times. The apprentices will have a lot of input about how we spend our time together, and through active participation, we will personalize our time together to create a journey that is transformative for everyone involved.
---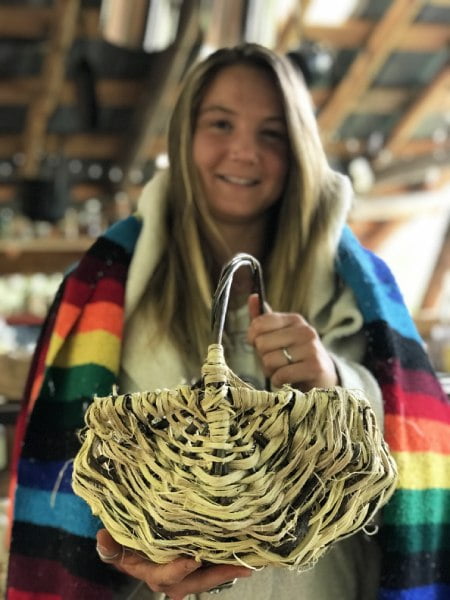 This is Real Life!
These are serious programs that involve serious commitment and at times serious work. Anyone who has trouble with hard physical work, who has a penchant for taking things personally, or who is unwilling or unable to work through emotional issues and group dynamics in a responsible manner need not apply.
We are asking you to come with an open mind and an open heart and to check your ego at the door, to be vulnerable and present, and to be motivated by that rich space of humility and gratitude that supports our collective humanity.
Through this program, we are opening our home to you. We will come to know each other very well. By the end of the year, we generally consider our apprentices part of our family, and you will become the inner circle of our young daughter's social life. We ask that all apprentices maintain the day-to-day flexibility and adaptability that is essential to any organic, evolving process. Be real with us, and we will be real with you.  Life happens…daily plans change at times…there are hospital visits, rainy days, neighbors suddenly needing help, people getting sick, etc. This program is real life and has all the beauty, struggle, adventure, surprise and mundane moments that make up the human experience!    
This apprenticeship is a living, breathing, growing creature.  It changes every year as we do, and we strongly appreciate your feedback when you are here. We strive to create a safe space to communicate, and there will be ample opportunity to give us feedback.  Please come here ready to embrace a reciprocal relationship of accountability, communication and empowerment!   
---
Please also check out our Spring Herbalism, Wildcrafting and Gardening Apprenticeship, Fall Tiny House and Natural Building Apprenticeship, as the Spring-Summer-Fall Combination Apprenticeship, which will equip you with the skills you need to Live off the Land and Live off the Grid.
---
The Blue Ridge Mountains and Asheville, NC
The area surrounding Wild Abundance is breathtaking!  We live in a community of dozens of amazing and like-minded folk, 5 minutes from a decent swimming hole, 10 minutes from the Pisgah National Forest, 20 minutes from some of the most biodiverse forests in the temperate world, and 20 minutes from Asheville, a decent-sized town which one past apprentice deemed "the hippie hotspot of the East Coast."
---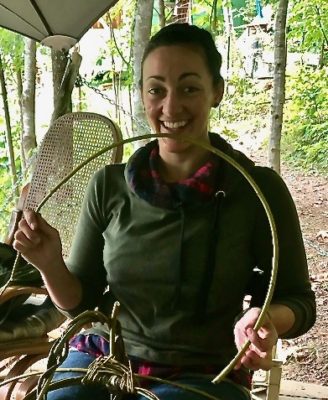 "Deciding to become an apprentice at Wild Abundance was the best thing that I have ever done for myself. In my time living and apprenticing there, I learned what feels like countless skills that have given me a deeper sense of self, purpose, and sufficiency. Wild Abundance is a place that holds something that I had been looking for for my entire life. Without a doubt, my apprenticeship completely changed my life for the better, and for that I am forever grateful."
Cate Fischer
---
Instructors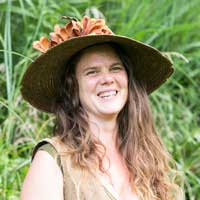 Natalie Bogwalker
Natalie is the visionary behind Wild Abundance, as well as a primary instructor for many classes. She's passionate about teaching and sharing skills to help all kinds of people live in an empowered and Earth-centered way. Natalie and her family live at the Wild Abundance homestead campus in the Southern Appalachians. She balances her time ...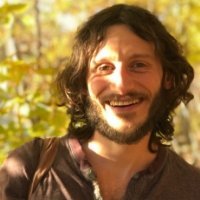 Frank Salzano
Frank (he/him) grew up in the hill country of the Allegheny Plateau of southern West Virginia. While in college in Shepherdstown, WV, he was elected to local government and became the youngest city councilman in the history of West Virginia. Since then, he has spent his life extensively practicing and studying temperate climate permaculture and ...
---
Our Campus is Unconventional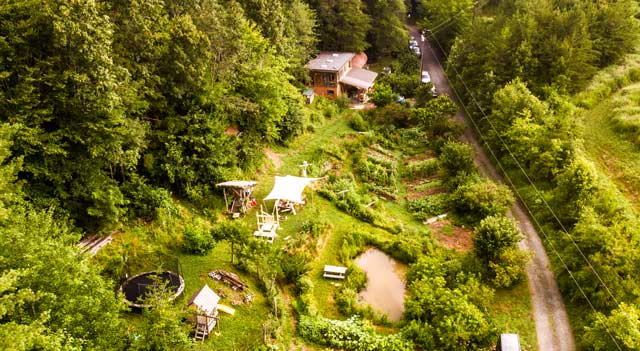 To read about our facilities, including accessibility for alter-abled people, read about our Campus here.
---
Local Accommodations
Working and Learning Together
We will be working and learning through all sorts of tasks related to building and homesteading. These may include gardening, carpentry, building with clay and other local or natural materials, sawmill work, small-scale logging, firewood gathering and splitting, wild foods and medicine harvesting and processing, preparing for classes, and more.
Some of the jobs might not be very glamorous. Sometimes self-sufficient homesteading feels like lots of grunt work. There will be some weeks each year when Frank and Natalie will not be available to work with you because of the Firefly Gathering, teaching out of town and personal time off. During these times, we will either set you up with a colleague to work and learn with, or get you going on projects of your own.
---
Infrastructure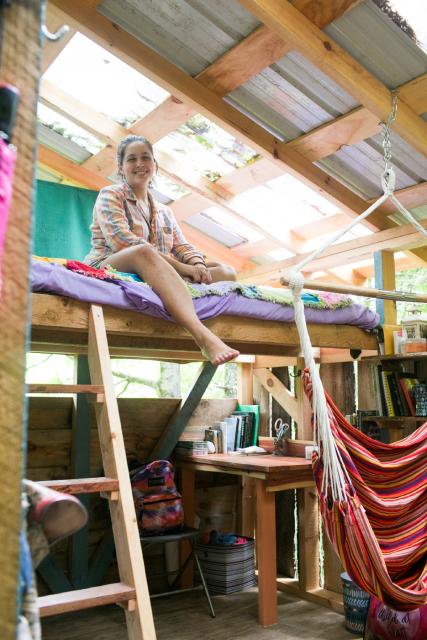 You will have use of an outdoor kitchen space with a great view, an official permitted privy, and a 3 seasons sleeping shelter. We suggest everyone bring a nice roomy tent as well as a tarp or fly that can protect the tent and supply some covered private space to store personal items. We also suggest bringing ample and comfortable bedding. You may prefer to simply sleep under a tarp, in a debris shelter or in a hammock. Go as primitive as you want! These are all fine options, but please consider your own needs and make sure that you are able to provide for them in such a way that you will be comfortable living for an extended period of time in a communal environment that might not necessarily offer you the creature comforts and personal space to which you might otherwise be accustomed.
We have some access to electricity, both on-grid and soon to be off-grid. This power can be sparingly used for charging phones (only US cellular, Republic Wireless and Verizon phones work here), etc. We tend to have a no laptop rule in the outdoor kitchen. We don't live in an Internet cafe; we live in the woods, but there will be a designated time for limited internet usage. If you want to use the Internet more frequently or want to get away, you are totally welcome to go to town.
Democrat, NC, has a gas station, a beer store and a diner, and good swimming hole, and is ¾ of a mile away. Barnardsville has a post office and a couple of thrift stores and is 2 miles away. Weaverville is 11 miles away, and has a library, laundromat, grocery store, fancy bakery, and more. Asheville is 18 miles away, takes 22 minutes to reach by car, and has dancing, health food galore, a movie theatre that sells pizza and beer, great music venues, craft stores, and many fun folks.
---
Transportation
We require that all apprentices provide their own transportation. This means you will need your own car.
---
Kitchen Etiquette
You will have your own outdoor kitchen space and we request complying with the following:

Safety with fire. We request a high level of care with anything involving fire (rocket stove, lanterns, candles, etc.)
Clean up after yourself, and a little more. If you are cooking for others, please make a verbal agreement about who will be cleaning up the cooking mess.
Each apprentice will have one day each week to be responsible for "super-cleaning" the kitchen. On this day, you will wash any stray dishes, clean counters, oil cutting surfaces and sweep. We find this helps make everyone happy
---
Alcohol, Tobacco, etc.
We ask that everyone who lives here maintain a balance with substances. We are not at all saying that there is any issue with occasional enjoyment of libations. While we are working together, we prefer that no one is under the effect of anything that may affect their work or safety. I ask that everyone keeps this in mind and makes wise decisions.
We have a preference that folks not smoke around us. Please let us know if you do smoke, so that we can look at some strategies that support us keeping our lungs pink and happy and un-tempted by tobacco and you feeding your habit in a way that is not terribly inconvenient to you.
---
Dogs
We live in a community that has very restrictive covenants regarding pets. Because of this, we am not currently accepting canine companions of apprentices.
---
Frequently Asked Questions
Feel free to read our FAQs. And if you have additional questions, please email us at wildabundancenc@gmail.com
---
Registration Info
Application Process
The first step is to fill out the appropriate application form (for the program you are interested in) and to pay your application fee and deposit. We need to receive both an application form and a deposit in order to move forward. After we receive these things, we will contact you within 2 weeks and set up a phone interview during which any additional questions can be answered. After that, if possible, we will schedule a working interview and make a decision soon thereafter. If a working interview isn't possible, we will make a decision soon after the phone interview. Click here to complete an application form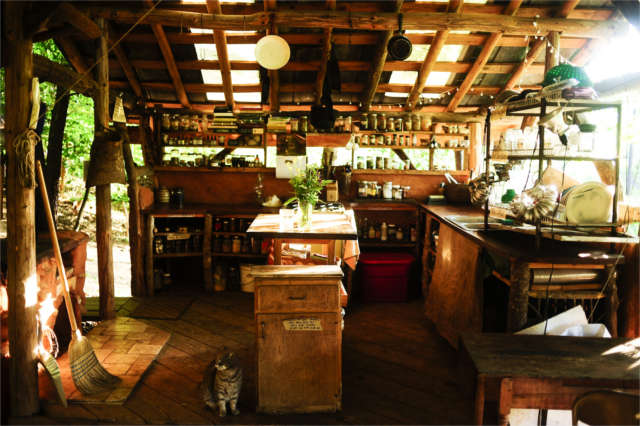 ---
Application Fee and Deposit
We ask for a $50 application fee for the apprenticeship, along with a $250 deposit (a total of $300 when applying), without which we cannot consider your application. The application fee covers our administrative costs and the time it takes to process your application and is not refundable. The deposit goes toward your total financial contribution, if you are accepted, and can only be refunded if we do not accept you into the program. Upon acceptance into the program, we ask for the first $1,000 of your contribution within ten days. Your total financial contribution may be paid in full at least two months before the apprenticeship begins or in installments that terminate within one month after the apprenticeship begins.
The first two weeks of the apprenticeship will serve as a trial period. This is a chance for us to make sure that the apprenticeship is a good fit for you and for us. After the two-week trial period, we will have a meeting and if the apprenticeship is not working for either party, we will discuss issues and try to work through them, or make a clean break. Your deposit may be returned at this point.