The story of apples in America is way more exciting and significant than you might expect. In fact, the so-called mythical character Johnny Appleseed was a real live nurseryman, whose goals were slightly less wholesome than you might think. 
From Staple Food to Simple Snack
These days, most people think of apples as a healthy snack. Perhaps an apple pie will grace your table a few times a year, and you'll enjoy a mug of hot cider at a holiday party; you might toss some applesauce or juice (in cute little packages) into school lunches…and that's about it.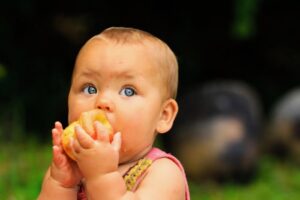 But, the regal apple has only recently been relegated to the realms of snack and treat. For early American settlers, apples were an important staple food and drink, along with a source of sugar for making alcohol – for better and for worse.
Apple Origins
The apples that we know and love today have their origins in the Tien Shan mountains of Kazakhstan. There, you can still find forests of wild apples, as well as cultures that include apples in their daily life and spiritual lore. From their origination point, apples spread throughout Eurasia, where they've been embraced for thousands of years.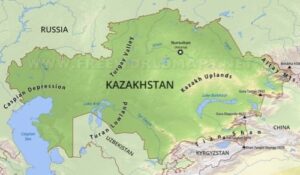 Here on what we now call the North American continent, there are four native apple species, which are referred to as wild apples or "crab apples." These hearty trees have been tended by Native people here for millennia, providing food, medicine, and holding cultural and spiritual significance. Here's a great article on the relationship between Northwestern Tribal Nations and crab apples. The main difference between crab apples and Eurasian apples is their size: crab apples are usually under 2″ in diameter, while Eurasian apples can get quite large. Additionally, many varieties of crab apples taste quite tart, some to the point of causing stomach distress. In contract, many Eurasian apples have been bred for sweetness. 
Apples in the Early Colonization of America
Apples were quite important during the early history of European colonization in North America. European varieties didn't fare so well here, but soon new kinds were being developed. The primary use for these apples was in making cider.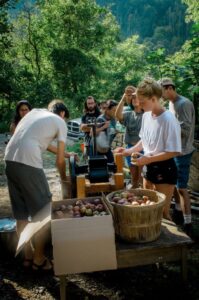 Usually this cider was mildly fermented and drunk in place of water, which could be unsafe due to contamination. Some fermented longer and became more strongly alcoholic. Cider was big business and, according to one article, "Virginian statesman William Fitzhugh once remarked that the cider produced from his orchard of 2,500 trees was more valuable than 15,000 pounds of tobacco."
Here we acknowledge that most plantations in early America, including Mt. Vernon (pictured below) were managed as part of a system of enslavement and forced labor by people of African descent. It's impossible to talk about agriculture in early America (or the modern USA) without addressing the issue of racism. The bounty and wealth in this country have largely been generated by the work and land of enslaved and colonized peoples who carried out tasks such as farm work. Diving into this vast issue more deeply is beyond the scope of this post, but we don't want to leave it unacknowledged.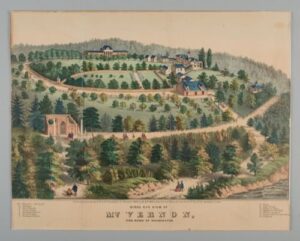 Additionally, apple trees were a symbol of permanence, like they still are today. As European settlers violently occupied and assumed ownership of the North American continent, they planted fruit trees in order to establish their homesteads. In fact, according to an article from Cornell University, "to prove their homesteads to be permanent, settlers [in Ohio] were required to plant 50 apple trees and 20 peach trees within the first three years."

John Chapman, a.k.a. "Johnny Appleseed"
Many of us have heard the legend of Johnny Appleseed. Perhaps you've imagined a kind-hearted man wandering around the American frontier, tossing seeds about. In his wake, a trail of fruit-laden trees sprouted up, showering sweet treats on happy children.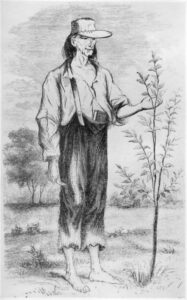 The true story of John Chapman is a little less romantic – but no less amazing. He was a nurseryman who did travel the frontier lands planting apple seeds in the first half of the 1800s. But he did so in a very calculated manner. 
Chapman selected seedlings with desirable characteristics, built fences around his nurseries, and made money doing it. He moved ahead of the big wave of settler-colonists in the Eastern United States, in order to have trees ready to sell once they arrived. In addition, Johnny Appleseed's orchards were how he staked claim to land stolen from Tribal Nations. When he died in 1845, Chapman owned 1,200 acres of orchards.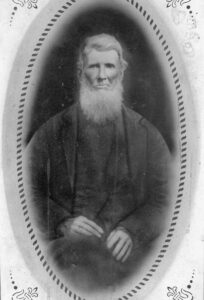 Seedling Apples vs. Grafted Apples
The fact that Johnny Appleseed planted seeds instead of grafting apples was part of what made him so special. Apple seeds grow into trees that bear fruit that's different than their parent; it's a gamble to plant an apple seed. 
Chances are, you'll get a smaller, more sour apple and not a big, crispy, sweet one. But, sometimes you'll get an especially delicious, hardy, or otherwise remarkable offspring. This was the case in many of Johnny Appleseed's experiments. In fact, we have him to thank for the genetic lines of some of our beloved apples today. Nearly all commercial apple growers, even back then, grafted trees to ensure desirable characteristics. This process involves attaching a cutting from a known variety to a rootstock, also usually of a known variety. The result is a genetic clone of the parent, so no new varieties can be developed this way.  
Cider and Apple Diversity
It didn't matter so much if Johnny Appleseed's trees bore sweet fruits; most of them were pressed into cider. Indeed, cider made from sweet apples is actually quite boring and bland, while "wilder" flavored apples tend to make tastier cider. Johnny selected for things like tartness, tannins, and of course, fruit size and plant vigor.   
Now, you may be thinking that booze is a rather lackluster legacy for old-time apples. But remember, this was before refrigeration. The ability to store fruit through the winter helped keep people healthy. Cider wasn't just an intoxicant, it was also a vitamin-preservation technique. There are other old-fashioned apple varieties that can keep whole in a root cellar all winter, and others are dried for winter eating.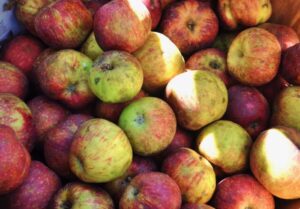 Since apples were such a staple food for so many, lots of varieties were bred and cultivated. Nowadays, we're relegated to just a few unimpressive varieties that look pretty and ship well. But never fear, there are folks working to preserve and revitalize heirloom apple diversity. 
If you're looking to plant an apple tree and want to choose something other than Red Delicious or Granny Smith, check out to list below. 
Sources for Heirloom Apple Trees
Fedco Trees: A cooperative business owned by consumer and worker members. They grow cold-hardy selections especially adapted to the demanding Northeast climate. Fedco carries Scionwood and apple varieties on a variety of rootstock. Orders should be placed by late fall / early winter with deadlines beginning February. Shipping begins in early March through April based on planting zone.
Cummins Nursery: A family-run nursery located just outside Ithaca, New York, literally, "High above Cayuga's waters." It has one of the best fruit-growing soils in the world, Howard's Gravelly Loam, and its specialty is custom-grown trees (one-year grafts). It is also propagating the new disease-resistant Geneva apple rootstocks.
Trees of Antiquity. The company offers 184 varieties of apple trees, most being heirloom varieties. 
Stark Bro's Nurseries & Orchards Co. is the world's oldest continuously operating nursery beginning in 1816. In 1893, the third-generation brothers held the first International New Fruit Fair, which encouraged growers to send samples of new varieties for judging – from which sprang the Red and Golden Delicious apples. These became the parents of 60% of today's apple selections. Stark Bro's carries 24 heirloom varieties.
Burnt Ridge Nursery & Orchards, Inc. is a family-owned farm, in business since 1980. The 20-acre farm is located in the foothills of the Cascade Mountains with a beautiful view of Mount St. Helens. The Burnt Ridge mail order nursery specializes in unusual and disease resistant trees, vines, and shrubs that produce edible nuts or fruits. Everything they sell has done well at their farm.
Raintree Nursery selects fruit varieties for flavor and ease of growing with over 800 varieties of fruit trees, berries, unusual edibles, ornamentals & supplies for the American Gardener! Shipped directly to your home since 1972. Raintree selects fruit varieties for flavor and ease of growing with you, the backyard gardener, in mind.