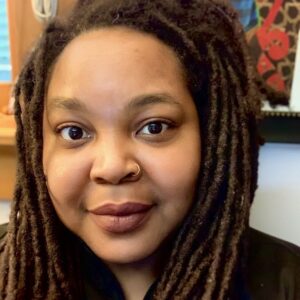 Bevelyn Afor Ukah (She/her) works as a consultant to train youth and adults in building skills that encourage equity, organizational efficiency, cultural connection, and collaboration. She has traveled around the world and has lived in three countries.
She is a self-taught artist, developing her practice as a form of inner resilience, hoping that her work inspires others to build their own self and community-love practices.  She is a part of the Black Women's Art Collective of Public Art Practice.
Bevelyn is passionate about discouraging divisiveness and she works with audiences in their journeys to recognize multiple truths. She is moved most when working in multigenerational settings.
To her, so much is possible with self-reflection and building true methods of accountability.
Bevelyn received her Bachelors in International Studies, Sociology and Anthropology from Guilford College where she was a Bonner Scholar and Multicultural Leadership Scholar.  She completed her Masters in Intercultural Service, Leadership and Management (with a concentration on facilitation and social justice).
Bevelyn is the founding consultant of ​AFI Oak Consulting​, co-founding consultant of the Auralite Collective and the co-founder of Mekafi​, a social enterprise that supports Black farmers through moringa oleifera.
She coordinates the Food Youth Initiative Program (FYI), a program of the Center for Environmental Farming Systems (CEFS), which engages youth that lead food justice work across North Carolina. She also co-coordinates the Racial Equity in Food Systems initiative at CEFS, which develops a shared understanding of language, history and race. She works as the Capacity Building Director at W9 Solutions, supporting the continued growth of youth leadership development through soccer, especially for youth most marginalized from the sport.  She serves on the Transplanting Traditions Community Farm Board, the National Rooted in Community Board and the NC Climate Justice Collective.