Gain the confidence to design and get started building your own ecological tiny house — wherever you are, on wheels or on a foundation.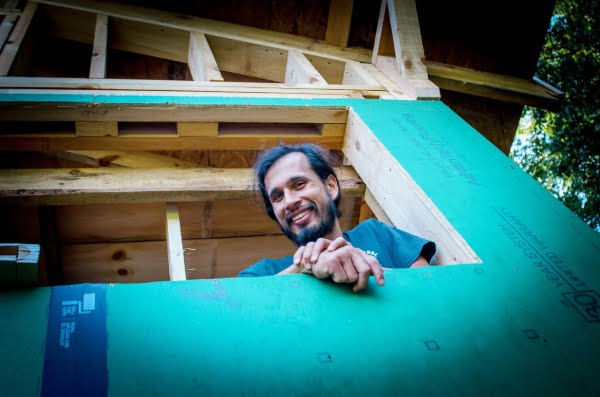 Registration is currently closed, but will open up soon!
Get on the waitlist to be notified when this class opens, plus receive special offers.
This in-depth course covers everything from construction basics and legal constraints, to natural building techniques, natural plasters, and alternative building materials. We'll discuss tiny house design, wheels vs. foundations, regulations, and more. Plus, you'll get a clear understanding of energy-efficient options like passive solar design and solar electric. 
---
Want Hands-On Learning?
If you're interested in a more hands-on approach, check out our in-person Natural Building and Tiny House Workshop. In addition to the online material covered in this class, it includes 10 full days of tours and building practice. Students actually build 2 tiny houses during the workshop!
---
Learn what you need to get started building your own customized, beautiful, ecological tiny house!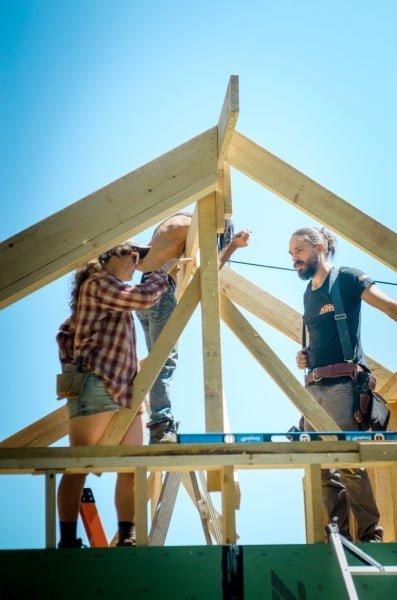 Everyone's tiny home dream is a little bit different. That's why this course explores a variety of options and helps you work through what's best for your needs, climate, and budget. Instead of laying out cookie-cutter designs and approaches, we teach you how to be your own designer, so you can feel empowered to customize your tiny house for your unique situation, aesthetics, and desires. 
Most of the ideas, techniques, and skills presented in this course are essential and applicable whether you are building a tiny house, a not-so-tiny house, or a small family home.
Learn from seasoned instructors with specialized skills and decades of experience in the areas that they teach. Whether it's natural building, the specifics of building a tiny house on wheels vs. a foundation, or working with the angles of the sun in passive solar design, these folks speak from experience and are passionate about what they're teaching. In fact, all 6 instructors have themselves lived in tiny homes for months, or years, or decades.
---
What does the course cover?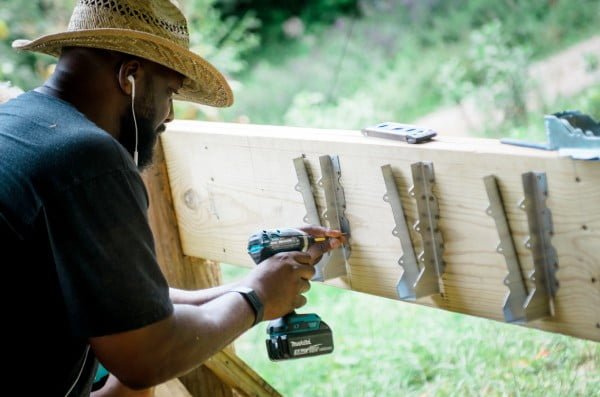 This holistic and versatile course covers a lot! You can choose to move through the material from start to finish, or jump around to the topics that feel most relevant as you approach your building project. Either way, since you get lifetime access, it will also be a helpful reference throughout any builds you undertake! 
In over 20 hours of video instruction, you'll learn everything from the basics of natural building, to the theory and practice of constructing foundations, walls, roofs, and more.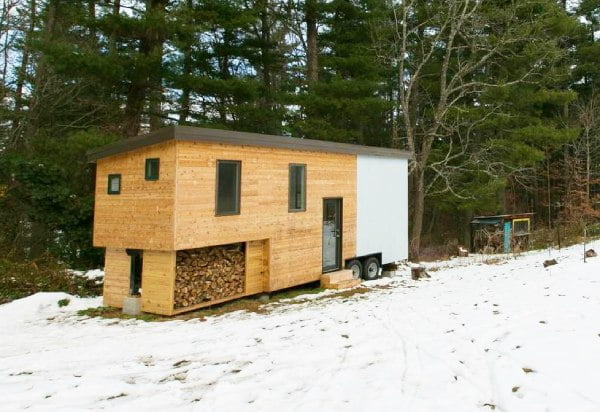 We give you plenty of information specific to tiny house building too, including designing your own tiny house, choosing whether to build it on wheels or a foundation, tiny house regulations, and even how to approach power and water. Scroll down for a more detailed description of what the curriculum covers.   
---
How to Build a House from the Ground Up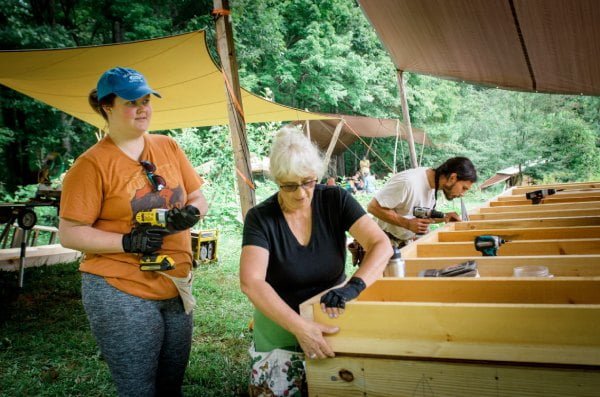 The basic steps of how to build a house are the same, no matter what it's size. We explain and demystify this process, so that you can truly understand and feel confident embarking on your own build. An overview of the steps of building a building is followed by in-depth instruction on:
Foundations — lots of options!

Stick Framing and Walls

Framing Doors and Windows

Roofs (including various roofing materials)
---
How to Build a Tiny House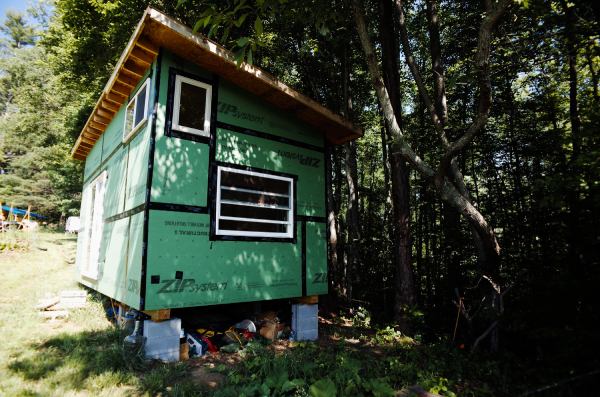 Building a tiny house requires some unique considerations and techniques. Along with the basic house building lessons above, we dive into how to build a tiny house in particular, including design, regulations, and more. 
---
Tiny House Design
Happy, comfortable tiny living is all about design! A few hundred square feet can feel like a closet or a whole home, depending on how it's laid out. Plus, having a solid design makes the entire building process more smooth, allowing you to organize your space, materials, and budget. 
We're not just going to give you a bunch of prefab designs — instead, we're going to teach you how to design your own dream tiny home
.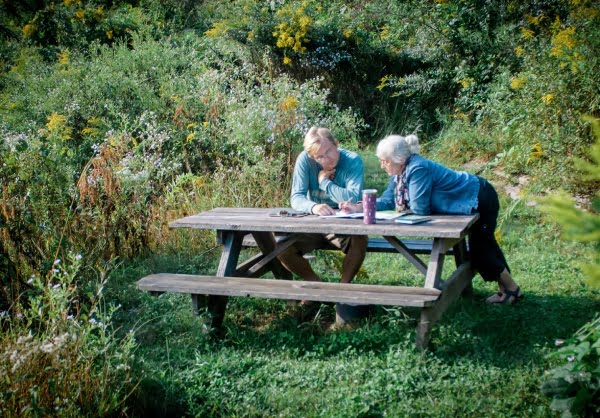 You won't leave this course with an architecture degree, but you will be able to impress your friends with fabulous and useful sketches and lists, just like the professionals use.  
---
Regulations and Legalities for Tiny Houses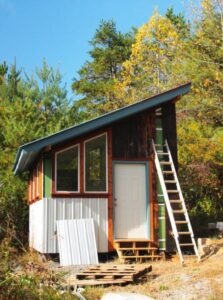 As tiny houses have swept the nation, states and municipalities have responded with laws and regulations accordingly. We'll provide an overview of regulations for both tiny houses on wheels and those built on foundations. We use North Carolina as a baseline, and talk about variations and federal regulations from that perspective. This includes:
Department of Transportation (DOT) Regulations

Permits

Certifications

City Ordinances

Legalities of tiny houses on wheels

Infrastructure and Specifications for tiny houses on foundations 
---
Tiny House Water Systems

Like any home, a tiny house needs to have water flowing in and out in order to be functional. There are many options for tiny house water systems, and we teach you about several of them, including pros and cons, so that you can make the best choice for your particular needs and situation. We'll cover:
Rainwater catchment

Water hookup to city water or a well

Greywater systems

Hookup to a septic or greywater system, or city sewer

Hot water heaters of assorted and sundry types: propane, on-demand electric, solar, and wood 
---
How to Build a Tiny House on Wheels or on a Foundation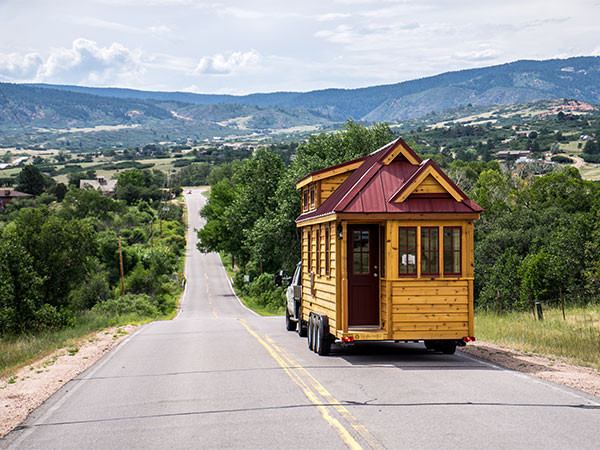 Whether to build your tiny house on wheels or on a foundation is a big and important decision. It will impact both your design and construction process. Building a tiny house on wheels means that you need to have movement in mind, making your house strong enough to withstand the bumps and strain of rolling down the road. If you build on a foundation, you'll have other important considerations. Jeramy Stauffer of Nanostead shares his years of experience building both tiny homes on wheels and on foundations, covering the special considerations of both breeds of tiny homes.
---
How Much Does it Cost to Build a Tiny House?

Building a house will cost some money, even if the house is tiny. How much it costs to build a tiny house can range from a few thousand dollars on up, depending on lots of important factors like access to repurposed materials, time constraints, skill level, and, of course, design. We'll explore the major costs associated with building your tiny house. This way, you'll be able to create a realistic budget for your circumstances, without compromising on the design features that are most important to you.
---
Electrical and Plumbing for Tiny Houses

Just like running water, electricity and toilet facilities are part of most modern, functional homes. They can be a part of your tiny home, too. We teach the basics of wiring and electrical systems so that you can plan one into your tiny house design. We strongly advise that you hire and/or consult with a professional electrician before attempting to wire your own home. In this lesson, we also cover basic plumbing, beyond just water in and water out, including toilet options for tiny homes.
---
Passive Solar Design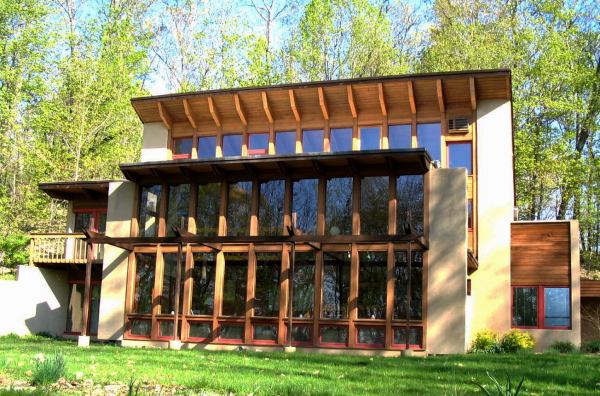 Did you know that you can keep your house warm in the winter and cool in the summer by designing with the angle of the sunlight in mind? Passive solar design is a simple, elegant, and ecological way to decrease energy consumption and keep your tiny home (or any home) a pleasant temperature all year long. The basic concept is simple: store solar energy in thermal mass in the winter months, and prevent the sun from coming in during the summer by intelligently placing windows and doors, and building specifically sized overhangs. Here, we go in-depth into  the details of how this works in practice; we'll teach you how to design a functional passive solar home in your specific location. 
---
Solar Electric for Tiny Houses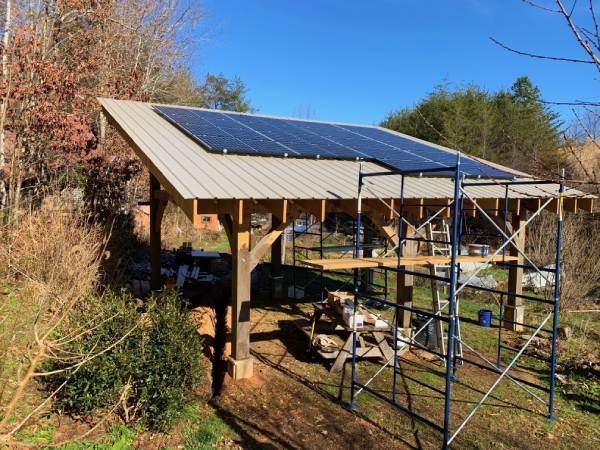 Many folks choose tiny homes for their smaller ecological footprint. One way to shrink that footprint even further is to power your tiny home with solar electricity. In order to do this, you'll need to understand how solar electric systems work, what they're made of, and how to build one. We cover all of this, plus go into the pros and cons of off-grid solar systems vs. grid-tied systems, and how to determine how much electricity you'll actually need in your tiny home. 
---
Natural Building
Natural or ecological building modalities come in all kinds of shapes and sizes. There are numerous techniques that have been practiced around the world for centuries, along with some great modern innovations. You'll learn about several of these, including their history and use around the world, plus when and how to use them, particularly in the context of a tiny house. Some of the natural building modalities we cover are: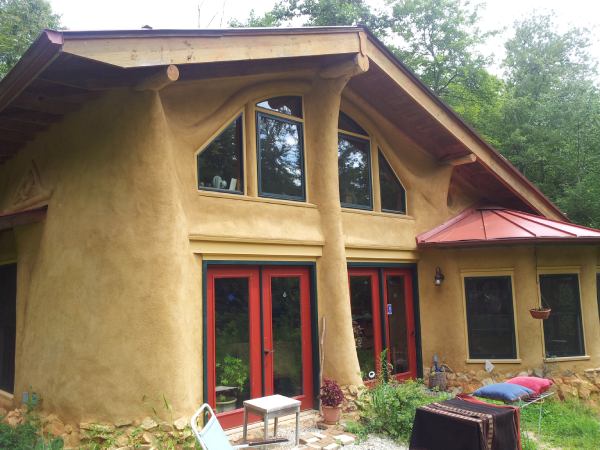 Adobe

Rammed Earth

Cob

Earthbag or Super Adobe

Slip Straw

Hempcrete

Log Cabin

Cordwood

Straw Bale
---
Earth and Lime Plasters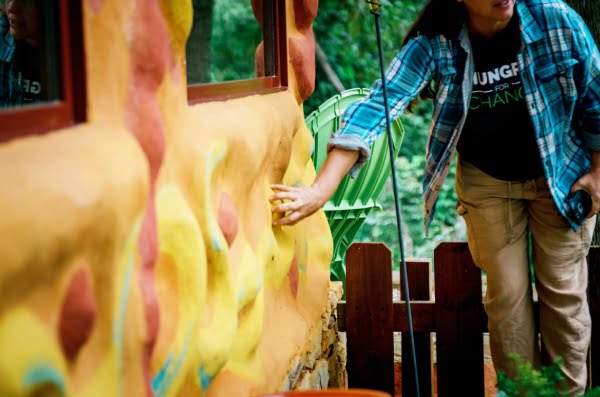 Since earth and lime plasters are so versatile, accessible, and beautiful, we take a deep dive into this natural building modality. Mollie Currie, of Mud Straw Love, has been getting her hands dirty with natural plasters for over 15 years. She teaches you about several earth and lime plasters that can work well as exterior finishes for tiny houses, or any building. You'll gain an understanding of which plaster might work for your situation, plus how to make and apply that plaster so that it looks great and lasts a lifetime.
---
All-Star Teaching Team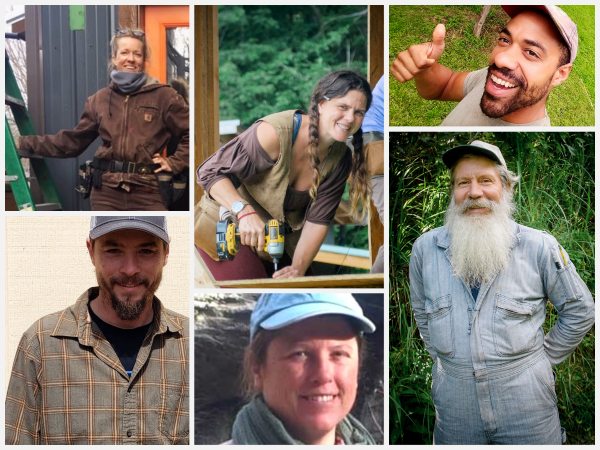 This ecological tiny house building class is taught by an exceptional team. Each instructor has over a decade of experience in what they teach, and speaks from their experience building tens or hundreds of tiny and not-so-tiny houses. Plus, they've all lived in tiny homes, which gives them a unique perspective on the realities of tiny living. We're proud of the diversity of our teaching team. They debunk the "white builder dude" stereotype and will hopefully help you see yourself as a potential home builder, too. Your instructors are here to share their passions and expertise, and to guide you toward the confidence and empowerment gained through building your own tiny home. For more of their individual stories and backgrounds, check out their bios below.
---
Lifetime Access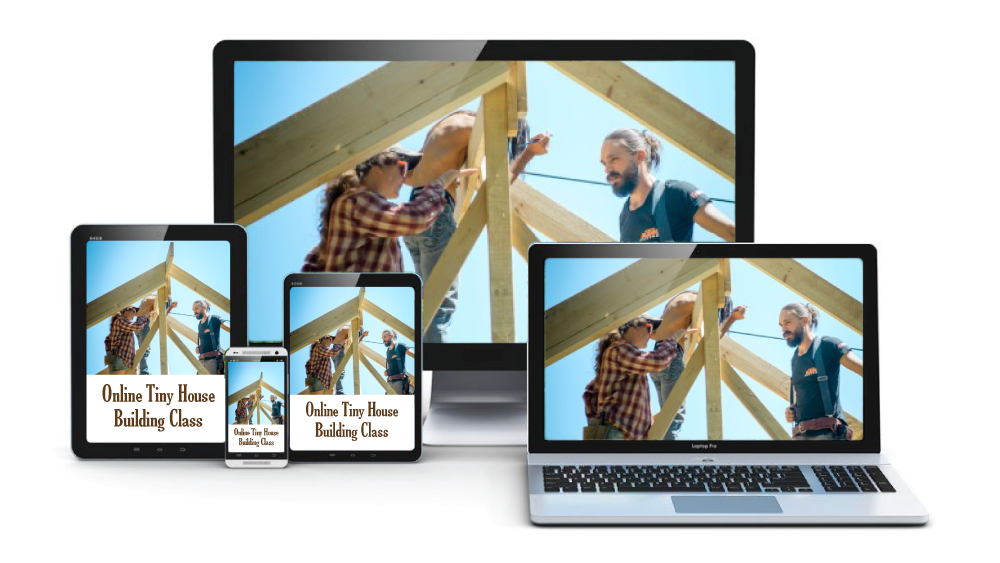 When you sign up for this course, you'll have lifetime access. That means you can refer to the materials again and again. This will be especially useful as you embark on building your own tiny house, and in all of your future building adventures!
---
Instructors
---
Registration Info
Registration will open again soon. Get on the waitlist to be notified, plus receive special offers.