May 5-8, 2022 (FULL)
Get on the waitlist to be notified when new sessions open up
You'll also receive our regular newsletters.
---
Learn to survive and thrive in the wilderness.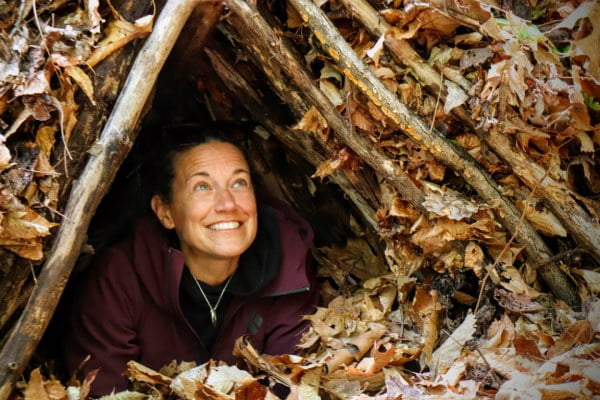 Come immerse yourself in ancient arts and modern techniques that will grow your confidence and hone your ability to survive and thrive in the wild. The natural world can provide all your basic needs, but you need knowledge and skills to utilize what's out there. 
This survival class will provide a wealth of information and hands-on practice on how to utilize natural resources to take care of yourself. But beyond that, it will give you a lifelong sense of comfort and feeling at home wherever you are. 
---
Build familiarity and mastery with what the wilderness can provide.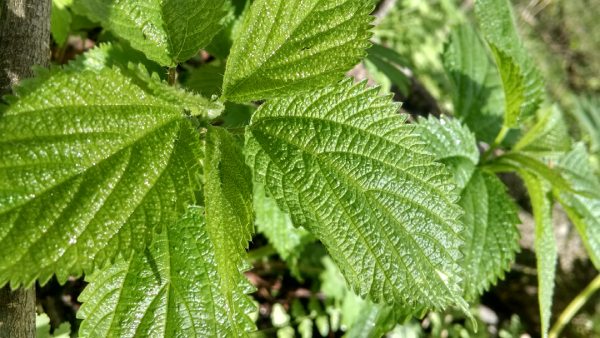 As you build a relationship with the natural materials that can provide for your needs, these elements will become as familiar to you as your own shoelaces and living room. Survival in wild places – and in times of emergency – is as much about your mind-set and attitude as it is about knowledge. Our intention is to provide you with all of these. This class will help your mind and your body to feel at home in an unfamiliar habitat.
---
What are survival skills?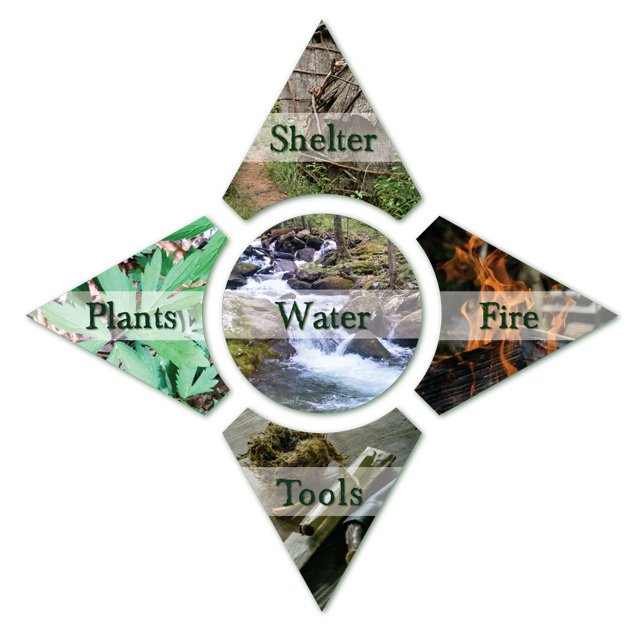 Survival skills are what you need to know in order to take care of yourself and prosper in a wilderness or emergency situation. They include both intellectual knowledge like edible wild plant identification and concrete, hands-on techniques like how to make rope. Some survival skills are ancient and traditional know-how that our ancestors developed before the advent of modern conveniences; others involve the use of human-made materials and contemporary approaches. 
A common theme among these skills is the immediate and tangible connection with the natural world in order to meet our basic needs. These are, for example, fire and warmth, water, shelter, food, medicine, and clothing.
---
Why are survival skills important?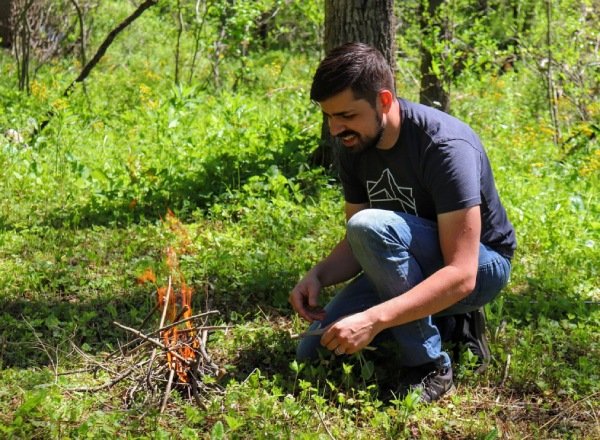 Survival skills build personal confidence and comfort with the natural world. There's something a little odd about an animal that relies on gadgets, machines, fossil fuel and a strange thing called money in order to stay alive. That's us – the human race. We've gotten so far away from our origins as creatures of this Earth, that most of us no longer know how to spend a comfortable night or two in the woods, let alone provide for our own long-term needs directly from what Nature provides. 
When you learn the skills for survival, you'll reconnect with a primal aspect of yourself and build a relieving sense of confidence in your abilities. As the world changes, what we currently rely on for survival may or may not continue to be available. Therefore, learning these skills now will prepare you to respond thoughtfully and creatively (that is, not in a reactive panic) if and when the existing systems fall apart.
---
Learn the basic survival skills everyone should know.
This class covers the basic survival skills everyone should know, including: 
How to make fire in the woods
Where to find water and how to make sure it's safe to drink
How to forage for medicinal and edible wild plants
How to build a shelter in the woods
The most important tools for survival
How to make rope in the wild
How to make knots
Tarpentry (setting up a tarp that will function extremely well and really keep out the rain)
Open fire cooking
Tracking
First aid
You'll also get a basic survival kit to take home and use, including some items that you'll make during class. 
Additionally, we'll explore the role of wilderness survival in the modern world. You'll also learn how these skills can help you to do so much more than simply survive. Over the course of four immersive days, you'll increase your self-sufficiency and build a deeper connection with – and appreciation of – the natural world.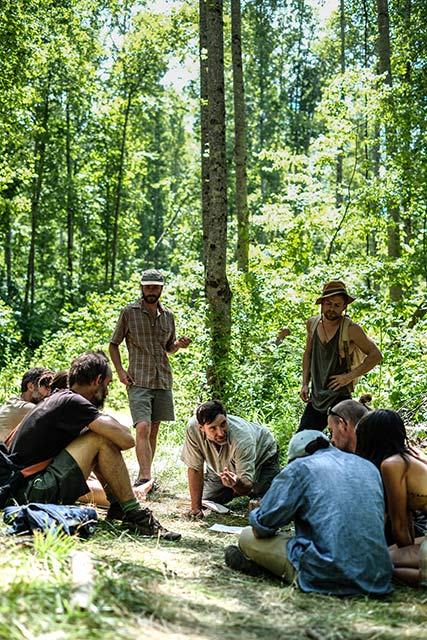 ---
How to make fire in the woods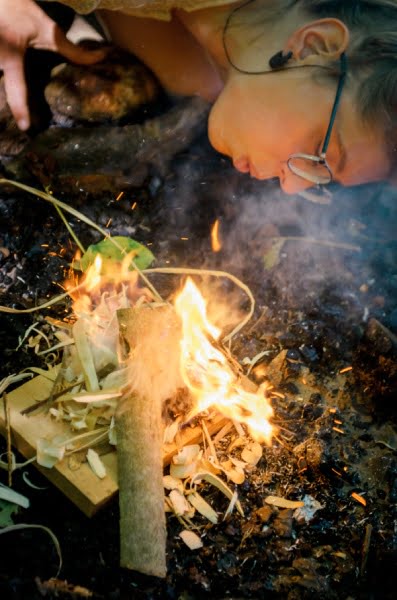 Learn everything you need to know in order to warm yourself and cook food over a fire in the woods. This includes starting a fire by friction without any lighters, matches or even flint. Your instructor will demonstrate several different ancient and traditional fire-making strategies. 
---
You'll get to make your very own bow drill kit and learn how to use it to make fire by friction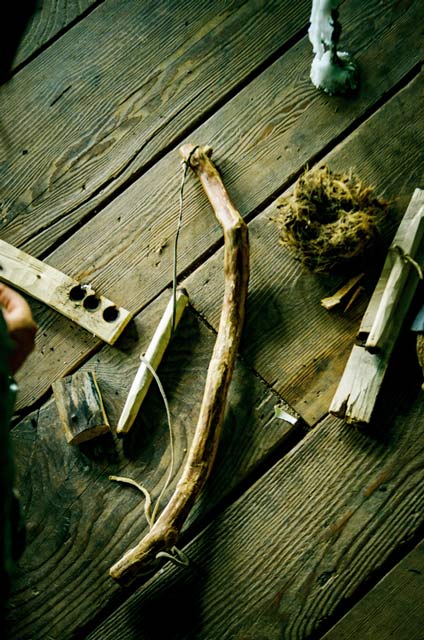 After the class you'll take your kit home to use and practice with.
In order to blend the old with the modern, you'll also learn the art of the one-match fire. Additionally, we'll teach you how to make a campfire that will burn well with minimal smoke. We'll also cover selection and preparation of tinder, kindling and fuel wood. Plus, you'll learn how to deal with damp and wet conditions, and other troubleshooting.
---
Where to find water and how to make it safe to drink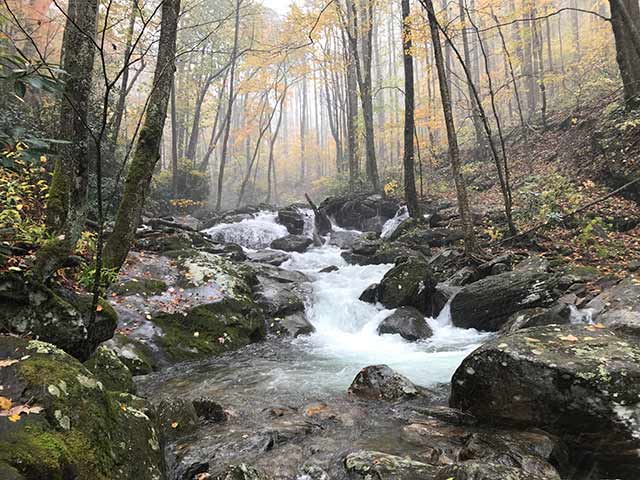 Nothing is more essential to life – and to survival – than water. You'll learn how to look for water in the natural landscape, including how to find spring water, creeks and streams. Additionally, you'll get guidance on assessing the purity of wild water, and purifying it if necessary. We'll use both primitive and modern filtration techniques.
---
How to forage for medicinal and edible wild plants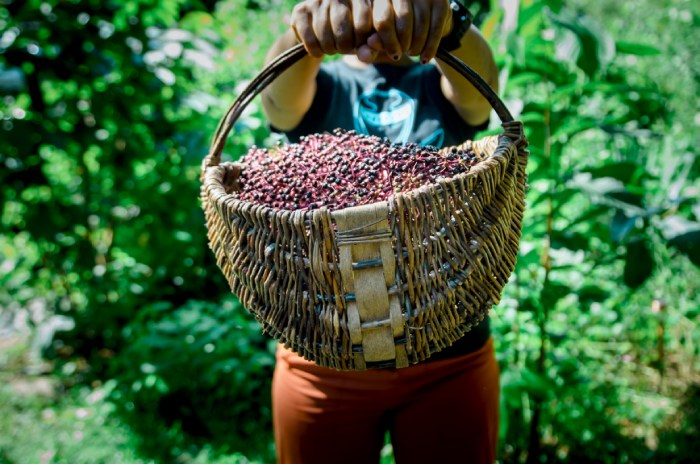 Wild plants can provide the food and medicine you need to stay active and healthy. During the survival class, you'll spend a significant amount of time learning to identify plants that are nourishing and delicious, those that have healing properties, and others that may be harmful or poisonous. Not only will we identify these plants, but you will learn how to responsibly harvest and prepare them.
You'll get specific instruction around wild edible plants of the southern Appalachians and herbal first aid. This knowledge will come in handy whether you find yourself in a true survival situation, or you're out hiking with friends and family and someone scrapes their knee.   
---
How to build a shelter in the woods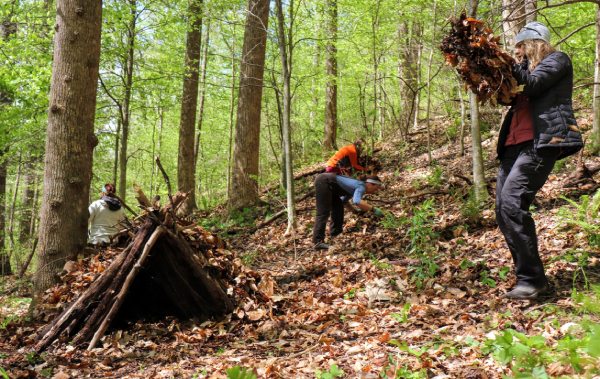 Protecting yourself from the elements is another key to survival, and to enjoying time in the wilderness. During the class, we'll cover different ways to create shelters, from the most primitive through to more modern approaches. 
You'll learn to build a basic, primitive survival structure, called a "debris shelter" or "debris hut", with objects you find in the woods. We'll also cover the tight-tarp setup, and show you how to securely rig an effective shelter that will weather any storm. Spending time and sleeping in the wilderness doesn't have to be something you just endure. In fact, it can be quite comfortable, even without massive amounts of fancy gear. This class isn't just about survival – but also about "thrival"!
---
The most important tools for survival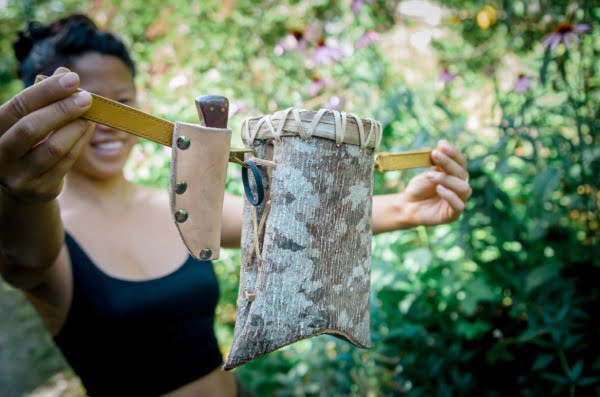 The right tools are essential for survival. We'll teach you about the most important tools, including how to care for them. The first on the list is your own mind and attitude. Surviving in the wild means working with the natural world, trusting and honing your instincts, and paying attention. These skills will provide a foundation for the entire class. 
In terms of physical objects, a knife or sharp edge of some kind is possibly the most important tool you can carry into the woods. We'll explore modern metal knives, including sharpening and care, and we'll also cover more primitive sharp edges like bone tools and flintknapping. Your instructor will demonstrate how to turn the right kind of stone into a cutting tool (flintknapping) and also how to make effective tools out of animal bones.  
---
How to make rope in the wild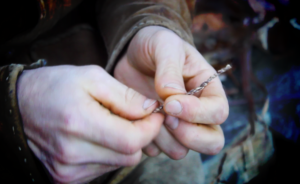 Rope, or "cordage," is such an important tool that it deserves its own category. When you know how to make rope in the wild, you can build shelters, carry things, make nets, set traps, create simple pulleys, and much more. That's because when plant and animal fibers are twisted together into rope, their tensile strength increases dramatically. As we explore the plant world, we'll be identifying and gathering material for ropemaking, along with food and medicine. You'll learn the basic cordage technique, get to practice it, and take home your own homemade rope and the skills to make more.   
---
Bonus: Major discount on our Online Hide Tanning Course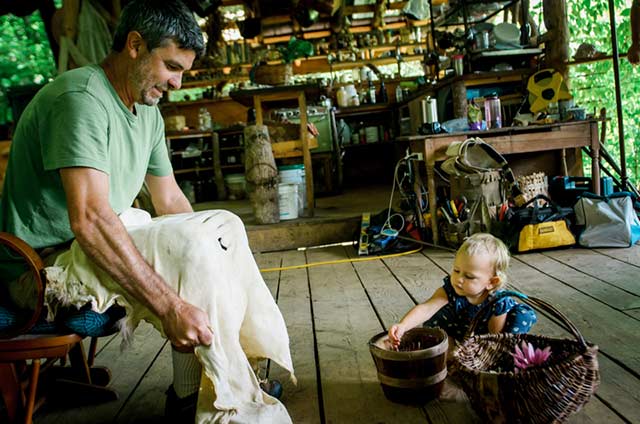 When you register for this survival class, you'll also get a coupon code for 25% off our Online Hide Tanning Course. It's a comprehensive, video-based guide that teaches you how to use the all-natural brain tanning method to turn animal hides into soft, supple, usable leather. 
Hide tanning is an extremely useful survival skill as well as a primitive skill that's been practiced all over the world for millennia. Once you know how to transform animal skins into leather, you can make all kinds of gear straight from nature's bounty, including clothing, bags, shoes, shelters, containers, and much more. The process of brain tanning takes several days, so it's not feasible to include in this four-day immersion. However, we want to make sure you've got access to this skill, too.
---
Building connection with nature through skills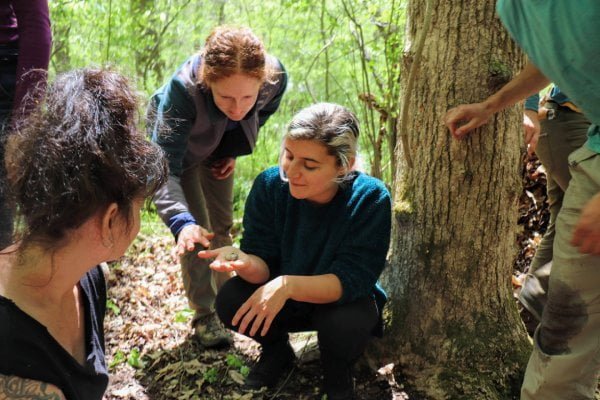 Truly learning to survive in the wilderness requires that you build a connection with the natural world. When you learn and practice survival skills, you have a natural entry point into this relationship. All of a sudden, instead of just seeing a sea of green and brown in the forest, you'll start to identify different plant and tree species. You'll notice which would make good kindling, a proper healing poultice or your next meal. When you learn the skills to care for yourself directly from your surroundings in the wilderness, you'll begin to see nature's bounty in totally new ways. 
This class will help you to feel at home in wild places. Whether you're planning a camping trip with your family or you're feeling concerned about the possibility of hard times to come, this survival class will teach you what you need to know.
---
About your main instructor: Tyler Lavenburg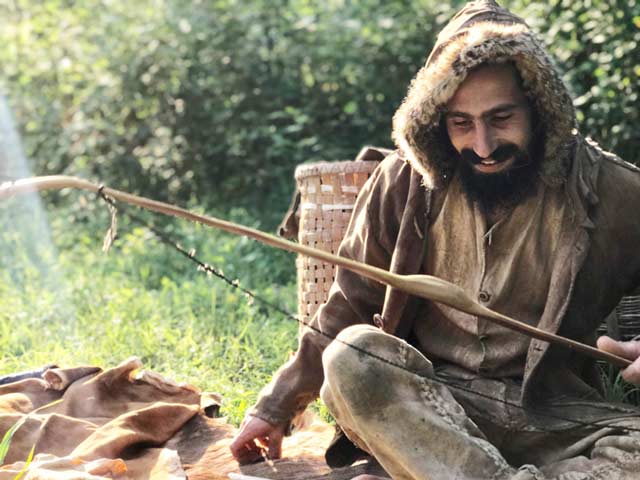 Tyler and his family align their life with the cycles of the seasons and the bounty of the wild. They harvest and utilize as much as they can – straight from the woods around them. 
Tyler first fell in love with Southern Appalachian ecology as a student at Warren Wilson College, where he received a degree in Environmental Education. The children's novel My Side of the Mountain sparked Tyler's passion for traditional skills and wild foods. Since then, he's been blessed with teachers and mentors who continue to draw his attention into deeper layers of mystery and the possibilities around crafting a handmade, wild life.
Over the years, Tyler has studied, apprenticed and taught at many traditional skills schools and events, including Wild Abundance, The Roots School, Living Earth School, Earthskills Rendezvous, The Firefly Gathering, Florida Earthskills, Whippoorwill, and others. He's worked with hundreds of children and adults through public and private schools, homeschool cooperatives, and special events. 
Tyler has experience in all aspects of survival skills, with a special passion for primitive technologies. In 2015, he was hired by the Catawba Historic Society to build an authentic replica of an 18th-century Catawba bark lodge for the organization's living-history site. In 2018, he was featured on the cover of Asheville Made magazine for his handmade buckskin clothing.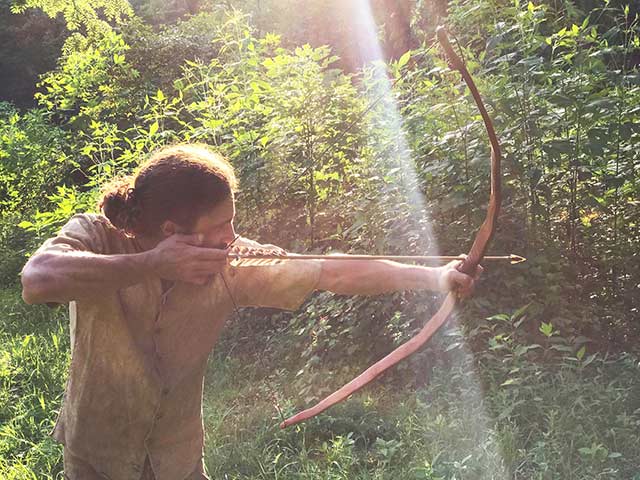 Tyler is devoted to understanding material use in the context of its ecological niche – that of unveiling ancient and scientific wisdom of appropriate technologies. Whether he's preserving wild foods or working with stone tools, bows and arrows, animal hides, or natural fibers, Tyler orients his life by the skills that have kept our ancestors alive for thousands of years.
With his wife and their new baby boy, Tyler's also now focused on developing his Shelterwood Cove homestead (the site of this class).
---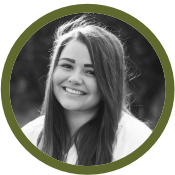 "There are not enough words to adequately express what this experience meant to me. I was so nervous going into this class, but it was so good to disconnect from my world. By the end, I had never felt so connected to myself and the earth and a way of life that has always existed in me. Tyler and the other students made it a very safe place to explore myself and push the boundaries of my comfort zone."
Megan Melendez
Survival Skills Student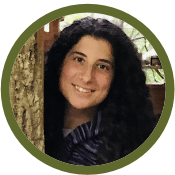 "The survival skills class through Wild Abundance was a really beautiful and empowering experience. Sleeping under a full moon, cooking over a fire and the satisfaction of making fire with wood tools that I carved, gave me a sense of place and comfort that is often lacking for me in the land of cities and strip malls, chaos and alienation. It's really beautiful when a group of people come together with a shared longing and purpose and have the opportunity to show up authentically and get down to the bare essentials of being human and in relation with the natural world." 
Katie Costanzo
Survival Skills Student
---
Instructors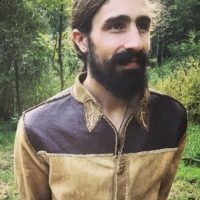 Tyler Lavenburg
Nose to the grindstone (sometimes literally), Tyler (he/him) lives for unraveling the mysteries of the Earth. He first fell in love with Southern Appalachian ecology as a student at Warren Wilson College, graduating with a degree in Environmental Education. Beginning as Natalie's first apprentice in 2009, he has since traveled around the Eastern US learning ...
Luke McLaughlin
Luke (he/him) is a naturalist, teacher, rewilder, mentor, and survivalist. Luke has committed his life to mastering and teaching ancestral and indigenous living skills in order to help people find their balance and connection to the Natural World.
---
Class Location
This class is held in Weaverville, at the Shelterwood Cove sister campus
Shelterwood Cove is a lovely and welcoming homestead amidst forested mountains in the Reems Creek area of Weaverville, NC, about 25 minutes from Asheville. It's home to lead instructor Tyler Lavenburg and his family, along with a small collection of other friends. This location has a lovely blend of cleared land and bountiful gardens, along with wild woodlands where many wild creatures make their home. You'll receive detailed directions on how to get to the campus upon registration.
Please note: our campuses are all unconventional, with rustic amenities and uneven ground. Read more
about our campuses here.
Local Accommodations and Facilities
Wherever you're coming from, you're welcome to camp at Shelterwood Cove. There's plenty of flattish open land for tents, plus sloped forest where hammocks can be set up, and a few completely flat spots for tents in the woods. All campsites are relatively close to the parking area. You'll have access to two outhouses and clean running water. In order to camp in comfort, we suggest you bring a warm sleeping bag and a camping pad or mat. Also, please come with a sturdy tent or tarp in case of rain.
Please note: It is preferred that all students in the Survival Skills Class camp onsite during the class.
---
Registration Info
May 5-8, 2022 (Full)
Get on the waitlist to be notified when new sessions open up
You'll also receive our regular newsletters.
We strive to make our classes accessible to those who wish to learn. Please pay on the sliding scale what you can afford, given your income.
Sliding Scale: $600-$960