April 2-5, April 16-19, June 18-21, or July 16-19, 2020
Students only need to attend one of these sets of dates. Get on the waitlist toward the bottom of this page to hear about more 2020 class sessions as they open.
Why Women's Carpentry?
Lets face it. In this culture, it's much more likely for male-bodied people to be more comfortable with tools and carpentry than female-bodied people. Year after year during our natural building class, we received feedback from women that it would be super-helpful to have a class specifically geared towards getting women acquainted with tools and basic carpentry. Our bodies are different, our backgrounds are likely different, and so we need a class just for ourselves! This class is intended to get ladies up-to-speed on basic building skills, working with wood, and using hand-tools as well as power-tools.
This class is open to all women, including trans and femmes
Focus is placed on creating a safe, comfortable, relaxed and fun learning environment in which students with beginning to intermediate skill levels can thrive. We focus on helping each student learn rather than on the progression of projects.
This is truly a basic carpentry class. It's about learning to use tools and getting comfortable with them by working on small projects. No prior experience is required.
If you're interested in bigger projects, especially structural building, we offer an Advanced Women's Carpentry Class for graduates of the basic class. In addition, we've got a fantastic Natural Building and Tiny House Workshop.
Anyone who's completed the basic carpentry class will be well prepared for either the advanced class or tiny house workshop. Plus, when you sign up for one of these more advanced classes at the same time as the basic class, you get a discount!
Ladies, prepare to tame those mythical beasts (power tools) and make them part of your building repertoire.
---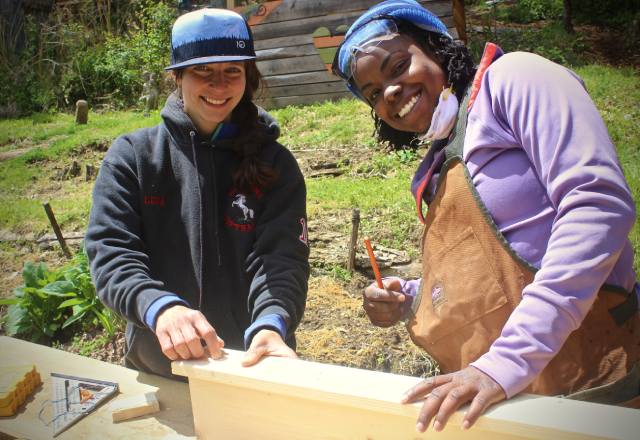 What to expect: Learn Basic Carpentry Skills
During this four-day workshop, we will cover basic carpentry skills and the fundamentals of choosing and using the right tools for different jobs, as well as the maintenance of everything needed to complete a carpentry project. And you can expect this wealth of information to be tailored specifically for women and women's bodies.
Note: Participants who are camping are encouraged (but not required) to arrive on the evening before class starts to get settled in.
---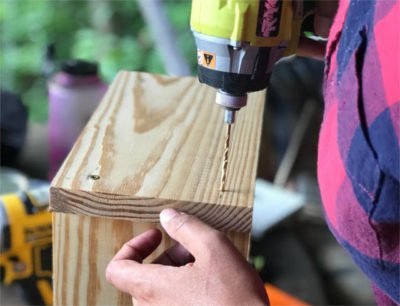 Day 1: Tools, Tools, Tools
And women's empowerment!
Our theme of the day is women's empowerment and helping you learn the essentials of a basic carpentry class. We'll have an overview of how to learn carpentry, tool choices, ergonomic use and maintenance. Whether you are building a bird house, bathroom shelves, a bike shed or a log cabin, the right tools make all the difference.
---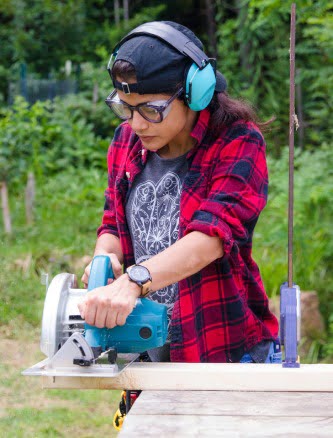 Day 2: Carpentry Basics
Get competent using tools, plus design your personal project
We'll work in groups on a simple project like putting up siding or decking, building a picnic table, etc. (group projects vary). Practice making cuts; using levels, speedy squares and other tools; fastening boards; and working together getting your hands, mind, and bodies on real-world projects.
You'll also choose and design your own small personal project, with plenty of support and guidance. You can make your very own rustic and simple shelf, bench, sawhorse, or other simple project.
---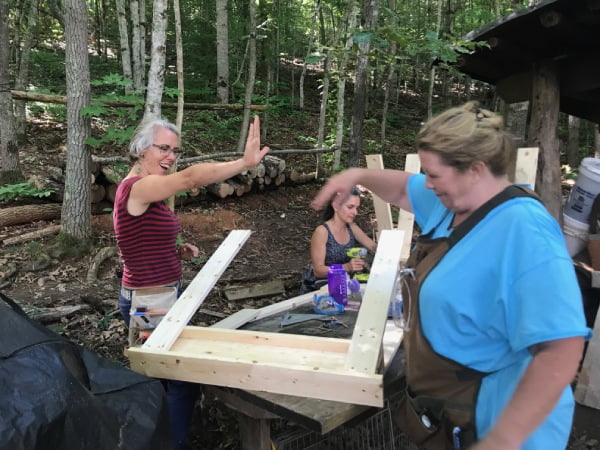 Day 3: More Practice and a Field Trip
In the morning, we'll head to the local lumber yard to pick out materials for everyone's personal projects. Get familiar with how to buy wood, fasteners, etc. The rest of the day will give you another opportunity to get comfortable with tools and building through our group projects.
---
Day 4: Your own Carpentry Project
Build your own masterpiece to take home
With the materials you bought at the lumberyard, and the design that you solidified, you'll make your own project! Throughout the day you'll have plenty of help and support as you build your vision into a reality.
Students will be done with the class when they finish their personal projects. This can be anytime between noon and 3:30pm, depending on the project. On this final day we'll close up shop at 4:00, so everyone must be done by then (on days 1-3 class ends at 6:00pm). If you have time constraints, we advise you to choose a simple project like making sawhorses or a small bookshelf.
---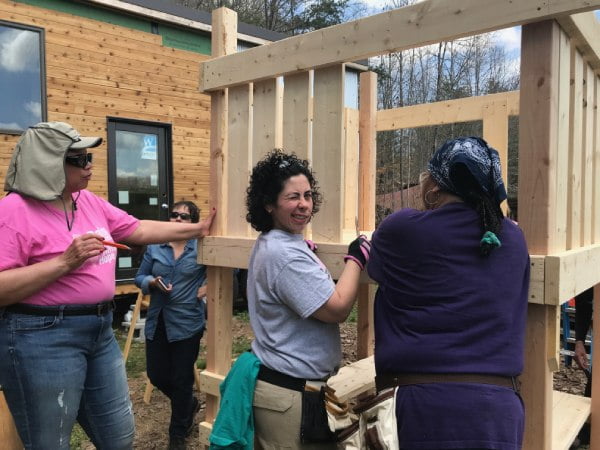 ---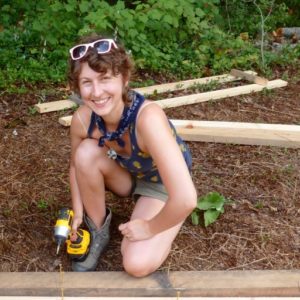 "This class was really really well planned, well orchestrated, and I left having both had a fantastic time (loads of laughter) and feeling deeply empowered. The setting of just being with women freed me up to ask "stupid questions" and feel anything but stupid… The meals were nourishing and beautiful. The facility was inspiring and well-kept. And perhaps best of all, the teachers were patient, skilled and supportive. I loved it so much that I would do it again in a heartbeat, both to brush up on my skills and solidify them more deeply, as well as to enjoy the beautiful space and camaraderie."
Karen Shane
"Thanks to you I now have an impact driver and drill kit, a skill saw, speed and carpenter squares. I've finished my first project! This was immensely gratifying. My dad and husband helped me on the roof but I did the rest myself. I hope you're well and I can't thank you enough. I love my scooter shed!"
Annie Sellick, Nashville Jazz Singer
---
Instructors
---
Our Campus is Unconventional
To read about our facilities, including accessibility for alter-abled people, read about our Campus here.
---
Local Accommodations
Wherever you're coming from, you're welcome to pitch a tent in one of our flat camping spots in the woods or field, or to tie a hammock in the forest on our seven-acre property. If you live locally, you may prefer to commute to Wild Abundance from Asheville (25 minute drive). If you choose to camp, please bring your own bedding and rainproof tent or tarp. In the early spring and late fall it can be cold at night, so please bring warm bedding if you'll be here before May or after September. We have a lovely outdoor kitchen equipped with a stove and running water, an outdoor shower, and an outhouse available to campers.  In extremely cold weather, the sink and shower may be out of operation due to water freezing.
If you prefer something with more creature comforts, we suggest you browse Airbnb for numerous options close to the campus. You can also check out local motels and B&Bs within a 10-15 minute drive to Wild Abundance. We'll send a list of links to several options (with varying amenities and prices) in a welcome letter upon registration.
---
Registration Info
We strive to make our classes accessible to those who wish to learn. Please pay on the sliding scale what you can afford, given your income. All women's carpentry classes include lunches.
April 2-5, April 16-19, June 18-21, or July 16-19, 2020
Pricing for Women's Basic Carpentry
Early-Early Bird Pricing: January 1 – January 9, 2020: $600 – $900
Early Bird Pricing: January 10 – March 26, 2020: $650 – $950
Regular Pricing: March 27 – July 15, 2020: $700 – $1,000
Pricing for Women's Carpentry Package
Includes Basic and Advanced Women's Carpentry
Please note that our Advanced Women's Carpentry Class is only available to those who have already taken the Women's Basic Carpentry Class. We will be running an Advanced Carpentry class session on July 23-26, 2020.
Early-Early Bird Pricing: January 1 – January 9, 2020: $1,100 – $1,700
Early Bird Pricing: January 10 – March 26, 2020: $1,200 – $1,800
Regular Pricing:  March 27 – July 15, 2020: $1,300 – $1,900