The Tiny House Workshop with a Natural Twist
It's time to get tiny, naturally! Do you dream of living in a beautiful, practical, ecologically responsible home built by your own hands? Do you yearn for the autonomy of owning a home, but don't have the budget to buy? This natural building and tiny house workshop near Asheville, NC will help transform those dreams into reality in 8 days. It's a crash-course covering the basics and beyond of tiny house design and construction, with an emphasis on ecological considerations and natural building techniques.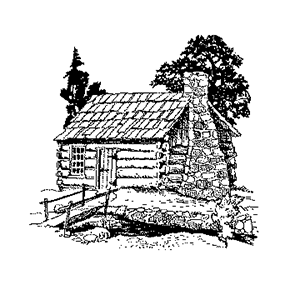 Learn to build your very own tiny house and use natural materials for beauty and function.
Whatever style of learning works best for you, we've got you covered. Over the course of eight full days we'll engage in a healthy balance of theory, application and exploration.  This includes lots of hands-on learning.
Throughout the workshop we'll be constructing an actual tiny house from the ground up.  It's for a member of the community, who gets a home at the end! Scroll down to learn about this year's tiny home recipient.
Getting a chance to apply ideas and concepts right away will bring them to life and anchor your learning. Students learn the basics of building through lectures, engaging class discussions, and practical applications. As a result, you'll leave the class prepared to build your own tiny houses or natural buildings. In fact, many past participants have gone on to build tiny homes in Asheville and beyond!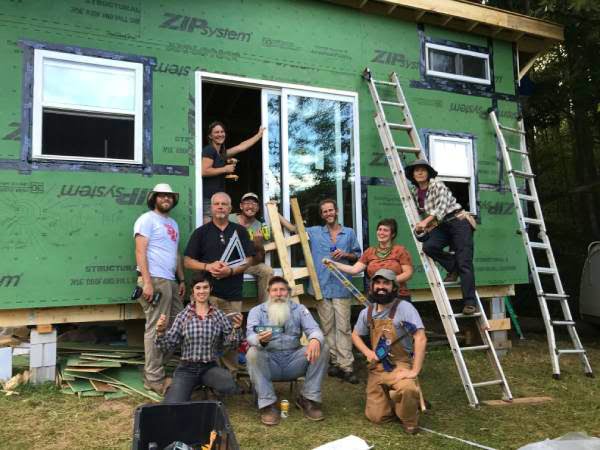 ---
What to Expect from this Tiny House Workshop and Natural Building Course: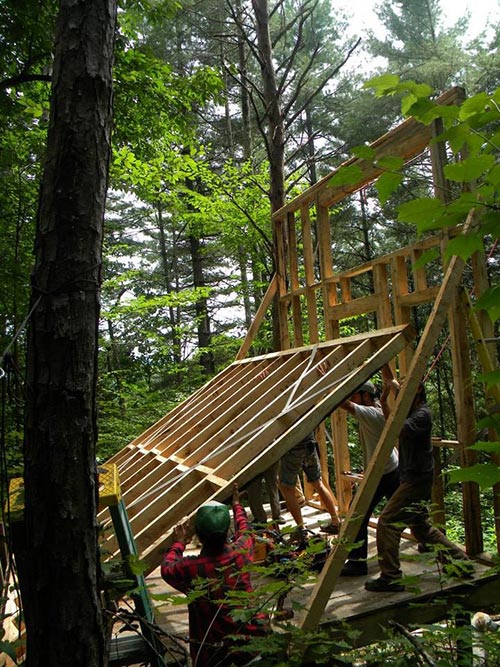 Theory and Design: Foundations, walls, roofs, passive solar design, materials sourcing, tiny house plans, oh my!
We'll get started by learning about how buildings stand up (foundations, loads and bracing), floor systems, walls, roof systems, how to choose a building site, passive solar design, working with clay, tiny home plans, and regenerative timber harvesting. Our tiny house workshop will also include discussion of material sourcing and introduce plumbing and electrical specifically for tiny homes. We'll talk about how to build a tiny house on skids, how to build a tiny houses on a trailer, and other special considerations for movable structures.
---
Exploration of a variety of tiny homes, cob construction, adobe, and more:
After learning the theories and concepts, we'll take a tour of natural buildings in and around Asheville, NC. You'll get to see a variety of tiny homes, a straw bale house, cob construction, natural buildings and a passive solar design at their finest. It's Asheville's own Tiny House Nation! You will have the chance to see, touch and learn about various styles, such as timber framing, log cabin construction, cob, stone masonry, adobe, wattle and daub, earthen floors and bamboo construction. We'll visit many hybrids of conventional and natural construction. Taking a natural building course doesn't mean you can only apply what you've learned if you build 100% natural. We encourage students to mix and match based on their interests, skill set, and desired outcomes. You can find your own sweet spot!
---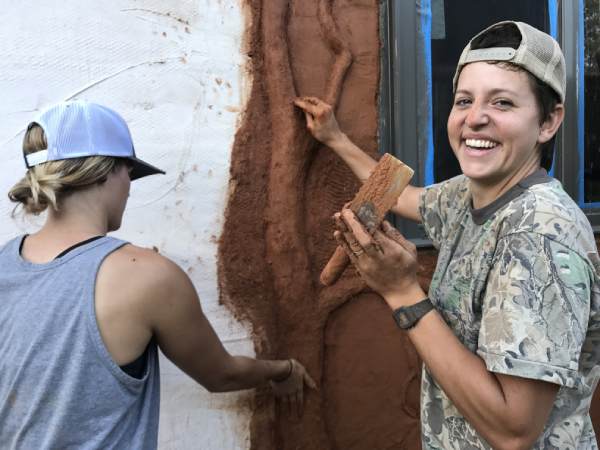 Hands-on application of building techniques
Once the theoretical groundwork is laid, students will learn how to build tiny homes and natural buildings from the ground up. Since we actually build a tiny house during the class, you will have an opportunity to practice building and erecting walls, putting on a roof, applying earthen plaster, lime plaster, earthen paint, door and window installation and doing a bit of trim carpentry.
---
Your very own tiny house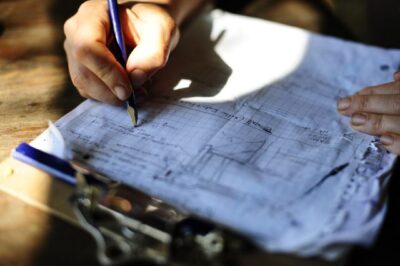 In the end, students will experiment with designing their own tiny house floor plans.  Everyone will have the opportunity to receive feedback directly from instructors and fellow students.  When you leave this tiny house workshop we want you to feel ready to get started on your own tiny home!
---
Last year we built a house for Kelly…stay tuned to meet our 2020 tiny house recipient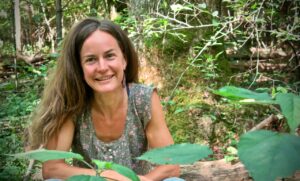 Kelly is a local craftswoman, naturalist, and outdoor educator. She has lived in Asheville for 10 years, moving between various rentals. She's super excited about her brand new tiny home. Last April, she took the women's basic carpentry class, to begin building the skills she needed for her tiny house. After working with Natalie on a design and gathering materials, Kelly and the 2019 Natural Building and Tiny House Workshop students build her a home of her own. Many students have found it extra motivating to work alongside someone for whom the class will literally transform a dream into reality.
---
Check out the following video featuring one of our instructors, Barron Brown, teaching timber framing. (Please keep in mind that the natural building and tiny house workshop will have a more balanced gender mix than the class in the video.)
---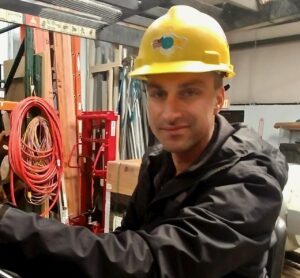 "The Tiny House and Natural Building Class was a dream come true for me! The whole experience was well rounded, organized and rolled out. Our instructors were very knowledgeable both in the classroom and on the job site…I would take this course again if I could!"
Nikita Lukichev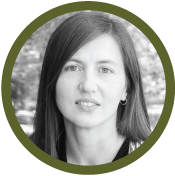 I was really impressed by the depth of the course materials, and the instructor's ability to accommodate beginner builders, yet remain engaging to advanced students. The blend of instruction time in the open air classroom with hands-on training at a live construction site (not just a demo) provided a firm understanding of how to build my own tiny home from start to finish.
Mel Shapcott
---
Instructors
---
Our Campus is Unconventional
To read about our facilities, including accessibility for alter-abled people, read about our Campus here.
---
Local Accommodations
Wherever you're coming from, you're welcome to pitch a tent in one of our flat camping spots in the woods or field, or to tie a hammock in the forest on our seven-acre property. If you live locally, you may prefer to commute to Wild Abundance from Asheville (25 minute drive). If you choose to camp, please bring your own bedding and rainproof tent or tarp. In the early spring and late fall it can be cold at night, so please bring warm bedding if you'll be here before May or after September. We have a lovely outdoor kitchen equipped with a stove and running water, an outdoor shower, and an outhouse available to campers.  In extremely cold weather, the sink and shower may be out of operation due to water freezing.
If you prefer something with more creature comforts, we suggest you browse Airbnb for numerous options close to the campus. You can also check out local motels and B&Bs within a 10-15 minute drive to Wild Abundance. We'll send a list of links to several options (with varying amenities and prices) in a welcome letter upon registration.
---
Registration Info
We strive to make our classes accessible to those who wish to learn. Please pay on the sliding scale what you can afford, given your income.
August 21 – 30, 2020
Early-Early Bird Price: January 1 – January 9, 2020: $1,300 – $2,000
Early Bird Price: January 10 – June 18, 2020: $1,400 – $2,100
Regular Price: June 19 – August 20, 2020: $1,500 – $2,200